No I'm not telling you to indulge at Grand Park Hotel. The name of the Hotel's restaurant is called Indulge at Park. Indulge at Park was where we chose to have our very last department dinner of the year for 2011. Yours truly, being the non-closet foodie, was arrowed with the task of finding a suitable restaurant to spend our remaining pot of money. May I say it was not an easy task since I had to take into consideration the budget of about $55/pax, reputation of restaurant, quality of food and also the location. Due to the Christmas period, a number of restaurants were also fully booked!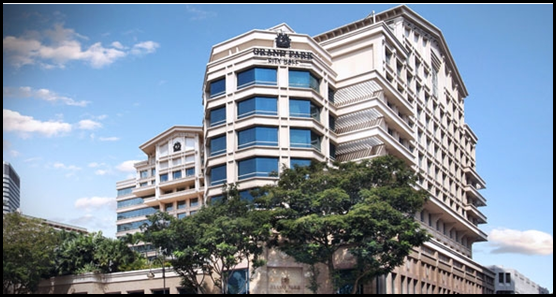 I was glad I eventually secured a table for 8 at the Grand Park Hotel. The buffet is only $53+++ and with a DBS/POSB credit card, one enjoys a 20% discount! (The company should reward me for saving money!) We once visited Indulge to celebrate a colleague's promotion a few years ago when our office was just opposite the hotel. It was a pretty enjoyable affair the last time so I thought I was safe. Until a friend decided to google Hungry Go Where to read the reviews on the day that we were to dine there! Turns out that the reviews for Indulge at Park were mixed. Quite a number slammed the restaurant for not topping up their oyster counter and the lack of freshness of the food, although some rated the restaurant quite highly.
Personally, I think the sashimi and oyster bar were well worth the money, while the hot food section was pretty forgettable. I didn't encounter any stale food thankfully. In the end, the buffet cost only $53, lesser with the seemingly perennial 20% discount.
If you're expecting the likes of Melt Cafe at Oriental Hotel or The Line at Shangri-La, you would be in for a big shock. But you shouldn't expect so, because you pay double the price there. You might however be able to get more bang for your buck if you are able to get your hands on the 50% discount at The Bar & Billiard Raffles Hotel or at TripleThree Mandarin Orchard Hotel. Those would be more worth it and they seem to have ongoing promotions.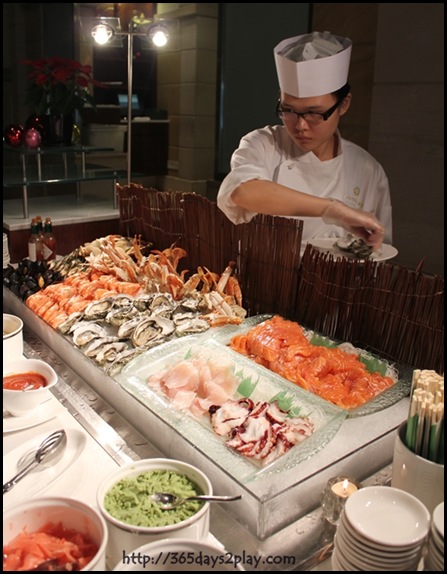 Sashimi, oysters and crab station. Have to say that all the sushi I took tasted very fresh. No complaints for me at all. I haven't been eating oysters for a very long time, but my colleagues were having seconds of those, so I think no complaints either. The food was topped up consistently so there was plenty of food to go around, unlike what some readers complained on Hungry Go Where.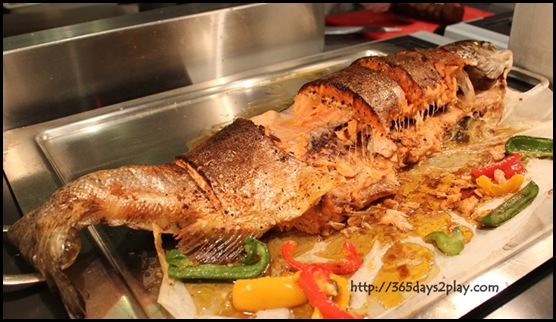 This humongous whole salmon greeted us at the door and elicited quite a number of oohs and ahhs from the colleagues. I thought it was a little dry though. I like my salmon to be lightly cooked, with a hint of pink in the middle.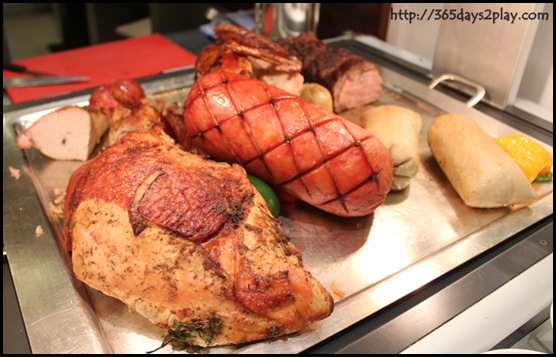 The Christmassy carving station. Unfortunately, most of the stuff here was a tad dry.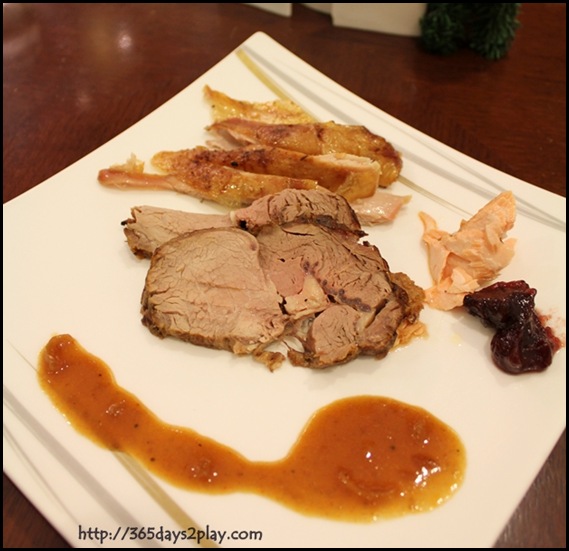 I was lucky and managed to get some turkey thigh upon request. It was dry but still delicious so I polished it all off. The bits at the back were the turkey. The bits at the front were the roasted beef striploin. It too suffered from dryness. The splodge at the front of the plate was me trying to be creative with the gravy, and failing.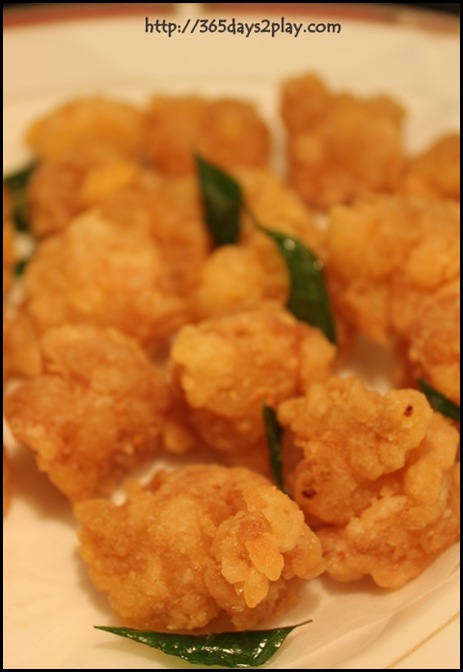 Stir fried prawns with salted egg yolk and curry leaves. The batter coating the prawns was a bit thick. The salted egg yolk flavour didn't really come through either. There were numerous other hot dishes, but most of them didn't really appeal to me, as they had been sitting in their pots stewing away for a while. I mostly focussed my energies on the sashimi counter as well as the dessert counter. To be fair, I tend not to eat that much of the hot food section for most buffets, especially if common Chinese dishes are featured.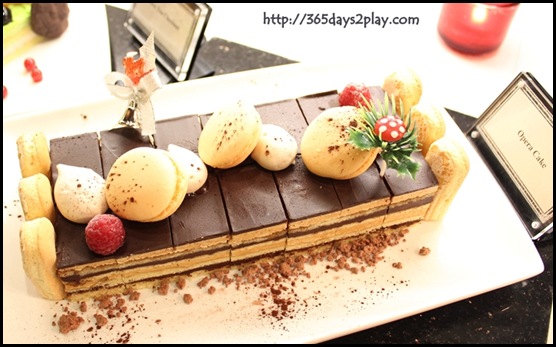 The desserts fared much better at the buffet. Took pictures of all the desserts at the beginning of the buffet before anyone else managed to dismember them. The Opera cake was my favourite dessert of the lot. It was rich and chocolaty, with enough layers of cake such that I didn't think I was just eating mousse.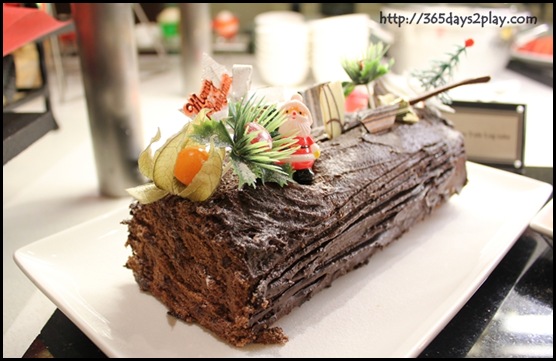 The log cake looked quite festive but unfortunately I was not able to try it. By the time I was ready for dessert, the log cake was more of wood pulp cake thanks to the diners before me.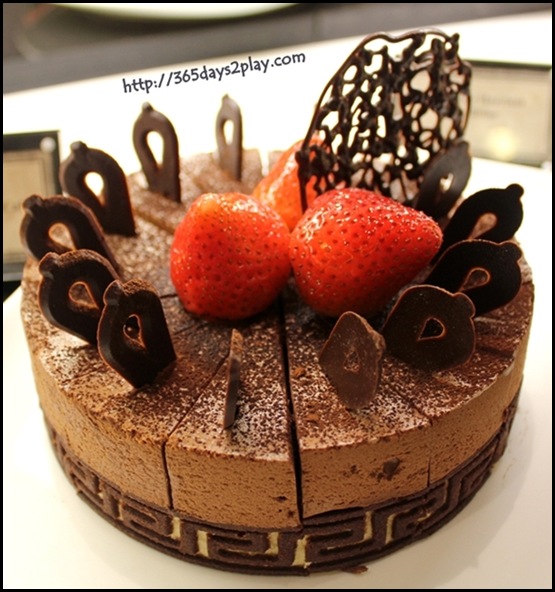 The Crunchy Hazelnut Feullitine Gateaux was nice, chocolaty and not too overly sweet.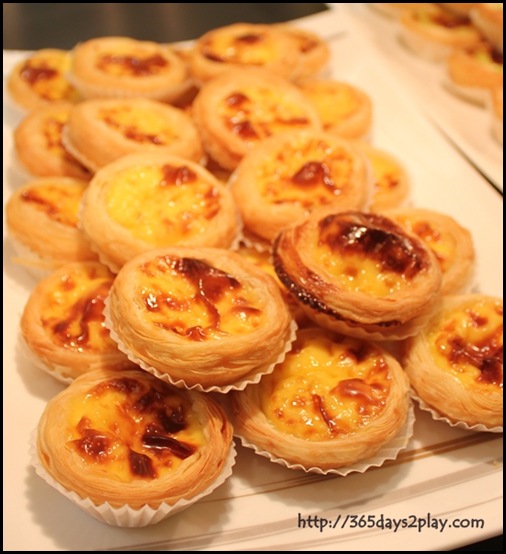 There were 3 flavours of Portuguese tarts available. My colleagues had warned me that the plain one tasted the best, but for some reason, they all looked pretty similar so I ended up getting a durian flavoured one unknowingly. It wasn't bad, but the durian taste didn't go too well with egg tarts in my opinion. Didn't try the normal one after this as I wanted to save space for other desserts. Reviews on Hungry Go Where say that these Portuguese tarts are a signature of the hotel.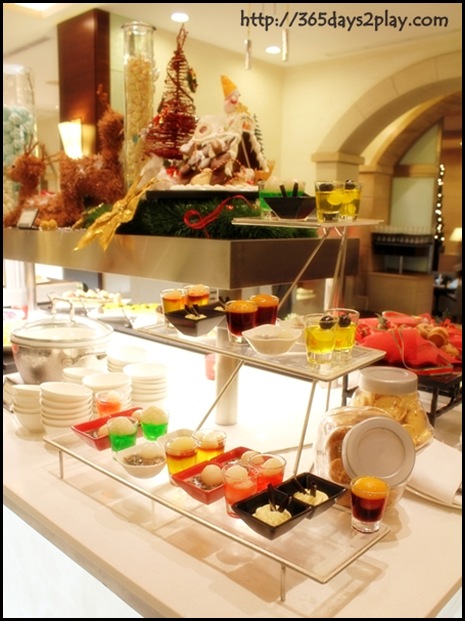 I gave most of the desserts in cocktail glasses a miss as they looked a tad sweet. I did however try the tiramisu in a glass and that was quite good! I only wish it had more liquor in it as I love my tiramisus soggy and soaking wet! The pot on the left contained the durian pudding aka durian pengat. The durian flavour wasn't very strong and neither was it very sweet. I wonder if it was just durian pureed, in which case the durian itself must have been pretty bland. Guess this isn't the season to enjoy durian.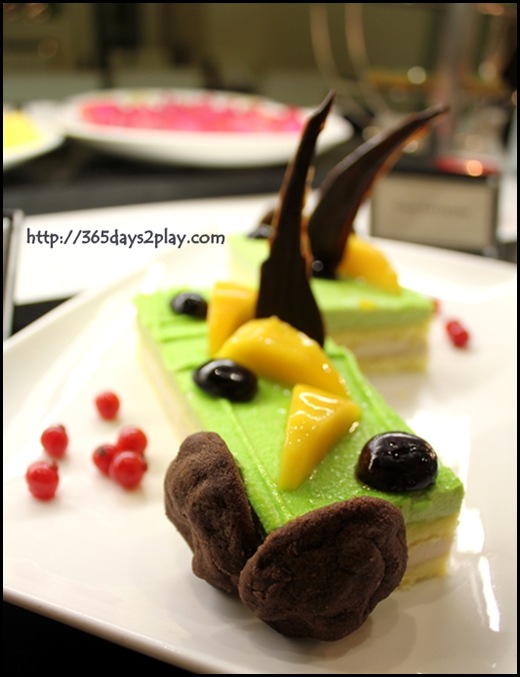 Don't think I had space to try this, but I have to say it looks so appetising!
More photos….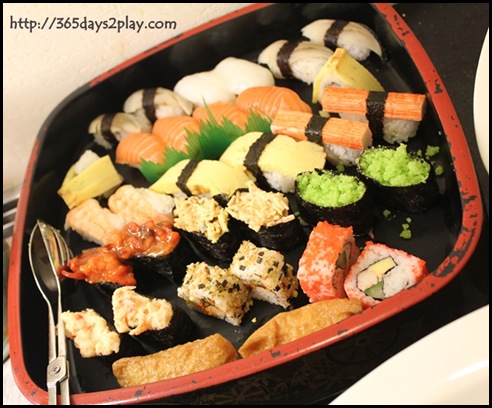 Assorted Sushi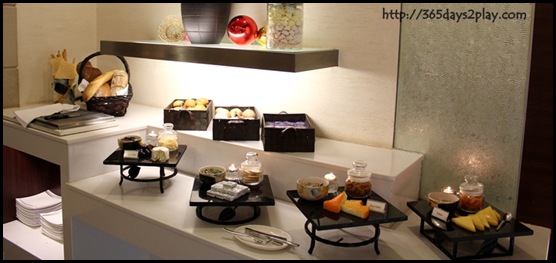 Cheese selection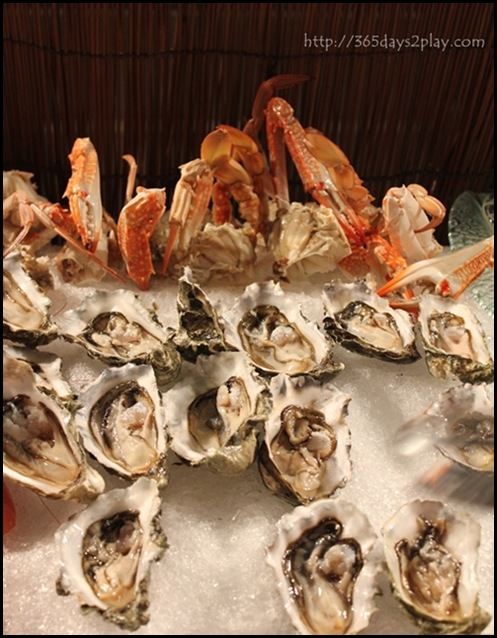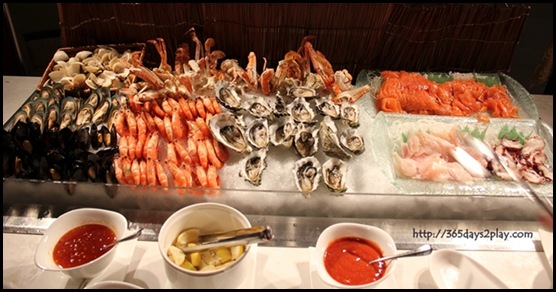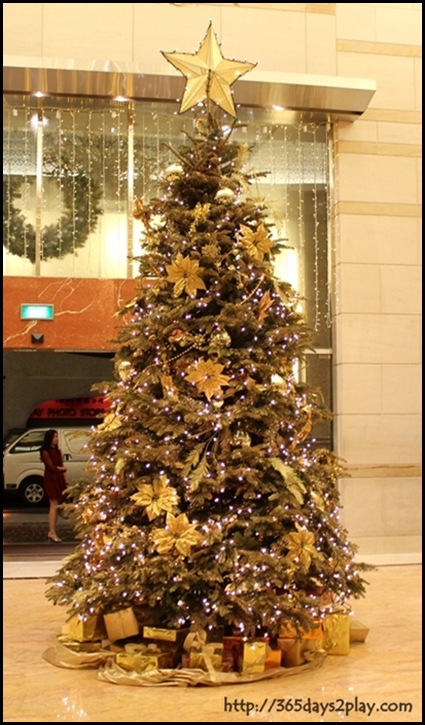 The Christmas buffet dinner is $53+++ and is available up to 30 December 2011. DBS/POSB credit card holders are entitled to a 20% discount. Coffee and tea are included, as well as free flow of soft drinks.
Festive Buffet
1 — 30 December *
12.00pm to 2.30pm / 6.30pm to 10.30pm
Lunch $43.00++
Dinner $53.00++
For reservations, call 6432 5888 or e-mail fnb.gpch@parkhotelgroup.com
Grand Park City Hall
10 Coleman Street Singapore 179809
Tel: (65) 6336 3456
Fax: (65) 6339 9311
Grand Park City Hall is opposite Peninsula Plaza / Funan Centre. Nearest MRT station is Cityhall MRT station.