Who would have known that I would enjoy bread baking so much? I know I might have once mentioned that Bread was not sexy. Well I'll have to eat my words, haven't I. Or can I substitute the words with bread?
It's not that easy to make perfect bread at home. I know lots of people do it to great success. What I'm saying is that it is far easier to make bread in a commercial setting, where the ovens are huge and come with steam injection functions. Then there's the stand up proofer or the large tables for you to knead to your heart's content. Nevertheless, you make do and it's definitely worth the effort.
Over the last 2 weeks, I've been baking loaves of baguettes. I don't have a Pullman tin yet so I can't make sandwich bread and actually, I much prefer the taste of a well-made baguette! Absolutely love the crispy crust and the soft insides. Smear a little salted butter and you're instantly in heaven. I henceforth proclaim Bread as simple yet seductive!
A few months back, a colleague from work gave me this wonderful cookbook Dinner with The Baker. At that time, I marvelled at the pictures but privately lamented the difficulty in making the sweet treats. I'm glad to say that after 3 months of intensive baking classes, when I flipped the book a few days ago, I could say "yep, I know how to do this, and this as well, and that". Perfecting them is another story, but at least they don't seem so daunting!
In any case, the 1st recipe I tried out was the Focaccia Bread. Interestingly, we never did cover Focaccia Bread in Baking School. I wonder why, considering it's so popular in Singapore! The dough was ultra sticky for me, thanks to the amount of oil used. I don't know if it ought to be this sticky, but the Focaccia turned out fine.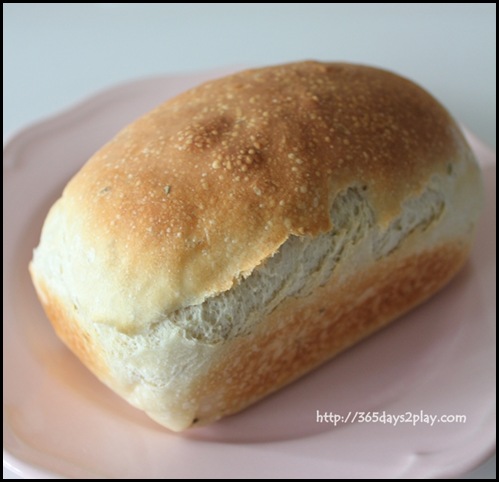 If this doesn't look like Focaccia to you, that's because it's in a loaf shape and not flat and rectangular like it usually is. The recipe book calls for putting the dough in a flat pan, but it being 12 midnight the 1st time I did it, I absentmindedly put it into a loaf tin like how I usually do at school! Anyway nobody ever said that Focaccia cannot be loaf shape right????
Speaking of shape, I think there's much to be improved. The edges are rounded, instead of the angular look of a sandwich bread. I guess it's due to the amount of oil used. Also, the break and shred is totally uneven. Most importantly, and the bane of all my breads so far, are the idiotic tiny round spots on the crust! I think they're tiny pockets of air but what can I do to get rid of them? They don't seem to affect the taste though, and the crust is still crisp.
Anyway, if you want the recipe for the Focaccia loaf style, just scroll down….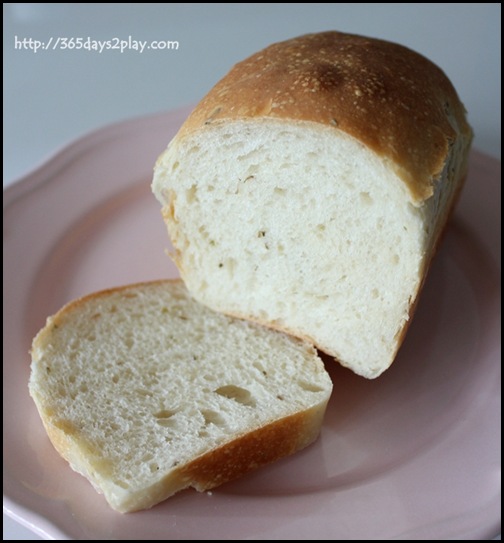 Focaccia bread disguised as open-top bread. Tee hee hee….
Recipe (Adapted from Dinner with The Baker cookbook by Pino Locantro. OMG the book even has a Facebook page)
500g    Bread Flour
6g        Dry Yeast
Pinch Oregano (if desired)
10g      Salt
300g    Cold Water
50g      Olive Oil
1          Egg
Work Process :
1. Using an electric mixer fitted with a dough hook, mix flour, yeast, oregano and salt.
2. Slowly add oil, egg and water and continue mixing until well combined. Increase speed of your mixer and mix the dough until it looks smooth. The book says to mix until shiny and smooth, but I never did mix it till the shiny stage.
3. The dough may be sticky so dust some flour on your hands and board to help you.
4. Rest the dough for 1 hour or until it has doubled in size. Keep it covered and in a cool area.
5. After 1 hour, heavily oil a baking tray. Deflate the dough to remove air bubbles and roll the dough to fit the tray. Or you could cut the dough into 4 pieces and make 4 small loaves of Focaccia, just like I did.
6. Proof in a warm area for about 1 hr or until it has doubled in size again.
7. Brush the top with olive oil and sprinkle with salt if desired. I omitted this step totally.
8. Bake for 20 minutes at 200 degrees celcius for the flat Focaccia, and 30 minutes at 200 degrees celcius for the loaf Focaccia.
9. Remove from tray/tin immediately and let cool on a wire rack. Enjoy!!!