This is my final entry for Restaurant Week March 2012. After an extremely memorable Monday evening at St Regis's Brasserie Les Saveurs, it was with high expectations when the Partner and I visited Boathouse opposite Fullerton Hotel.
The 1st thing I did when presented with the menu was to check if Tea & Coffee were included, cuz my friend and I forgot about the coffee at St Regis! Alas, the lunch menu at Boathouse didn't include beverages, or it would be funny if we missed it again the 2nd time.
Actually, I already knew the menu before hand as I'd browsed through quite a number of restaurants before settling on the Boathouse. Also, that Valhrona chocolate bar dessert was just calling out to me you know. I'd also been to the rooftop aka [prelude] for a networking event, and that was a very nice experience. It was night and the view of Marina Bay Sands was superb! I was more interested in the green laser beams flashing out than whichever director of whichever oil firm I was talking to.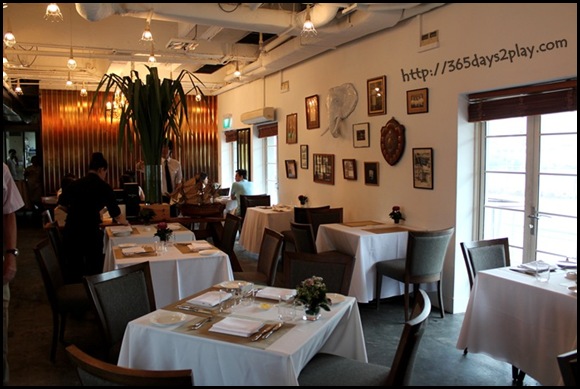 Here's a picture of the restaurant, housed within a 1919 heritage building. It's quite small actually. This is about 40% of the restaurant already. Where we were sitting, the air conditioning was extremely strong, such that the plant leaves were swaying. I was okay with that for once after the hot trek from One Fullerton.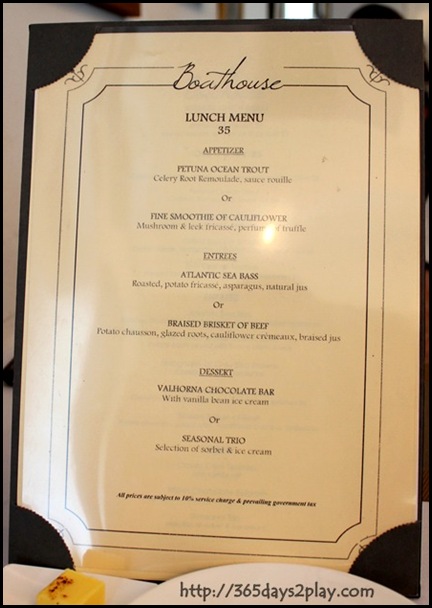 $35 restaurant week lunch menu. The Partner and I ordered different things so we managed to cover all the items on the menu.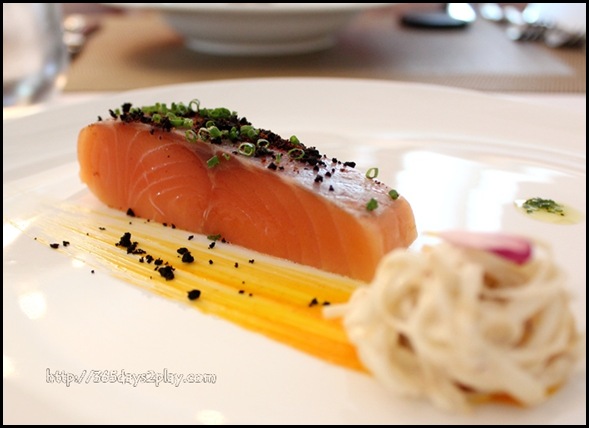 Cured Petuna Ocean Trout with celery root remoulade
First up, this fantastic cured Petuna Ocean Trout with celery root remoulade. A nice smoky and not overly salty flavour, every bite of the firm fish was a pleasure. I thought it tasted quite similar to smoked salmon, but most of the time, smoked salmon comes in thin slices. I like it that this ocean trout came in a thick slice to better enjoy the firm bite.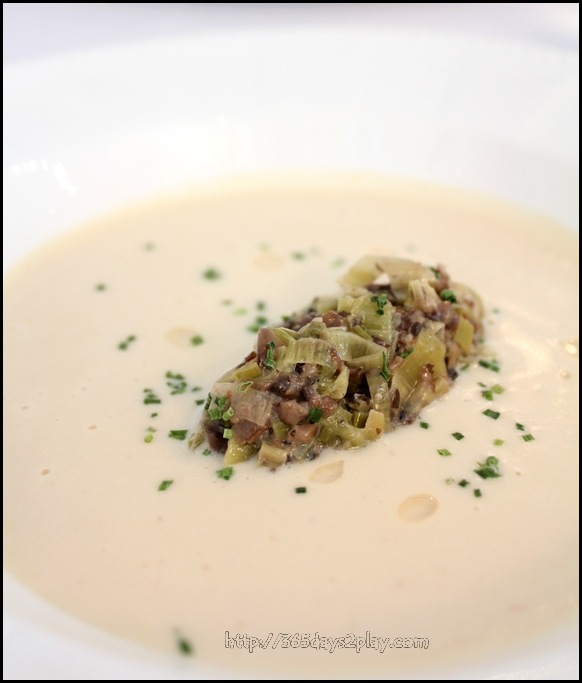 Fine smoothie of cauliflower mushroom & leek fricasse with added perfume of truffle.
I have to say if I hadn't eaten the ocean trout, this soup would have been pretty tasty. But because trout was so good, it became a case of me hankering over what the other person ordered. The 1st few mouthfuls were tasty. It was a thick and rich soup, almost as if you were eating finely pureed mushrooms. But then the richness got to me after a while, especially with the truffle oil. Definitely a soup for sharing, if you order this ala carte.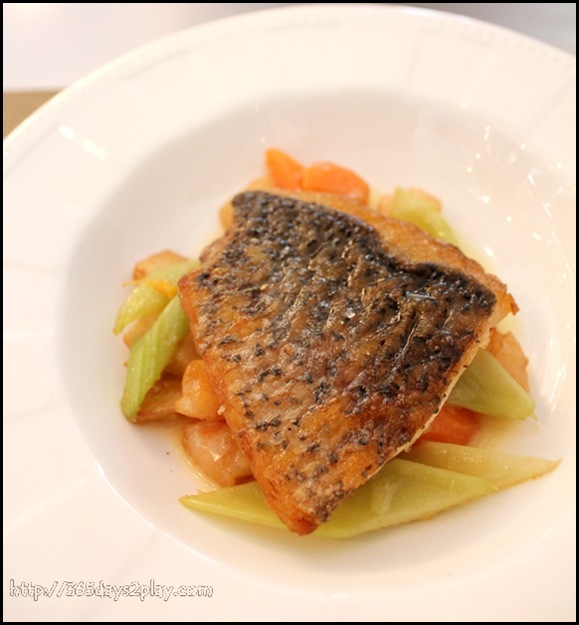 Atlantic Sea Bass with potato fricassee and asparagus
Ordered by the Partner. I didn't try it as I don't like snapper. The Partner proclaimed it to be an enjoyable dish and didn't regret what he ordered.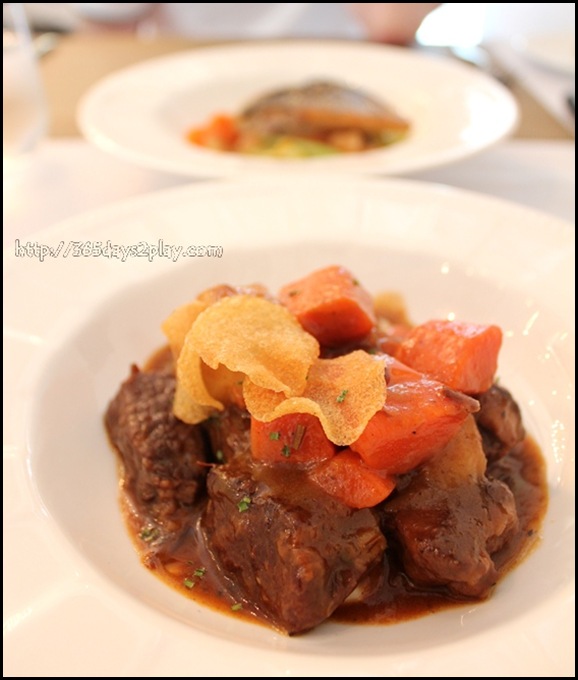 Braised brisket of beef with potato chausson, glazed roots, cauliflower cremeaux.
Alas, I once again didn't enjoy the dish that I ordered.  You know the beef brisket noodles that you order at Chinese restaurants such as Crystal Jade? I was kind of expecting that kind of soft, melt in the mouth beef brisket! This one was tough and stringy! The Partner, who has a PHD in Meatology said that the beef brisket tasted exactly like it should and was very well done, as in well cooked! Too bad he was eating snapper, if not I would have swapped dishes! Well I guess I know not to order beef brisket in Western restaurants anymore.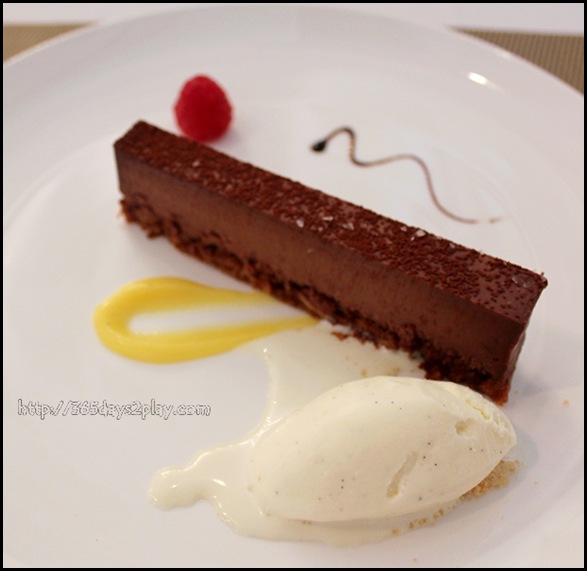 Valhrona chocolate bar with vanilla bean ice cream
At last, something I did like! The vanilla bean ice cream was absolutely heavenly. I was busy scooping it into my mouth as fast as possible as it was melting so fast. So creamy tasting. Superb. The chocolate bar was also very nice, although it was pretty one dimensional. Refer back to Laurent Bernard's Chocolate and Banana Cake and you'll know what I mean when I say this one is one dimensional.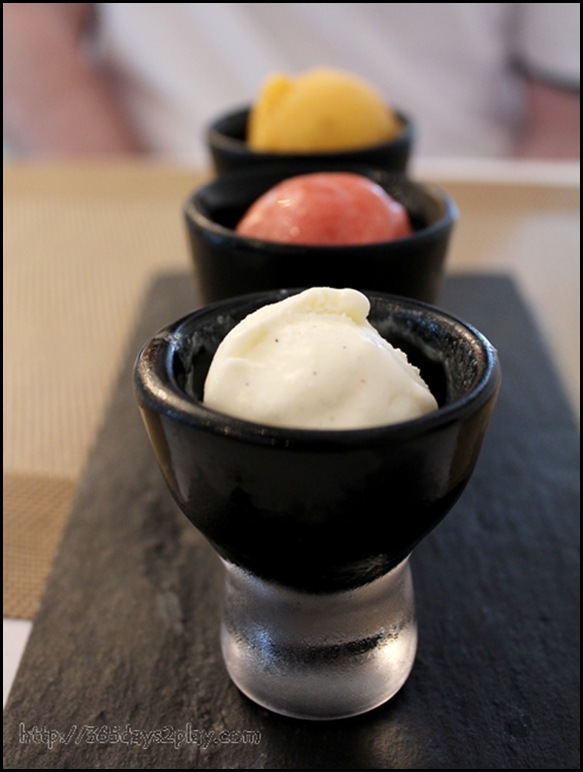 Selection of sorbet & ice cream
The Partner's dessert to end off his meal.
One grouse I had which bugged me the entire meal was that I felt that the staff were too quick in bringing us our dishes. Haha like yeah right, that is a problem? Well you see I know that they had another sitting, and we were there for the earlier sitting. So although the staff never openly asked us to hurry up except for when they brought us the bill without us asking for it, the fact that each dish was served so quickly barely after the plates had been cleared made me feel like they were rushing us. I wanted to have a 3 hour meal like what I did at St Regis, but we scooted out of the restaurant after only ONE HOUR! The amazing thing is that the Partner thinks that the service is great because they were so prompt. Sheesh man, am I asking for too much? This is the Boathouse after all, not the local cafe. I will still return though, cuz I like the ambience, and I want to try that Ocean Trout again!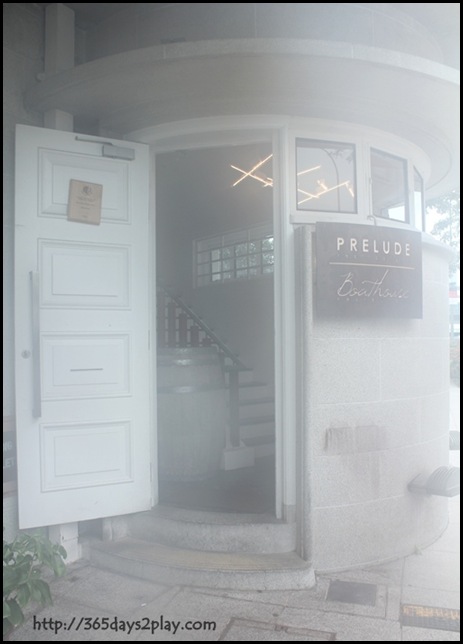 I like the misty look!
I was just perusing the menus at Boathouse. The Business Set lunch looks really affordable at $32, for a place like Boathouse. Also, check out the Sunday Brunch Boathouse Platter. That looks pretty affordable too. And the $65 afternoon tea set for 2 that includes caviar sandwich, lobster sandwich and foie gras brioche! Who's free to come dine with me????
The Boathouse Restaurant
3 Fullerton Rd #03-01 The Waterboat House Singapore 049215
Monday – Friday 12:00pm – 2:00pm
Monday – Saturday 7:00pm – 11:00pm
Sunday Brunch & High Tea 11:00am – 5:00pm
Tel : 6538 9038
By Train: Raffles Place to Fullerton Hotel
Walk along the Singapore River to Anderson Bridge; cross the road to the Fullerton Waterboat House
Parking: Optional valet parking available during dinner Mondays to Saturdays.
Nearest alternatives: One Fullerton Basement Carpark or Valet at Fullerton Hotel.
Taxi Instructions: The Waterboat House, standalone building at the end of the Anderson Bridge