I don't know about you, but I feel that once in a while you have to pamper yourself with a nice treat. We work so hard Monday to Friday 8.30 — 5.30, usually longer than that, that life would be indeed a drag if you didn't know how to enjoy it. Be it a spa, massage, short trip overseas of indulging over food, I feel it's a necessity not a luxury, just to keep you sane and recharge you in this hectic environment.
For me, going for afternoon tea at a nice hotel is a must. When I'm low on "lovin", my brain craves for this. I know technically speaking, the afternoon tea items don't feel worth the $$$ when compared to lobsters and crabs, but you're really paying for the experience so I still think it's worth it. Tourists to Singapore, you have to try our English Afternoon Tea experience, you won't regret it!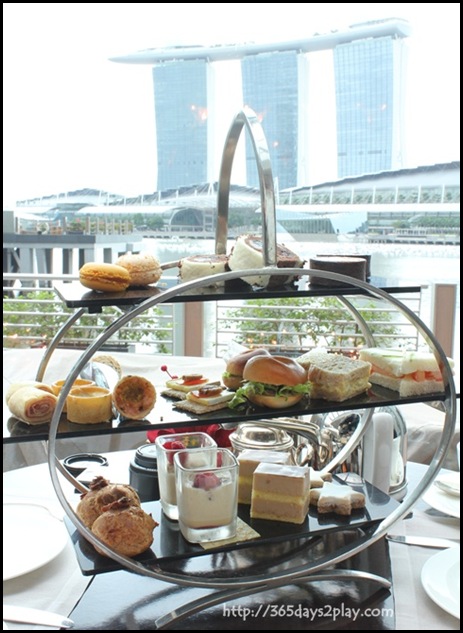 For $42++, you get a 3 tier English Afternoon Tea set, which is refillable. Comes with 3 changes of tea.
Mini Macarons for the macaron lover. These were very good, just crispy on the outside and still chewy on the inside. Because the Afternoon Tea is refillable, its hard to restrain yourself to just 1 or 2 macarons!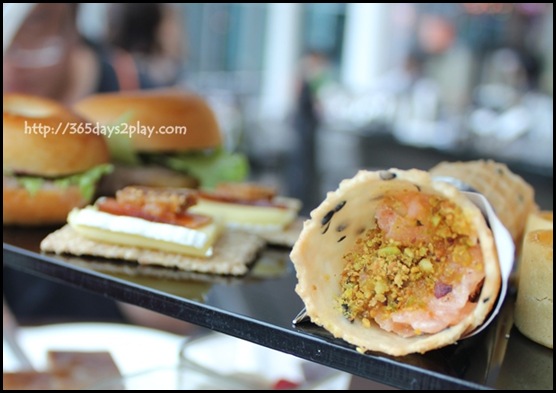 Salmon Tartar Filled Pistachio Cones — I think I had 3 servings of this! The salty flavours from the salmon married very well with the crisp pistachio cones. The Brie Cheese and Figs on Hazelnut Crackers in the background were also very good.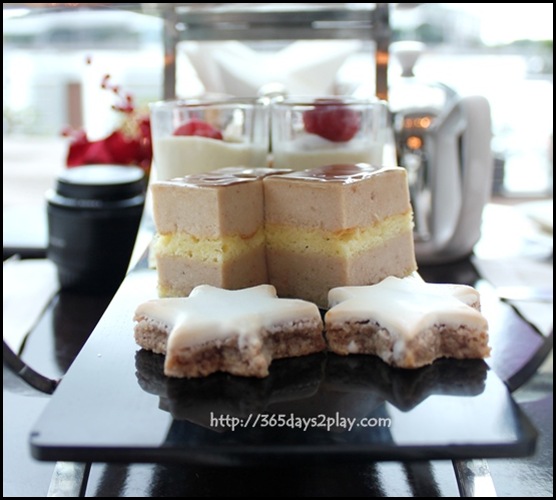 We were there during the last week of December, hence the little star shaped cookies to make it more Christmassy.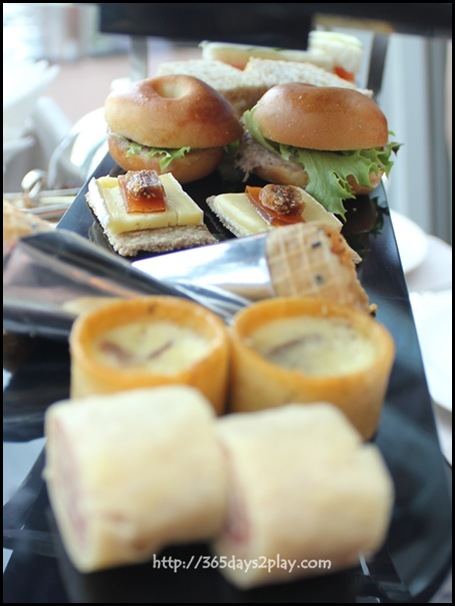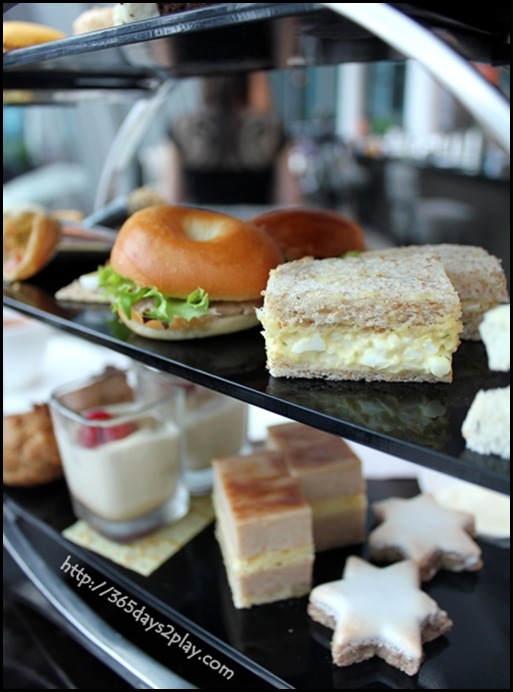 Duck Confit and Blueberry Compote Petit Bagels (must try!), Truffled Egg Salad Finger Sandwich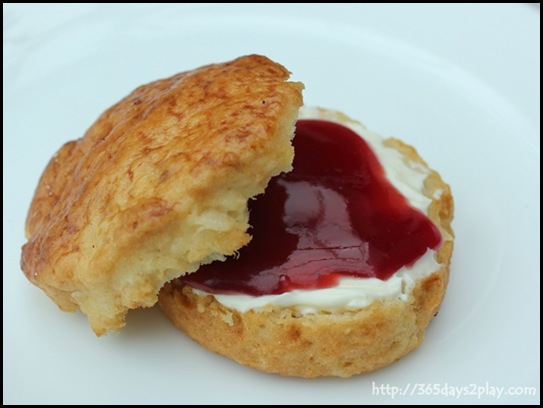 Scones were average only. The jam was rather runny as you can see from the picture. The clotted cream lacked depth. Not as nice as the scones at sister hotel The Fullerton Hotel.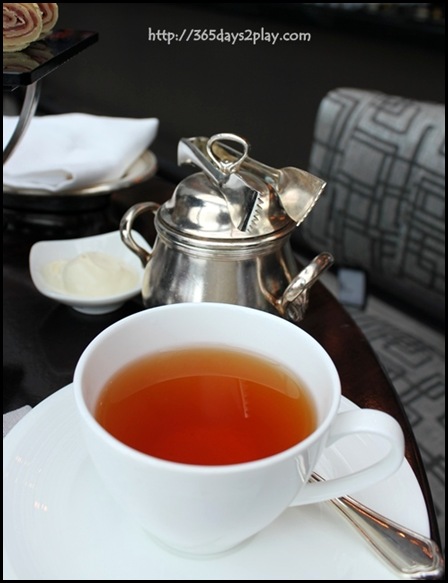 You can get 3 changes of tea. What I like to do is that since I'm dining with a friend, it means in total, we can get 6 teas. So we normally order 1 pot of tea at a time to share. 3 hours of afternoon tea = a new tea every 30 minutes or so. Some hotels provide hot/iced chocolate, which I like to order last, as a sort of dessert drink. Besides its too filling if you drink it up front. (Note at The Fullerton Hotel, it is only 2 changes of tea)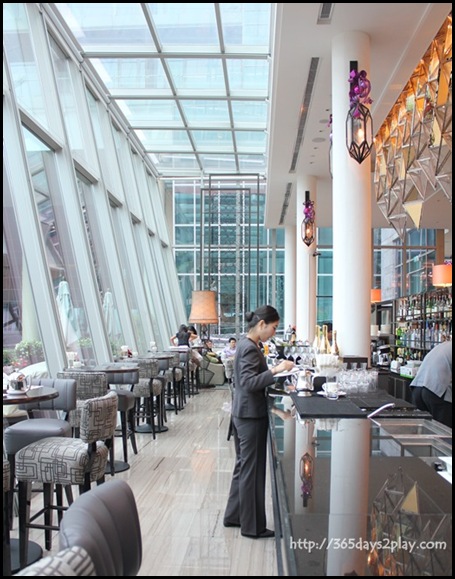 These are the "lower deck" seats, facing the seafront. I think these seats are better than the sofa seats as firstly there's a view, secondly it's more private as it's not facing the hotel walkway, and lastly, the seats are studier which is better for the back.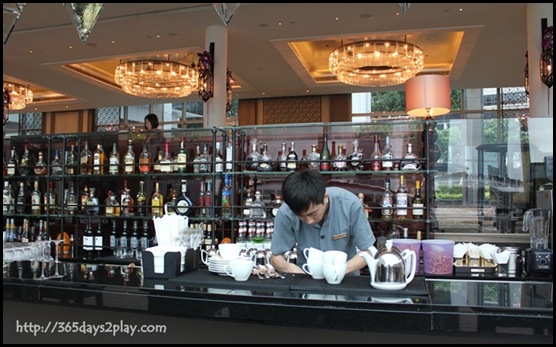 Try not to sit at the table next to the sink. The guy was washing the cups the entire time.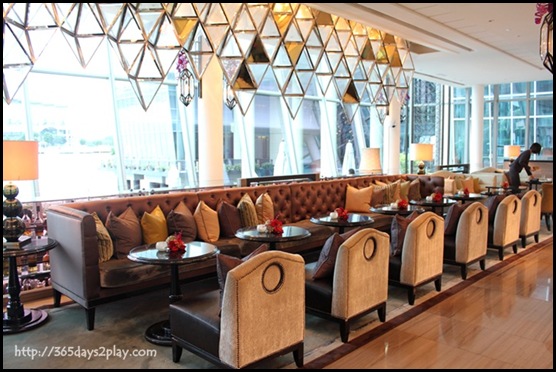 These sofa seats certainly look pretty, what with the comfy cushions and all. I found it a little difficult to eat as you're sunken into the seats, so we decided to change to the lower deck seats.
Check out the Afternoon Tea at sister hotel The Fullerton Hotel
Check out 365days2play's review where to find the Best Scones in Singapore
The Fullerton Bay Hotel Singapore
80 Collyer Quay Singapore 049326
Tel: +65 6333 8388
Fax: +65 6386 8388
Email: info@fullertonbayhotel.com