I was sieving through my old photos and I realised I haven't written about my birthday dinner! I might have mentioned before that I like to celebrate my whole birthday month, and not just the birthDAY itself. I like to space out all the treats so as to maximise the enjoyment and anticipation. I mean won't you agree that the birthDay is just 1 day only, and one day is just too short to fully celebrate? In fact, come to think of it, the Partner still owes me a treat to Waku Ghin! I'd postponed it after already celebrating my birthday a few times that week, plus a few media tastings I had to contend with. I think now is a good time to remind him that a trip to Waku Ghin is in order….
Most of the time, as I can imagine would be the case with other food bloggers, I am the one tasked with the job of finding new restaurants to whet our appetites. It's an arduous task actually, for it's not a matter of just listing out the top restaurants. There are criteria to be fulfilled, such as location, ambience, the availability of a particular dish, pricing, and the like. If you can't do it fast enough, your intelligence is questioned. Should the restaurant fail to live up to expectations, rest assured you will hear about it as if you owned the restaurant. But more on that another day.
For my birthday, the Partner actually managed to rustle up the idea of going to Prime Society. Very good job, it was a very enjoyable evening and the steaks were excellent. Ah well, at least he knew he would like the place, he's a steak person!
It's always a bit of a bother going to Dempsey Hill if you aren't driving, but this time it was well worth the effort. I liked Prime Society the minute I entered it. It has this European kind of decor, with the brick columns, tall ceiling, mini chandeliers and murals of battle soldiers. In fact, you're expected to think of yourself as hailing from an upper class society, if not from royalty itself. Check out these commandments, and you'll know what I mean!
The food was EXCELLENT, and if you're looking for a higher end steak place without the higher end $$$, Prime Society is the place to go.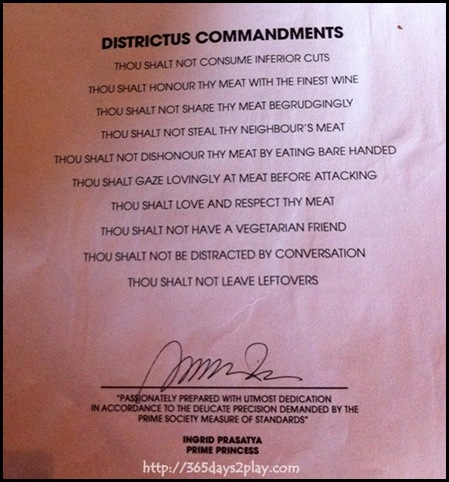 Thou shalt not have a vegetarian friend!! Certainly, it would be best to leave the vegetarians and pescetarians at home when coming to the Prime Society. Okay, they have a Barramundi if you must, but that's really about all there is for non-meat eaters. Other than the pesky pescetarians (my father is one), I believe I fulfil the rest of the commandments. 🙂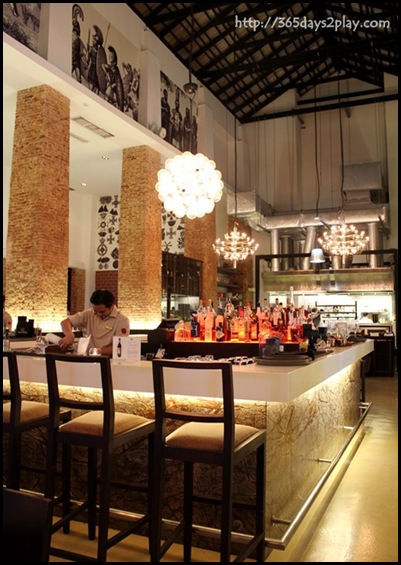 Picture of the bar area
Bone Marrow with Celeriac Remoulade, Parsley and Toast $16
What can I say, it's bone marrow. Super delicious and super sinful! The texture of bone marrow is like that of fat, without any gristly bits getting in the way. It's soft and voluptuous, each mouthful sliding down your throat so easily. Be careful about eating too much of it, it's definitely meant to be shared! The lemon helped to cut a bit of the greasiness, but really, 2 or 3 mouthfuls of the stuff is more than enough to start making you satiated! If I have any complaints, it's that there'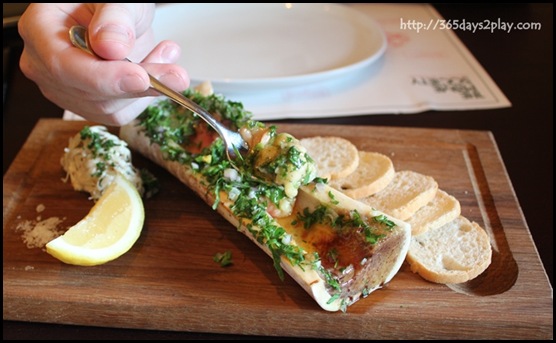 Come on, you know you want some!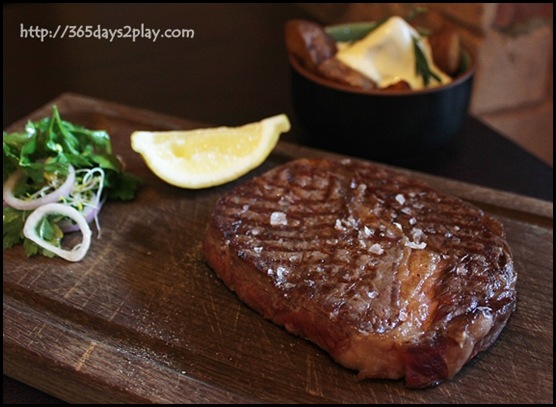 100% Natural Pasture Fed Black Angus Rib Eye 220g from North Western Tasmania $44
The Partner ordered this. Where possible, he always opts for the Pasture/Free Range options rather than the Grain Fed cattle as it is a healthier and more flavourful choice. We always go for medium rare and this steak was cooked just right. The steak was tender while retaining a nice bite. It was flavourful and moist. The specks of salt on the top was more for garnishing as the steak tasted perfect the way it came. As this steak arrived first, I had the opportunity to steal a few bites and I was almost worried that I should have ordered this instead!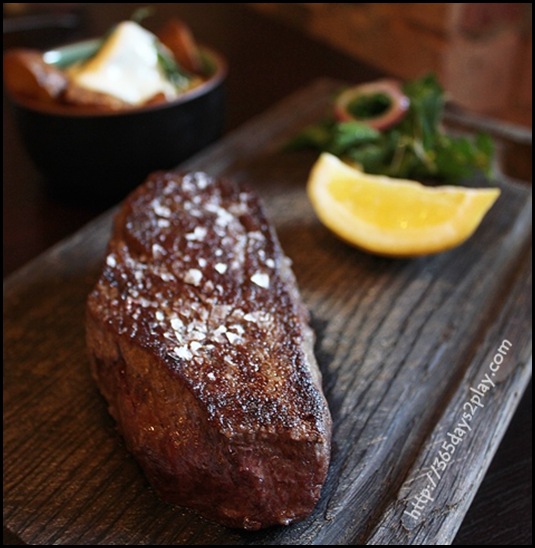 Wagyu Tri-Tip $50
When my steak arrived, I had absolutely no regrets at all. This is hands down, the most tasty, juicy, fattening, flavourful, delicious, divine, SUBLIME piece of steak I have ever eaten to date! This steak wasn't in the menu, but the manager recommended it to us as they had some stock. Until then, I'd never even heard of Tri-Tip, but I realise now it is the bottom Sirloin, and there's only a bit from each cow. It was only 150gm, and I thought I would not be full, but the manager assured us that because Wagyu Tri-Tip is quite fattening, 150gm would be more than enough! And he was definitely right. I was a little worried about the fat that I was ingesting. Okay fine who am I kidding, despite the fears I still finished the entire steak. I wouldn't have ordered the Bone Marrow in this case, because that's really too much greasiness in the appetiser and the mains.
It's interesting why the manager offered the Tri-Tip so hesitantly. Did he think that it would be some exotic flavour that I would not be used to? Well I can safely say it should be made a PERMANENT feature in the menu!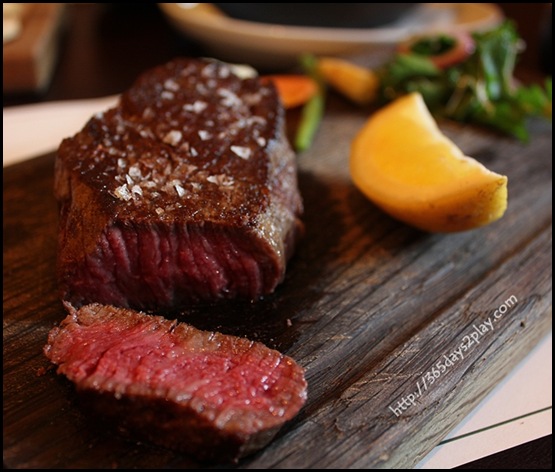 Mmmmm…..MEAT. Really, a work of art.
Towards the end, I have to admit the greasiness got to me so more pieces of lemon would have been appreciated.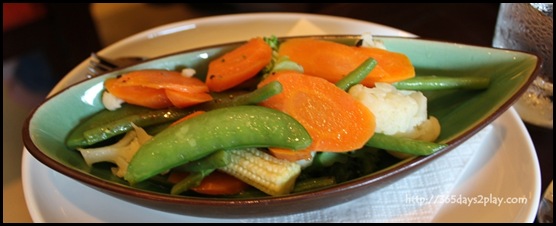 Seasonal Vegetables $7
A tuft of vegetables is provided with the steak, but that's hardly enough to meet your daily fibre requirements so we ordered a serving of seasonal vegetables. I never like having to order additional vegetables. I feel they should be provided with the main course! I feel they are surreptitiously trying to make the steaks look cheaper when they are not. I know Mortons does this, and a few other places as well and I don't like it. It's kind of like the same feeling you get when restaurants charge you for plain water.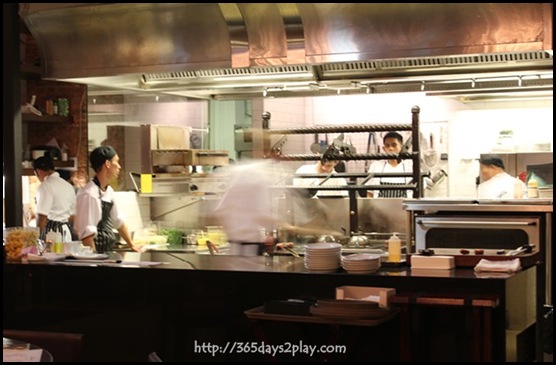 The open concept kitchen at Prime Society
The Prime Society
10 Dempsey Road #01-20, Singapore, Singapore 247700
Mon — Wed : 6:00 pm-10:30 pm
Thu — Fri : 12:00 pm-3:00 pm   ; 6:00 pm-10:30 pm
Sat — Sun : 9:30 am-2:00 pm  ;  6:00 pm-10:30 pm
Telephone : 6474 7427
The Prime Society Website : http://www.theprimesociety.com 
The Prime Society Menu : http://www.theprimesociety.com/book/docs/alacarte_menu.pdf
The Prime Society Facebook : https://www.facebook.com/ThePrimeSociety