OMG, have you heard that a cat cafe will be opening in Singapore very soon? I can't wait to visit Neko no Niwa when it opens in a few weeks' time! If you're a cat lover but don't have a kitty to call your own, a cat cafe's the next best thing!
I visited a cat cafe when I was in Seoul recently. It was the 1st time I had ever visited a cat cafe and it was one of the highlights of my trip! I find it really amazing that all the cats in the cafe are so docile and don't mind you petting them even if they are sleeping. The cats that live in my neighbourhood are much more aloof and if they're not in the mood for pats, then they don't even look at you! Worse still, they might raise their tail at you!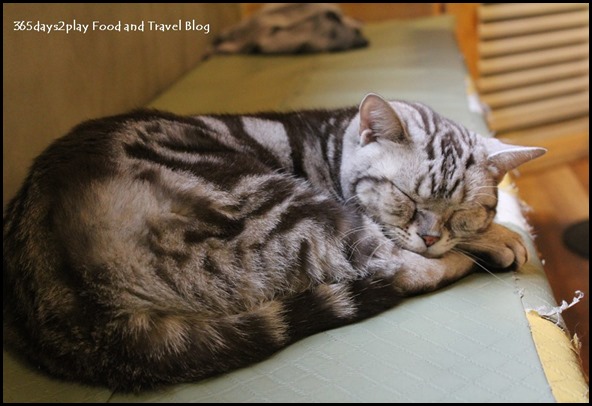 This cat cafe that I visited in Seoul is called Cat's Attic Cafe and is in the Hongdae area. It's less than 5 minutes walk from the Hongik University subway station, I think Exit 8 is the one to take.
It costs only 8,000 Korean won (about SGD$10) to enter Cat's Attic cafe for an unlimited amount of time. And you get a free drink to boot! I thought it was a very reasonable price, given that the drinks were of cafe standard!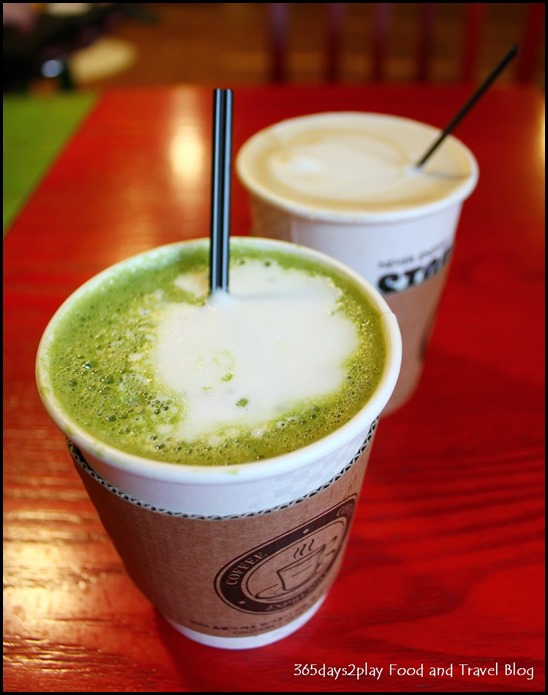 I ordered a Green Tea Latte while the Partner ordered a cafe latte. I thought my green tea latte tasted exactly like the one in Starbucks, which I like very much. Wonder if anyone knows where I may buy the green tea powder so that I can make this myself everyday?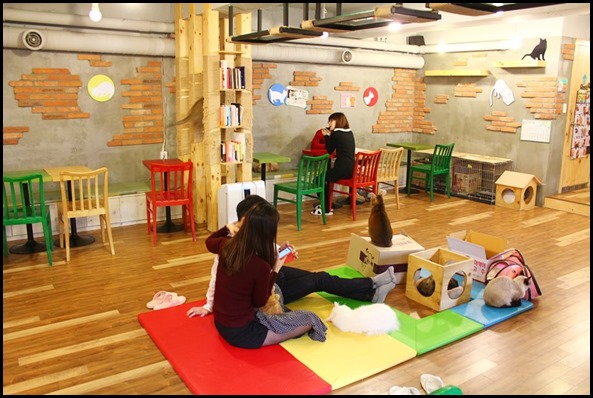 There are seats all over the cafe. Or if you find tables and chairs too restrictive, you can plonk yourself down on the mat in the centre of the room and just go all out with the cats! The ladies were sitting there with the cats snuggling on their laps the entire time! Even guys seem to have no hesitation to show full affection to the cats.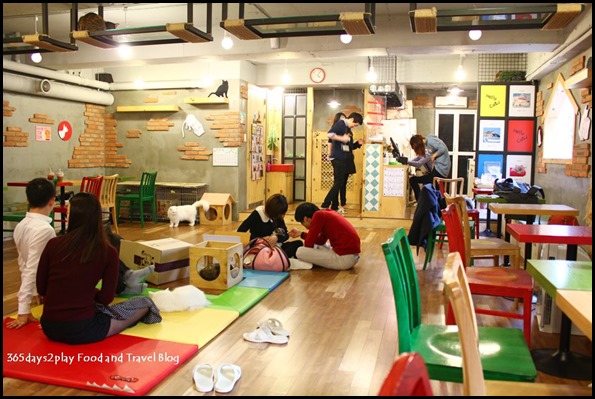 See, nearly everyone out on the floor, except us I think. I liked that it was pretty empty in this cat cafe, so there'd be less people to share the cats with…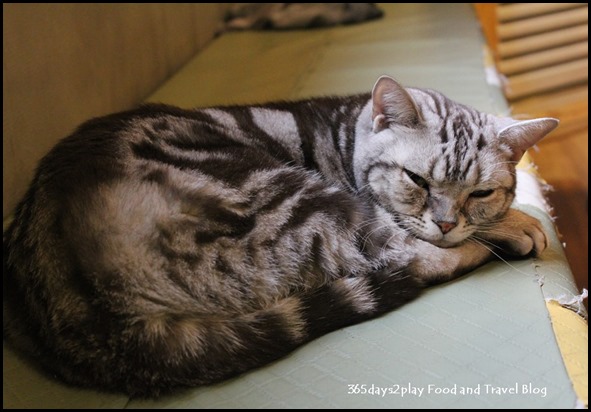 I had a cat near my seat, but he was sleeping nearly the whole time except for this bit where I tried to ahem, make a little movement to wake him up. Technically speaking, the house rules are that if the cats are sleeping, you are to let them be. Bad me, don't follow OK?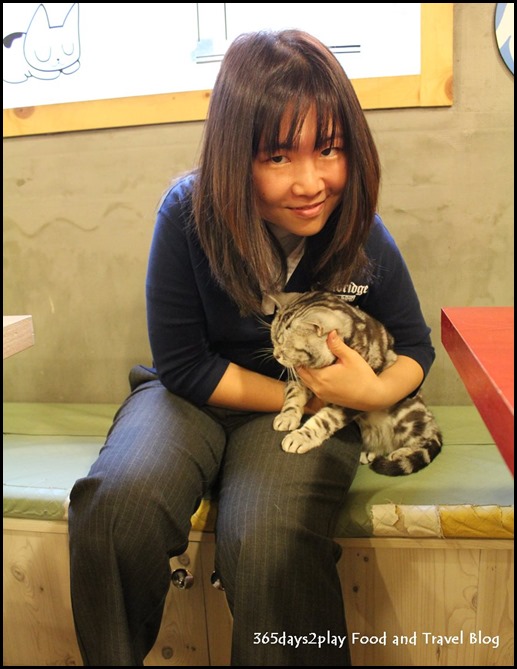 I think I'm the worst person when it comes to carrying cats. I absolutely do not know how to carry a cat! And worse still, my thighs are super ticklish! Here I'm trying to carry the cat while not letting his paws step on my thighs!! Is it just me??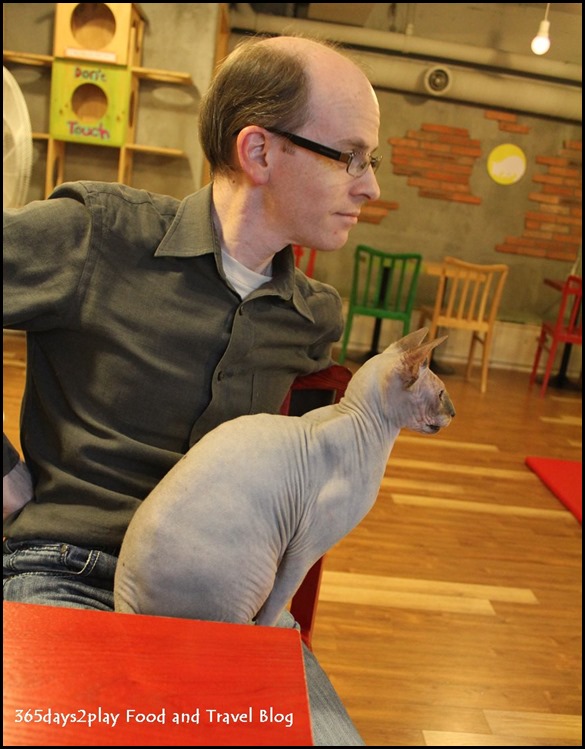 The Partner managed to make friends with this hairless cat. Not really sure what they were looking at, but I'm sure they were plotting something.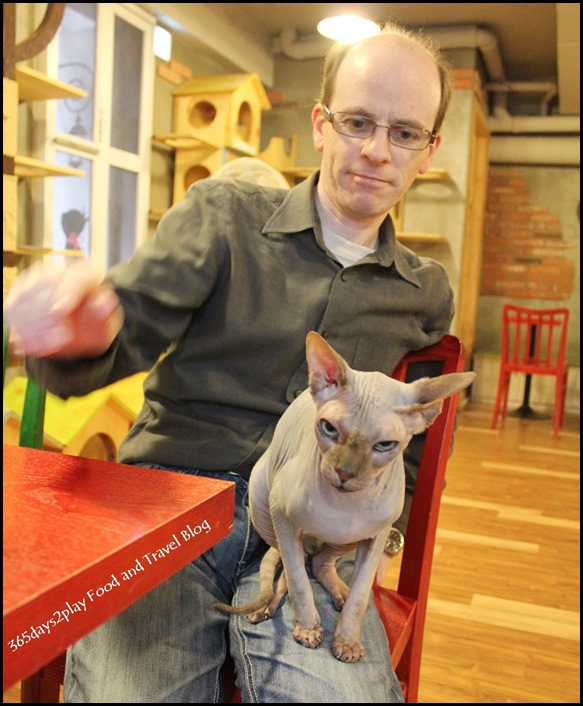 Coz he subsequently gave the signal for the cat to attack me. In self-defence, I shot the cat.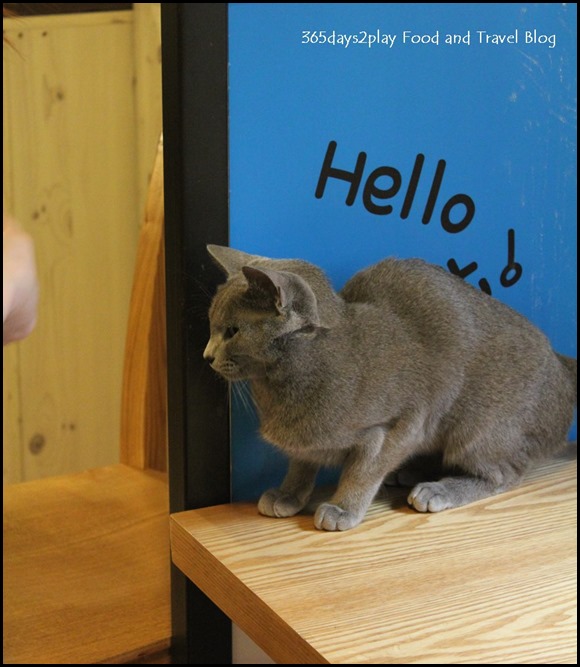 You mustn't be too squeamish about the cats running all over the place. They will climb onto chairs and tables with no hesitation at all.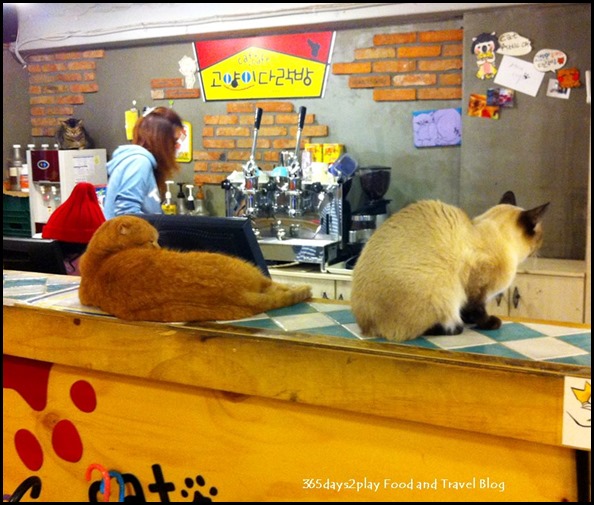 They can be on the registration counter. At one point I spotted a cat behind the espresso machine!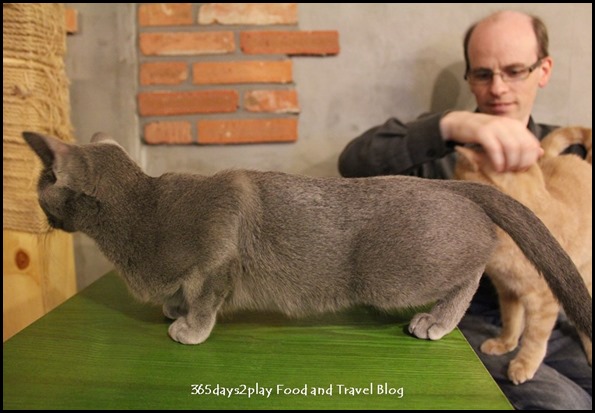 Not too sure what this one was trying to do. Pretend to be a daschund or attempting to do some push ups I suppose.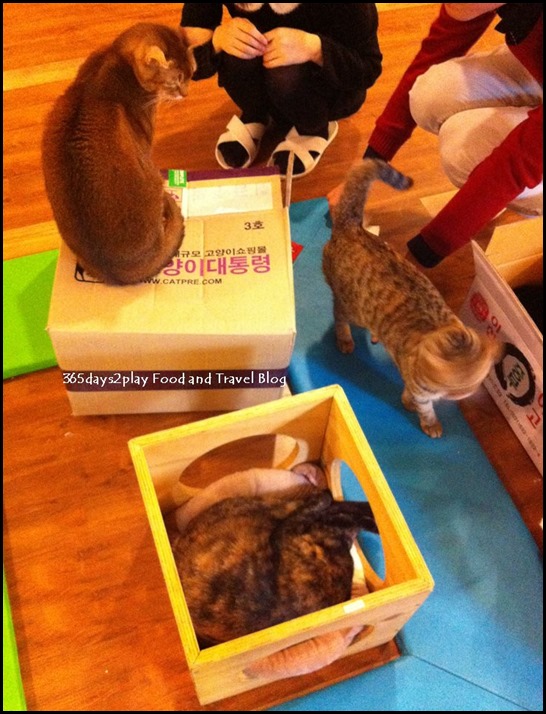 What's with cats and boxes?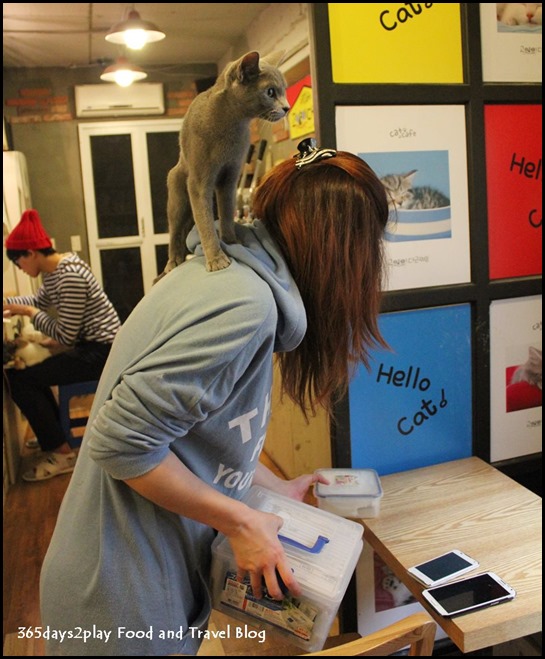 I can tell the owner (or perhaps she just works here) really loves cats! Wouldn't it be great to work in a cat cafe? You'd produce endorphins all day long with the little cuties.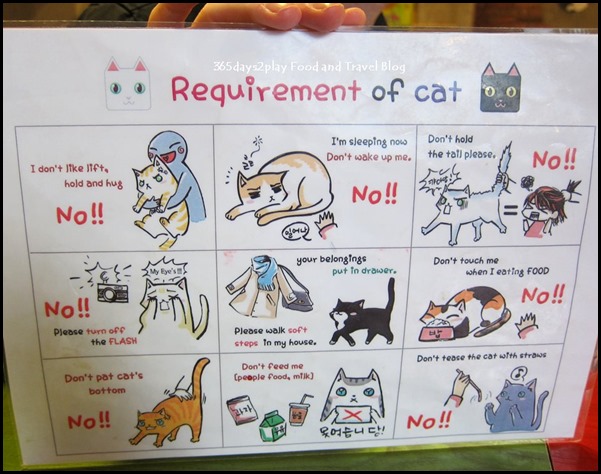 These are the house rules to abide by when at the cat cafe. But I'm sure if you are a cat lover, you'll know what to do.
I guess I would have highly recommended any Singaporean visiting Seoul to visit a cat cafe for some cat therapy. But now that cat cafe Neko no Niwa is opening at Boat Quay in Singapore, you can all go there to check it out as well! Only thing is, it is more expensive at $12 for the 1st hour, and it doesn't even come with a drink!  I'll definitely still be checking it out though.
---
Cat's Attic Cafe
www.godabang.com
5 min walk from Hongik University Subway Station Exit 8 where all the shops are
Look out for this sign