~~~~~Moving on to THE ROOOOMS~~~~~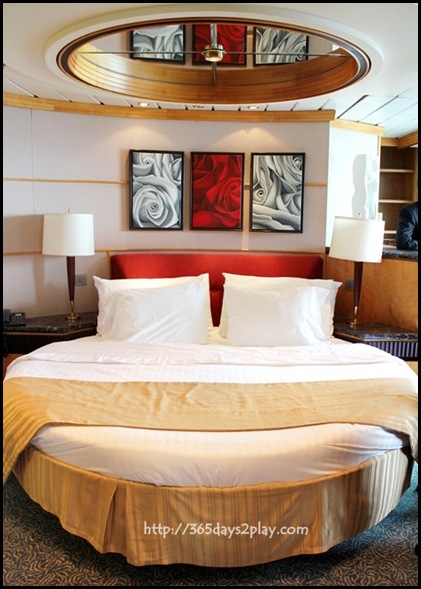 1st stop, the Presidential Suite, also known as The Royal Suite. So luxurious that even the bed as to be a more unusual shape. When I am a millionaire, I'm going to get myself a rounded bed like this too!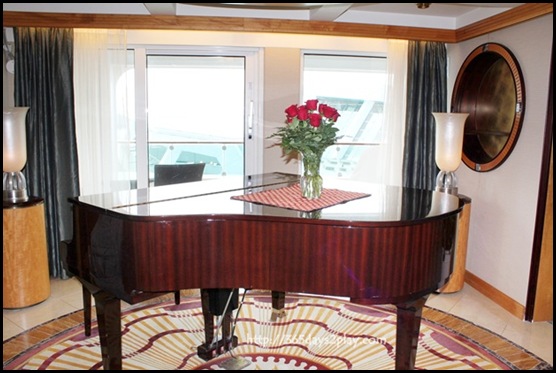 I mean the room even has its own grand piano! I really wouldn't mind staying in the Presidential Suite. Yes I'll have this room, thanks.

One of the newspaper photographers, Ace Kindred, could not resist and started testing out the piano. And he started to play Chariots of Fire which is one of my favourite instrumentals! Amazing that he only picked up playing the piano 2 years ago and played this by ear!
If there's one thing that's very romantic, it's a guy playing romantic songs on the piano just for you. My ex-boyfriend used to do that and always had me weak at the knees.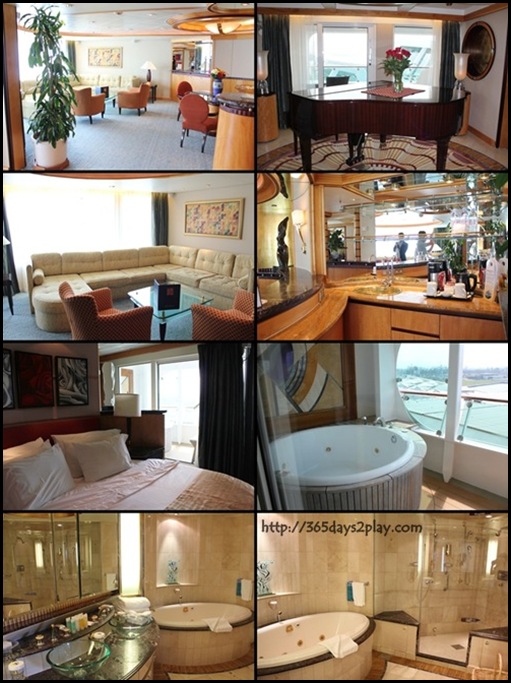 A huge-as sitting room, bar counter, your very own private jacuzzi with a view. This is the life. Who needs the public jacuzzi somewhere in the gigantic ship when you've got your very own jacuzzi.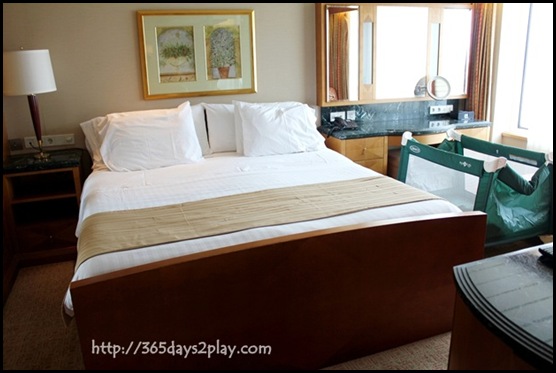 The Owners' Suite is not too shabby either. This suite is 1 step lower than the Presidential Suite and there are 10 of such rooms in total. Royal Caribbean will even provide you with a baby cot should it be required.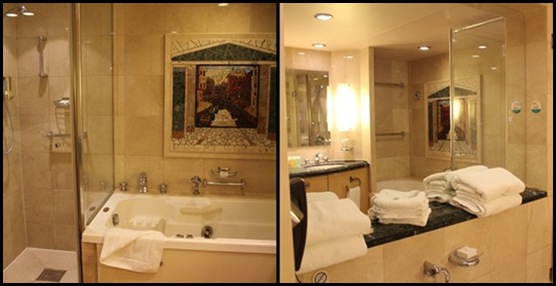 Can't tell the difference from what you would get in a 5 star hotel.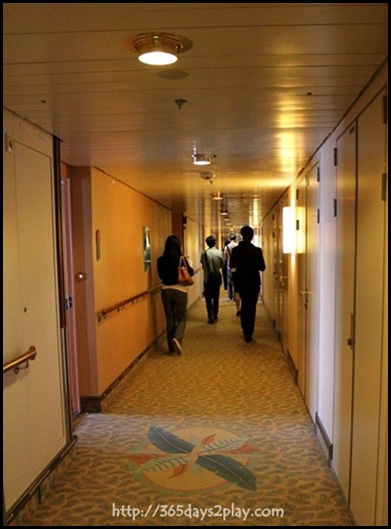 Okay we plod along the narrow corridors. Meanwhile my heels were killing me…should have been sane enough to realise not to wear heels for this event…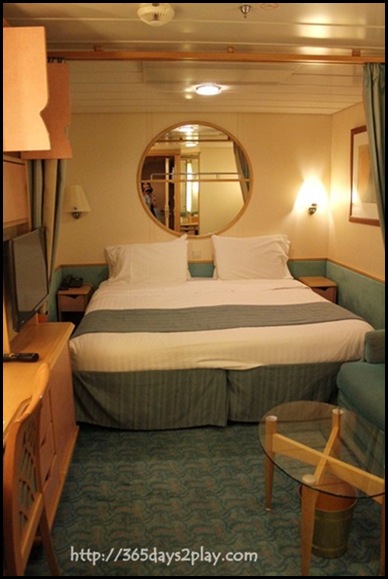 As we plodded along, we caught glimpses of the cheapest rooms in the Voyager. I'm kind of standing where the door is already… It's sad to know that these rooms share the same corridor as the suite rooms. A world of difference!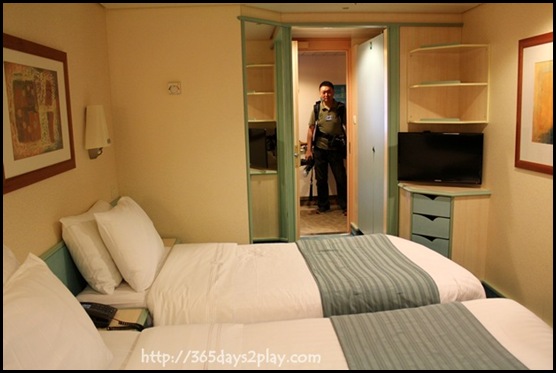 This room reminds me of my hotel room in one of my Norway hotels. The Norwegians/Scandinavians are notorious for ultra small yet ultra expensive hotel rooms.
This is one of the Oceanview Rooms with Balcony. About SGD$250 more ex per pax than the smallest rooms, for the 3 night voyage to KL and back. Worth upgrading I think.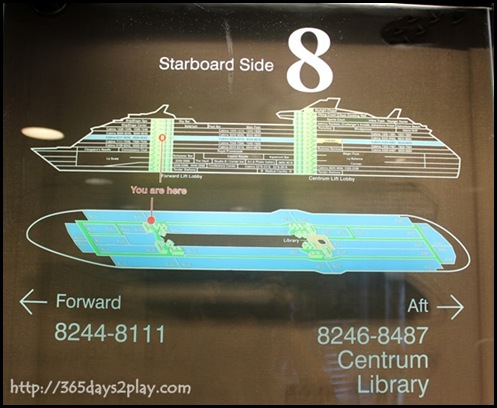 I was here!
~~~~~~~~~~Moving on to The Facilities~~~~~~~~~~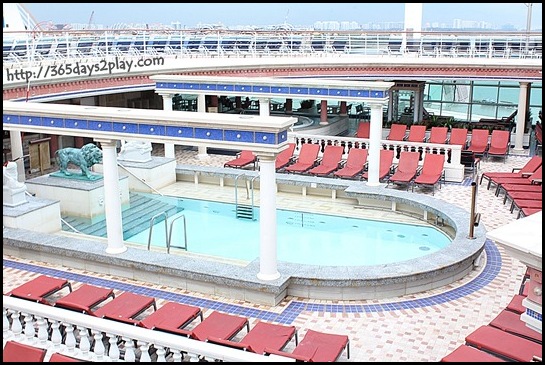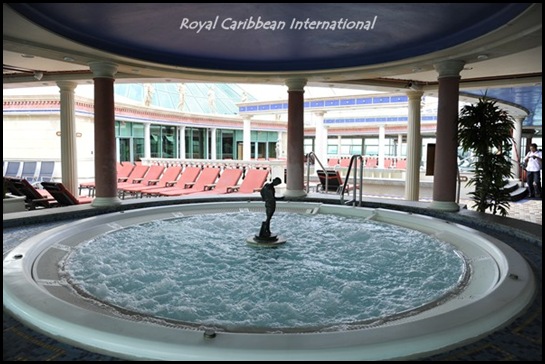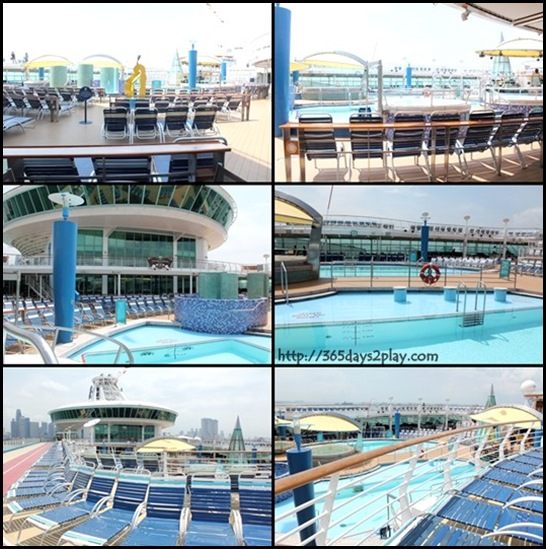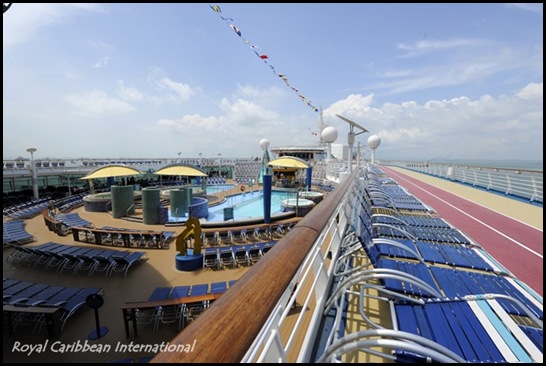 Moving on to the facilities. These were all at the open deck area. It was around 12 noon when were were there and it was HOT LIKE HELL. Quite terrible to be looking at the lovely water and not being able to take a dip! The swimming pool is not as nice looking as I was expecting, but this is a 10 year old ship after all. The deck chairs will come in useful in the early mornings or evenings in Asia when it is less hot. The lady told us that in Europe, understandably more people use the open deck area thanks to the cooler temperatures.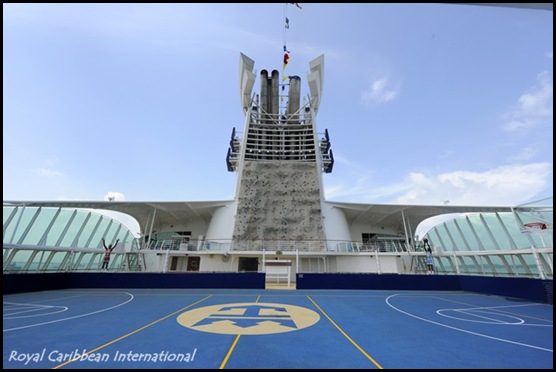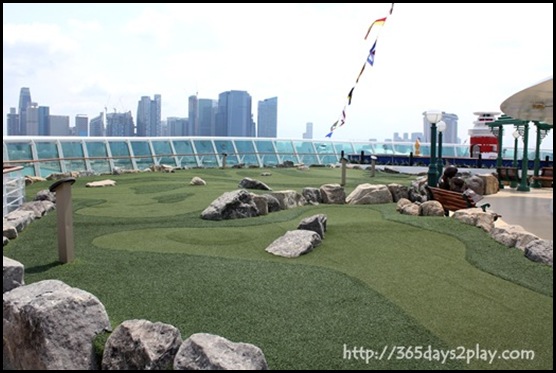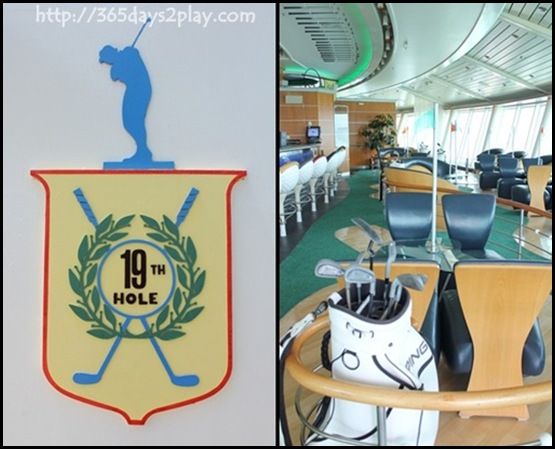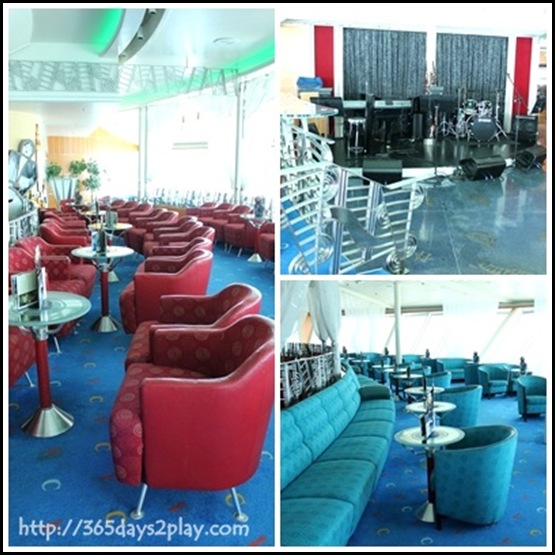 Basketball court, mini golf, 19th hole bar, disco thingy…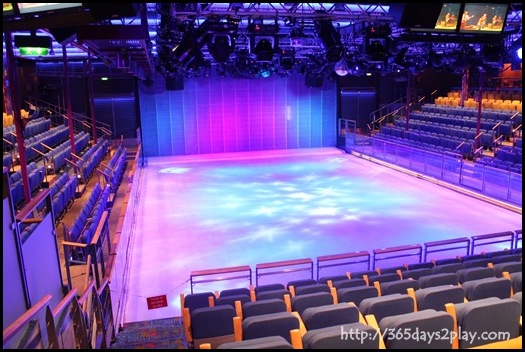 They even have their very own skating rink! Ice skating performances are held here too, free of charge but on a first come first served basis.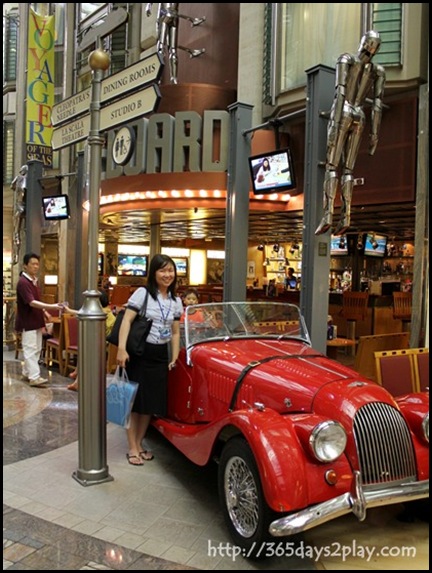 The Promenade, where you can get your duty free goods, at 20-30% cheaper than from Orchard Road. More restaurants here too, and a Ben & Jerry's.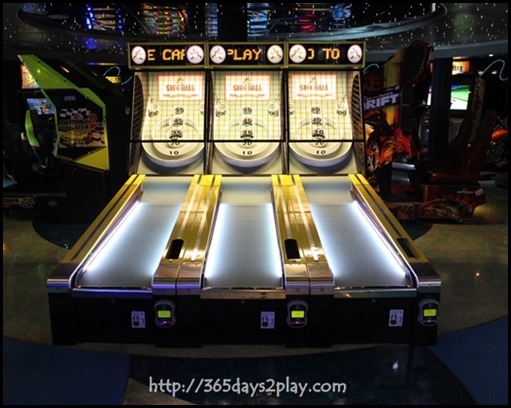 Arcade, for the young at heart. Skee ball, my favourite thing! I have the game on my iPhone!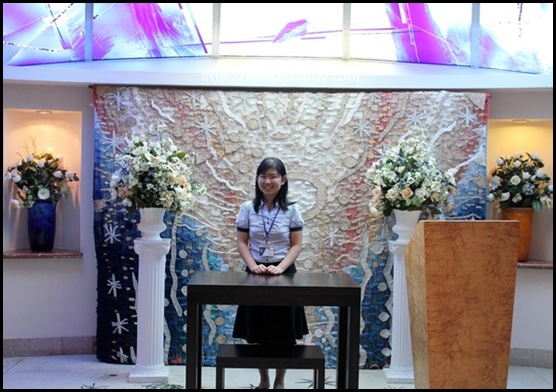 And the most "interesting" thing of all, the Voyager even has its very own chapel! Don't ask me what I am doing there…. Many people like to renew their vows here, but they have to get their own Priest/Pastor or whoever it is that is required. Did you know that if you get married on board a ship while it is sailing on International waters, your marriage certificate is not valid once you are back on land? It is only valid out at sea! So don't get swept off your feet and don't believe the guy who says he will marry you, if he plans on doing so while at sea!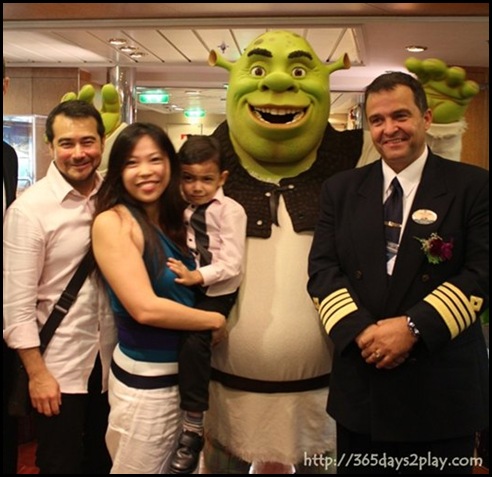 This is the "First Family". No they're not related to the President or the Prime Minister. They just happened to be the 1st family to register for boarding. The Captain is on the right, and the CEO of the Royal Caribbean International Adam Goldstein is on the left just outside of the picture. And there's Shrek attempting to squash some people's heads. Be careful, he likes to scratch his butt too, especially when you're watching. He resides on the ship so passengers will get to see him again.
Read about Part One of my tour around Royal Caribbean's Voyager of the Seas 
Stay tuned for PART THREE, which is all about the FOOOOOD.
While waiting, please vote for me at the Singapore Blog Awards 2012. I'm a finalist in the Food Category. Please press VOTE ME and it's only successful if you see the words VOTED come up!