Calling all kitchen-proud home cooks out there! Fancy winning a free cooking lesson sponsored by IKEA Smart Kitchens? The cooking class will be held at Cookyn Inc and promises to be a session of fun-filled laughter amidst hands-on cooking!
All you have to do is to submit photos showing IKEA how Pretty, Smart, Good and Happy it is in your kitchen and dining for you and your family. Click here to access the IKEA Facebook Page and read the full instructions or view the photos for inspiration, or simply submit your photos here. The closing date is 14th June. Meanwhile, scroll down to view the pictures of the amazing cooking class I was invited to participate in.
Photos of Swedish cooking class at Cookyn, sponsored by IKEA
*Photos without the https://365days2play.com water mark are courtesy of IKEA.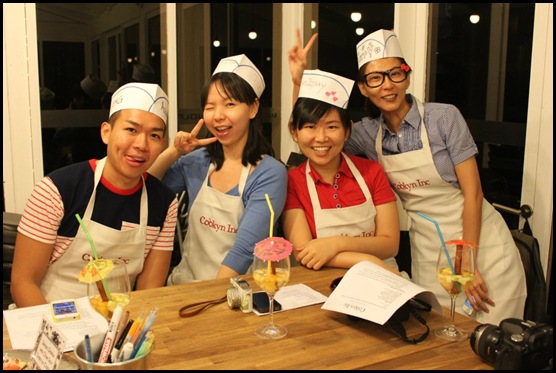 All smiles before the start of the cooking class. I have to warn you, when dining, or doing just about anything with bloggers, be sure to expect lots of photo taking. Even when cooking, we endeavour to slip in a photo or two. That's just who we are!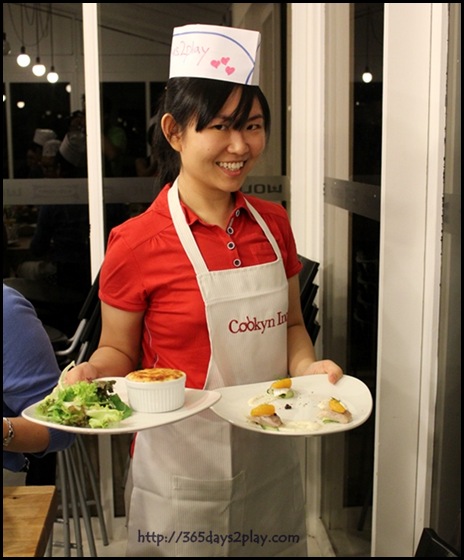 Two of the Swedish dishes we cooked. Not bad, we did 4 in total, with the help of Mervyn and Rayner of Cookyn Inc!
Dark chocolate kladdkaka with raspberries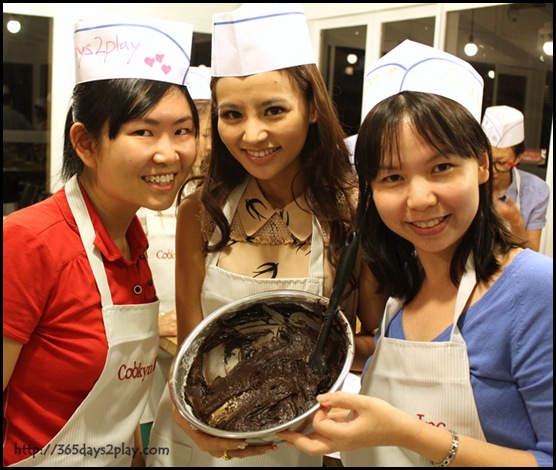 The 3 of us were assigned to make dessert. There's Cheryl Wee of http://cheryl-wee.blogspot.sg/. She's a singer! And June Yong of http://mamawearpapashirt.com/. Kladdkaka is a Swedish Chocolate cake, similar to what we know as brownies. A very dense cake that is made without leaveners.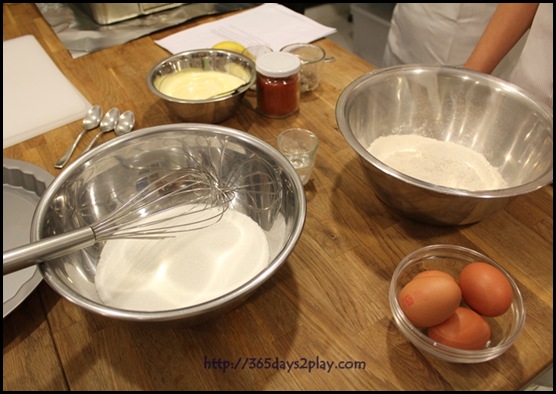 The ingredients for the Kladkaka.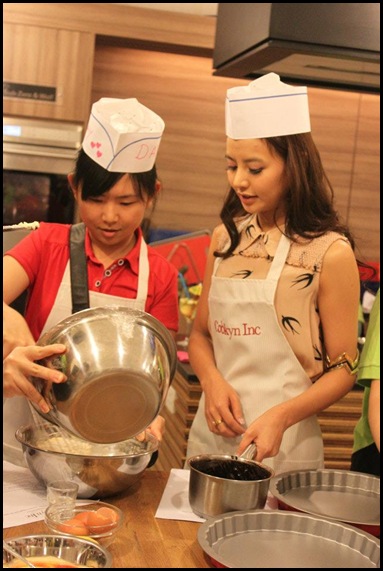 Pouring the flour into the eggy batter mess. This cake is so simple, it's almost like a cake for idiots. So unlike the cakes I made at my Baking School, where you have to treat the batter with tender loving care. I definitely have to replicate this cake again. Like tomorrow.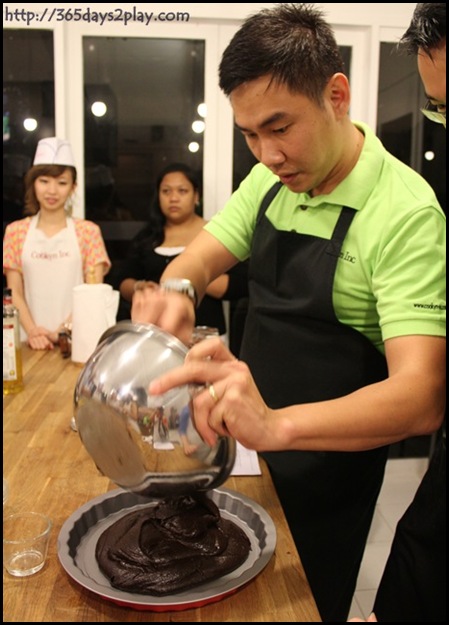 Mervyn is the owner and head instructor of Cookyn Inc. Here he's pouring the chocolate batter into the IKEA baking tin. The tin has a removable base for easy removal of the cake once it has been baked. You don't want to tear your cake in half trying to get it out of the tin. Trust me, I've done that and it's bad.
Did I mention that most of the equipment used can easily be bought from IKEA? Even the table is from IKEA, although that was bought by Cookyn on their own when they first opened. I happen to have a similar table top at home, customised to have drawers beneath it rather than just plain legs. The length of the table can also be customised!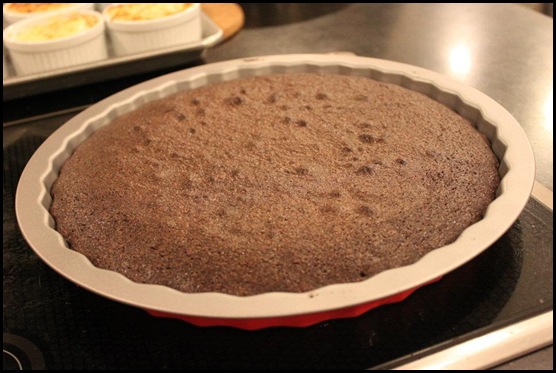 Doesn't look so presentable like this. But wait till you slather on the vanilla cream sauce! Oooh la la, or as the Swedish would say….Utsí¶kt! Or is it lí¤ckra? Ah well, just eat!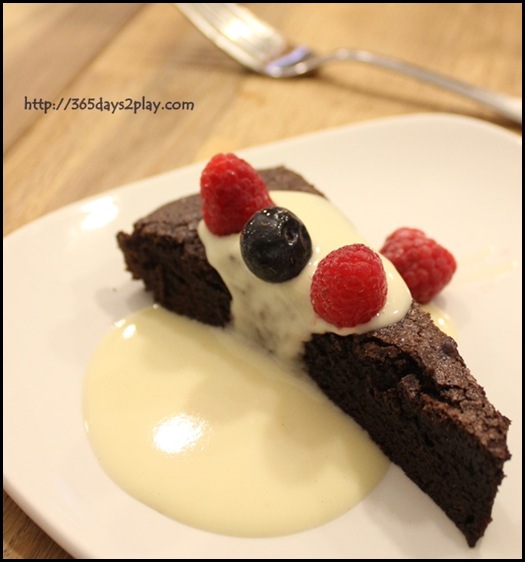 Dark chocolate Kladdkaka with raspberries and vanilla cream sauce to serve. Decadently heavenly!!!! I know how simple this cake was to make, but it was so damn delicious! Really, a recipe to keep and whip up for guests who drop by without warning!
Cold Shrimp with mayo in vol-au-vent shells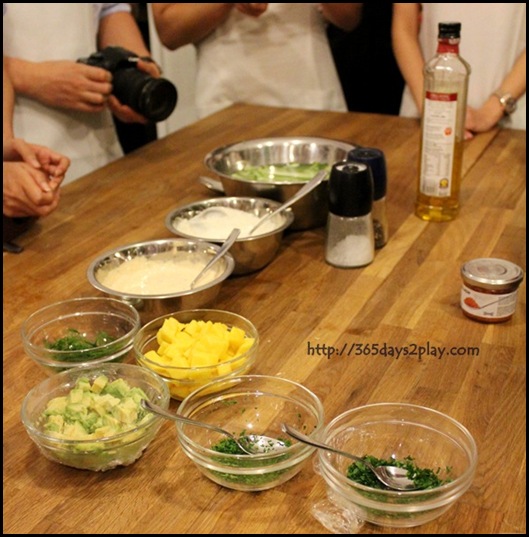 Lay out all the ingredients in these glass bowls for convenient access. The Culinary Institute of America has a French phrase for this…it's called Mise en Place.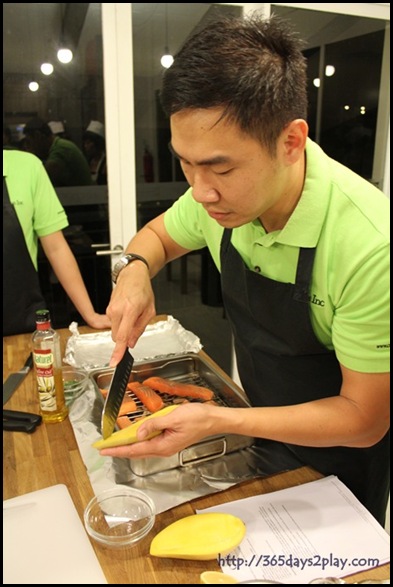 Mervyn demonstrates how to slice up a mango easily for serving.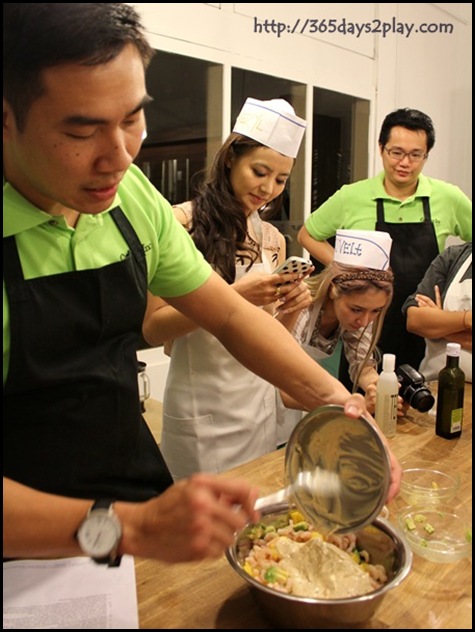 Mix the creamy mayonaise together with the prawns…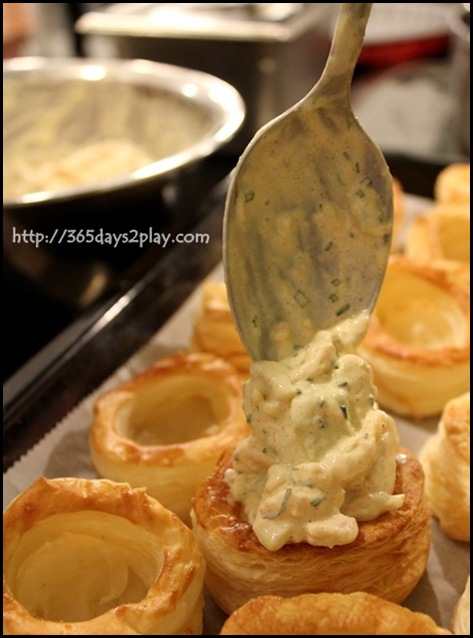 And stuff them into ready made vol-au-vent shells.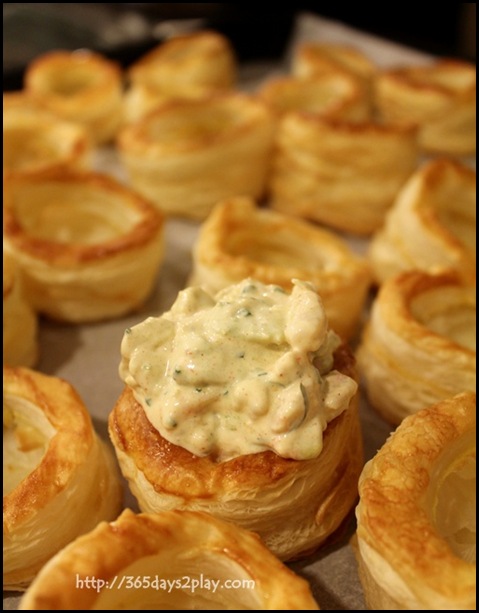 And they are done! I know how to make these vol-au-vent shells btw. I learnt how to at Baking School!
Marinated Herring, shaved cucumber, mandarin oranges with dill caviar cream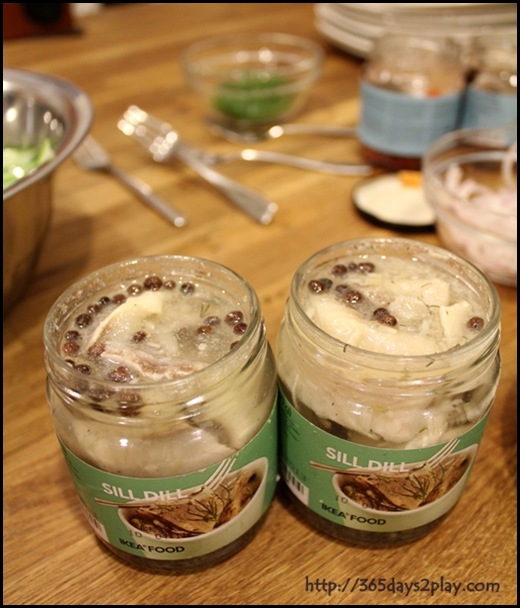 You can get these bottles of marinated herring at IKEA.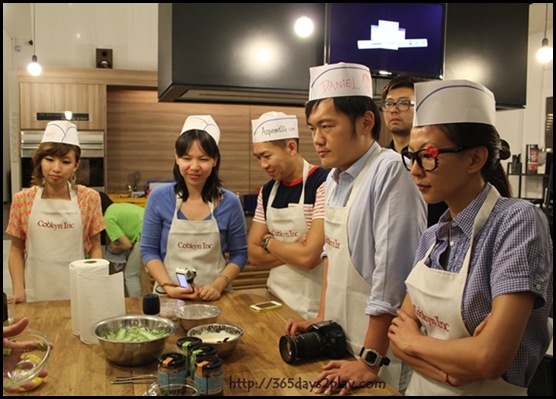 Bloggers watching Mervyn intently before attempting the task at hand.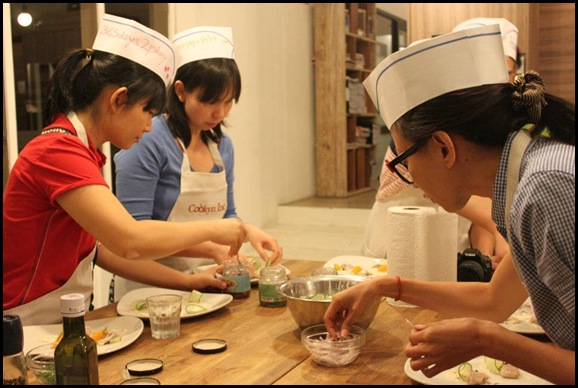 Oooh a picture of myself plating the Marinated herring with dill caviar cream.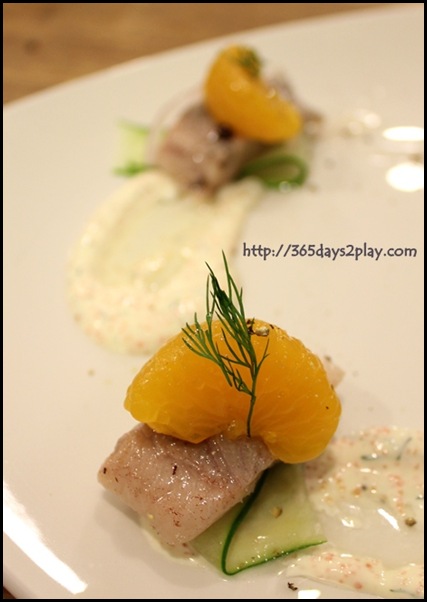 Ain't this a work of art, if I do say so myself. I've never plated a dish like that before! I may have a lot of baking experience, but cooking experience I am still sorely lacking. Woo hoo! Some people are put off by the strong fishy taste of herring. I happen to be the type of person who doesn't have a problem with strong tastes. In fact, what hit me more was the sourness of the fish due to the brine.
Baked Salmon & Potato Gratin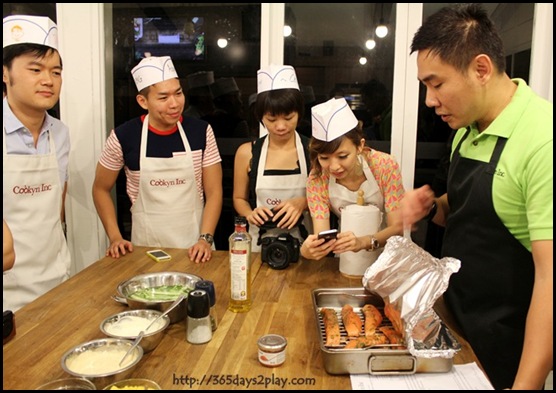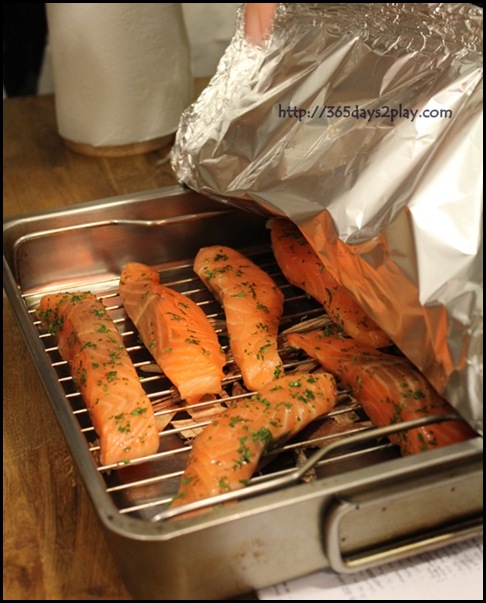 Once again, you can get this roasting tin from IKEA. Here, pieces of salmon are going to be smoked inside this tray in the oven. I believe you can buy the wood chips from Cold Storage, I've seen them before.  The wood chips do give the salmon and extra kick, but even without the smoky flavour, you could still do this dish. The salmon only needs to be partially baked as they will continue to cook while in the terrine.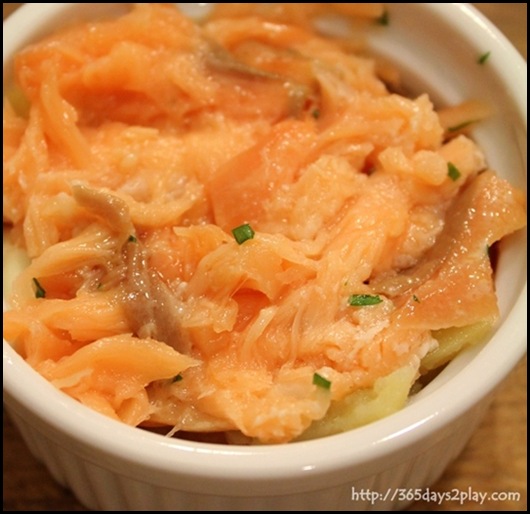 We layer up our terrines with potatoes, cheese sauce and salmon.
And finally cover the top with a layer of parmesan cheese and mozzarella. Mozzarella lends itself to the stringy texture while Parmesan provides the saltiness. As you can see, I've layered my cheese well above the rim. I can't help it. I'm greedy!!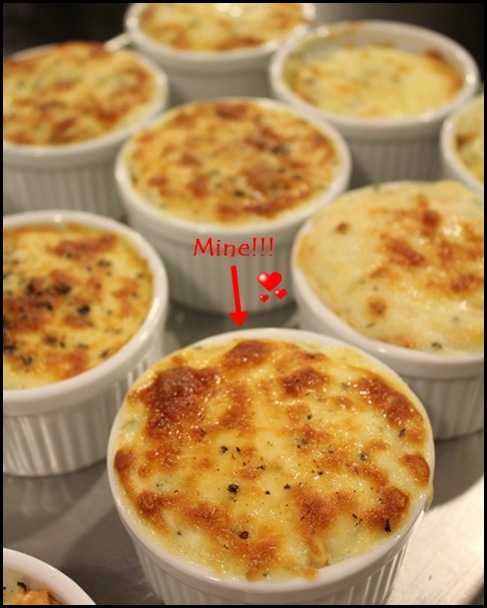 Yeah!! My baked salmon & potato gratin.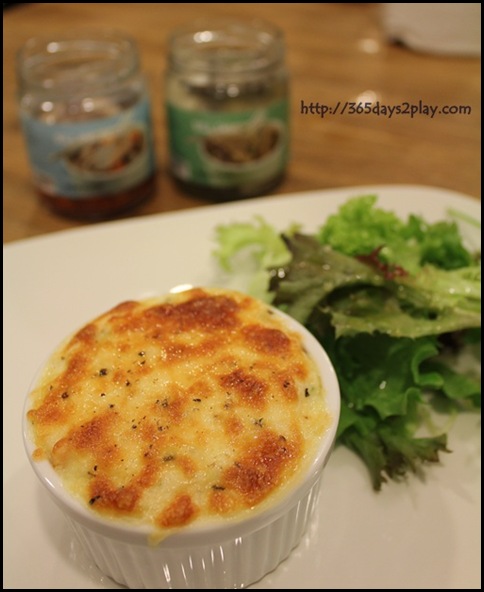 Serve on a plate with a side bed of lettuce and instantly, you have a meal.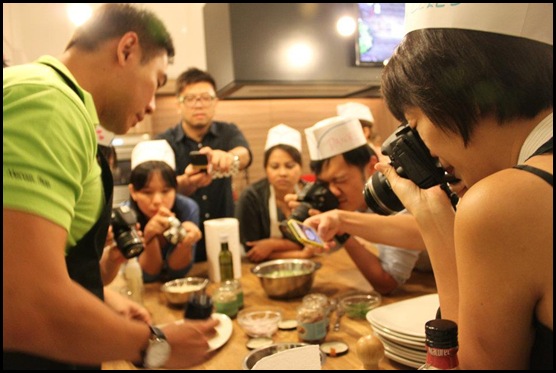 I told you, when you are at an event with bloggers, do expect a scene such as this.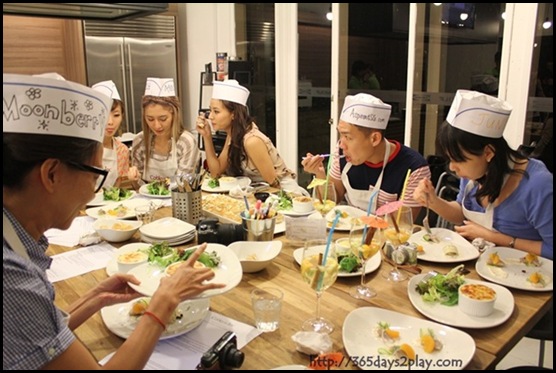 Finally, meal time!!!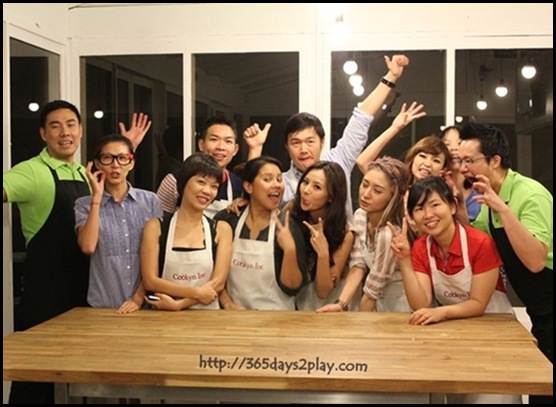 And a group shot to round off the evening!! I sense someone trying to bite my ear off.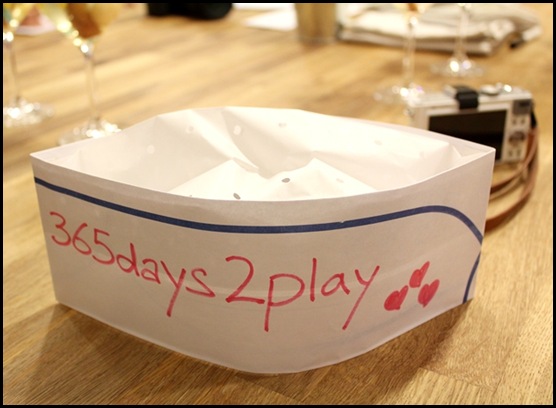 The end. 🙂
So, if you want to enjoy a fun-filled cooking session at Cookyn, go dig out your best kitchen/cooking photos and send them off to IKEA. If you don't have any, well just try and take some won't you? The closing date is 14th June, so HURRY!!!!
If you've enjoyed this post, help vote for me for the top food blogger award at the Singapore Blog awards organized by Singapore Press Holdings. You must click VOTE ME and it is only successful if you see VOTED appear! Thank you!