Dining on a cruise ship must surely be one of the highlights of the cruise itself. It seems to be a pretty grand affair too. There are a number of dining areas to choose from, ranging from the opulent looking main dining rooms all the way to the casual Johnny Rockets Restaurants, aka Billy Bombers lookalike. Interestingly, there is no extra cost in dining in my favourite Carmen restaurant, which looks like the most atas dining room there is. Yet, there is a surcharge to dine at Johnny Rockets. I suppose when you've been on the ship for more than a week, you will yearn for something different.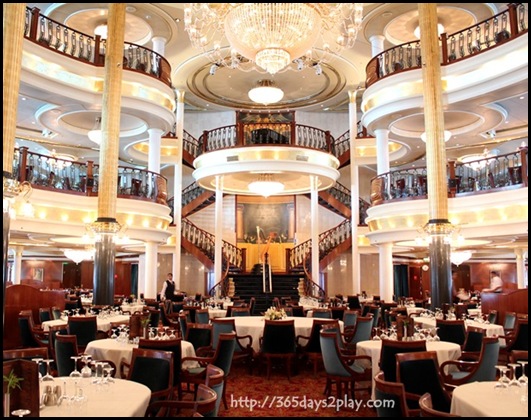 This is the Carmen dining room. Does it not look super grand? It kinda took my breath away when I first stepped in! Makes you feel like you're in a bygone era. Cruise passengers can dine here without further charge! The cheapest tickets will get you a table on the 1st floor, and you will be assigned the same table and same waiter throughout.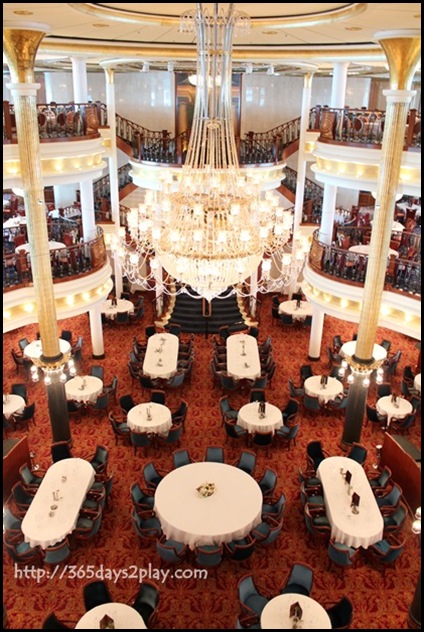 View from the top level, which is reserved for those staying in the suites.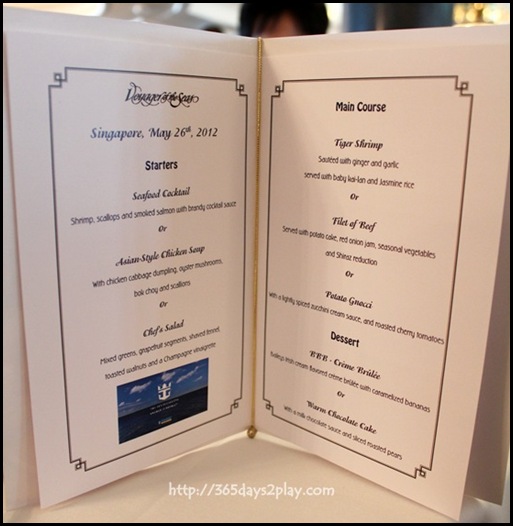 Dining Menu for Voyager of the Seas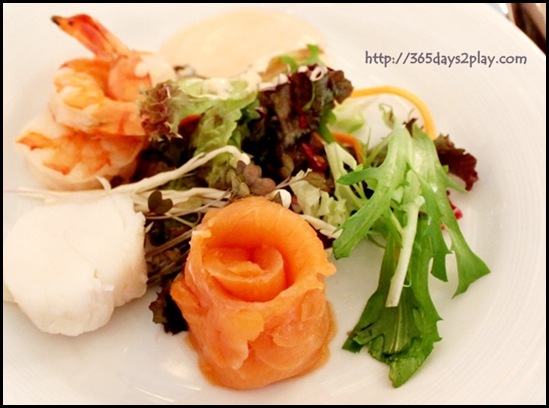 Seafood Cocktail with shrimp, scallop, salmon in a brandy cocktail sauce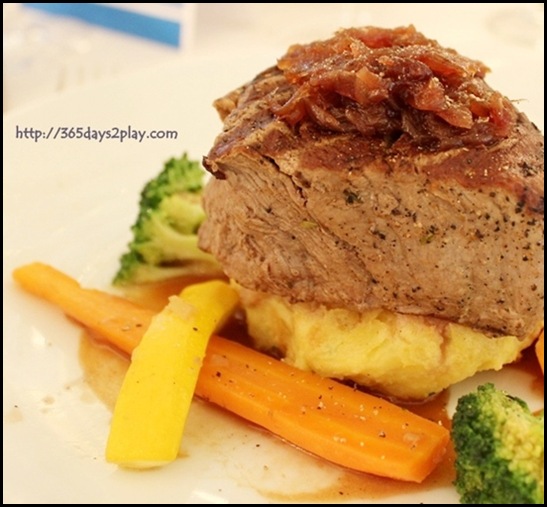 Filet of Beef served with potato cake, red onion jam, and shiraz reduction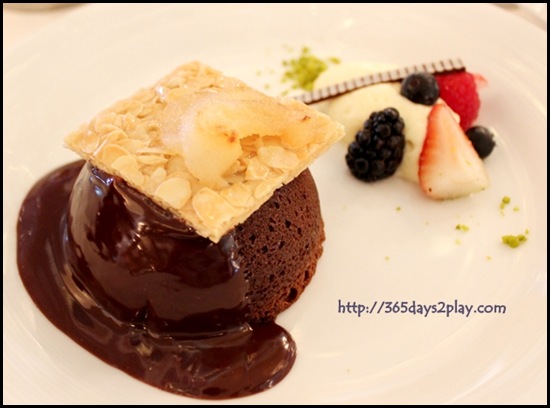 Warm Chocolate Cake with a milk chocolate sauce and sliced roasted pears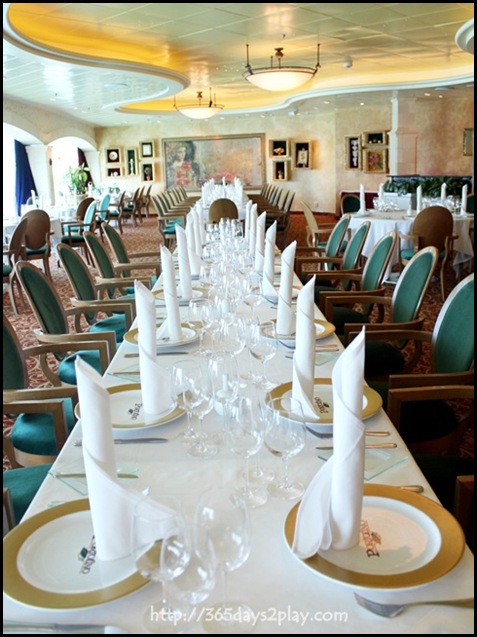 Another dining option for Voyager of the Seas cruise passengers is the La Boheme Italian restaurant. Also looks like a room fit for royalty, on a smaller scale. You have to pay US$20 additional to dine here though. I am told the food here is excellent too.
~~~~~~~~~~
And thus concludes my 3 part special of my visit onboard Royal Caribbean's Voyager of the Seas. I think a cruise is something that everyone should experience once in their lifetimes. It is a very unique and relaxing way of travelling to different countries and different cities. The benefits of taking a cruise as compared to travelling by train or car are in my opinion as follows :
Your accommodation is accounted for no matter how many cities you visit.
You don't have to worry about food
You don't have to constantly pack and unpack your suitcase, nor lug it around.
If the city bores you, there is much to entertain yourselves onboard the ship
Much of the travelling is done at night, which frees you to visit the attractions in the day
Having said that, there are obviously some disadvantages to taking a cruise instead of a "normal holiday".
The greatest disadvantage for me personally, would be the loss of Internet and 3G access. I am a blogger and I live on Facebook, Twitter and Whatsapp. One day without my iPhone makes me feel nervous and jittery. Perhaps I will have to take it as a time for reflection and to enjoy the simpler things in life and maybe have a proper conversation with the Partner. My friend, who thrives on social media as well did tell me that she survived surprisingly well without those trappings for her 3 day cruise. We shall see.
For a trip to Malacca or KL, where the distances are short, the ship is able to make the distance during the night. For further distances, day hours may have to be used up as well.
A huge number of people confined to a fixed space allows for easy transmission of illnesses. If one person gets the cold or flu, the virus spreads easily, and I'm saying this through the account of another friend who is an avid cruise traveller.
~~~~~~~~~~
Check out the pictures of the rooms in the Voyager of the Seas
Check out the facilities on board the Voyager of the Seas
If you've enjoyed reading this post, please vote for me at the Singapore Blog Awards 2012. I'm a finalist in the Food Category. Please press VOTE ME and it's only successful if you see the words VOTED come up!