*Media Invite*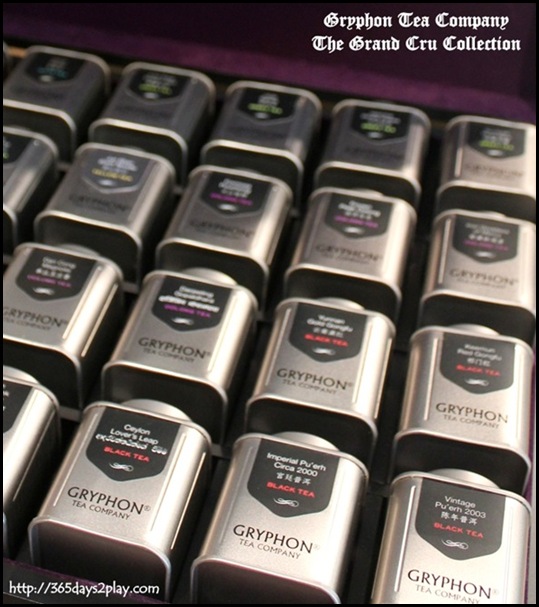 Recently, I was invited to attend a private tea and water appreciation session. As this would be very different from the usual eat, eat and eat some more food tasting session, I jumped at the opportunity. I had previously attended a number of wine tasting sessions (Singapore, Australia, New Zealand) and I quite enjoyed the experience, even though I got tipsy for the one in New Zealand. Of course, there's no chance of me getting embarrassingly tipsy for a tea tasting session. And the thing about such appreciation sessions is that you get to learn so much about the product that you're tasting. The history, the processes, down to the very reason why you're even tasting the product that you're tasting.
The tea master of the day, and also the founder of Gryphon Tea is Mr Lim Tian Wee. He hails from an illustrious tea export family business known as Lim Lam Thye. I like to think of him as the guy who developed a modern identity for his family tea business and imparted in it a refreshingly hip spin.
Water tasting session
Before we got down to the tea tasting session, we first had to sample a very basic yet extremely important tea making ingredient  –> the WATER.
A good cup of tea needs water that enhances, not overpowers the delicacies of the tea's natural flavour. Gryphon Tea endorses the use of FIJI Water for tea brewing as FIJI Water apparently has a clean taste and finish that is perfect for tea brewing.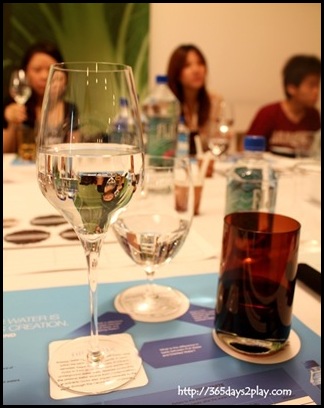 So we had to taste the water to convince ourselves of the fact. We had the luxury of tasting the FIJI Water, some mineral water that turned out to be EVIAN, and distilled water. To be frank, I didn't enjoy this part all that much. It's all plain water for god's sakes. It's not like wine where if you can't taste the subtle nuances that you're supposed to taste, it's very pleasurable to sip some more to try again, and again, and again. Err not so for water? Interestingly, after a number of tries, I did actually manage to detect some sort of a difference in the 3 waters, contrary to what I was expecting at the beginning. The FIJI water definitely had a smoother and softer feel to it. I think we should have used the same type of glasses to taste all 3 waters though. I wonder if the different glasses played a part as well?

Next, we got down to tasting the teas proper. Apparently, the best way to savour tea is in white porcelain, as these vessels do not impart their flavours into the tea, like what other materials, eg metal cups might do. You're supposed to take a spoonful of the tea and suck it up with an almighty vacuum sounding sound, you know, like how the Japanese slurp their noodles, but with 10 times the force. This would be the correct way to appreciate the nuances of the tea.
We tasted a total of 5 teas from the Grand Cru collection :-
Silver Needle — An imperial harvest white tea from Fujian Province, China
Gyokuro Pearl Dew  – Spring harvest green tea, grown in the shade from Kyoto Prefecture, Japan
Dan Cong Magnolia — A fine spring harvest oolong tea from Phoenix Mountain, China
Darjeeling Margaret's Hope TGFOP — Summer harvest black tea from the mountains of Darjeeling, North India
Vintage Pu'er — A fine picking black tea from Yunnan Province, China
The Grand Cru collection comprises of 10 new single origin teas and the leaves are harvested from the world's best tea regions. And you thought that tea was just tea right? Gryphon Tea will provide a personal doorstep delivery service to each client for an exclusive period. Prices range from $38 for White Peony tea to $78 for a Iron Goddess of Mercy tea. Each tin holds 40-80g of premium quality single terroir loose leaf teas.
I won't bore you with how the teas tasted, but here's some terminology and methodology you might like to know about to sound more refined.
Tea Tasting Methodology
In order to look like an expert at tea tasting, you have to do the following:-
Touch and feel the dry leaves before brewing
Smell the aroma of the brewed leaves
Taste tea from lightest, subtlest teas and end with the darkest and most intense
Observe the colour of the liquor
Contrast Tasting: Taste 2 teas of the same type for better assessment
And guess what? Even tea has its own taste terminology like wine. You can taste things like vanilla, caramel, smoke, bergamot, cut grass etc in the various teas. But even more interesting are the weirder types of taste that some teas have, such as toast, oyster, butter, curry, leather, PENCIL???? I seriously do not want to taste any pencil tea!!!
After the studious tea tasting session, we finally got to relax with our own cuppa tea and a piece of SunnyHills Pineapple Tart! This was the 1st time I was tasting the Sunnyhills Pineapple Tarts and they are really tasty, especially with the tea! I think next time for Chinese New Year, I will eat pineapple tarts with tea instead of coca cola!!! The tea was a Black Forest Tea, specially concocted just for Gaggenau's use. Did I mention that our tea tasting session was held at the Gaggenau's showroom in Bishan? Gaggenau is one of Bosch Appliances' brands. Quite evil of them to make us lust over the $10000 ovens and refrigerators!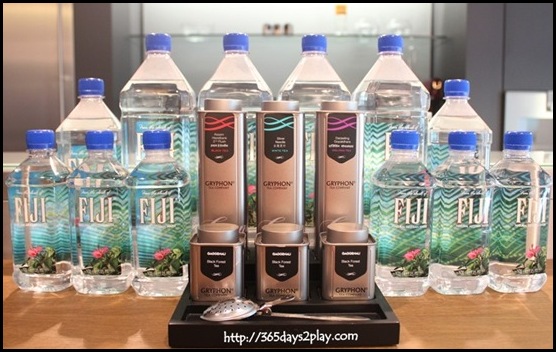 Which is better, TWG Tea or Gryphon Tea?
Oh, before the session ended, I just had to throw this tough question to Tian Wee. His answer is that both TWG and Gryphon have their own signature blends and it's really up to the individual to decide exactly which flavour he prefers. For example, I might prefer one brand's Earl Grey to another brand's simply because the former might have a stronger bergamot essence. Gryphon Tea also happens to be targeting the F&B business more than the consumer retail business, which is why as a brand, TWG happens to be more visible than Gryphon. And this is why you are able to enjoy Gryphon at more than 200 F&B outlets in Singapore such as at Pollen, Ku De Ta, Capella Singapore, Fullerton Bay Hotel etc.
Gryphon Tea Company
251 Pandan Loop, Singapore 128431
Tel: (65) 6779 2948
Fax: (65) 6779 0200