Because I love St Regis Hotel so much, I decided to dine at TWO St Regis restaurants for Restaurant Week. Yes, TWO in the span of one week, or shall I say 5 days? But of course, this can only happen without robbing the bank, during Restaurant Week. If you haven't heard of Restaurant Week, you should watch out for the next one in March 2015! And make sure you arm yourself with that American Express Platinum Credit Card to snag the early bird seats.
I must say I forgot to peruse the menu in my haste to secure my reservation for Brasserie Les Saveurs and I was pleasantly surprised to find that it was a buffet rather than the usual 3 course set meal. For $40++ for a lunch buffet at St Regis Hotel, is that a steal or what? It even comes with coffee or tea, something which most other Restaurant Week restaurants do not serve. The drink itself may be nothing to shout about, but I've always felt it necessary to end a nice meal with a hot cuppa, just to slow things down, enjoy the ambience and round off any remaining conversation.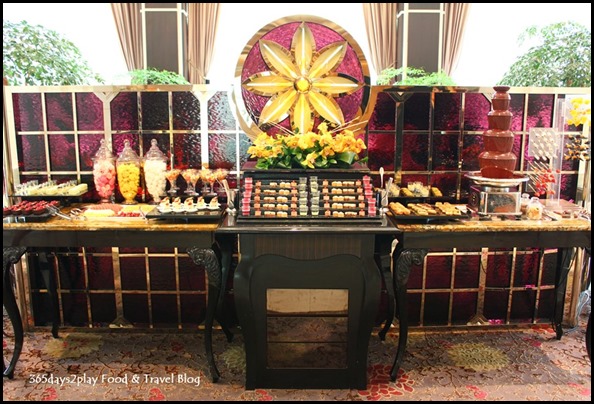 This was what greeted us at the front entrance, the strategically placed dessert buffet counter. A strategic move, and well played if I may say so.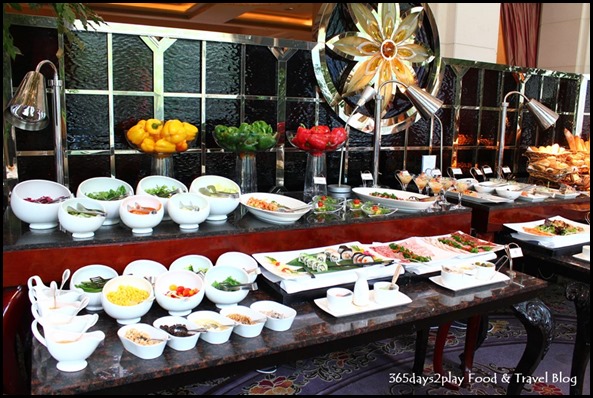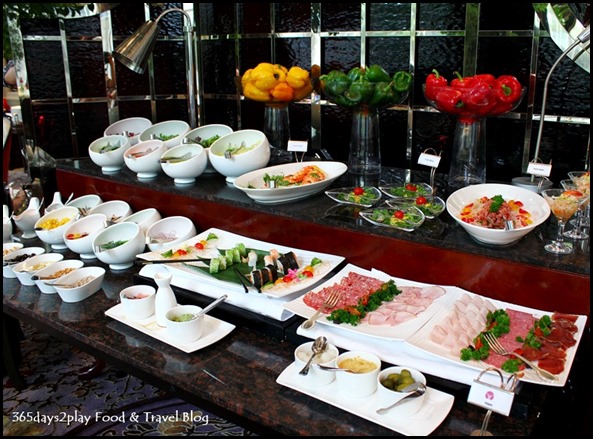 Whenever I go for buffets, I find myself going for multiple rounds at the cold cuts and salad sections rather than the main courses. Love all those tasty smoked meats and the refreshing zesty prawn or sashimi salads.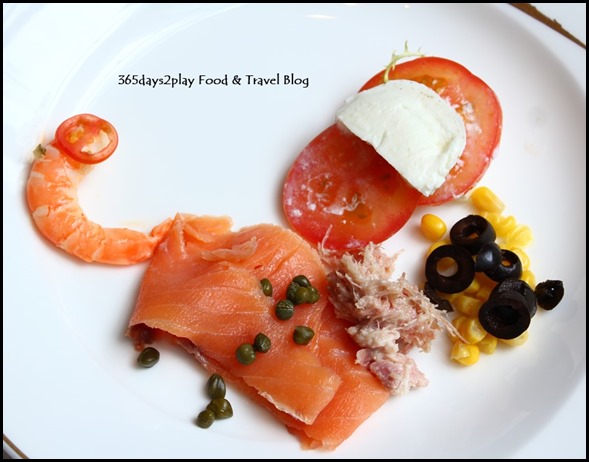 Perhaps it's because it's customary to eat a single dish as the main course, that I love going for these bits and pieces of appetisers for buffets. Love the fresh tasting caprese, the olives and sweet corn, duck rillette and smoked salmon with capers.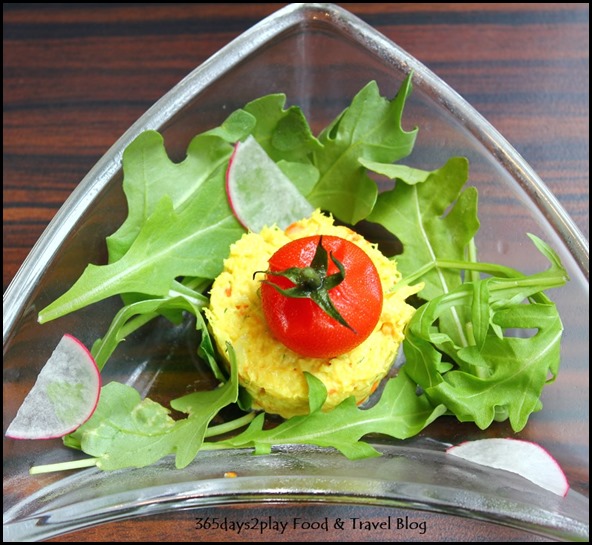 This crab cake was da bomb! Spiced generously with tumeric, and resembling a rillette more than a crab cake per se, I very nearly wanted to get a second serving of this.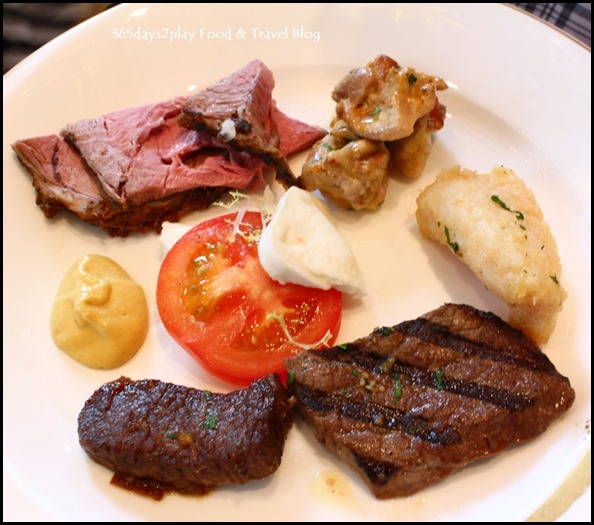 We did however also try some of the more interesting looking meat dishes.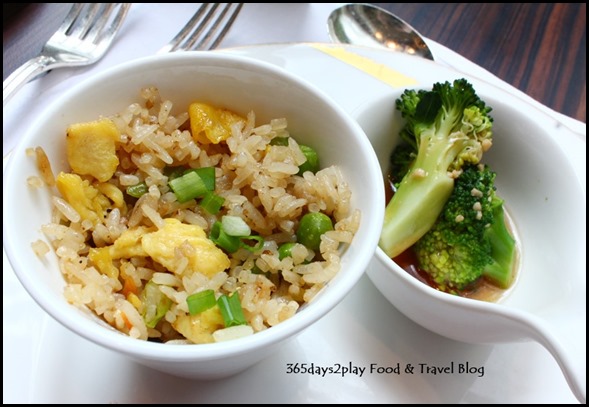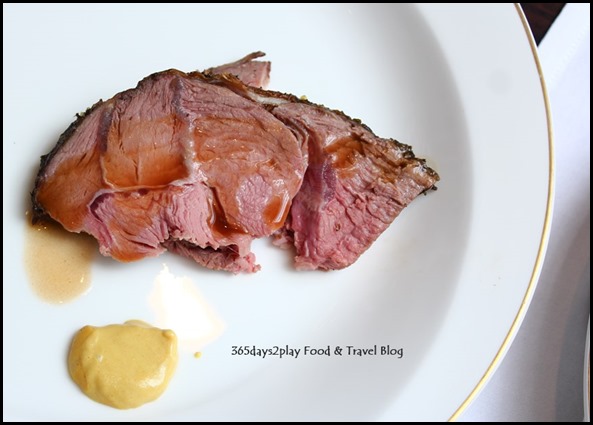 My favourite meat has got to be this roast lamb that was beautifully cooked. Still so tender and moist, boasting simple flavours, and a small dollop of mustard to go on the side, beautiful.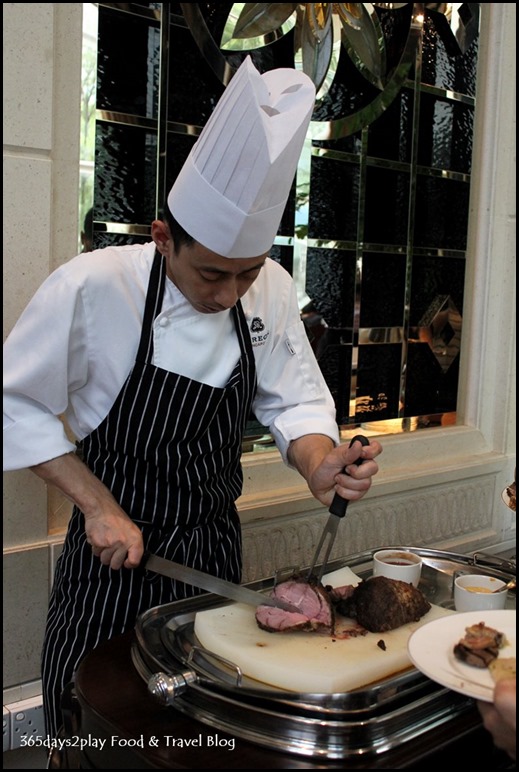 The chef manning the roast lamb carving station. There were also several cook upon order stations as well. I tried a spicy soury noodle dish which kinda tasted like laksa which was pretty good.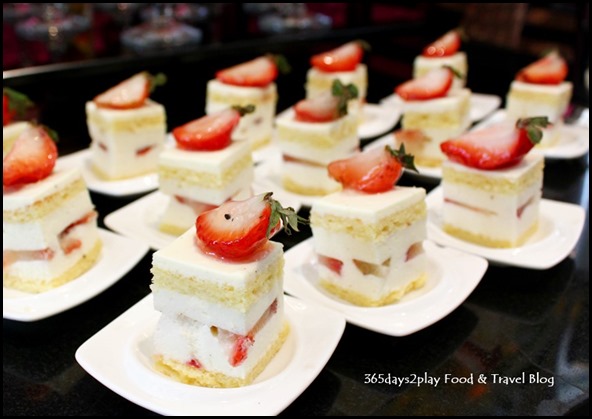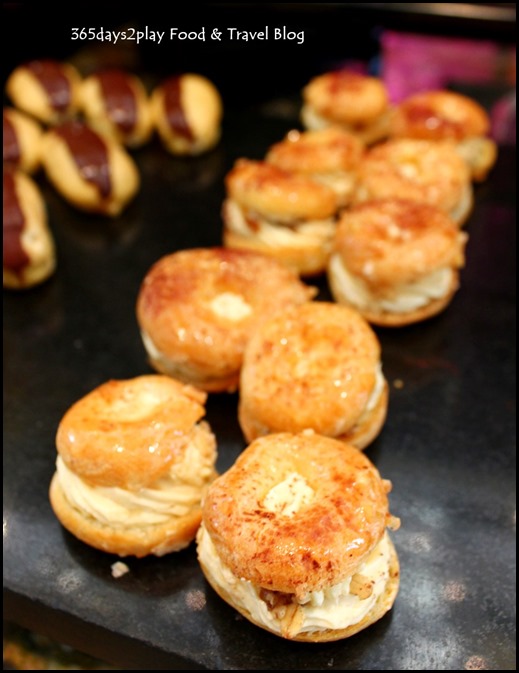 Brasserie Les Saveurs has been rather strategic with the type of desserts they serve. They have opted to showcase mini-sized desserts instead of whole cakes. As a result, people waste less cake (always a good thing) and there is a larger variety to choose from. But whatever the strategy, it's a bad one if there is no luscious chocolate cake on display. And this I've noticed on more than one occasion now. Still, it was a very enjoyable lunch, and despite having dined at Brasserie Les Saveurs 4 times already, I still find it magical enough to want to return again.
---
What is Restaurant Week : Restaurant Week happens twice a year, usually around March and October. Participating restaurants will serve a special 3-course set dinner for a fixed price of S$35++* and 3-course set lunch for S$ 25++*. There is an additional charge of $15 for lunch and $20 for dinner for restaurants with a DiningCity Star. Reservations for the Singapore Restaurant Week are ONLY possible via www.restaurantweek.sg.
Seats are hard to come by for Restaurant Week. If you've ever tried to book a table for Restaurant Week at the hotly sought after restaurants, you will know that it's literally a fastest fingers' first game. But, if you get the American Express Platinum Credit Card, you will enjoy having priority booking slots over the general public for Restaurant Week.
Other American Express Platinum Credit Card Dining Privileges
The American Express Platinum Credit Card offers free membership to two dining programmes, namely the Classic Far Card Membership and the PALATE programme. Under these two programmes, you have the opportunity to eat at over 80 fine dining restaurants, and enjoy drinks after, in Singapore at great discounts.
Over and above the above two aforementioned programmes, you can enjoy additional dining privileges under the Platinum Private Deals.
Lucky Draw Promotion (exclusively for Platinum Card Members): From now till 9 Nov 2014, you can also be one of the 5 lucky winners every day to win S$100 worth of dining vouchers (TungLok dining vouchers for Monday to Saturday draws and Fairmont dining vouchers for Sunday draws). Every receipt above S$50 earns you one chance to win.  Enjoy double the chances when you spend S$50 or more in a single receipt at any The Far Card or Palate establishment.
---
Add me on Facebook, Instagram and Twitter if you want to be kept up to date with the latest happenings in the food and lifestyle scene in Singapore! 
Other St Regis Hotel Restaurant reviews
---
Brasserie Les Saveurs at The St. Regis Singapore
29 Tanglin Road Singapore 247911
Telephone : (65) 6506 6888
http://www.stregissingapore.com/BrasserieLesSaveurs