Okay….for the 1st time ever, I shall be posting food reviews of restaurants that only have Chinese names! Google Translate has been my best friend this past 2 weeks. It translated 天命庵 into Destiny Um. Ummmm, I have no idea what Um is, so I have shortened it to Destiny. Not to worry, I have also translated the address into English so that you can still find Destiny!
The first thing that strikes you about 天命庵 is that it is a very tiny little place. You feel as if you're entering a Japanese home, that just happened to have lots of tables and chairs. A well known architect Ye Yuqing was tasked to reproduce the Japanese elements of the place and it is deliberately small to keep the crowd numbers down.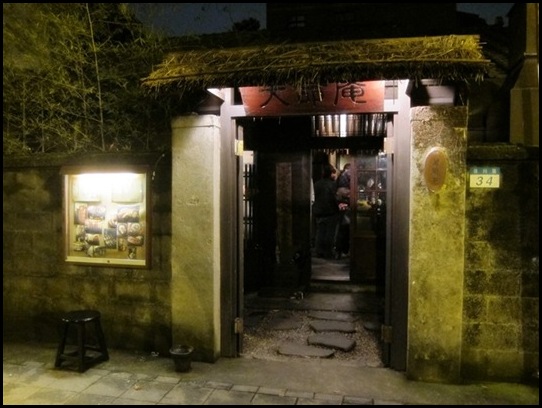 For my 1st evening in Taipei, I was glad to be able to huddle up near to my two fellow diners and to get to know them better.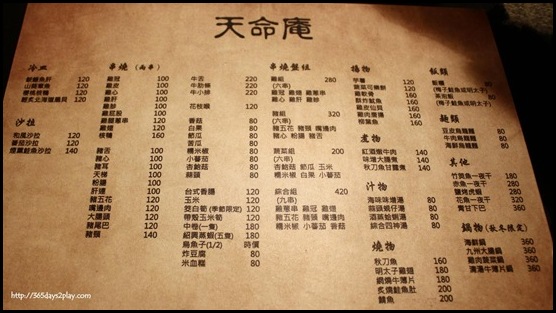 These are the prices of the dishes on offer. If you want the skewered meats, they are mostly NT100, which is equivalent to about SGD$5. We stuck to mainly the skewered stuff even though there are rice or noodle sets as we wanted to try out all the different types of meats. If you've been to an Izakaya, you'll know how it's like.
The first of our skewered meats to arrive. If you ask me, 天命庵 is like Innards Palace! I have absolutely no problems eating any sort of innards and off parts, but really, the one that stumped us all was GUMS. Pig's gums!! Like literally the gums that hold the teeth, or used to hold the pig's teeth in this case. That's the very elegant sounding 天梯, for when you need to order it in Chinese.
The gums are the two leftmost skewers. Actually, they didn't have that much of a taste, but they had an extremely tough and rubbery texture. But I would definitely recommend anyone to try it just so that you can say you've eaten GUMS.
The same skewers as the ones above, but taken from another angle. Grilled intestines are leftmost followed by chicken hearts. If you've ever eaten intestines before, especially for Kuay Chap, grilled ones are even more fantastic. The fattiness of the intestines just envelopes your tongue, but because it's intestines, you still need to spend time chewing them, which prolongs the pleasure! Chicken hearts were okay, too rubbery I thought. I've eaten nicer ones.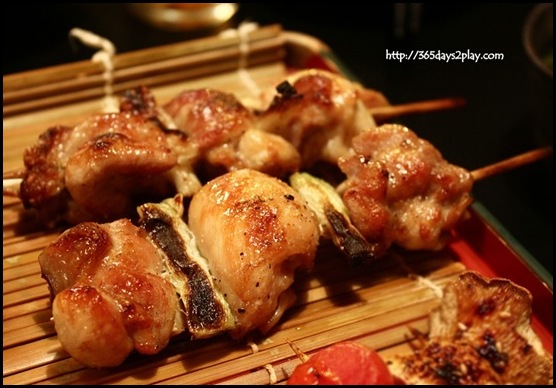 This was one of my favourite items of the day. This piece of meat is from the lower part of the spine, and it tasted just like extremely tender and juicy chicken!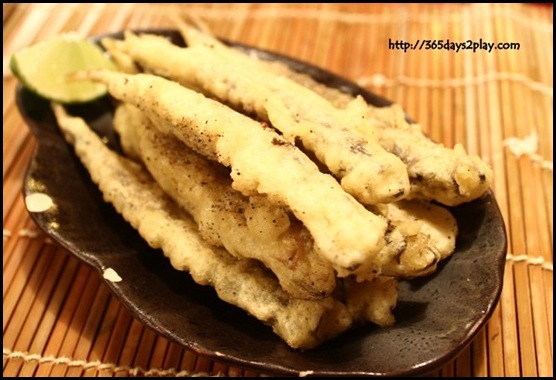 Shishamo, which is easily available at any sushi joint in Singapore. We are mostly accustomed to the deep fried ones, but these were battered with a lemony and peppery covering.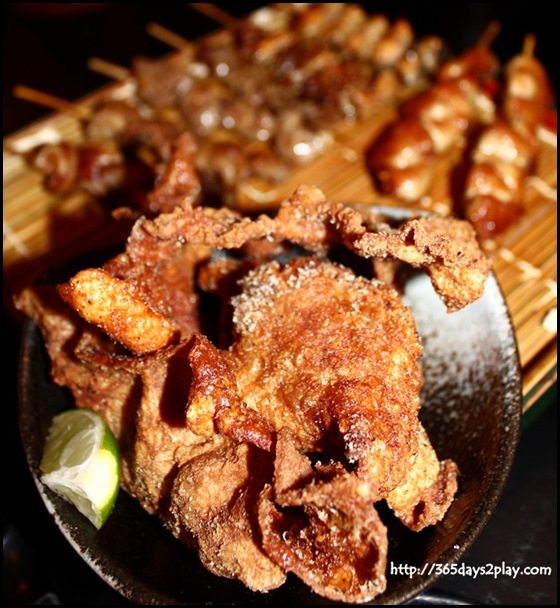 You're looking at fried chicken skin here. Yes you heard me right. Actually, not as tasty as I would have expected out of fried skin. If I hadn't been paying attention, I would have thought that they tasted quite like fried chips.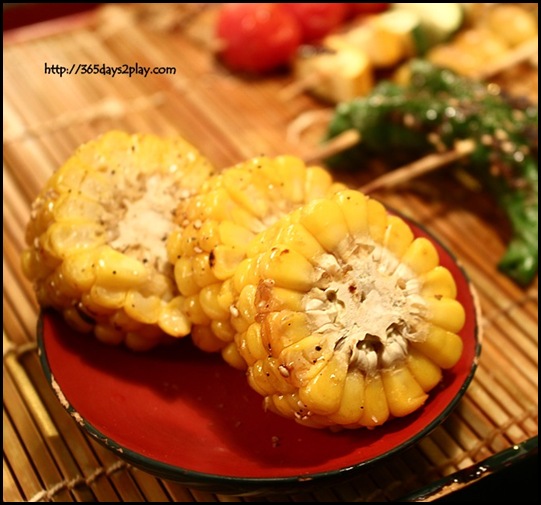 After all the artery clogging meat dishes, it was time for us to recover with a bit of grilled vegetables.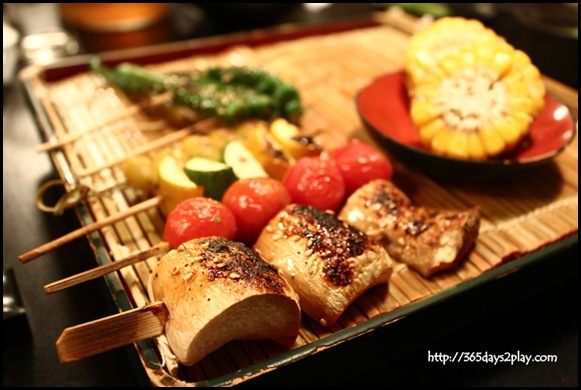 Grilled mushrooms, tomatoes, zucchini, gingo nuts and chilli. The tomatoes were my favourite and always a good candidate for grilling because they sweeten and are just bursting with flavour.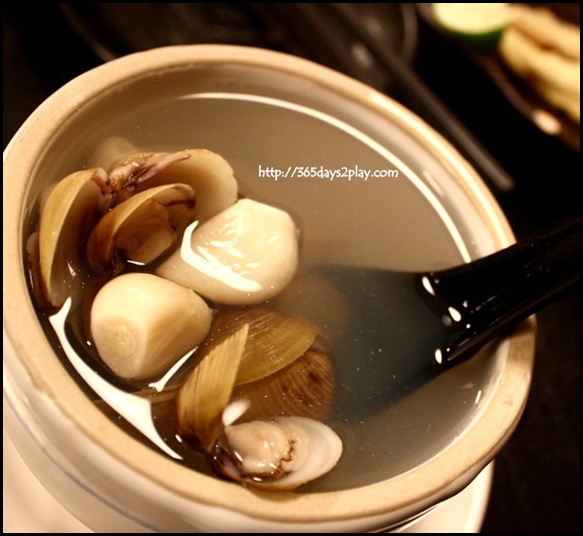 And to end the evening off, I ordered this Garlic Clam soup. It's very light tasting and good way to cleanse the oiliness from the palate and stomach. However if you need something stronger, you should order the wine clam soup which has a bit more kick.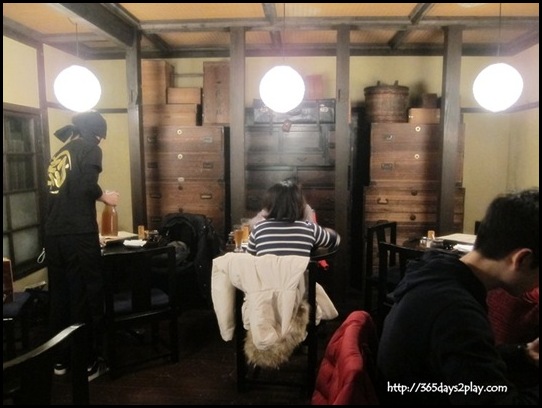 ~~~~~~~~~~
天命庵
台北市徐州路34號
No. 34, Xúzhōu Rd, Zhongzheng District Taipei
Tel: (02) 2322-5642
Just a 10-15 minute taxi ride from Ximending