Yes… the name is weird for a cafe I know, but apparently this is the British version of Scissors Paper Stone. Here's how it's played:
Gun wins over Rabbit : Gun shoots Rabbit
Rabbit wins over Carrot : Rabbit eats Carrot
Carrot wins over Gun : Carrot can be stuffed into the Gun
So my question is…why can't the Carrot win over the Rabbit by stuffing it up the Rabbit's….
Okay I'll be good, won't go down that road…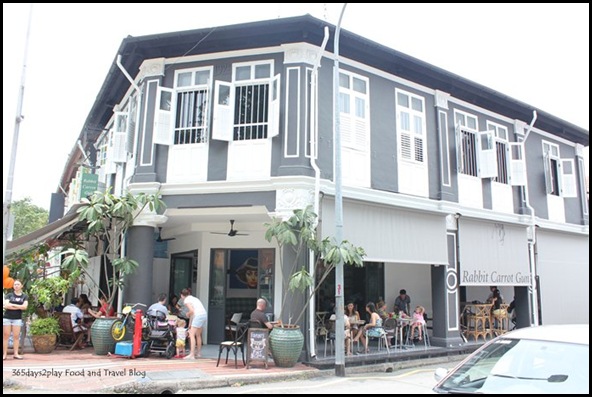 Easties rejoice, for we now have another cafe in the Eastern part of Singapore. Rabbit Carrot Gun is along East Coast Road, you know the row of shop houses directly opposite 112 Katong Mall. When I was there a month back, they were still in the midst of renovating the next door unit to turn it into a British Pub. I should return to check it out again.
As for Rabbit Carrot Gun itself, the food is British inspired, because the owner is from the UK. I was there only for brunch on the weekend, so I didn't get to peruse the main menu, but I think there are a lot of interesting items. The brunch menu is unfortunately, extremely limited. If you're not the muesli, then there's basically only the big breakfast or the eggs benedict in several ways. This is what we had.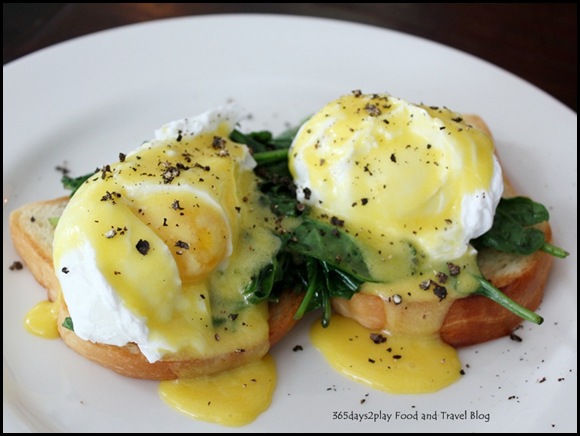 My father as usual had the eggs florentine, which is poached eggs served on a bed of spinach served with homemade hollandaise sauce. As he almost always chooses eggs benedict/eggs florentine at all the brunch places we go to, he is the expert when it comes to eggs benedict. The portion at Rabbit Carrot Gun was a little on the small side for the price. Also, the bread base looked rather plain, as compared to the homemade bread types or brioche that you can get elsewhere. The eggs florentine tasted quite okay, not too bad, but certainly not something you would be keen to return in a hurry. I suppose this would be good for people who like their eggs benedict mild, and not covered in a ton of buttery hollandaise sauce.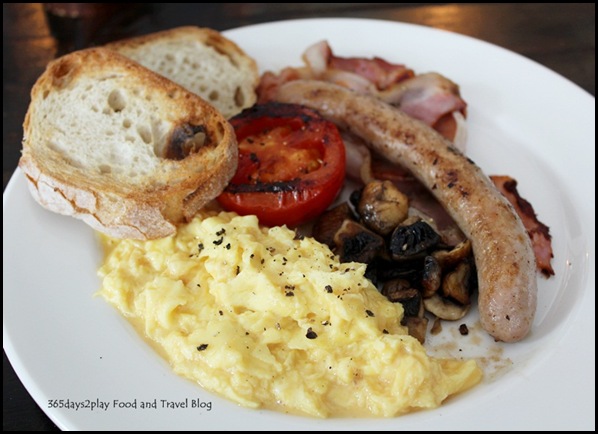 Game Keepers Shooting Breakfast – Scrambled or Fried Eggs with Crispy Bacon, Fine English Pork Sausage, Sautéed Mushrooms & Grilled Tomatoes Served with Fresh Toast
As usual, I couldn't resist ordering the "big breakfast" aka "the works". I love having a bit of everything, even though it's a rare occasion when I clean out the plate. The fine English Pork sausage was the highlight for me. It was really juicy (some would say oily), and had oozy cheese in it! The rest of the items were okay.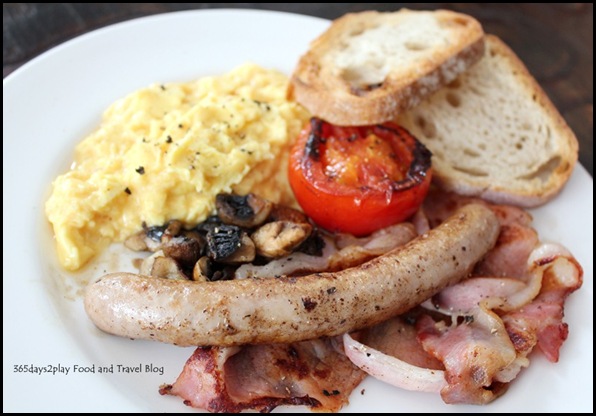 Here's a closer look of that fine sausage.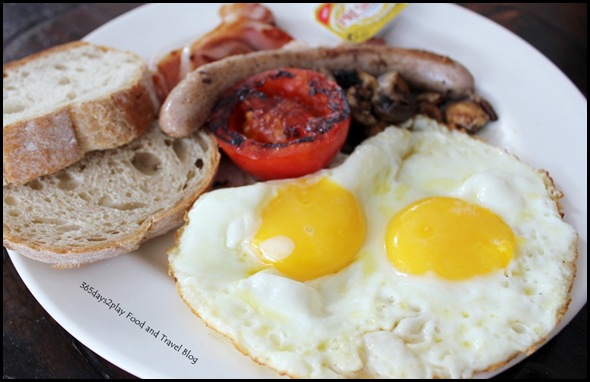 Same Game Keepers' Shooting Breakfast, but with Sunny Side Up instead of scrambled.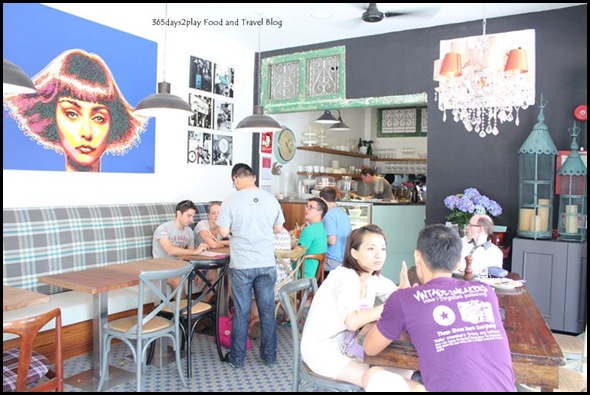 Rabbit Carrot Gun not only owns a British Pub next door, they also have hotel rooms for rental just above the cafe! Nice for staycations if you want to be in the Katong / Joo Chiat area? 112 Katong Mall is just across the road, and all the eateries are at your doorstep!
For more cafes and food options in Eastern Singapore / Katong / Joo Chiat area, check out this link.
~~~~~~~
Add me on Facebook, Instagram and Twitter if you want to be kept up to date with the latest happenings in the food and lifestyle scene in Singapore!
~~~~~~~
Rabbit Carrot Gun
Opening Hours
Mon: Gone hunting
Tue: 3pm – 10.30pm
Wed – Sun: 9am – 10.30pm
http://www.rabbit-carrot-gun.com
Facebook | Twitter
+65 6348 8568 | chef@rabbit-carrot-gun.com
49 East Coast Road, Singapore 428768\
Menu : http://www.rabbit-carrot-gun.com/lunch.html