This July, food lovers can look forward to the Singapore Favourite Food Village (SFF Village) that is held in conjunction with the 20th anniversary of Singapore Food Festival. Taking place from 12 to 21 July 2013 at Bayfront Avenue (Marina Bay), this 10-day festival organised by the Singapore Food & Beverage Alliance (SFBA), celebrates Singapore's unique food heritage and pays homage to local culinary heroes.
Singapore Favourite Food 2013 will showcase Singapore's favourite dishes such as chilli crab, carrot cake, rojak, laksa, roti prata and tau huay, and bring together a selection of popular hawkers and eateries for this one-time celebration. Check out this link for the entire list of all the nominees http://sg.openrice.com/info/sff/nominees.html, however only 20 favourite vendors will be showcased at the eventual Singapore Favourite Food Village.
I had the privilege to have a quick sample of some of Singapore's favourite local dishes a few weeks ago. Scroll down to see pictures of rojak, oyster omelette, satay, bbq chicken wings, sting ray and local iced desserts!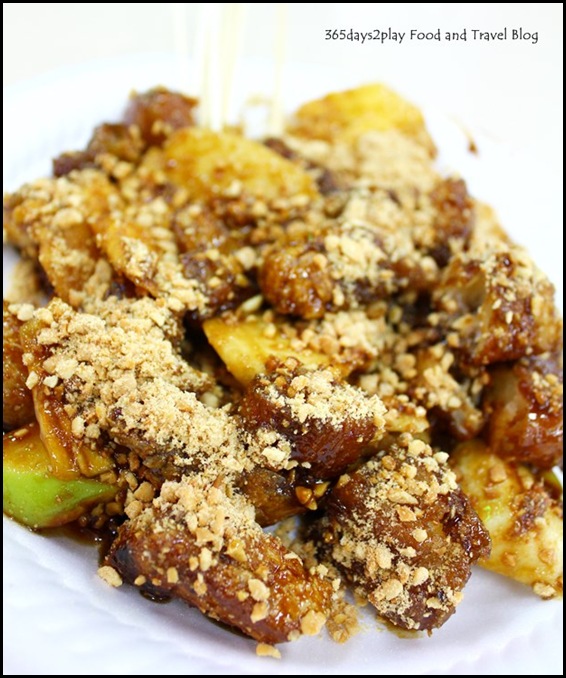 Rojak — Personally, I thought this was really rather ordinary, with the dough fritters being extremely hard (and I don't mean crispy). But kudos to Mr Koh, who has been toiling at this job for the last 48 years!
Rojak, which means mixed' in Malay is a fine example of the cultural diversity of Singapore for incorporating both Chinese and Malay elements among the ingredients. One of the oldest surviving rojak stalls in Singapore, Ri Ye Xiang Rojak which now boasts 48 years of history, was set up in 1965. The stall owner, Mr. Edward Koh, has been preparing rojak since the age of 20 and takes pride in using freshly ground peanut bits and preparing a special prawn paste for the dish.
Ri Ye Xiang Rojak
Blk 450 Clementi Avenue 3, Kopitiam, Singapore 120450
Open daily: 3pm to 11pm
Stall owner: Mr Edward Koh
~~~~~~~~~~~~~



~~~~~~~~~~~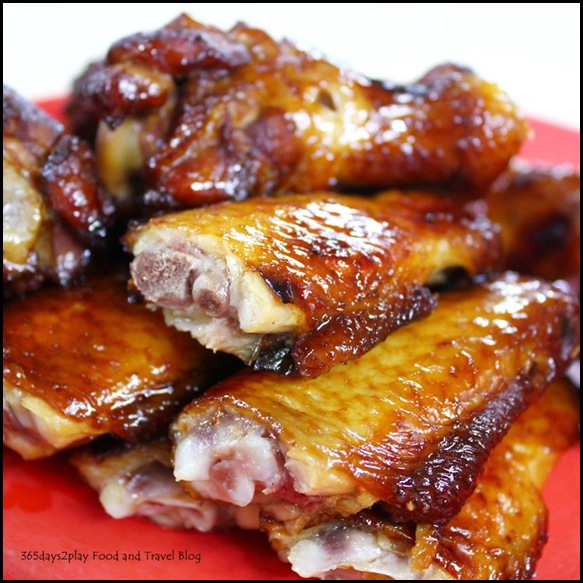 BBQ Chicken Wings — This version from Leng Kee is slightly sweeter and less crispy.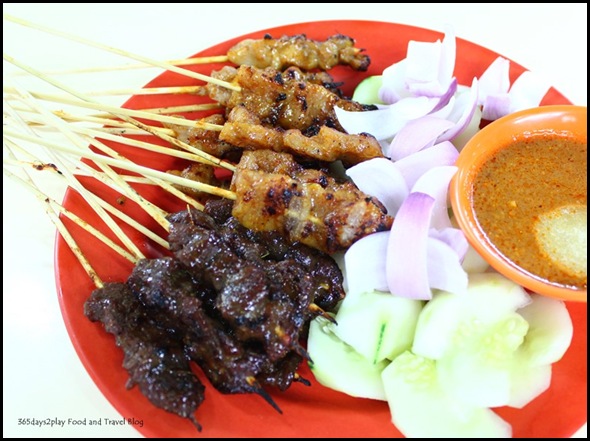 Satay — Mutton, Chicken and even Pork satay!
Orh Luak. One of my favourite local delights! When I was just a kid, I used to wonder who on earth would want to eat starch. Now that I'm wiser, I couldn't imagine my orh luak without starch. I could do away with the oysters, just give me egg and starch and I'll be a happy kid.
In the past, Singapore had Orr Luah Peks', the neighbourhood hawkers who made fried oyster omelette. These hawkers will ride their rusty tri-cycle, with a 3-foot cast iron skillet rested above a makeshift "wood-fired" stove which was fashioned out of an old oil drum. The batter in the Singapore variation contains oyster juice, and also uses flour to achieve its trademark crispiness. The completed dish is typically garnished with cilantro and served with a dipping sauce made from sambal chilli and calamansi juice.
Leng Kee BBQ
51 Upper Bukit Timah Road, Bukit Timah Market Stall 144, Singapore 588215
Open daily: 3pm to 11pm

~~~~~~~~~~~~~



~~~~~~~~~~~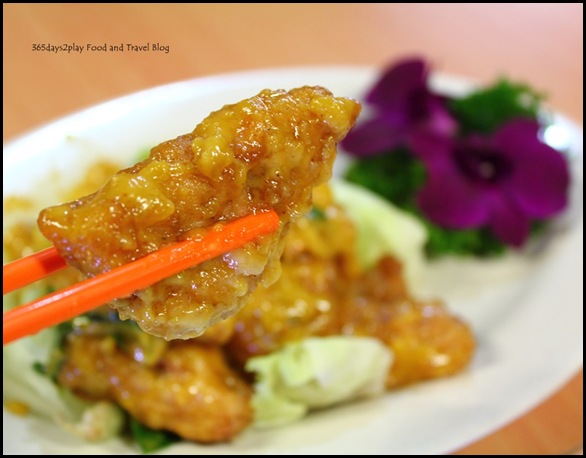 Salted Egg Pork — It's quite common to find salted egg prawns in cze char places, but not so for salted egg pork pieces. These were lovely and tender, with the salted egg coating elevating the dish to a more heavenly status!
Prawn Paste Chicken Wings — I liked these more than the BBQ chicken wings from Leng Kee as I love the slightly fermented taste of the prawn paste.
Did you know that Stingray, or 'Mo Gui Yu' (devil's fish) as it's known in Mandarin, used to be discarded by fishing boats. It was the Malay fishermen who first discovered the juicy, fleshy wonders of the stingray by cooking it in curry and coconut masala. The Chinese street hawkers then adapted this dish by griling it on banana leaves and heaped with spicy sambal, chilli, and shallots which is the zi char version that is popularly enjoyed these days. The 'wing' of the stingray is preferred when it comes to cooking Sambal Stingray as it contains the bulk of the succulent meat.
Mr Eng is on the left and his son is on the right. The young chap is only 18 and he can already cook up a storm in the kitchen! Believe some of the dishes we sampled were personally prepared by him! Now this is really a wonderful example of the older generation being successful in passing on valuable skills to the younger generation.
Star Young Kwang BBQ Seafood
120 Bukit Merah Lane 1, #01-04 Alexandra Village Food Centre, Singapore 150120
Open daily: 4pm to 11pm
Stall owner: Mr Eng Boon Har
~~~~~~~~~~~~~



~~~~~~~~~~~
This lovely dessert of durian and mango is called Gangster Ice, aka 流氓冰 (Liu Mang ice). Do you know why? This is because "榴莲" (Durian — Liu Lian) and "芒果" (Mango — Mang guo), if you take the 1st character of each, becomes Liu Mang ice! Is that creative or what? But never mind the creative name, this dessert is the best
Power Chendol — This is one of the best chendol I have ever tasted. The gula melaka syrup is specially prepared by the owners of the stall, using the highest grade gula melaka. They take such great care in preparing this syrup that this is one of the few jobs they do not delegate to their staff! I love the texture of the gula melaka, it still remains sticky despite being on top of the ice shavings. I like that I can still taste it, rather than have it dissolve into a liquid.
Red Bean green tea ice — Didn't try this
Red Ruby — Didn't try this but it sure looks appealing.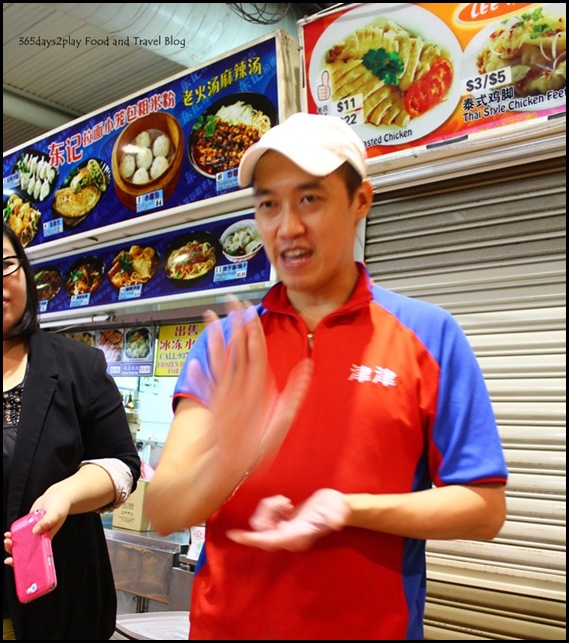 Mr Tang speaks with an air of confidence that his desserts are one of the best in Singapore. I would not argue with him on that fact. I would definitely love to bring my parents back to try the Power Chendol and Durian Mango Ice!
Jin Jin Dessert is operated by two unlikely business partners who had no experience with desserts when they started their collaboration in 2004. Calvin Ho was an insurance agent and Ewan Tang was a DJ. It took diligent trial and error to perfect their desserts, which include bestsellers like Gangster' Durian Mango Ice, Power Chendol, and Mount Fuji. Gangster' Durian Mango Ice is a playful take on how the Mandarin term for the dessert, Liu Lian Mang Guo, sounds like the word Gangster' when shortened to just Liu Mang. The name Gangster' is now a registered trademark, and this iconic dessert of Mango Ice is laden with a generous scoop of durian puree and condensed milk.
Jin Jin Dessert
6 Jalan Bukit Merah, #01-20 ABC Brickworks Market /Food Centre, Singapore150008
Open daily: 12pm — 12am
Stall owners: Calvin Ho, Ewan Tang
http://www.jinjindessertclub.com (Don't play play, got website okay!)
~~~~~~~~~~~~~



~~~~~~~~~~~
Take part in SFF Instagram Photo Contest
Singapore Favourite Food is also holding an Instagram photo contest from now till 30 June 2013. Foodies can simply upload photos of their favourite local dishes – the item must be part of the 20 dishes highlighted in SFF 2013 – and hashtag their submissions with #SingaporeFavouriteFood2013. The best photos will win limited edition Singapore Favourite Food 2013 FlashPay Cards worth $12 each.
**Special thanks to Sixth Sense Communications & PR Consultancy and Singapore Food & Beverage Alliance (SFBA) for organising this food trail and hosting it!