I am on a quest to try out all the afternoon teas available in Singapore to recommend you my favourites! After my visit to Ritz Carlton Chihuly Lounge's Afternoon tea last month (the 3rd time I'd visited Ritz Carlton actually), the next stop was to naturally be reacquainted with the Rose Verandah.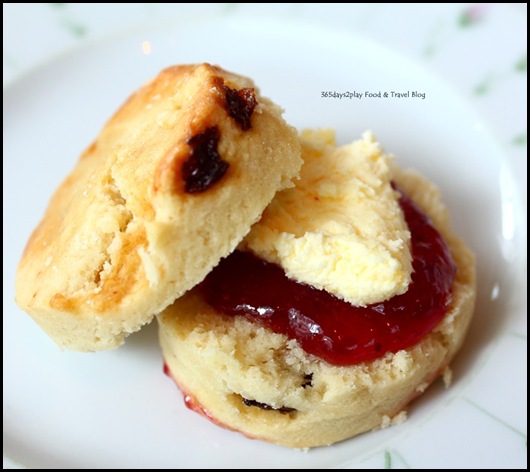 Raisin scone with clotted cream and jam, one of best scones available
The Rose Verandah is like the grand old dame of Afternoon teas. Back in 2005 when I first started enjoying afternoon teas, the Rose Verandah would be my go to location. The afternoon tea has been available for as long as I know, and Japanese ladies of leisure love coming here to socialise over nibbles. You'll be able to catch them in action especially if you come on the weekdays. In fact, it's more economical to come on weekdays because the afternoon tea hours are extended, there being just 1 sitting instead of split into 2 on the weekends.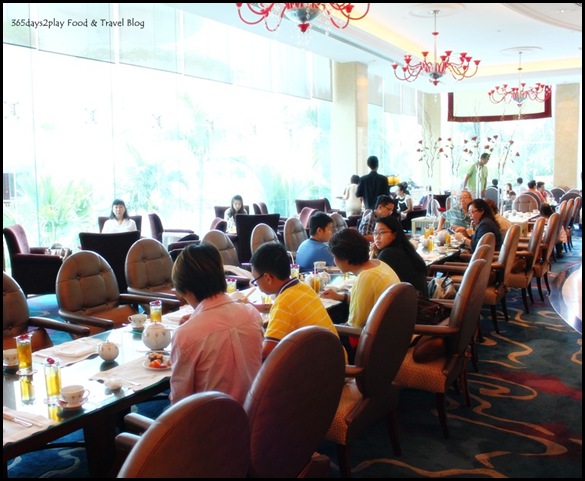 The Rose Verandah used to boast their 101 tea selection, quite a mind boggling number I must say. But guess what, it's now morphed into 164 teas! For the price of your buffet, you can have free flow of 1 type of tea. Should you wish to have another type of tea, it will be an additional charge of $7.50. The trick is to just order one pot of tea first between you and your dining companion. You can then change the tea to something else halfway through the meal.
Although there are so many teas to choose from, which gives the impression that the Rose Verandah is an "English" Afternoon tea type of place, the spread is actually very international. There is also a good emphasis on local delights, so you can actually customise your own mee siam at the mee siam station, have har gow and siew mai, and even tuck into cooked dishes such as curry chicken and Asian duck.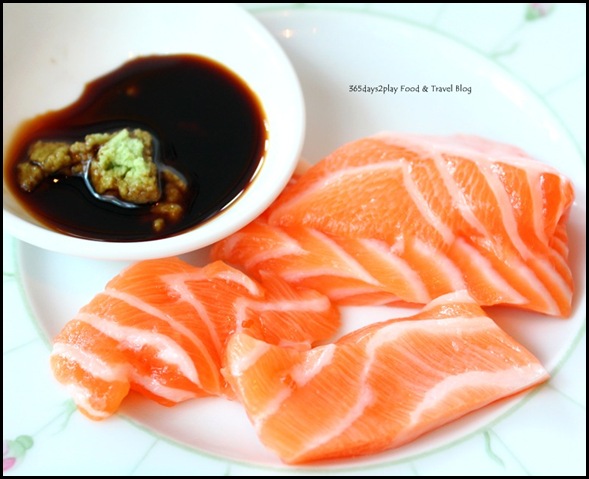 Salmon sashimi, my favourite! There are a few sushi types to choose from too, but I only had eyes for the salmon.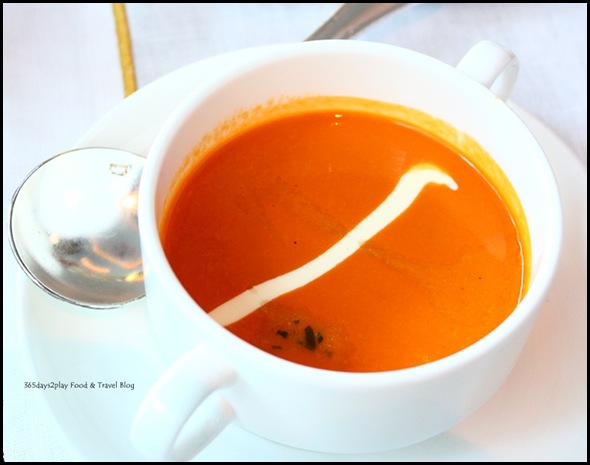 Someone came around with bowls of soup so we got one for ourselves.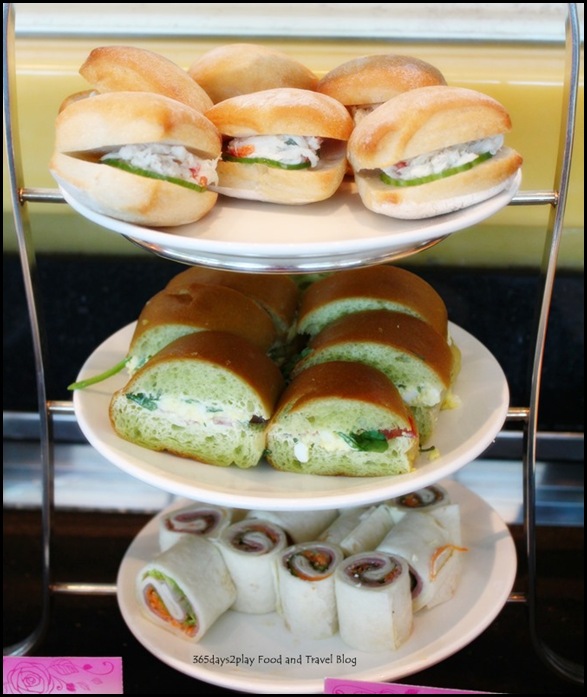 Sandwiches and nibbles. I wish they were a bit daintier though…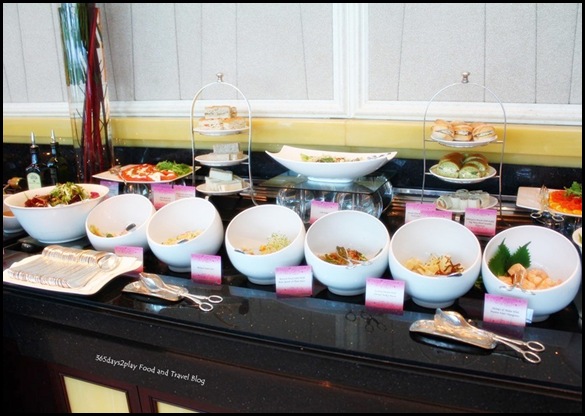 Various salads and cold bar bites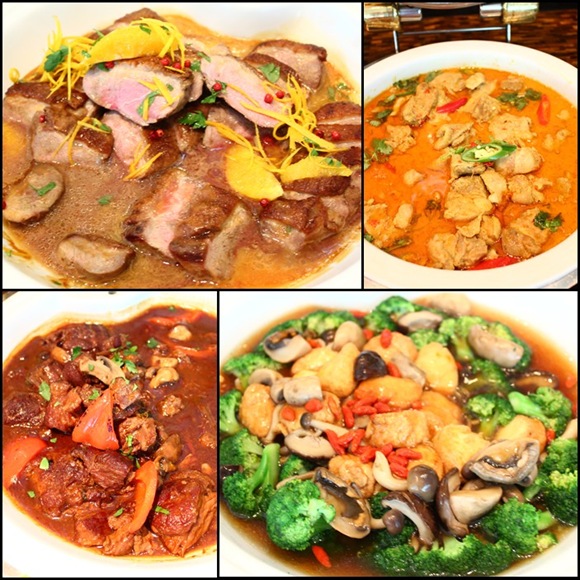 See I told you there were cooked dishes. If you don't want to pay $70 for a full fledged dinner buffet, the afternoon tea buffet at $42++ daily is a more affordable choice.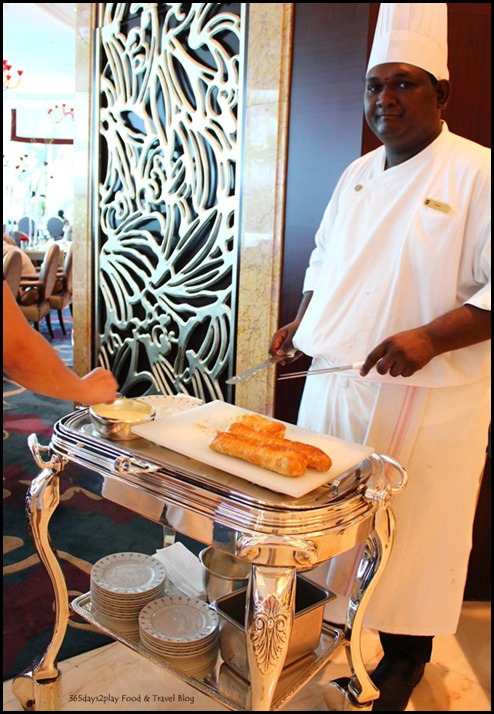 Carving station….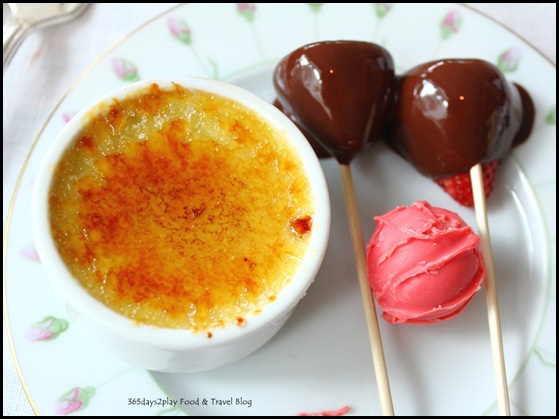 For me, afternoon tea is all about the dainty stuff, be it sweet or savoury, so I quickly moved on to the desserts! Chocolate truffles are a signature at Shangri-La, you will find many bite sized ones and they all look so irresistible! And of course, who can ignore the chocolate fountain?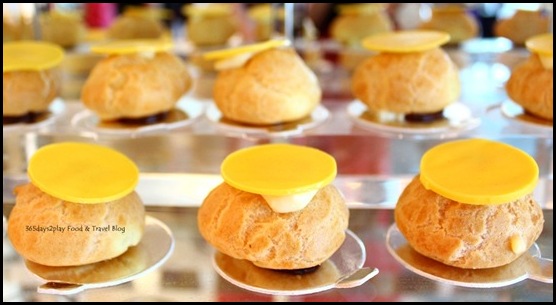 These cream puffs were excellent! I never used to like cream puffs because I felt they were just too full of cream. With the smaller version, the ratio of puff to cream is higher, so I feel like I'm at least chomping into something.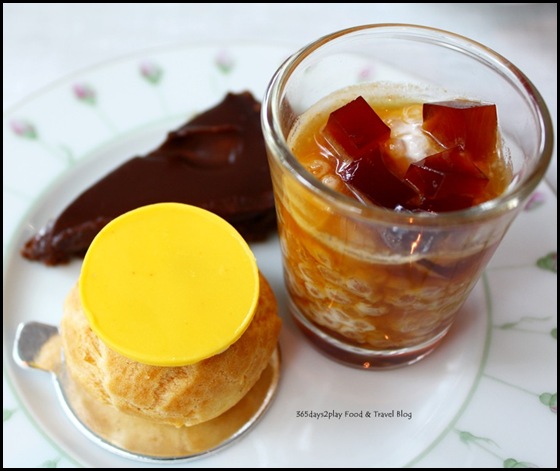 Another signature at Shangri-La Rose Verandah these days is the dessert in a shot glass. There were quite a number of types to choose from. I believe this one is gula melaka and sago, quite an interesting blend.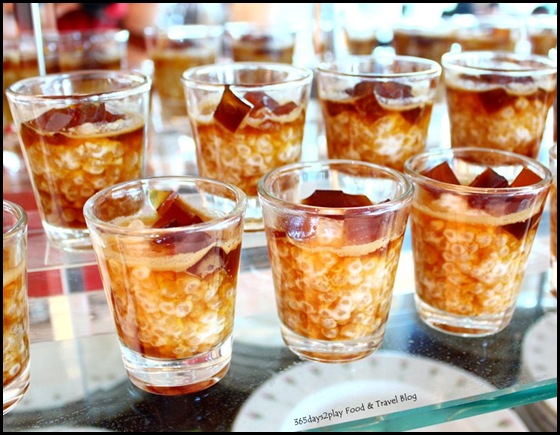 The gula melaka and sago dessert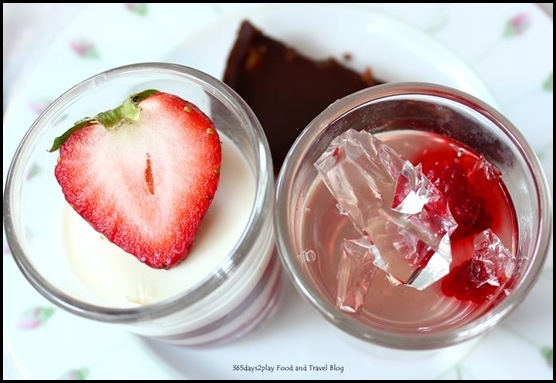 Strawberry Panna Cotta on the left and Champagne jelly on the right. You could actually taste the chanpagne in the jelly!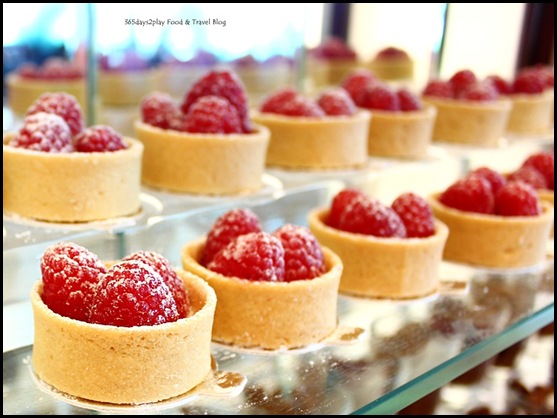 Raspberry tarts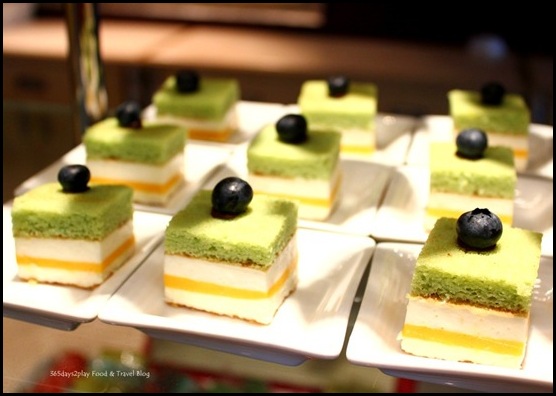 Pandan mango cakelets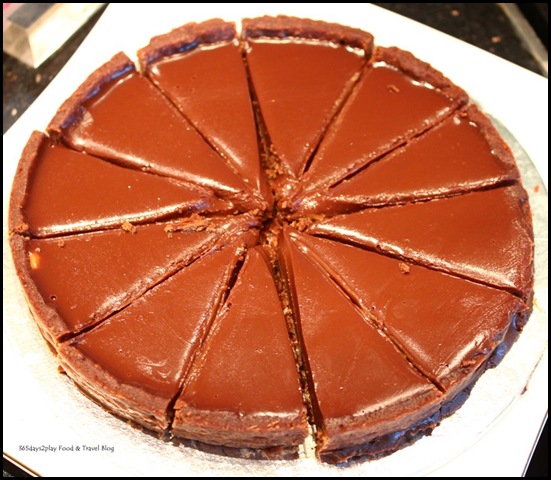 Of all the sweet treats, this decadent and heavy chocolate cake was my favourite dessert of the day. Made with a crispy base and filled with several layers of heavy chocolate ganache, I had no choice but to go back for seconds! I wonder if they sell this at some takeaway bakery, I would definitely buy some to bring back!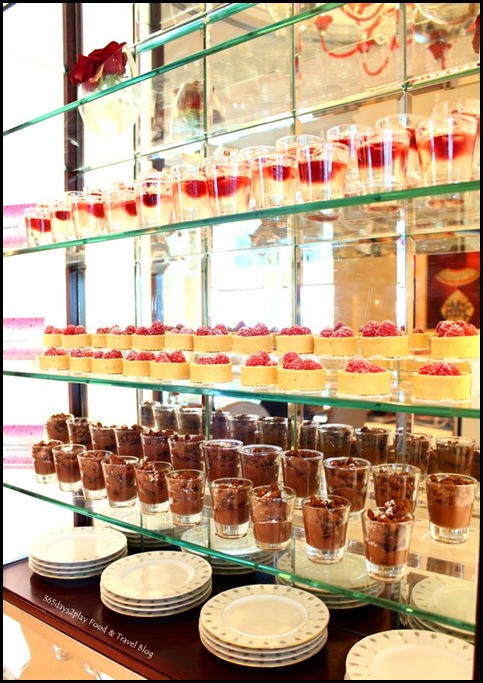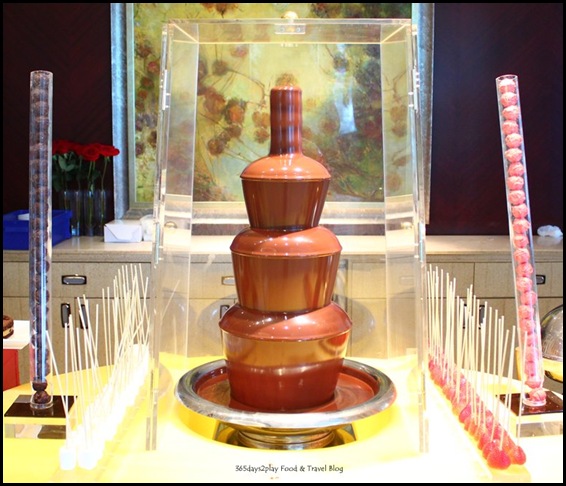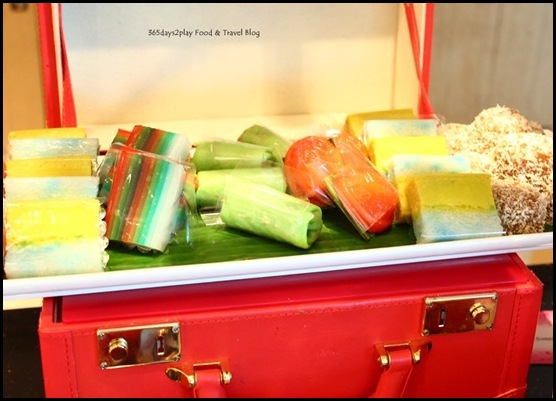 And because it's an international afternoon tea, there are also nonya kuehs on offer.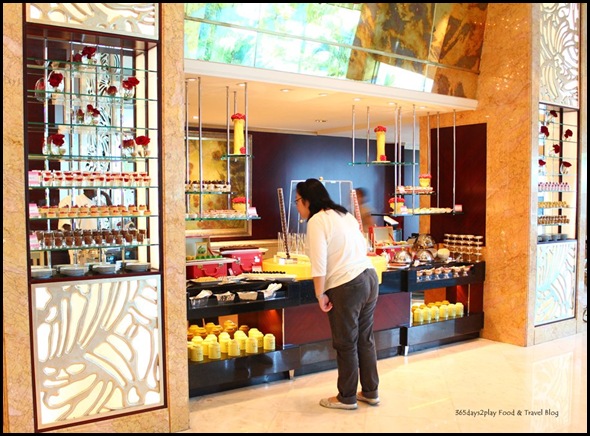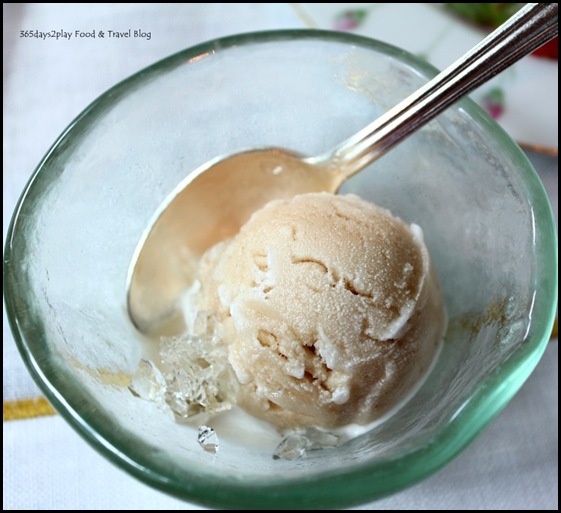 The interesting thing about the Rose Verandah afternoon tea is that once in a while, the waitresses wlll serve up specials of the day. Today, it was this Earl Grey sorbet that was really refreshing as a palate cleanser.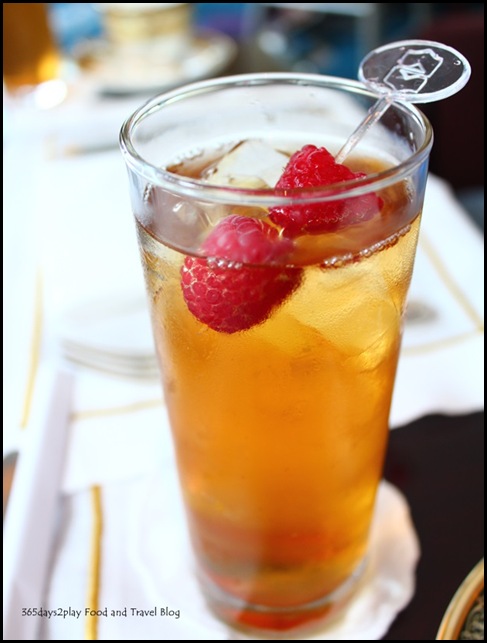 Iced tea, although not from the 164 selection.
~~~~~~~~~~~~
More Afternoon Tea posts available at… https://365days2play.com/tag/afternoon-tea/
Read about my previous visits to the Rose Verandah at Shangri-La Hotel https://365days2play.com/tag/rose-verandah/
Read about Shangri-La's latest addition, the Waterfall Cafe. It looks damn cool!
~~~~~~~~~~~~
Add me on Facebook, Instagram and Twitter if you want to be kept up to date with the latest happenings in the food and lifestyle scene in Singapore!
~~~~~~~~~~~~
Shangri-La Rose Verandah
22 Orange Grove Road, 258350, Singapore
Telephone : (65) 6213 4486
Weekdays Lunch 11.30am – 6pm
Weekends and Public Holidays High Tea
11.30am – 2.30pm (first seating)
3pm – 6pm (second seating)
http://www.shangri-la.com/singapore/shangrila/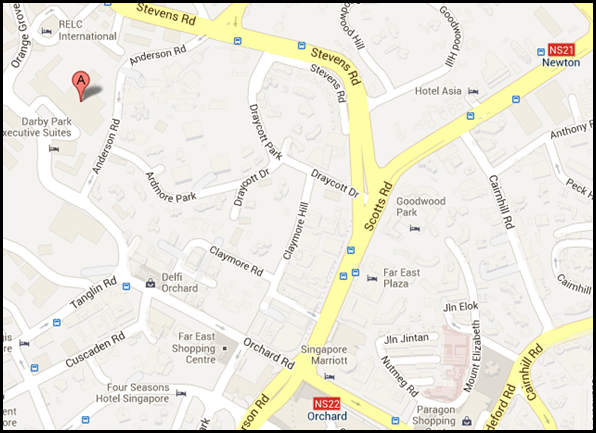 "A" marks the spot where Shangri-La Hotel is located.