I'm always on the look out for nice places to have afternoon tea. You know, I think that Singapore really could do with more afternoon tea places. I know we have lots of interesting new cafes, especially in recent times where we are literally seeing a new cafe pop up each month. But I'm talking about decadent afternoon tea places, places from yesteryear, that make you dream of faraway lands. For just those few blissful hours, each sip of tea and each morsel of macaron transports you to a place lost in time, where stress and tiresome duties do not exist.
And so I was glad to make acquaintance with the new Halia at Raffles Hotel. Halia takes over the spot which was once occupied by Seah Street Deli. Afternoon Tea Service is available here daily from 3pm to 5pm. For $35++, a two-tier tea stand with a scrumptious selection of sweet and savoury nibbles will be served to you.
The long and short of it all, is that all of the items were pretty delicious. I've come across several other afternoon teas where some items are really mindblowing, while other items are not worth your calorie intake. At Halia's afternoon tea, there aren't any items that are overly rich or cloying.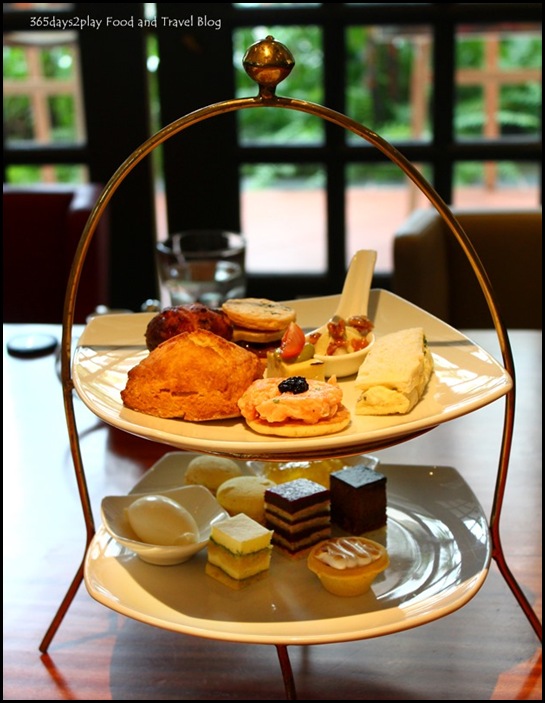 This is the entire set that will be served, along with your choice of a drink. It may not look like a lot, but guess what, I had to tabao a few items home! Scroll all the way down to check out the entire list of food items available in the 2 tier service.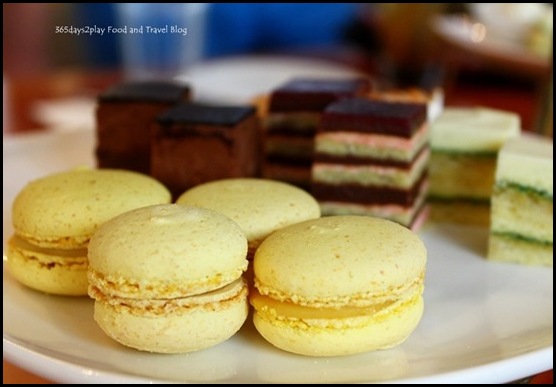 Which do you normally start with, the desserts, or the savouries? For me, I'll definitely start with the savouries, but I think the desserts tend to make a more droolsome photo. This picture here plus a few other below show double the number of goodies but the accurate reference picture is the 1st picture at the top.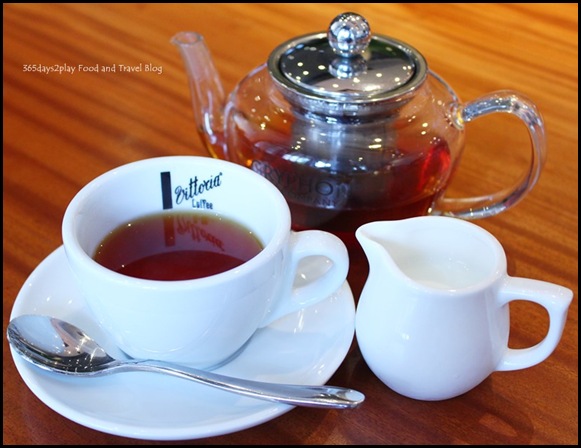 I like my teas really strong and full of flavour, so even though English Breakfast is so common, I tend to choose it, especially for my morning cup of tea. This here is the Russian Earl Grey. Earl Grey's another of my favourites for it's smoky and bergamot nuances. The teas used here are from home grown brand Gryphon Tea.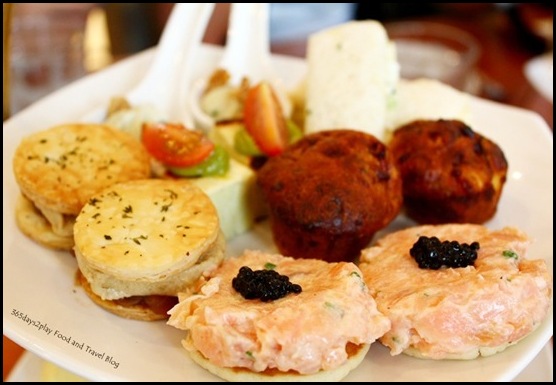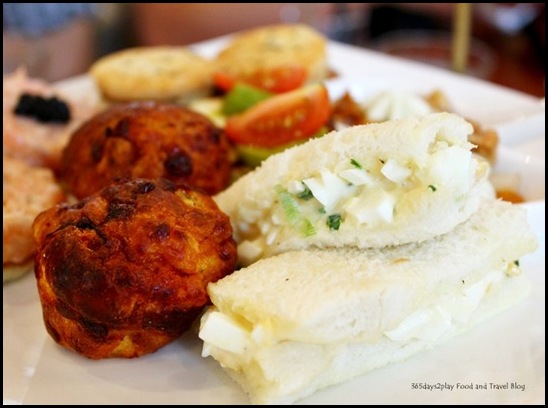 There were quite a number of items that I particularly liked, for example the irish smoked salmon on blini with creme fraiche and caviar, the foie gras mousse, and the grilled halloumi with smoked avocado and cherry tomato. I appreciated that the muffins weren't the sweet type, but were instead savoury cheesy muffins.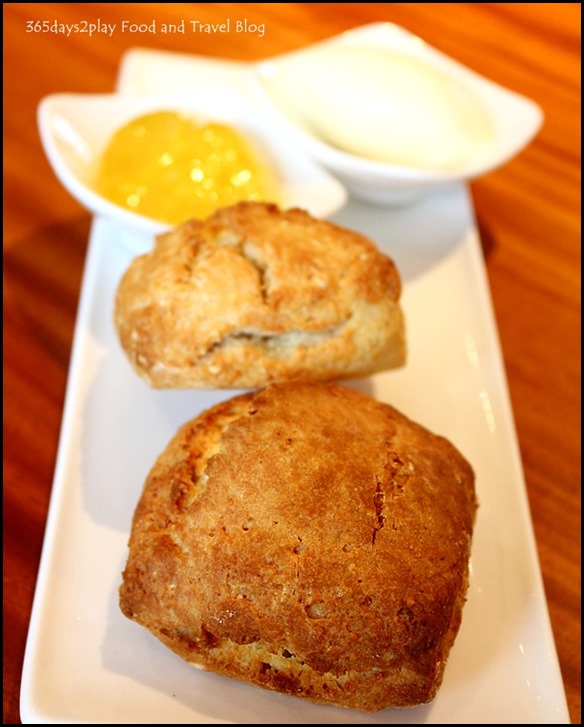 I don't quite know if scones should be considered under the sweet or savoury category, but whatever the case, these scones were delectable! I do still think that strawberry or raspberry jam goes best with scones, simply because red jams make for a better looking scone when paired with the pale cream coloured clotted cream. Halia should consider having scones as one of the items on the ala carte menu. I would certainly return for those tasty scones.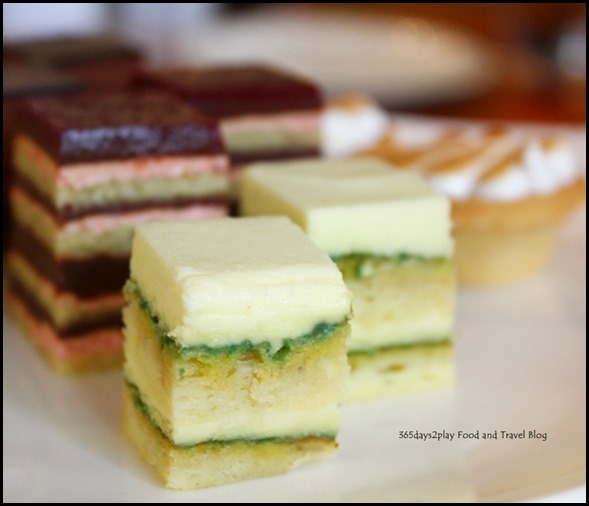 New Opera cake, Chocolate Royale and Green Tea Tiramisu were 3 of the cakes offered for the tea service. Although I prefer traditional tiramisus (soggy with lots of liquor), these were refreshingly different.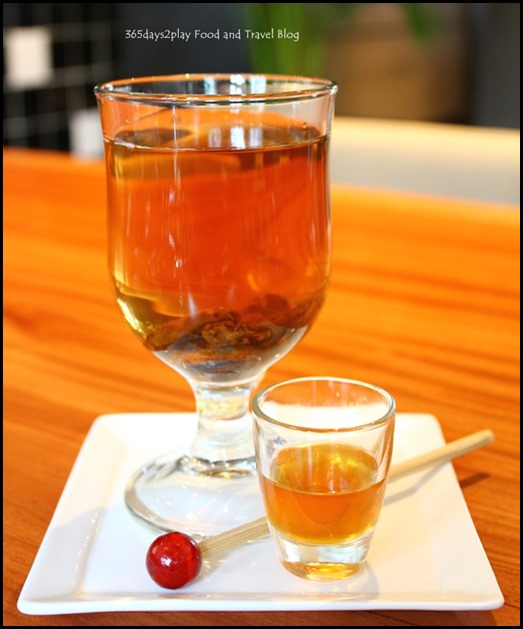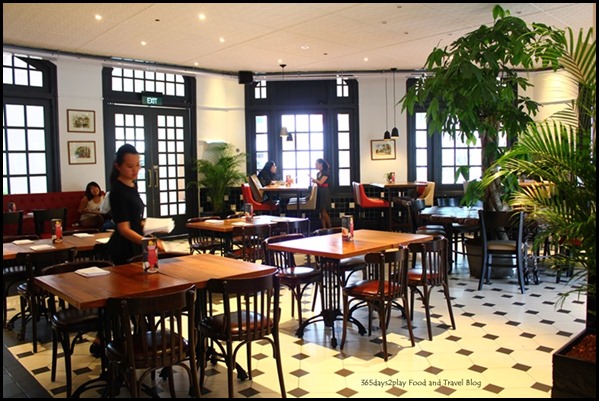 **********
Afternoon Tea Service
Irish smoked salmon, blini, creme fraiche, caviar
Grilled halloumi, smoked avocado, cherry tomato
Blue cheese, apricot chutney, pickled celery, honey walnut
Foie gras mousse, rosemary, flaky puff pastry, red onion jam
Savoury mini muffin
Finger sandwich
New Opera
Green tea tiramisu
Macarons
Chocolate royale
Passionfruit meringue tart
Freshly baked scone with seasonal jam and clotted cream
Beverage Selection (Select 1)
Black Tea : English Breakfast, Earl Grey, Marsala Chai, Russian Earl Grey, Darjeeling
Green Tea : Green Tea, Moroccan Mint Green Tea, Lemon Ginger Green Tea
Herbal & Fruit Infusion : Swiss Berry Herbs, Chamomile Garden, Peach Nectar Rooibosh, Turkish Apple
Halia Infusion
Freshly brewed coffee
**********
Check out Halia at the Singapore Botanic Gardens
Where to have Afternoon Tea in Singapore.
Add me on Facebook, Instagram and Twitter if you want to be kept up to date with the latest happenings in the food and lifestyle scene in Singapore!
**********
Halia at the Raffles Hotel
1 Beach Road, #01-22/23, Raffles Hotel
Singapore 189673
+65 9639 1148