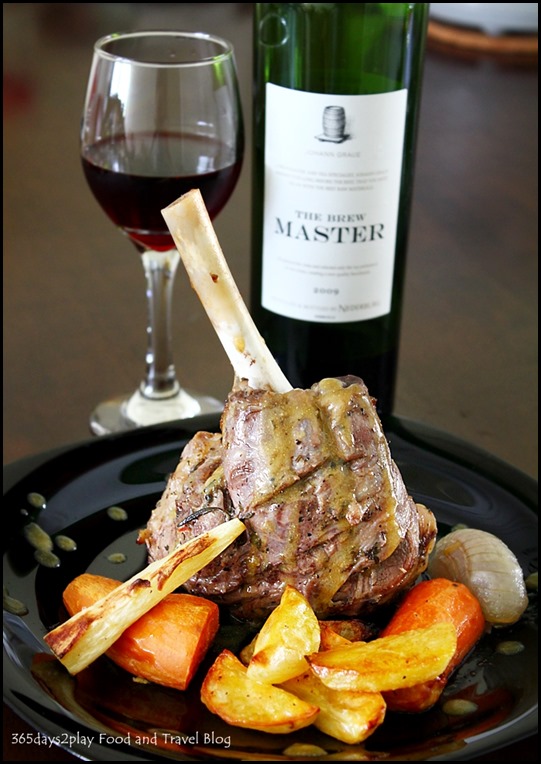 We have been eating very often in the past few days so the Partner decided to cook a Sunday Roast for a change. Lamb Shank marinated in kiwifruit and sage, with parsnip, kumara, potato, carrot and onion as accompaniments (left to right). For us Asians, this may look like an immensely complicated dish, but it is actually fairly straightforward (for an expert like the Partner according to him) as most of the cooking is done in the oven. Really, the most difficult task is to make sure the meat doesn't burn. Cooking a roast does not require tedious dicing like you would have to for Asian stir-fries and there is no slaving away over the hot wok to prepare this meal.
Sunday Roasts are common for the British and Australians/New Zealanders, but what makes this more Kiwi is that it's a Roast Lamb. Also, it is less common to find sweet potatoes (aka Kumara) in a British Sunday roast. Kumara is common in New Zealand because of the Maoris. BUT, most importantly, a key difference for this Sunday Roast that the Partner cooked is that the lamb was marinated in Kiwifruit! See below for recipe.

Recipe :
1 Kiwifruit
2 Sprigs of Sage
Tablespoon of Worcester Sauce
Teaspoon of Honey
Teaspoon of Soya Sauce
(This recipe is good for any cut of lamb or beef of up to 500 grams.)
Instructions
Mix it all together, and spread it all over the meat with your hands.
Marinate the meat for at least 4 hours, if not overnight.
Bung it a preheated oven and slow cook at 160 degrees Celsius for 2 hours
Rest for 20 minutes. The meat that is.
Kiwifruit was selected to give a tang to the jus (otherwise known as gravy, but jus sounds more atas). But more importantly, the Kiwifruit acts as a tenderiser due to the actinidin/actinidain enzyme that helps to tenderise meat. Especially useful in tougher cuts of meat such as a lamb shank or for beef cuts such as rump and chuck.
**Thank you Zespri for the generous truckload of Kiwifruit
**Thank you Craft Communications for the Nederburg Heritage Heroes South African wine. Hic.