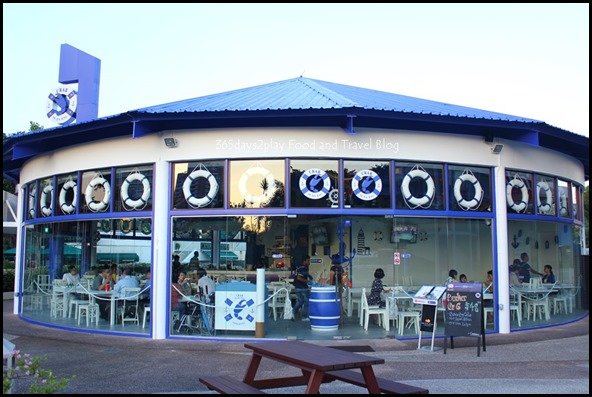 Have you heard of Crab in da Bag? It's the latest thing to hit Big Splash! Be careful how you pronounce it, make sure you pronounce Crab with a "b" sound at the back, lest offend those around you! When I first heard that Crab in da Bag was going to open in Big Splash, I was pretty excited. High time for some refreshing concept to grace this prominent spot here at East Coast Park.
I think a lot of people have the same thoughts as me because it was packed to the gills on the day that I visited. Actually, I visited last Friday for dinner. Thank god I managed to snag the second last table at Crab in da Bag because the rest of the tables were either occupied or reserved, and this was 6pm! By 7pm, the place was totally full, with a queue starting to form. And this is hardly one month after they've opened!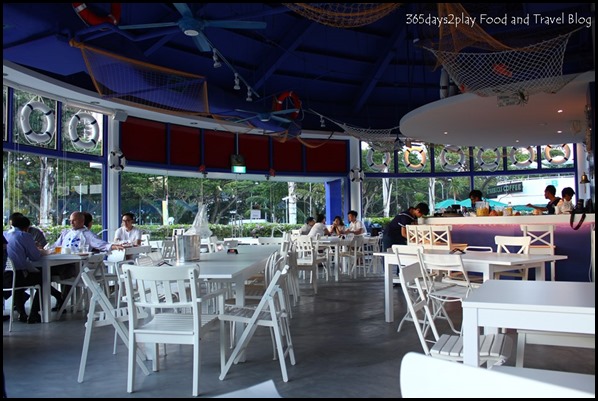 This is how the place looks like inside. Photo taken at 6pm, before the place got filled. The interesting thing about Crab in da Bag is that everything is served out of a bag. There are no utensils here (unless you order rice), you eat with your hands and you leave the shells and all on the table! Not to worry, the staff will lay wax paper on the table so things are still freshly clean until you start forming your own mountain of shells.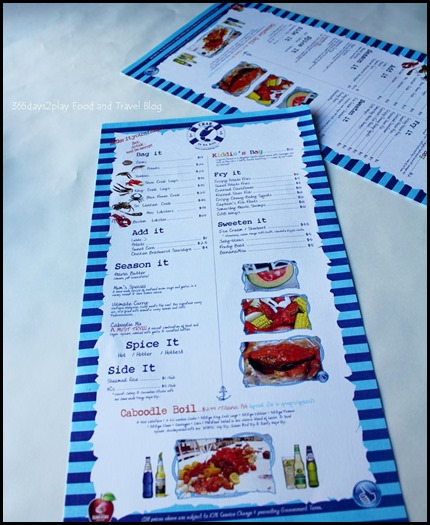 Check out the menu here. You can order ala carte stuff like prawns, crabs, lobsters, yabbies etc. Or you can go for the WOW dish, known as the Caboodle Boil. It costs $299 and comes with 4 mini lobsters, 2 Sri Lankan crabs, 500gm King Crab Legs etc. It's definitely a crowd pleaser. And because it's served from a bucket, EVERYONE in the restaurant will know you've ordered that. Even if they didn't, I'm sure your table will be distracting everyone else with your "wahhhhhs" when the loot is poured out onto the table.
Since it was just me and my mother, we just ordered a more modest bag of prawns and Sri Lankan Crab. See the nice bib they'll provide you for the impending onslaught?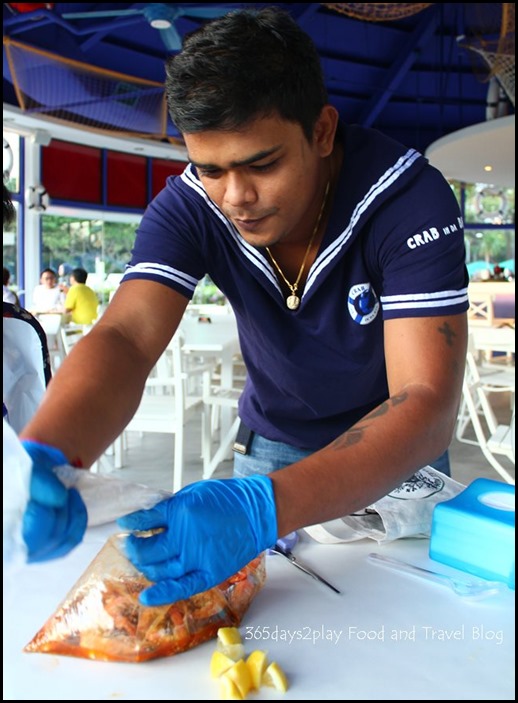 A guy will come along with whatever you've ordered. The restaurant wasn't packed, so he helped us to tie up the bag. Apparently if it's crowded you have to do this yourself.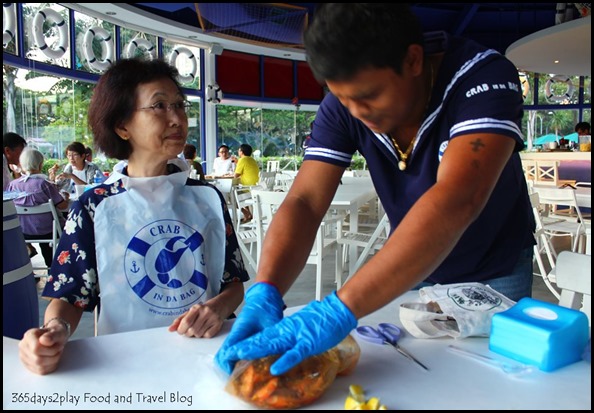 The plastic bag will then be turned upside down, and "popped" to reveal the contents. You can see we were quite apprehensive that everything was going to fly out and splatter onto our faces, but the bag was deflated without too much fanfare.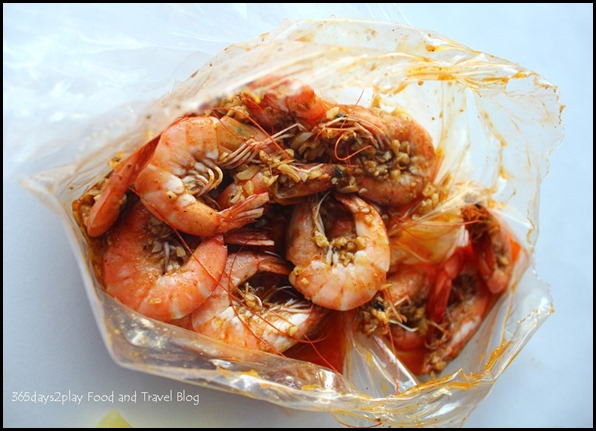 We ordered a bag of prawns for $20. There are about 20 prawns here. And we chose the caboodle mix season, which is a blend of local and cajun spices with lots and lots of garlic. I really LOVE the caboodle mix seasoning. If you like garlic, you will love this. I also ordered rice for $1, and I heaped spoonful after spoonful of the good stuff onto my rice. Didn't even bother with the prawns for a while. The prawns themselves were not very big and it seemed not that fresh. To be frank, I don't fancy having to de-shell all the prawns and having to devein them as well. I would rather order de-shelled prawns so that I can commence shovelling them into my mouth the minute the dish arrives.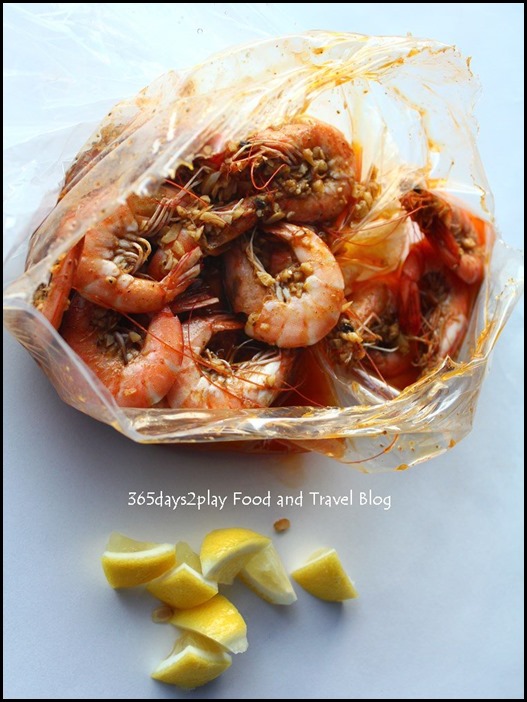 The caboodle gravy and lemon goes really well with the rice! Try it!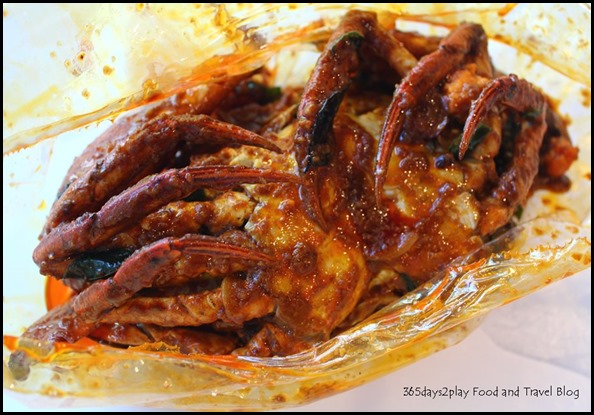 Sri Lankan Crab $45
My mother adored the crab. We chose the Ultimate curry seasoning for the crab. It has a different taste to the usual curry crabs you get at the likes of Jumbo, Long Beach and No Signboard Seafood. I still prefer the caboodle mix seasoning but my mother preferred the curry seasoning. Either way, both seasonings are top sellers at Crab in da Bag. Crabwise, the size wasn't that huge but the flesh was sweet. Luckily we were given a female crab without being asked. And you know what that means, LOTS OF ROE!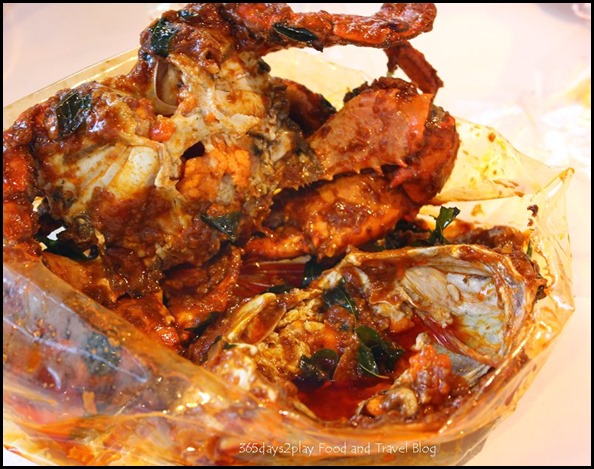 Pardon this messy looking photo but it's to show you the amount of roe! It was a little difficult not having any forks and knives to help in digging out the flesh. I'm one of those people who actually prefer using utensils to bare hands.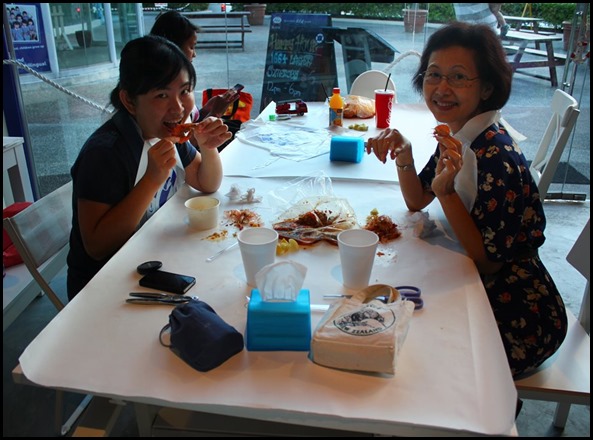 Yum yum yum yum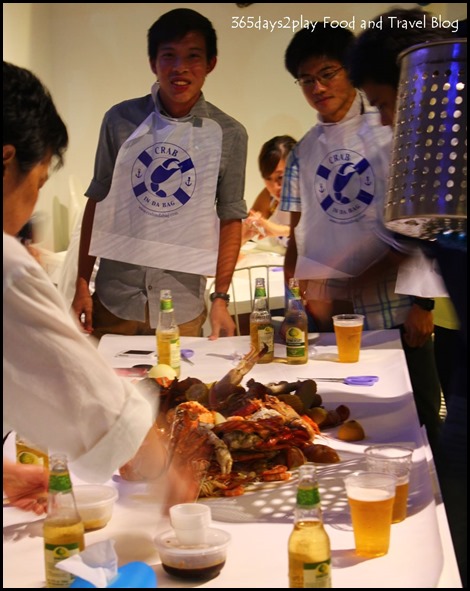 We didn't order the $299 Caboodle Boil, but other people did. Managed to snag a photo of it. Check out the bucket on the right!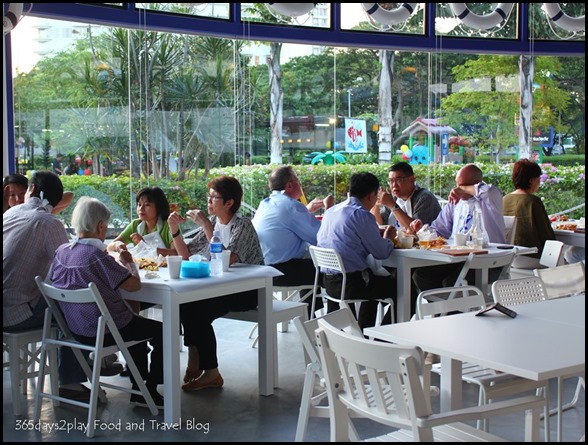 Really nice to see people of all walks of life enjoying the seafood at East Coast Park. I've always had the sneaking suspicion that many restaurants in Singapore only cater to youngsters and yuppies. Nice to see several old folks also coming down to Crab in da Bag to have a meal.
If you want to have some seafood, and you love getting stuck in with your bare hands and eating right off the table, no fussing with plates and utensils, you might just want to visit Crab in da Bag to check it out. Have to warn you though that prices are not cheap. You can see the menu and pricing for Crab in da Bag here. At $45 for one Sri Lankan crab, that's about the same price as you would pay at a full-service air-conditioned Chinese seafood restaurant! But if you're looking for a place for a big gathering, and you want something novel, you might just want to check this place out!
One thing I have to point out though, REALLY TOO MUCH USE OF PLASTIC!
Read about other restaurants at East Coast Park.
https://365days2play.com/2013/09/17/what-to-eat-at-east-coast-park-seafood-centre/
https://365days2play.com/2010/08/09/sunset-bay-garden-beach-bar/
https://365days2play.com/2010/12/19/mr-teh-tarik/
https://365days2play.com/2010/08/24/old-town-white-coffee/
---
Add me on Facebook, Instagram and Twitter if you want to be kept up to date with the latest happenings in the food and lifestyle scene in Singapore!
---
Crab in da Bag
Blk D Unit #01-25, 902 East Coast Parkway Big Splash, Singapore, Singapore 449874
Tel : 6440 0083 (Best to make reservations!!)