Whenever I discover a cafe located in the East, I feel pressured to blog about it immediately for the benefit for all of us poor souls living in the Eastern side of Singapore. Really, there have been more than 60 cafes sprouting out in Singapore just this year alone, yet precious few located in the East. I can name you the "cafe regions" off the back of my hand : Robertson Quay, Duxton Hill, Everton, Dempsey, Jalan Besar, Tiong Bahru, and Holland Village / 1 Rochester. Apart from Jalan Besar, which is next to Lavender and may arguably be considered to be in the East based on the MRT line, everything else is Central or West! Ok I guess the people living in the North are suffering as well, but then you people have Grub at Bishan — Ang Mo Kio Park!!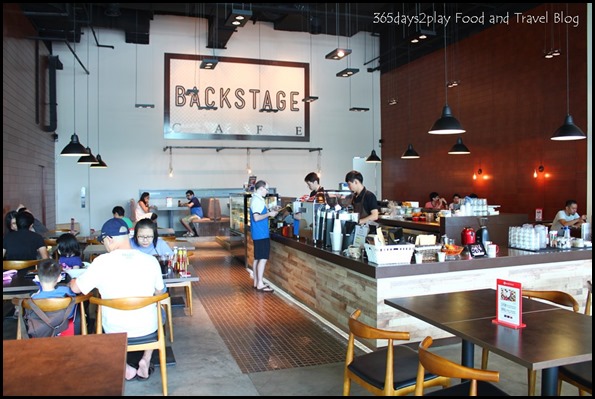 Ok to cut to the chase, BackStage Cafe is the new kid on the block, located in the industrial estate area of Kallang. Industrial estate may give you this feeling that you have to wear hard boots and hard hats to get here, but relax, the building that it is in is an office block. The great thing is that if you come on Saturday (they are closed on Sundays), the entire area is a dead town, so you are assured of peace, solitude and ample parking! I visited on Hari Raya but as you can see from the picture, it's not a jammed packed claustrophobic place. Oh gosh, whenever I think of 40 Hands and Chye Seng Huat Hardware, I feel a headache coming on. Backstage Cafe is probably the most spacious cafe I can think of, although I recall Toby's Estate in Robertson Quay has super high ceilings as well.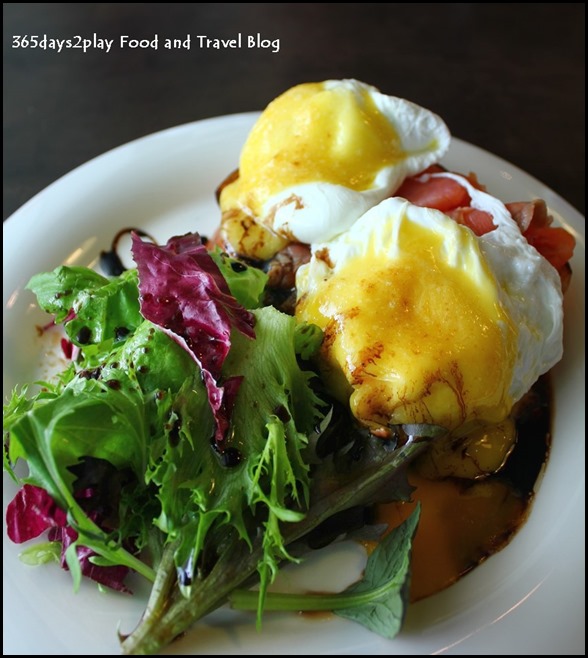 Smoked Salmon Eggs Benedict $15
The menu is more extensive than other cafes too and you can get brunch dishes as well as Western and Asian favourites. For me, if my mind is set that I'm here for brunch, I would normally order an egg based dish. I'd been having thoughts of eggs benedicts all week so It was a pretty easy order for me.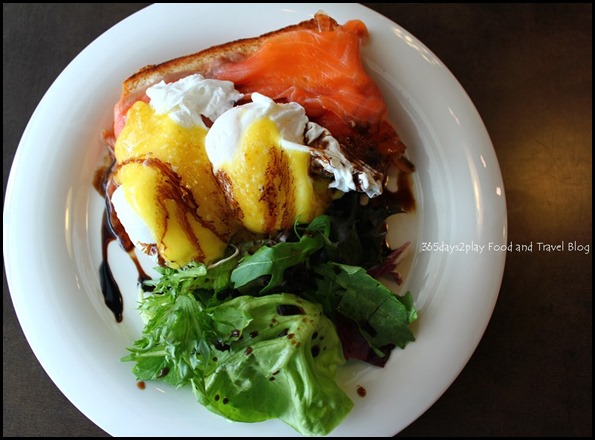 It was nice that the dish came with some fresh looking greens. My father and I both ordered the eggs benedict, but one of his eggs had already burst. You can see from the picture above that some of the yolk has oozed out. Taste wise, the eggs and the smoked salmon on toasted brioche was great, especially the 1st few mouthfuls. But the homemade hollandaise sauce was a bit too heavy on the butter. It became a bit sickly tasting after a while.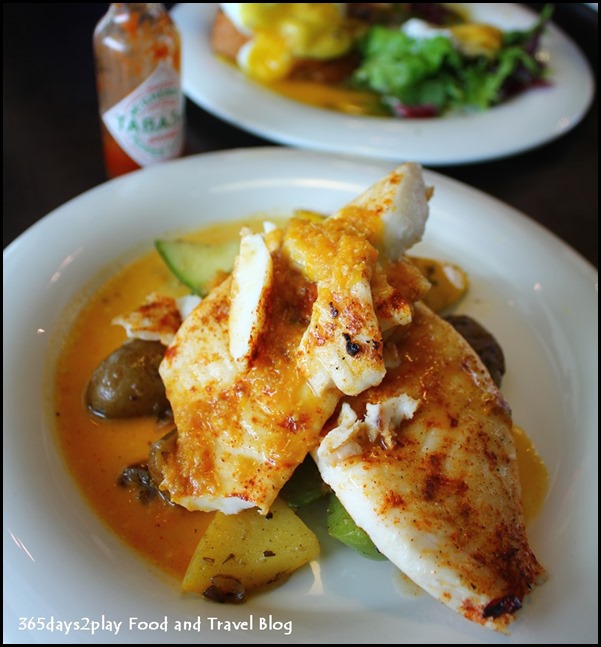 Grilled Snapper $16
My mother, being the most health conscious in the family, ordered a grilled snapper. The fish was cooked just right, with the flesh retaining much moisture. The orange miso sauce was a refreshing take that perked up the dish.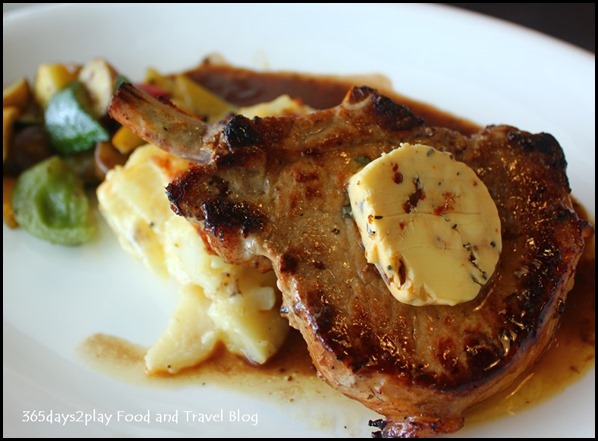 Signature Grilled Pork Chop $18
But I think the piece de la resistance, the dish that really made everyone go WOW, had to be this grilled pork chop with a dollop of herb butter. For $18, as compared to the simpler salmon eggs benedict, wouldn't you agree this is the most value for money dish?? The pork chop was of a good size. The meat was quite tender, although it would have been perfect if cooked just a teeny wee bit lesser. The herb butter together with the Asian styled sauce went really well with the pork chop and was delicious. The gratin potatoes were also creamy and moreish.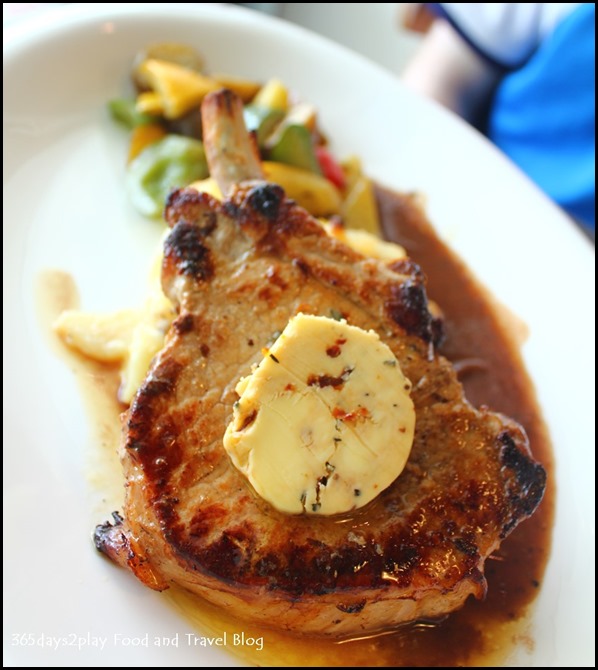 Another picture of the delicious Pork Chop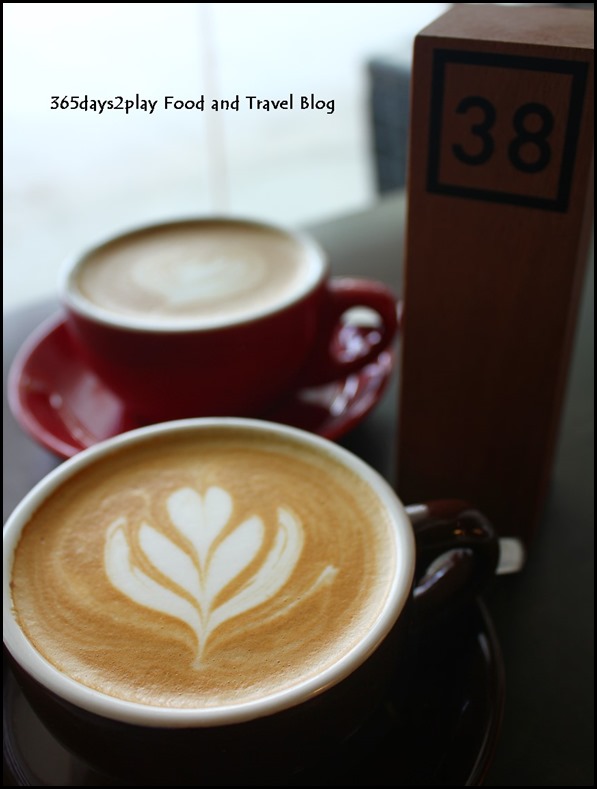 Flat White and Cafe Latte both $4, Extra Shot +50 cents, iced +$1
And of course, what's a brunch without good coffee? Given that this is not a "coffee cafe" with dedicated baristas so to speak, we were pleasantly surprised that the coffee served was of a very good quality. The coffee was strong and smooth, with just a little hint of bitterness and caramel undertones. Not the best in town, but I can definitely see myself returning to Backstage Cafe.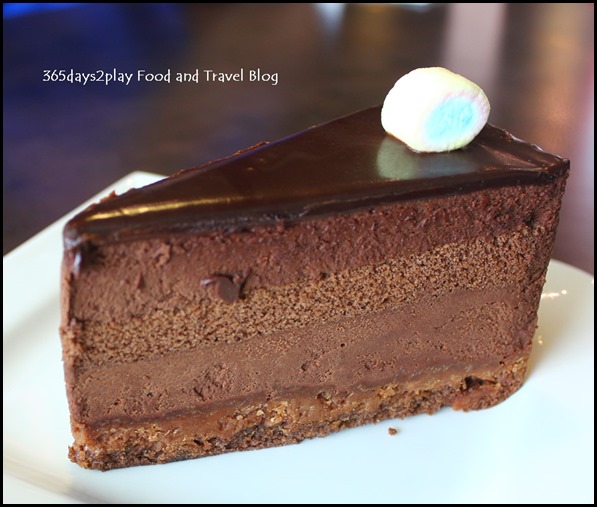 Chocolate Cake $5
And last but not least, the decadent chocolate cake. This is chocolate cake not for the faint hearted as it's a really dense cake, with layers of thick mousse, a bit of chocolate sponge, and a layer of crispy biscuit base, all topped off with thick chocolate ganache. They told us they don't make their cakes in house, but bought them from someone. I think it's quite a good price for a chocolate cake don't you think? But somehow I can't put my finger to it but I feel this cake is mass made? Like it's not a cake made by an individual proprietor.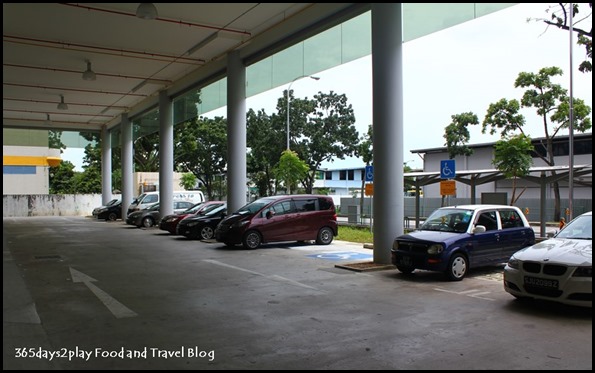 Ample parking just outside the cafe. Don't walk into the Food Court next door that is also owned by Backstage Cafe! You can see the cafe from the main road.
---
Other cafes in the East also serving Brunch
Rabbit Carrot Gun – https://365days2play.com/2013/04/11/rabbit-carrot-gun
The Big Sheila – https://365days2play.com/2013/02/04/the-big-sheila
Nine-Thirty by Awfully Chocolate – https://365days2play.com/2012/05/23/mooshi-bakes-brasserie
Bark Cafe — http://365days2play.com/2013/06/09/bark-cafe-at-changi-museum/
---
Add me on Facebook, Instagram and Twitter if you want to be kept up to date with the latest happenings in the food and lifestyle scene in Singapore!
---
Backstage Cafe
158 Kallang Way, Safekeep Building #01-06  Kallang, Singapore 349245
Mon – Sat: 10:00 am – 9:00 pm
Take bus 125 opposite Adjunied mrt station for 4stops. They are directly opposite the bus stop.