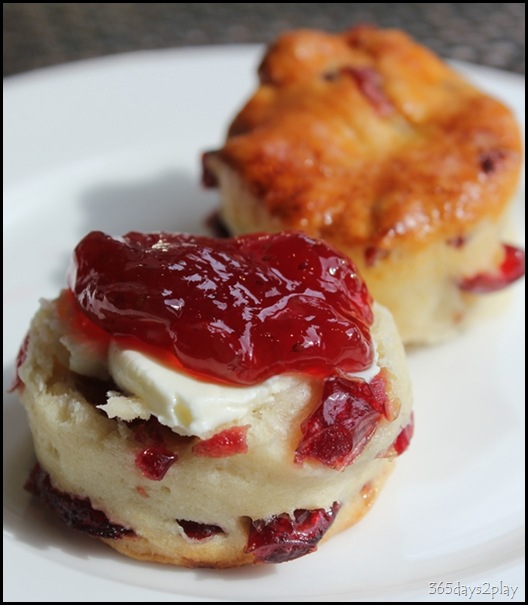 Every year, I like to take a few days off to just enjoy life in Singapore. Usually, this involves us revisiting all the tourist attractions in Singapore. Singapore History Museum, Singapore Art Museum, Singapore Zoo, Night Safari, Sungei Buloh Nature Reserve, Bukit Timah Hill, Singapore Science Centre, Botanic Gardens, Sentosa, the lot. I really do think there is much to do in Singapore. Weather wise, you just have to be smart and select the most appropriate day and timing to go. Dress appropriately and arm yourselves with cold drinks and sandwiches, it is possible to feel as if you have been transported to some distant land.
This year, I had a high tea theme for my staycation. Okay, I lied. Every year the holiday involves me stuffing my face, but this year, we dispensed with the strenuous activities and simply just binged.
One of the places we visited was The Knolls at Capella Hotel in Sentosa. On weekdays, few places offer buffet afternoon tea, which is my usual preference. The Knolls offers a traditional 3 tier afternoon set. You can choose either the Peranakan Set or the English Tea Set. I think few Singaporeans will choose the Peranakan Set since we tend to associate that with local (and therefore cheaper) fare. The price for either is $38.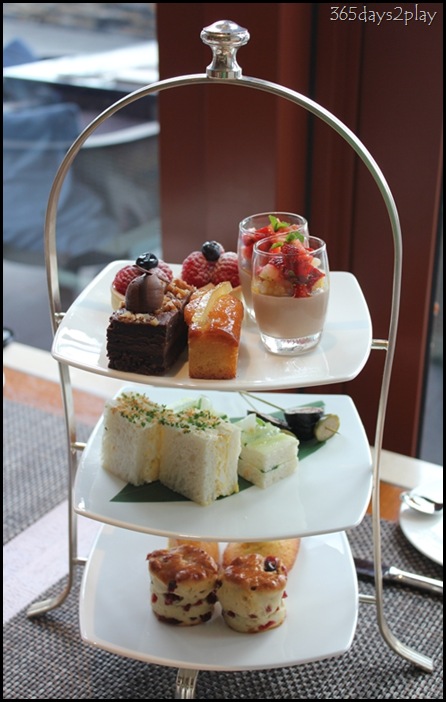 The bottom tier comprised of 2 raisin scones and 2 magdaleines. The middle tier comprised of 2 egg sandwiches, 2 cucumber sandwiches and 2 sticks of olive wrap thingy. The top tier, the dessert tier in its brightest glory, comprised of a chocolate cake, an orange cake, 2 raspberry tarts and 2 glasses of chocolate mousse with sago pearls and strawberries.
On the side, you get a huge bowl of clotted cream, strawberry jam and strawberries. There was so much clotted cream, you could stuff yourself silly if you wanted to. I very nearly wanted to spread the clotted cream on each item I ate. Unfortunately, the clotted cream was not rich tasting so I only ate it with the scones. The clotted cream you can get get at the the afternoon tea at Fullerton Hotel or the Regent Hotel is so so much better. Luckily, the scones themselves were very nice. I wish I could have more. Next time, I'll just order the scones. They cost only $3.50 per piece which is pretty reasonable considering Dome Cafe charges that much as well.
I liked the egg sandwiches very much. This is the 1st time I've ever seen egg sandwiches done in this manner. You'd be surprised how much extra flavour this simple egg sandwich had just with some additional sesame seeds and chives!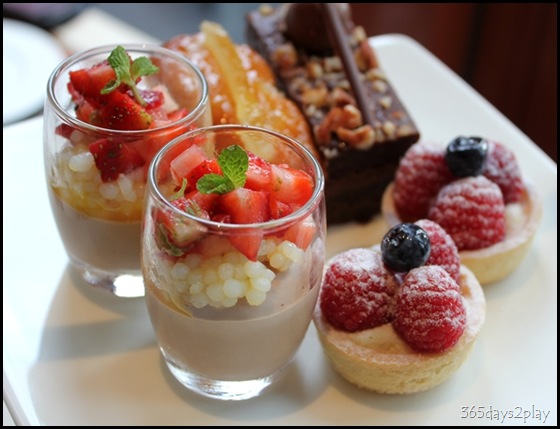 The Partner didn't like the chocolate mousse, however I thought it was great! The mousse had this mild yet sweet chocolate taste. There was some hidden ingredient, lemongrass I believe, which lent an Asian zing to the mousse. And the soft sago pearls gave the soft chocolate mousse some texture and bite. Wish I could have more of this too!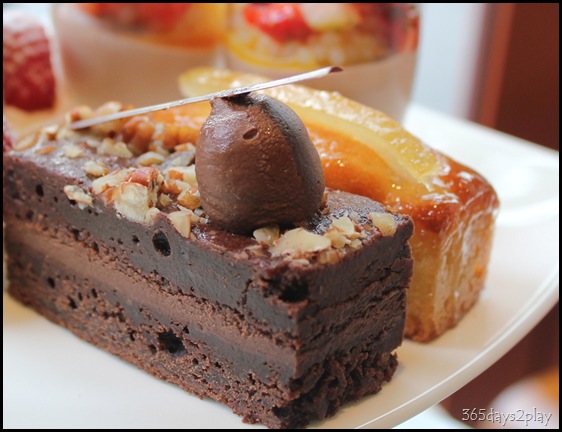 The chocolate cake looked great, but tasted only average. It was also slightly dry. Quite disappointed with this actually. I feel that a good afternoon tea must involve great scones and great chocolate cake. If restaurants miss those 2, they should seriously sack the pastry chef.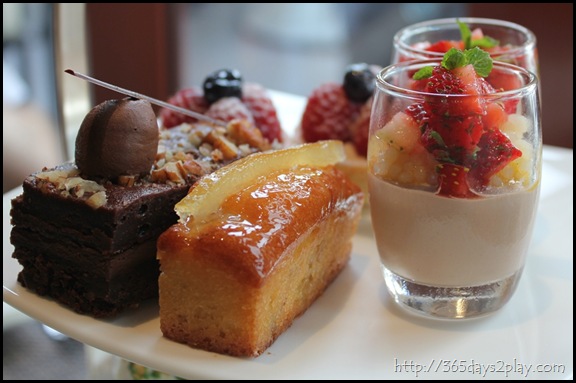 The orange cake was thankfully nicer than the chocolate cake. It had a rich sticky syrup enveloping it. If you remember, I made a light orange cake for Christmas. this is the exact opposite. The heavy type, when you need some comforting.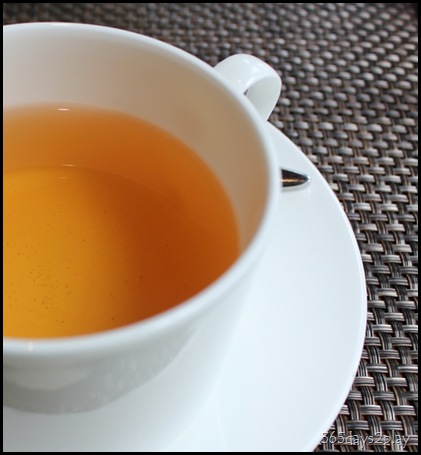 The tea was very nice. We were given a menu to choose a tea of our choice. Think we chose the 1st one, which has hints of rose in it. Lovely! Only thing is, The Knolls only allows you to have 1 pot of tea, refillable with hot water only. The Knolls uses tea from the Gryphon brand, which is one of my favourite tea brands. Did you know that Gryphon and TWG were both developed and are headquartered in Singapore?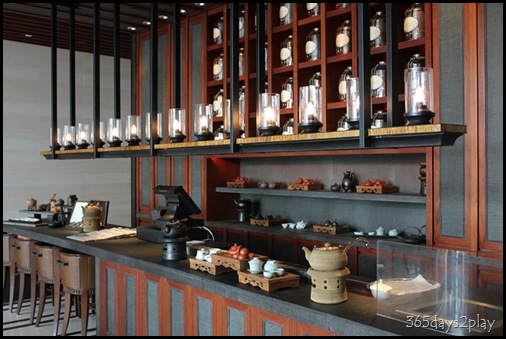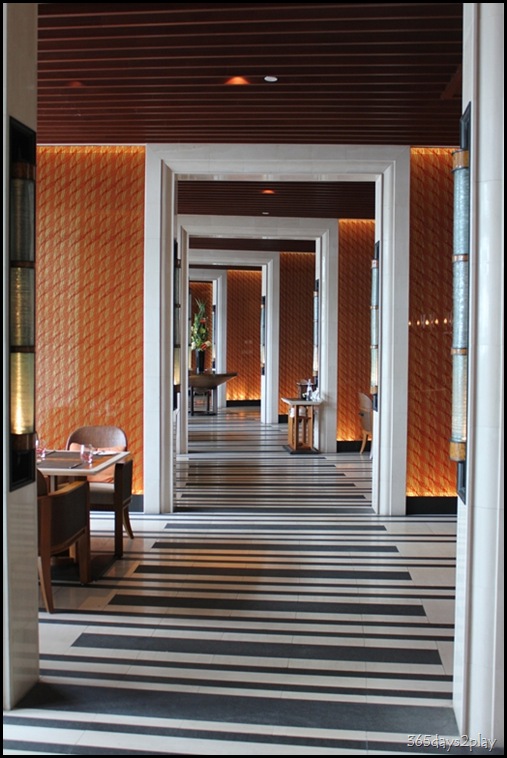 Welcome to The Knolls!
Conclusion: On the whole, the whole afternoon tea experience was nice. The surroundings was lush and peaceful. We were practically the only ones there, apart from the guests lounging at the pool. It was wonderful sipping tea overlooking the pool and the sea. Taste-wise, the scones were great, and so was the chocolate mousse. Everything else was pretty average. I didn't like it that I was limited to only 1 tea selection. For $38, I thought it was pretty expensive. Don't forget, you have to pay an additional $5 to enter Sentosa Island.
The afternoon tea at Fullerton Hotel is also 3 tier, but at $42, you get 2nd helpings or 3rds if you so wish. Regent Hotel also offers a 3 tier afternoon tea with tea or iced-chocolate (the ice chocolate is refillable!) at $35 or $38 can't remember. For less hassle and fantastic clotted cream, I'd go for Regent Hotel over The Knolls.
In terms of decor, I would also choose Fullerton Hotel and Regent Hotel over The Knolls. Some how, the decor at The Knolls doesn't blend in with the idea of afternoon tea. Where are the comfy sofas and soft carpets?
Click here for pictures of Capella Hotel Sentosa
Read about my reviews on other excellent Afternoon Tea places in Singapore
Ritz Carlton Chihuly Lounge — Part 1 (Sweet)
Ritz Carlton Chihuly Lounge — Part 2 (Savoury)
Hotel Intercontinental Lobby Lounge
Check out 365days2play's review on where to find the Best Scones in Singapore
Check out Sister Hotel Fullerton Bay Hotel's Lobby Lounge known as Landing Point.