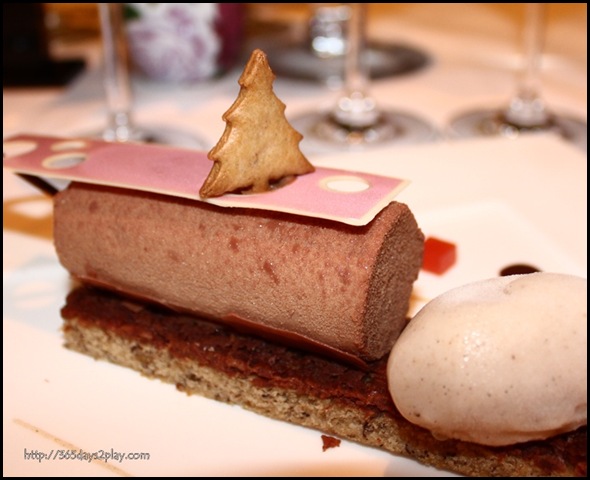 It's less than 20 days to Christmas! Have you made plans for Christmas yet? Be it a sit-down home-cooked meal, a party at a friend's place, or dinner at a fancy restaurant, DO SOMETHING and let your hair down! It's the festive season and it would be a pity to spend it like any other day. Make the holidays count! It's no secret that I love Christmas time. I love all the pretty lights and I love the idea of giving and receiving presents. That's the very reason why I chose to get married in December (although I am beginning to realise that it ain't that great an idea….no time to enjoy the festivities!)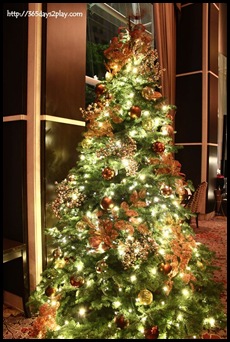 If you wanna surprise a special someone, at a really special and romantic restaurant, you may like to consider Brasserie Les Saveurs at the St Regis. It is the most romantic, pretty and posh restaurant I have dined at, really it is the whole package! Of course it doesn't come cheap, but it's a once a year thing, I say go for it!
Lucky me, this Christmas tasting is my 2nd visit to Brasserie Les Saveurs! The first time, I enjoyed a lovely 3 course dinner during Restaurant Week with my BFF. It was an amazing experience and I'm glad to report back that the feeling hasn't changed even after my 2nd visit. This is what is in store for you if you go for the St Regis Brasserie Les Saveurs Christmas Eve dinner.



~~~~~~~~~~~~~~~
Christmas Eve 7- course Degustation Dinner, 24th December 2012
7pm to 12midnight (last order 10.30pm),
$208++ with one complimentary glass of champagne or $268++ with wine pairing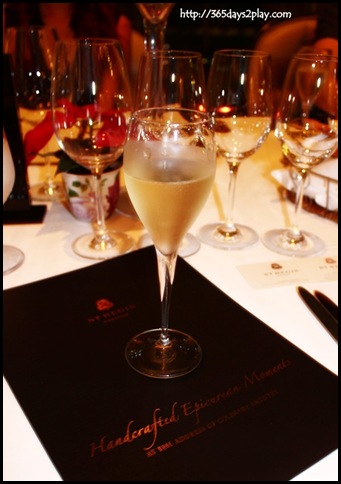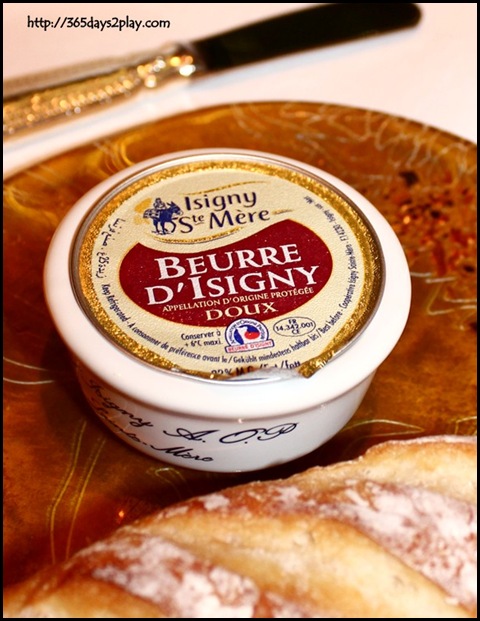 Beurre D'Isigny
You know you're in for a treat when the dinner starts with a lovely mini baguette with decadent French butter. Beurre is French for butter and only butter from Isigny can be labelled to be from Isigny, just like Champagne!
Can you guess what this is?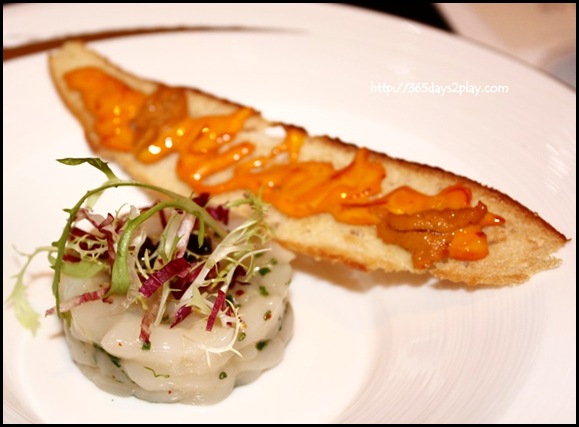 Hokkaido Scallop tartare, caviar, sea urchin, rouille toast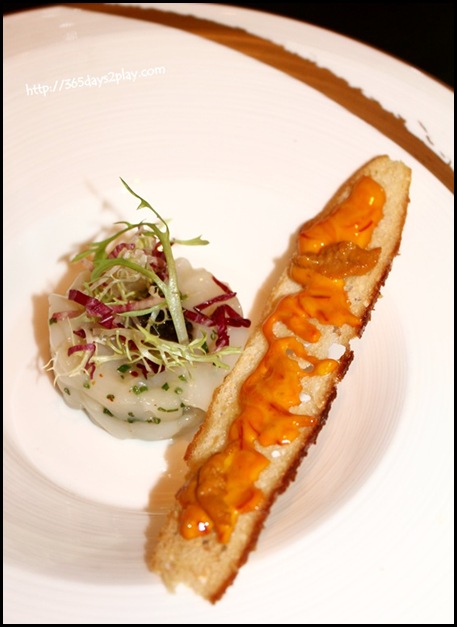 Hokkaido Scallop tartare, caviar, sea urchin, rouille toast
An excellent starter with really strong tastes. Not for the faint hearted. The scallop tartare, the one which looks like a raw prawn, was made of diced firm scallop and had a really strong seafood taste. To give it even more oomph, there was even a portion of caviar to go with it. Fantastic flavours! The sea urchin was presented in a very unique way as a sort of mayonnaise squeezed onto a sliver of toast. Once again, a fantastic combination and I really loved this dish!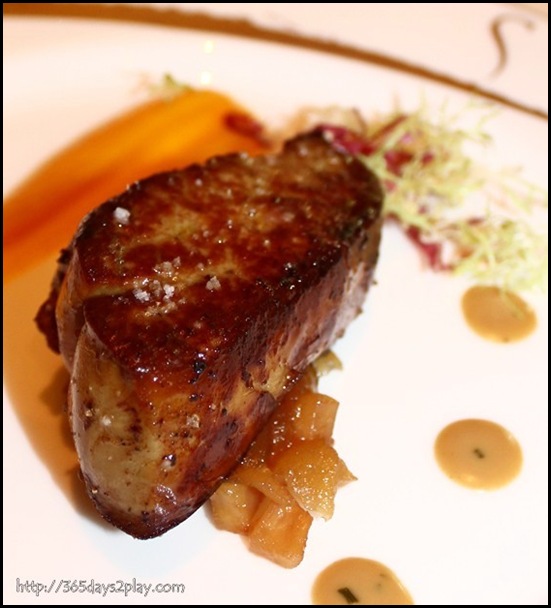 Pan Seared Foie gras, butter squash puree, apple and celeriac chutney, duck vinaigrette
This may look like a piece of steak, but it is actually Foie Gras! A huge portion for Foie Gras. I felt a bit guilty for eating so much, but it was so good!! Actually, it didn't taste as fattening as some that I have tried before, so I was able to finish the entire thing. The Foie Gras was nicely seared on the outside such that it still had the lovely creaminess on the inside. I was told that cooking it just right takes skill as it's easy to turn this piece of decadent liver into rubber! The tanginess of the apple and celeriac chutney help to cut through the fattiness of the Foie Gras, but really, nobody was paying any attention to the accompaniments.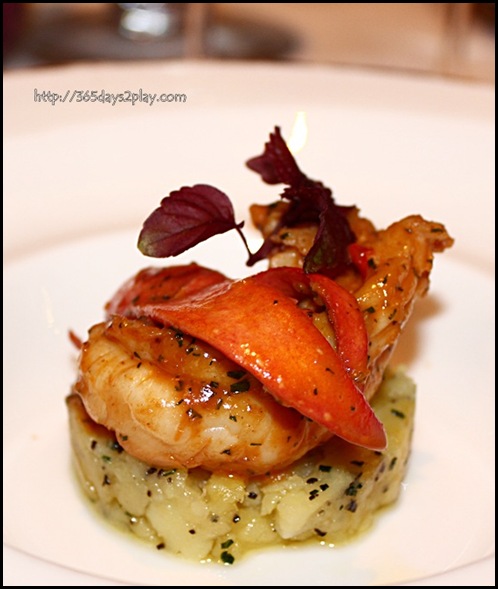 Poached maine lobster, fork mashed potatoes, black truffle, bisque jus
Fresh and succulent tasting lobster, with its sweet flavours coming through clearly. Truffle flavour wasn't very strong though.
Wagyu beef sirloin, potatoes mousseline, bone marrow, bordelaise jus
Yet another fantastic dish. What can I say, it's WAGYU! I have eaten numerous beef labelled as wagyu and I've come away wondering if they served the wrong thing. There's no mistaking that this is wagyu beef, as the sirloin tasted very rich. Despite it being a sirloin, it was a very tender piece of steak! Absolutely enjoyed the meat, except for the part where I somehow bit into an entire piece of fat! For some reason, I didn't like the bone marrow at all. It tasted raw and had a somewhat crunchy texture, like when you bite into a juicy fruit. Not at all what I was expecting, considering that I love bone marrow to bits! The other diners didn't have this problem though.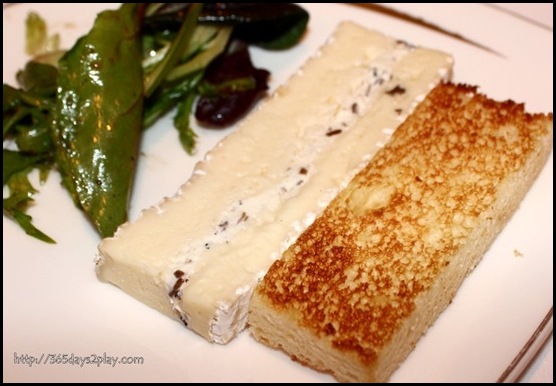 Black Truffle Brie Cheese, toast, mesclun salad
You may be wondering how on earth one person can eat so much. It's true, it's a lot of food, but don't forget, it's a 3 hour meal in a French restaurant! Take your time to enjoy each course, put your fork down and talk to your partner. Revel in the romantic atmosphere, and then pick up your fork again. So, when it came time to the Fromage course, I still had a bit of space.

The brie cheese as a little hint of black truffle, but once again not very strong. Went well with the toast. I thought this course was nice, but not spectacular as compared to the previous dishes.
 Chocolate mousse, hazelnut feuilletine, gingerbread sorbet
And lastly, DESSERT! Isn't this such a pretty dessert? Instead of a traditional log cake, the dessert has been fashioned into a somewhat train like structure, at least in my impression of it. The chocolate mousse was the highlight for me, it was fairly light and not cloying so I managed to finish most of it. The little christmas tree was made of a hard gingerbread so I left it alone. The sliver of pink was made of white chocolate. The gingerbread sorbet tasted very festive thanks to the generous amount of cinnamon used, but I don't think there is any gingerbread in it per se. The hazelnut Feuilletine was a bit of a let down though as it was soft instead of crispy, but no matter since it was just the base.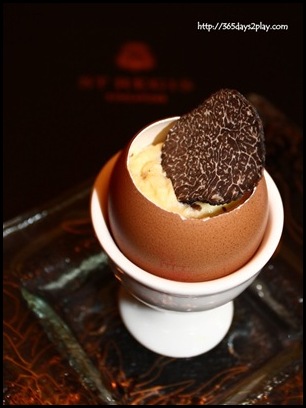 Amuse Bouche Truffle Scrambled Egg
Oh wait, I forgot to write about the amuse bouche which comes right at the start of the meal. In my opinion, not very nice at all. The scrambled egg didn't taste very eggy, and also, scrambled egg just seems so plain, even though I know much effort was put into presenting the dish in this way. The huge slice of truffle was generous but too in your face. It should have been incorporated into the egg, as it tasted raw and musky on its own.
Yes, we had the wine pairings as well. It's a wonder I didn't topple off my chair at the end of the meal. The bottle shown here is the Craggy Range Te Muna from New Zealand.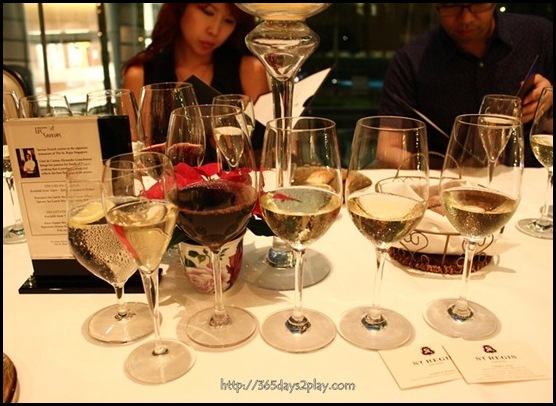 There's the lot there, 4 glasses of wine plus a Champagne! Starting from right,
Chablis 1er Cru Vaulignot, Burgundy France
Berg Erste Lage Reserve huber, Traisental Austria,
Craggy Range Te Muna, Martinborough, New Zealand
Amarone della Valpolicella Fondatore Montresor, Veneto, Italy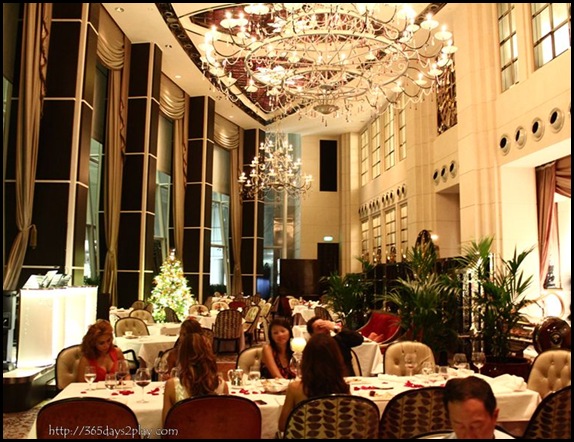 Tis' a very Merry Christmas for me. Hic! Thank you St Regis and FoodNews for the invite!
Read about my previous visit to Brasserie Les Saveurs
~~~~~~~~~~~~
Christmas Eve 7- course Degustation Dinner, 24th December 2012
7pm to 12midnight (last order 10.30pm),
$208++ with one complimentary glass of champagne or $268++ with wine pairing
Brasserie Les Saveurs at The St. Regis Singapore
29 Tanglin Road Singapore 247911
Telephone : (65) 6506 6888
http://www.stregissingapore.com/BrasserieLesSaveurs