Contrary to what the title may imply, the next post will be about a cze char stall at a coffee shop. Loyal readers to my blog will know that I seldom post photos of hawker food or cze char. It's not that I don't eat hawker food, it's that I don't actively search for the best hawker food or cze char in Singapore. My parents being health fanatics, they do not find hawker food to be healthy. Orh Luak, Char Kuay Teow, Kuay Chap, Chai Tow Kuay, they steer clear of it! Hence there is little opportunity for me to cover such cuisine. As for cze char, we seldom hop around too because once a "heathier" cze char stall is found, we seldom veer from it.
This review that I am doing on Fatt Choy Mui Seafood Restaurant, is probably one of the precious few that you will be reading on my blog, unless I decide to venture out with the Partner or with friends. People living near Cassia Crescent probably know about this cze char place, especially since there is a huge tent set up next to the block to cater for the many more diners that can fit under the roof of the coffee shop.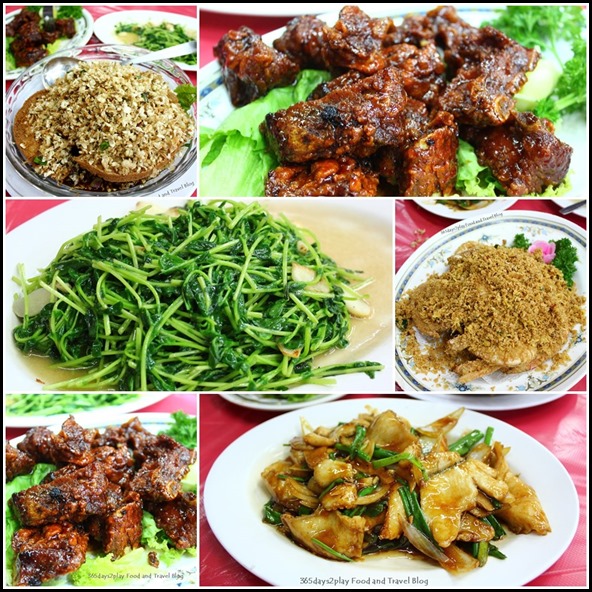 These are basically all the dishes we had that night, together with my 3rd Uncle's family. My parents and my cousins had all dined here together previously, and had raved about it. Apparently on the 3rd occasion that I joined them, the food was not spectacular for some reason. Which is saying something, since I had already thought the food to be above average.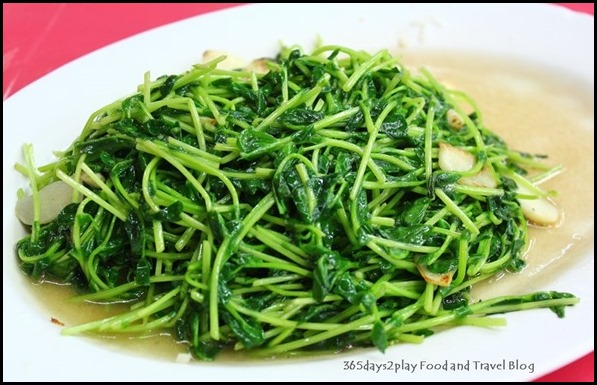 I can't remember what vegetables these are, dou miao of some sort I think, but I definitely do recall the firm bite they had. It was quite enjoyable having them together with rice, and I could polish off a whole bowl of rice with just these vegetables! When it comes to cze char, I don't really need meat, although I wouldn't say no either.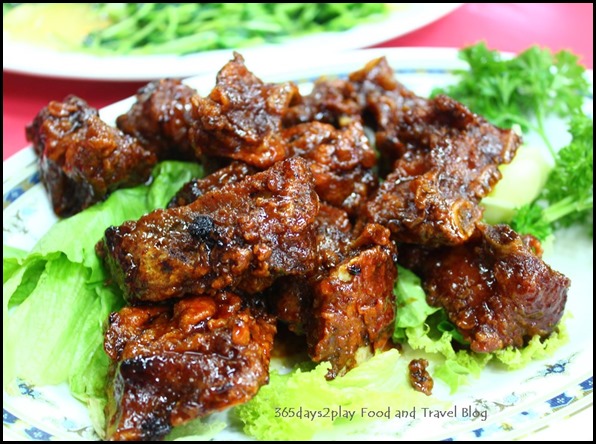 Having a pescetarian at the table, this ended up as the only meat dish for the evening. Coffee pork ribs. Did you notice that coffee pork ribs always tends to be a highlight of any Chinese meal if ordered? I wonder if it is because it tastes slightly unique that it is always an anticipated dish? On the day that I tried this, the ribs served to us seemed to come from an emaciated pig. It was mostly bone and flour with very little meat. My cousins told me that on previous occasions, the meat to bone ratio was much higher. What a pity, because it would have been perfect, as the flavours of the caramelised coffee in pork was great.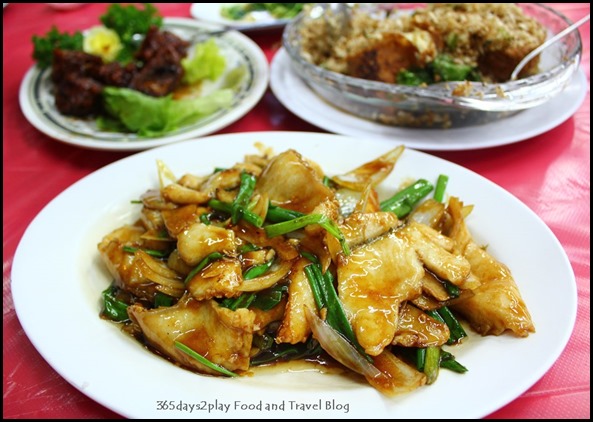 Sliced fish sauteed with ginger. I am not a fan of fish but this is one of the styles of preparation that I like. The fish slices were firm and tasty, with the warmth of the ginger exuding through the savoury sauce. Do you eat the ginger slices? I love the spicy kick it gives, which is tapered through the savoury sauce. Great to know the health benefits of eating ginger too.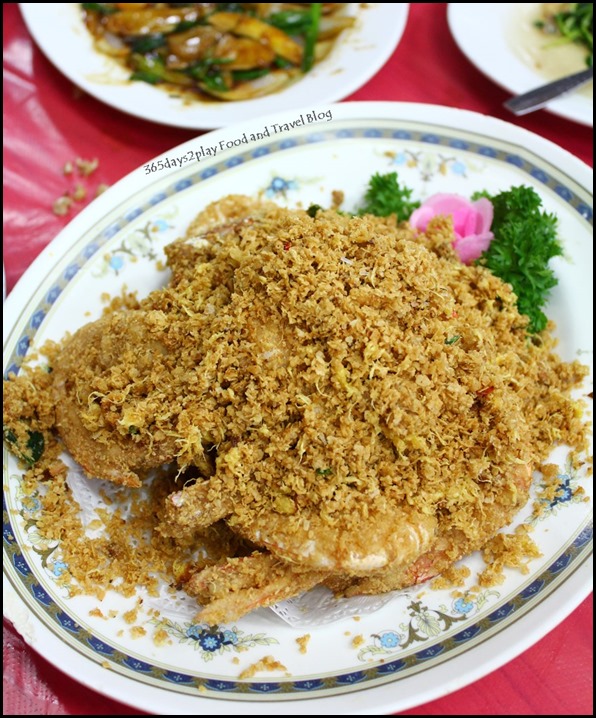 I find it hard to say no to butter prawns or oat prawns! They are probably one of the most cholesterol laden dishes that one can order at a cze char stall, but they are SO GOOD! Sometimes I wish that they can remove the shells before plying on the butter batter or the oats, so that I can just shovel the lot into my mouth. I can't really understand why the batter is on the shell, which you must then discard. I know shells impart a bit of flavour too, but to me, they are more of a hindrance than a help!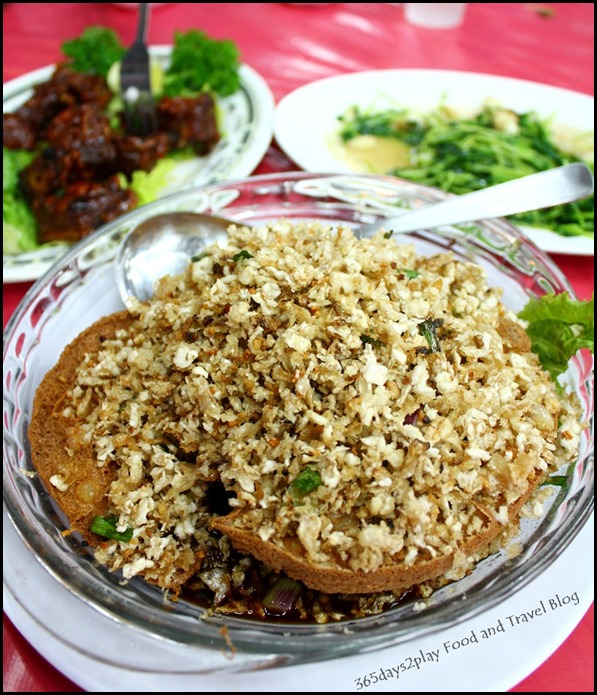 And last but not least, deep fried tofu with deep fried garlic. Probably another healthy sounding dish since it's tofu, but deep-fried till it's unhealthy! I guess one way to make it slightly healthier is to discard the crispy skin and just go for the silky soft bean curd inside. Well, I like to kid myself that I only eat the bean curd within, but really, I end up polishing off the nicely piled up bean curd skin a while later.
Food here is good and cheap. The entire meal cost $79 and was good for 7 pax!
If you come on the weekends, be prepared to wait as there is usually a crowd waiting to be served! Parking is also a problem if you want to park at the open-air car park nearby. Your best bet is the Multi-storey car park a few minutes walk away. We wanted to have our Chinese New Year reunion dinner here but they were not open on CNY eve!
---
Add me on Facebook, Instagram and Twitter if you want to be kept up to date with the latest happenings in the food and lifestyle scene in Singapore!
---
Fatt Choy Mui Seafood Restaurant
Blk 34, Cassia Crescent, #01-86 Singapore 390034
Call Cynthia 9383 9577 to make a reservation