I kinda spoke too soon when I said I hardly visit new cze char places because this post will also be about a cze char place we discovered last night. I'd heard about Two Chefs Eating Place a while back when they were featured on TV. I hadn't quite gotten the address but I knew it was somewhere in the West of Singapore. In fact, I had thought it was in Clementi, so when we were cruising around in Commonwealth looking for a place to eat, I casually mentioned it, and it was such a surprise that the next thing we saw was the Two Chefs Eating Place!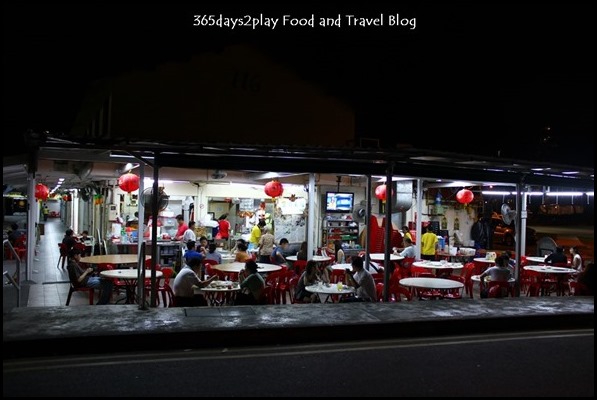 I love how old school the place looks. Seldom find single storey eating places like these except in the oldest of HDB estates. Tiong Bahru's another area where you can find them. It was about 9 pm when we got there yesterday (Saturday), so we managed to get a seat immediately. I've heard that if you go during peak hours, you will have to wait in line.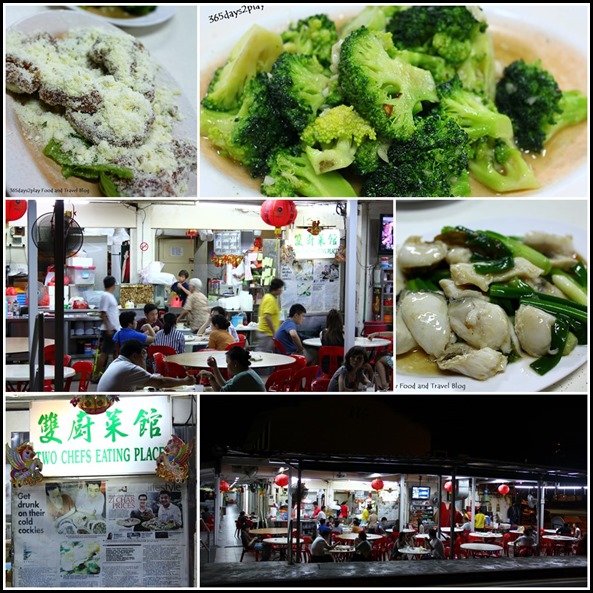 The food at Two Chefs Eating Place is really affordable. At the Commonwealth outlet that we patronised, there was a huge Straits Times article with the header stating "High Class Dishes, Cze Char Prices". I wouldn't say that the dishes are "high class", because they are certainly not presented nicely like what you would expect in restaurants, but the dishes are definitely affordable alright. One of the cheapest cze char places we have been to! We ordered 3 dishes (all small) plus a soup and the total bill came up to $40!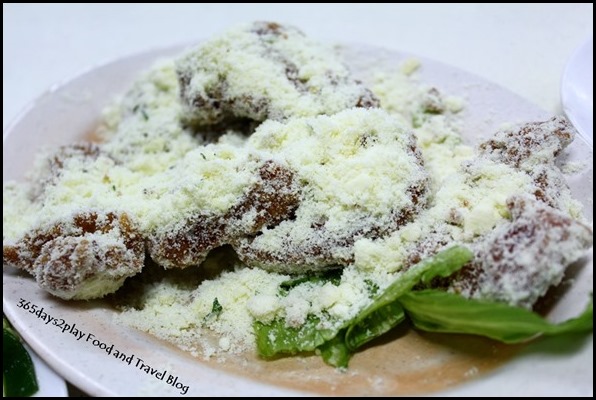 Butter Ribs $8
Not the prettiest of dishes, the butter ribs are definitely a must order if you visit Two Chefs. In fact, this dish was what caught my eye during the TV programme! Nearly all the tables had ordered this butter ribs dish so it's hard to go wrong there. I'm not too sure where the butter comes into play, because the white powdery stuff you see in the picture is milk powder mixed with a good dose of sugar. I've never had anything quite like this before and I must say it was very enjoyable.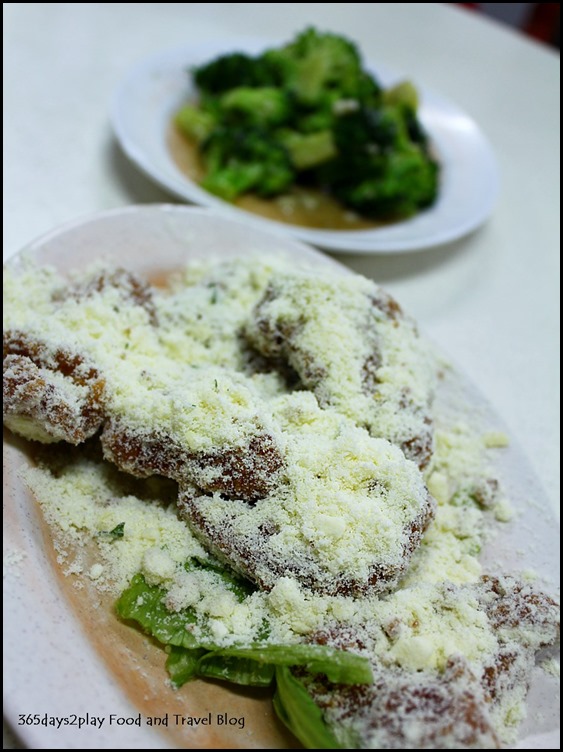 If you're the type who loves to eat the oats off the oats prawns, you would love this. However, even without the milk powder (for those who are not that keen on it), the pork ribs themselves were already superb. Huge meaty portions, what you are served has no bones in there so it's all flesh! Nicely glazed on the outside and really tender on the inside, I wish we had ordered a bigger portion yesterday! We ordered the small portion, which contains about 6 pieces.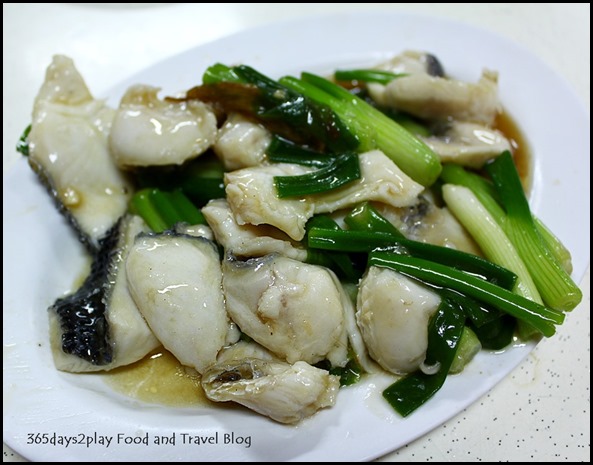 Sliced fish with ginger and spring onions $8
Once again, a generous amount of fish for the "small portion" order. I thought they were a bit heavy handed on the spring onions, as I would have preferred more ginger instead.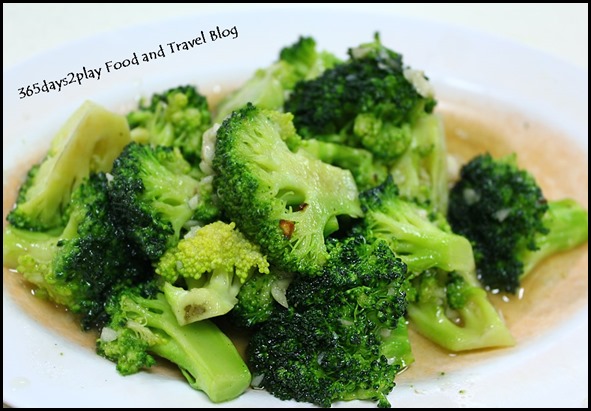 Stir-Fried Broccoli with garlic $8
The stir-fried broccoli was still pretty tasty despite the fact that they were stir-fried longer than I would have liked. I like mine just blanched and fried lightly, with very little oil. Luckily they still retained their crunch although I detected a bit of a starchy texture.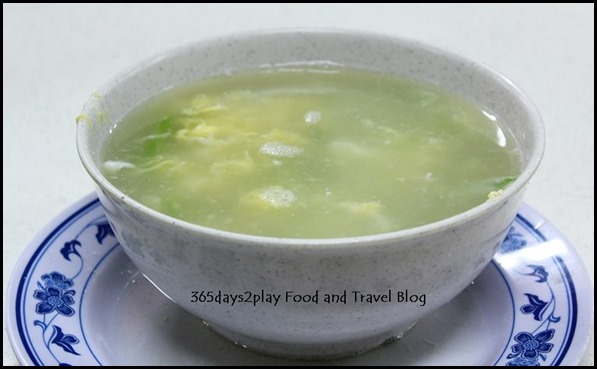 Bittergourd Seafood Soup $4
We always go for the bitter gourd seafood soup whenever we have cze char. We like the light flavours so as not to have the soup overpowering the rest of the main dishes. This is one of the better tasting bitter gourd seafood soup I have tasted. It wasn't salty or MSG laden tasting, and they were generous on the ingredients as well as the egg.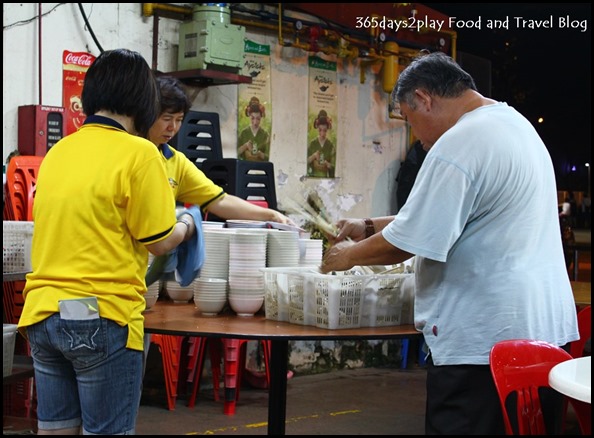 Workers wiping bowls dry. Come to think of it, I hardly see this nowadays. What happens for the other cze char stalls? Do they send the bowls somewhere for cleaning or is it so "behind the scenes" such that I've never noticed? I would think it would be too cramped within the coffee shop stalls to want to do it there.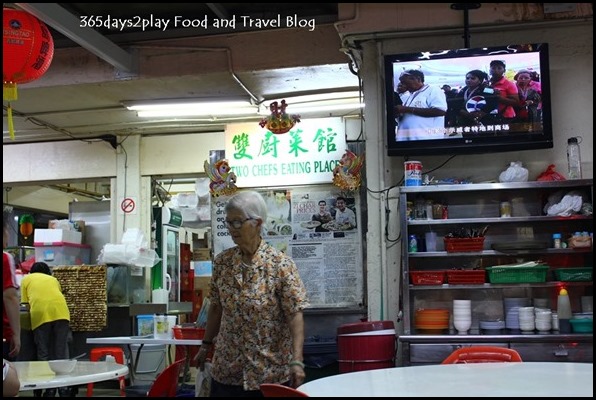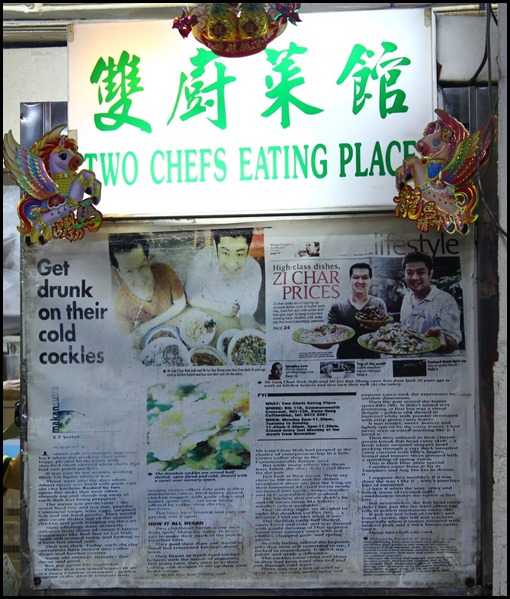 Apparently their cold cockles are quite good too although we didn't try them yesterday. Out of all the other customers eating at the time we were there, I only noticed 1 table ordering them. I definitely want to return to try those cockles out as well as the stir-fried deer meat and chilli crabs!
---
Add me on Facebook, Instagram and Twitter if you want to be kept up to date with the latest happenings in the food and lifestyle scene in Singapore!
Check out my review of Fatt Mui Choy Seafood Restaurant (Cze Char) in the East
---
Two Chefs Eating Place
Commonwealth Branch : Blk 116 Commonwealth Crescent, #01-129 Singapore 140116
Tel : 6472 5361
11.30am  — 2.30 pm and 5.30 pm — 11.30pm
Sin Ming Branch : 409 Sin Ming Avenue #02-01 Singapore 570409
Tel : 6451 2812
http://www.twochefseatingplace.com
Menu is available on their Facebook! Yes they have one!
https://www.facebook.com/TwoChefsEatingPlace/photos_stream