Not all salmon tastes the same, that's what I found out last week after I tasted the Aurora salmon from arctic Norway. So smooth, so flavourful, and so delightful to eat, I have to say that I won't look at salmon in quite the same way ever again.
What is Aurora Salmon you may ask? Aurora Salmon is meticulously grown in the artic regions of Norway, as compared to Norwegian salmon from waters nearer to the southern parts of Norway. At such high latitudes, this is where the Aurora Borealis (Northern Lights) can be spotted. The fresh cold clear waters within this pristine environment hold temperatures stable at a consistent average of 3 to 4 degrees Celsius in winter and 5 to 10 degrees Celsius in the summer. This, together with the optimal currents and oxygen levels, ensure the slow growth of the Aurora Salmon, resulting in a higher fat content than other farmed salmon which can take a shorter time to be harvested.
In fact, Aurora Salmon is already one of the most sought after brands in Japan, and now, for the 1st time, you will be able to purchase Aurora Salmon exclusively at all Kuriya Fish Market outlets. The fish is air flown fresh into Singapore within 2-3 days of harvesting, so you can be assured of Aurora Salmon's freshness.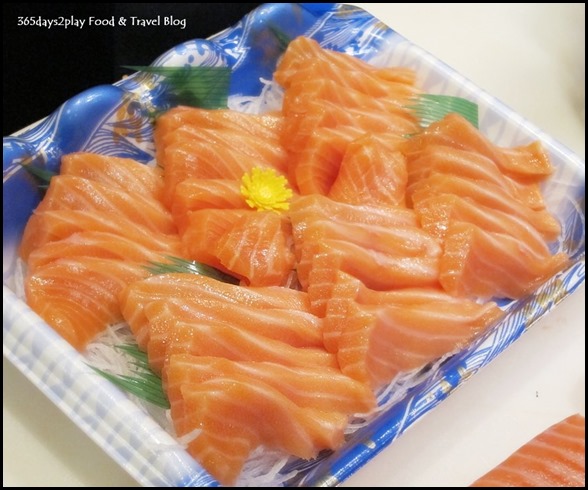 I had the privilege to be amongst one of the first few Singaporeans to taste the amazing Aurora Salmon at the launch of the Aurora Salmon at Kuriya. The pricing is the same as if you were to buy the "normal" Norwegian salmon. With salmon being a good source of protein, vitamins D, A and B12, iodine, antioxidants and omega-3 fatty acids, the salmon is really our wish come true for great tasting yet healthy food.
I'm not lying when I say these salmon taste different from what I'm more accustomed to. They really do have a deeper flavour and you can taste the richness and fattiness of the flesh! If only I could have the entire tray!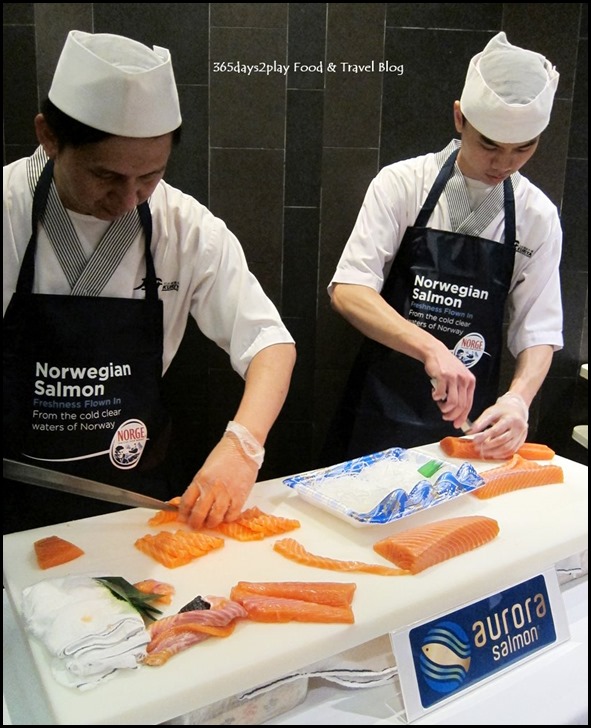 Watching these chefs slice through the salmon was like watching hot knives slice through cold butter. Blink and you miss it! In a matter of minutes, they had reduced the whole salmon into numerous sashimi slices!
Aurora Salmon Carpaccio and Salad
We were also treated to Aurora Salmon prepared in different ways. The carpaccio salmon was excellent too. With fresh and quality ingredients, a simple salad is all you need to please the palate.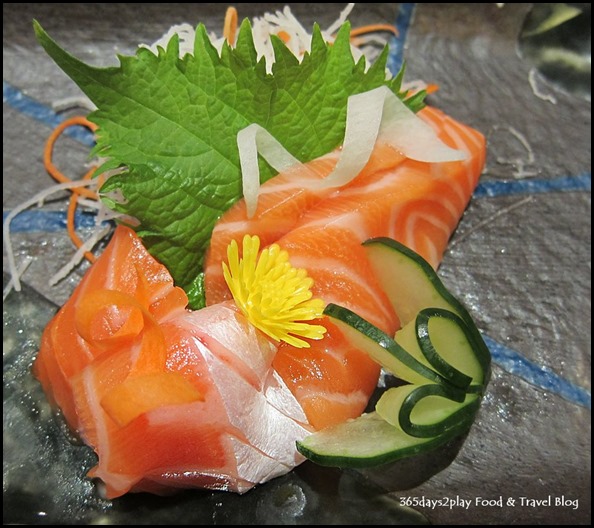 Aurora Salmon Sashimi Slices
More salmon sashimi for us!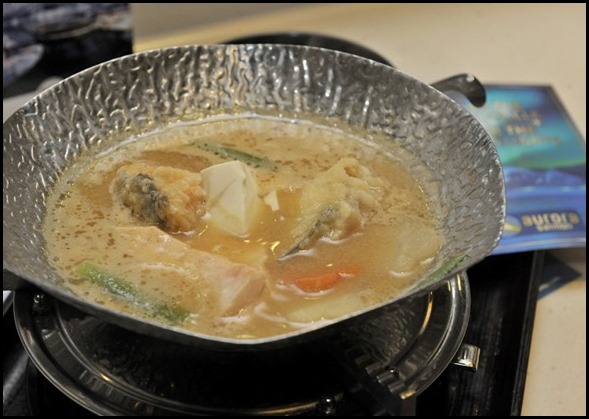 Aurora Salmon Miso Soup
If you ask me, raw or near raw is how you should best enjoy Aurora Salmon. However, a miso soup is also a good way if you must have cooked salmon. Just make sure you fish out the slices soon after they are cooked and don't leave them boiling away or you might as well just save your money and order he worst grade salmon.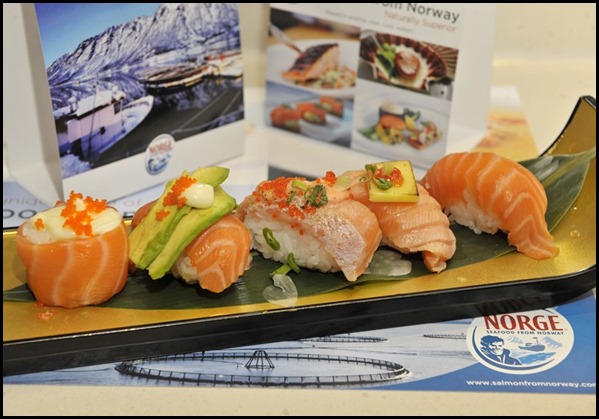 Aurora Salmon Assorted Sushi
Salmon sushi in various permutations!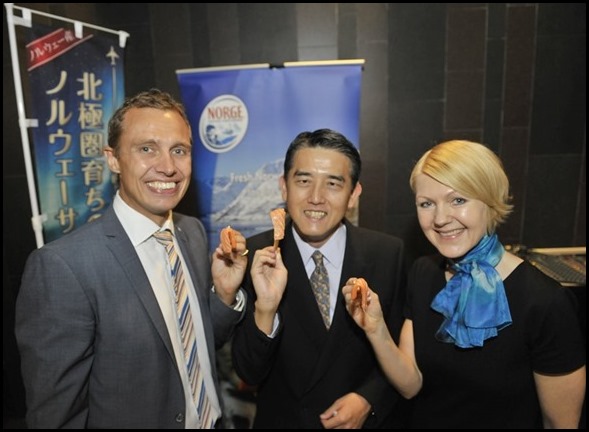 Mr Christian Chramer (Regional Director, Southeast Asia, Norwegian Seafood Council), Mr Tanaka Toshiya (Vice President, Procurement, RE&S Enterprises Pte Ltd) and Ms Ashild Nakken (Director Market and Business Development, Leroy Seafood Group)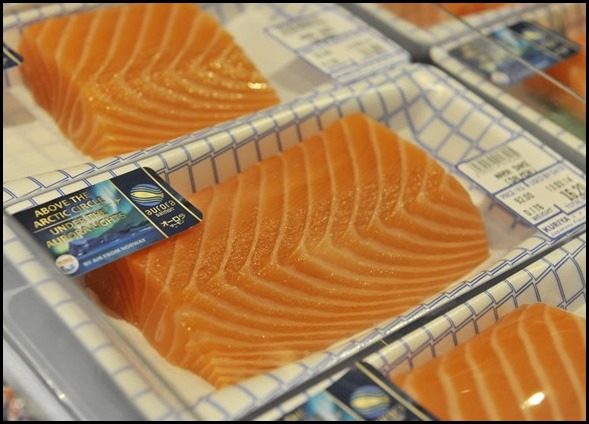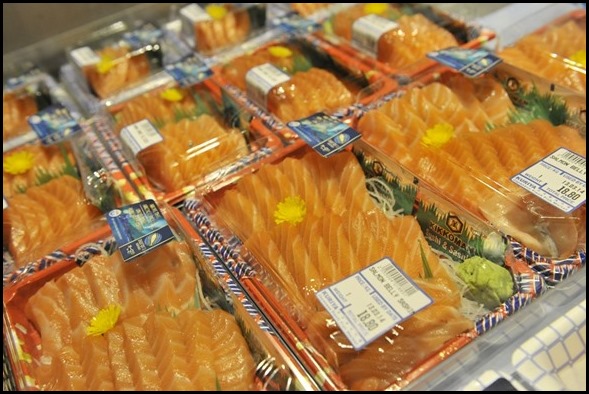 $18.80 for quite a substantial amount of salmon sashimi. Buy and enjoy at home!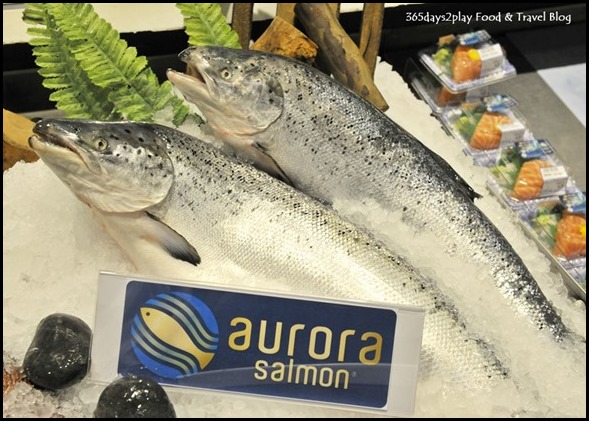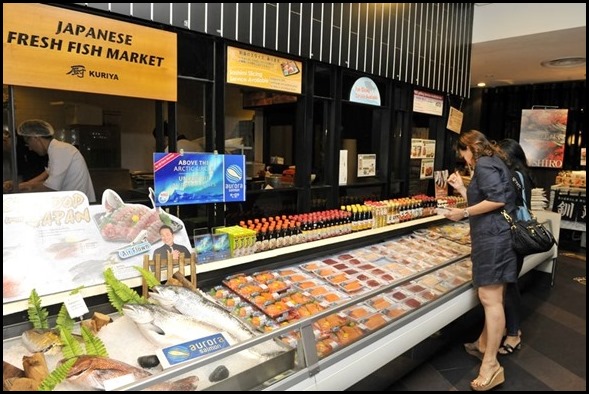 ---
Add me on Facebook, Instagram and Twitter if you want to be kept up to date with the latest happenings in the food and lifestyle scene in Singapore!
---
Aurora Salmon will ONLY be available in stores every Friday to Sunday at all Kuriya Japanese Fish Markets in Singapore. Below are the locations:
#B1-07 Great World City
1 Kim Seng Promenade Singapore 237994
Tel: 6836 4910
Open daily: 10:30am – 9:30pm
#B1 Jurong Point
1 Jurong Way Central 2
Singapore 648886
Tel: 6791 7553
Open daily: 10:30am – 9:30pm
#B1-03 nex
23 Serangoon Central
Tel: 6634 4568
Open daily: 10:30am – 9:30pm
#B1-17 Causeway Point
1 Woodlands Square
Singapore 738099
Tel: 6893 3231
Open daily: 11:00am – 10:00pm
#B1-12/13 Changi City Point
5 Changi Business Park Central 1
Singapore 486038
Tel: 6636 1736
Open daily: 11:00am – 10:00pm
#B1-01 JEM
50 Jurong Gateway Road
Singapore 608549
Tel: 6684 4353
Open daily: 11:00am – 10:00pm
For more information on Aurora Salmon, visit www.leroyseafood.com.