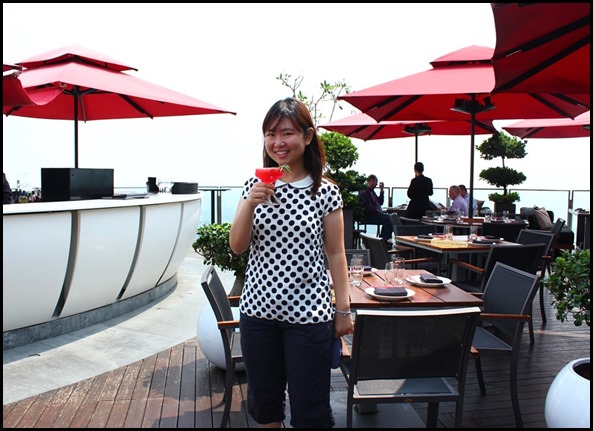 Are you looking for a brunch location with a difference? How about having brunch at one of the highest spots possible in Singapore, and having it in style? Ku De Ta's modern Asian brunch moves away from conventional eggs, sausages and baked beans to feature an assortment of fresh sashimi and Asian breakfast favourites inspired by the Singaporean and Japanese palate.
I had the opportunity to partake in Ku De Ta's gastronomic brunch a couple of weeks back. I have one word of advice, come HUNGRY. As it's Asian styled, appetisers will be served sharing style. Portions below are for three pax.
Edamame with Maldon salt
Healthy start to the brunch. And the Maldon salt, there is salt, and there is Maldon salt. These salt flakes are less bitter than the usual iodized granular types that we are so used to.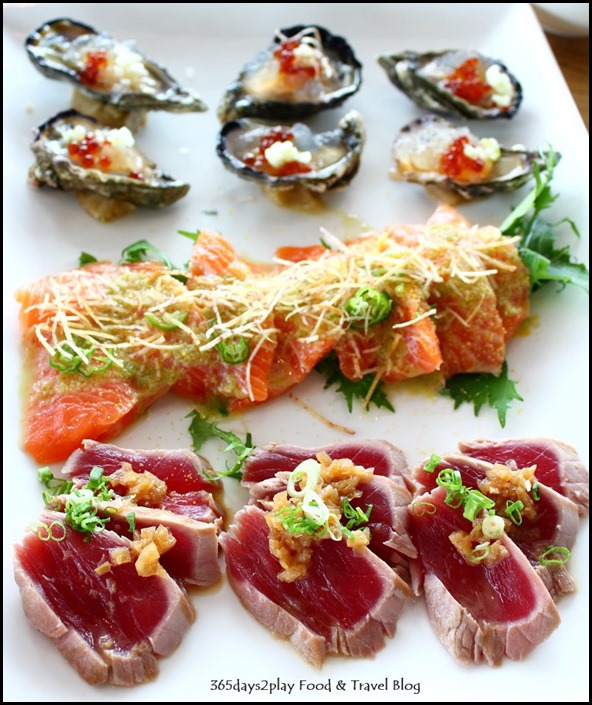 Oysters on Ice, Salmon Sashimi, Tuna Tataki
Sashimi and oysters to further whet the appetite. As you can probably tell from the photos, these were exceedingly fresh tasting and delicious with the condiments. The tuna tataki had onion ponzu and spring onions on top while the salmon sashimi had a shishito, mizuna and uni powder dressing.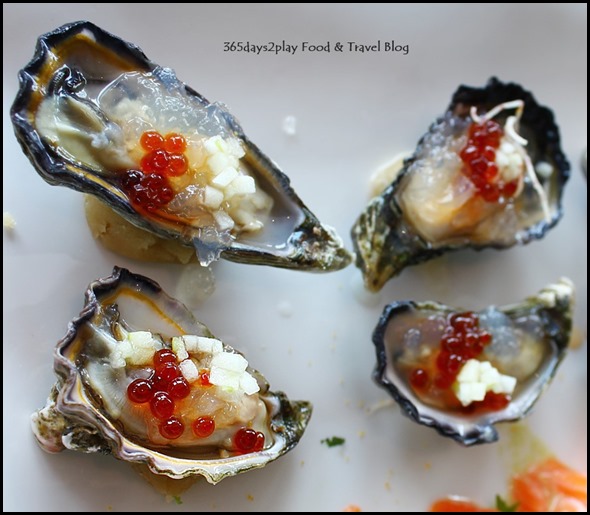 Oysters on ice with ikura, konbu jelly, apple
Closer picture of the fresh and voluptuous oysters, made even better and more decadent with bursts of saltiness from the ikura and sweetness from the jelly and apple bits.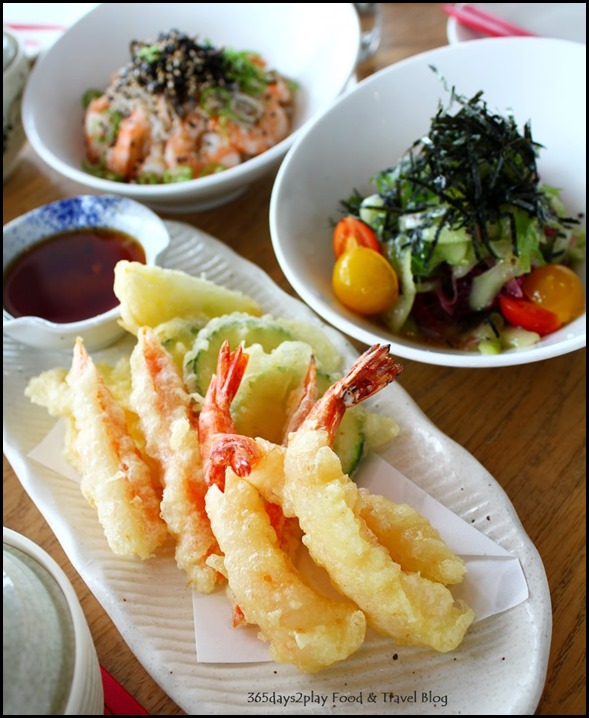 Prawn and Vegetable Tempura with cucumber salad and prawn salad in the background
Tempura prawns were nicely firm to the bite, but the tempura dip was surprisingly salty. Nice to have as a main course, but a little heavy for appetisers.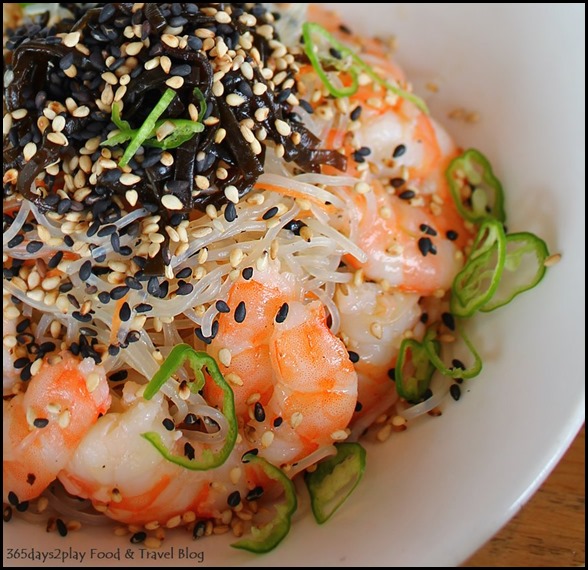 Prawn salad with glass noodles
The menu also comprises of two salads, one being the prawn salad, and the other being the cucumber salad. Both salads were light to the taste, with the cucumber salad being very refreshing while the prawn salad had a nice crunch thanks to the seaweed and sesame seeds.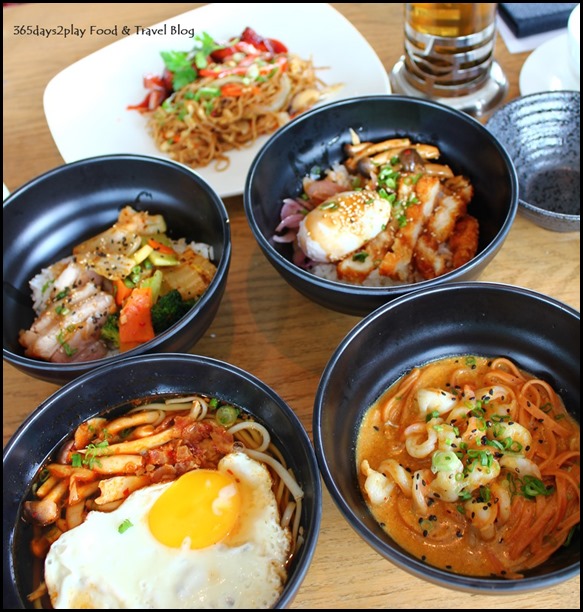 Char Siew Noodles, Omelette, Laksa, Ramen, Donburi, Chicken Katsudon
There are a total of 6 main courses to choose from, which are the five above, and the asian omelette pictured below. If you want more, it's an additional $16++ per dish, although I really can't imagine anyone wanting more at this stage, especially when there are free flow desserts!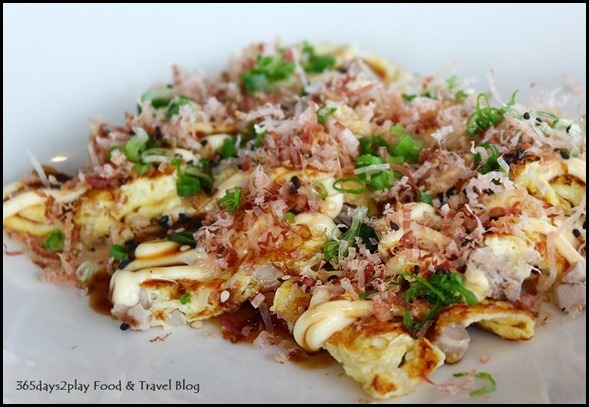 Asian Omelette aka okonomiyaki with tuna
My favourite of the lot was the Asian Omelette aka Okonomiyaki. This is like the japanese pancake sliced and diced together with eggs, meat and mayonnaise. They were a little heavy handed on the mayonnaise, but otherwise, I liked the eggy taste that really reminds me that we're having brunch.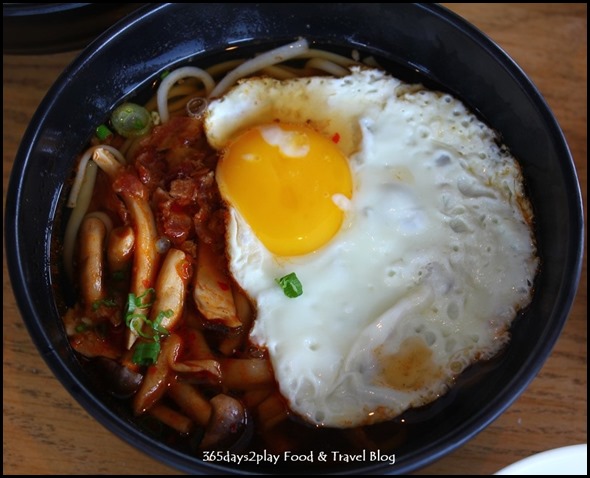 Ramen (Shimeji, bacon, egg, spring onion, udon noodle, clear soup)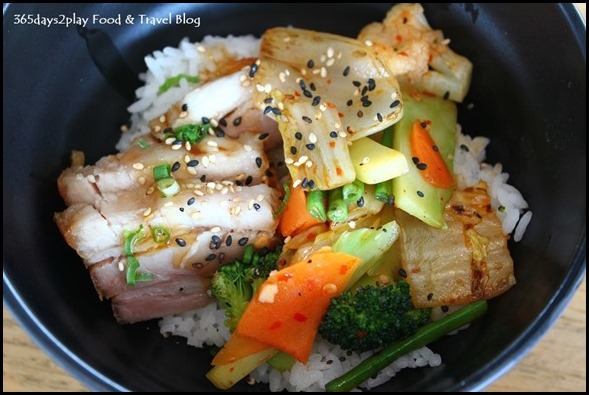 Donburi (Pork belly, mix vegetables with chilli garlic, teriyaki)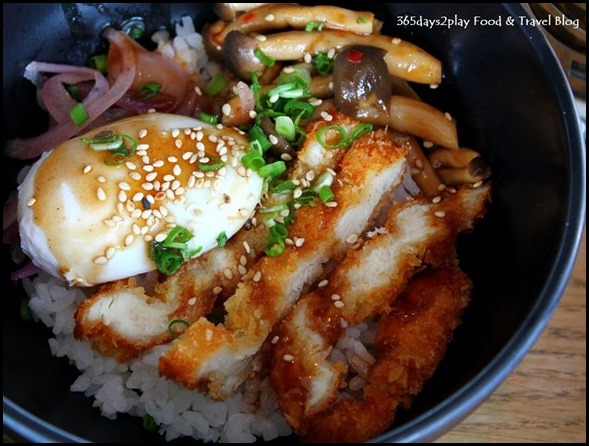 Chicken Katsudon
 Laksa with tiger prawn, chilli linquine, laksa essence
If you're looking for something that really tastes like what you would get at the hawker centres, your best bet would be the char siew noodles. That was my 2nd favourite dish after the Okonomiyaki. The Donburi and the Chicken Katsudon taste similar to what you would get at Japanese restaurants too, so no complaints there although these resemble lunch or dinner dishes more so than breakfast. Go for the Laksa if you're game to try French chef Frederic Faucheux's laksa with a difference. Chilli linguine is used and the laksa features a thicker broth than usual. As for the ramen, I thought it was the most unmemorable of the lot, it being very ordinary tasting.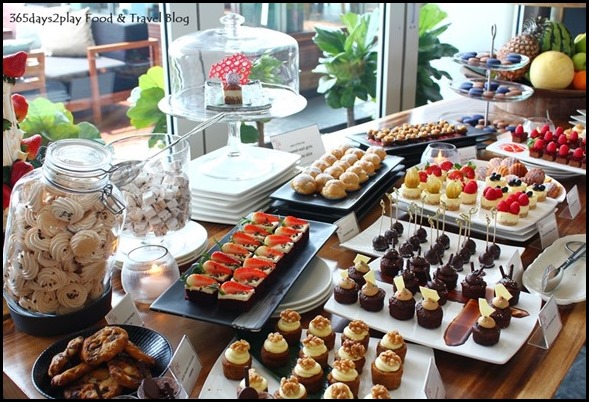 And finally, the exquisite dessert table. The dessert table is hard to miss and even harder to resist! Unlike the starters and main courses, the desserts featured are all Western. All the crowd favourites like carrot cakes, red velvet cakes, chocolate cakes, tarts and macarons are available.
I couldn't resist taking a shot of these as they looked so delightful in the morning light. Wouldn't it be great to wake up to smells of Madeleines being freshly baked from the oven?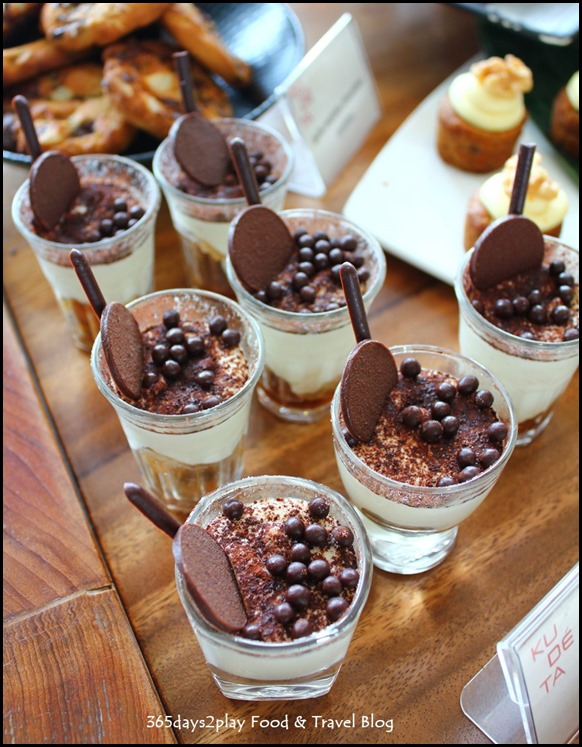 Tiramisu. Love the alcoholic boost right at the bottom of the shot glass. Never been a fan of tiramisu served in glasses, as I hate to have to plow through all the cream to get to the cake and alcoholic bits.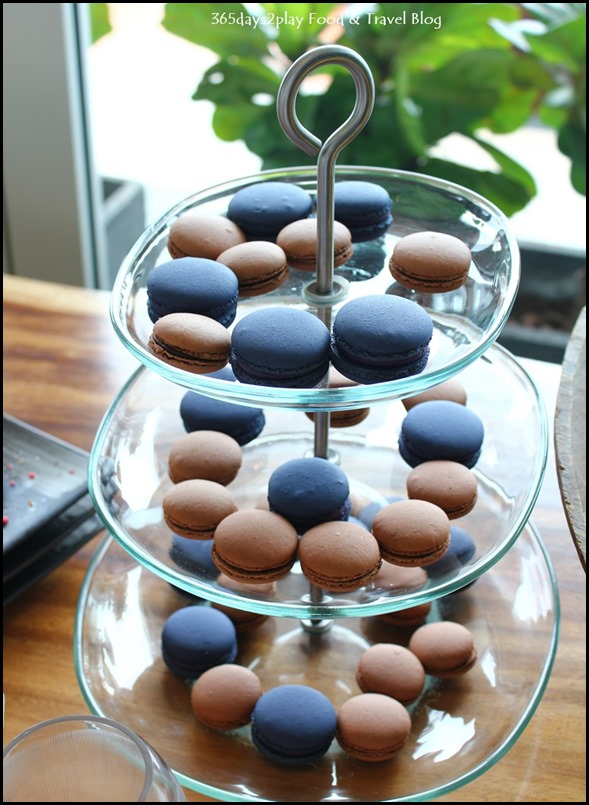 Blue and brown macarons kind look more formal than the colourful ones?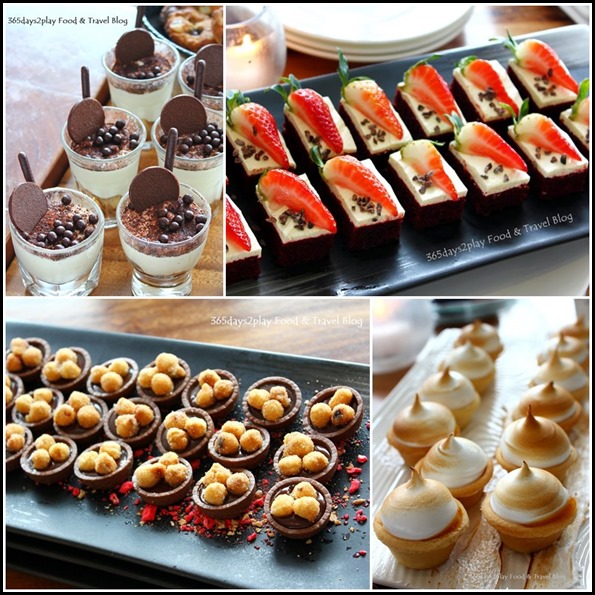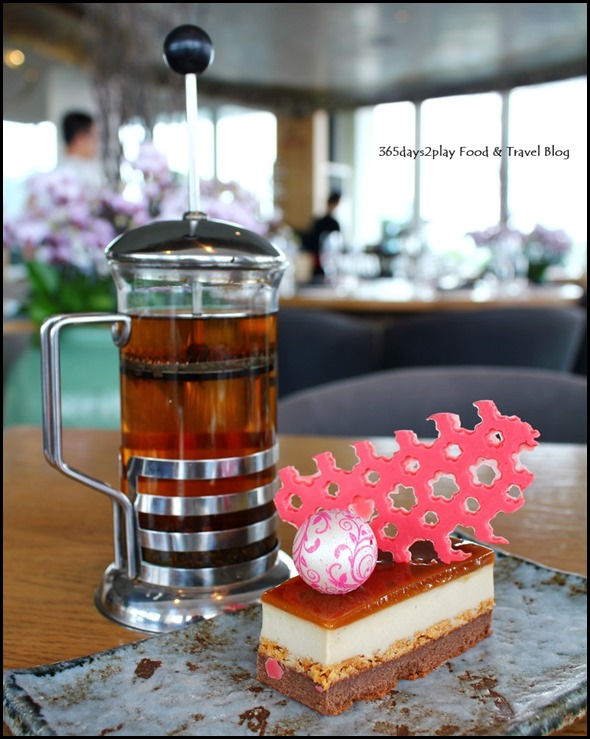 The brunch comes with free flow of juices, coffee, teas and soft drinks. For teas, you can choose from more than 10 Gryphon Tea flavours. Featured too is the cake of the day, the caramel Earl Grey chocolate slice which tasted as good as it sounded.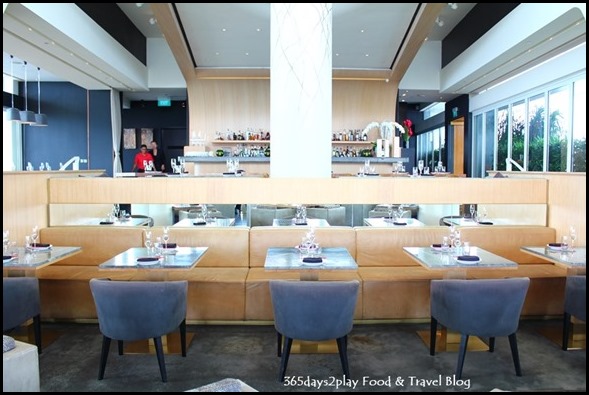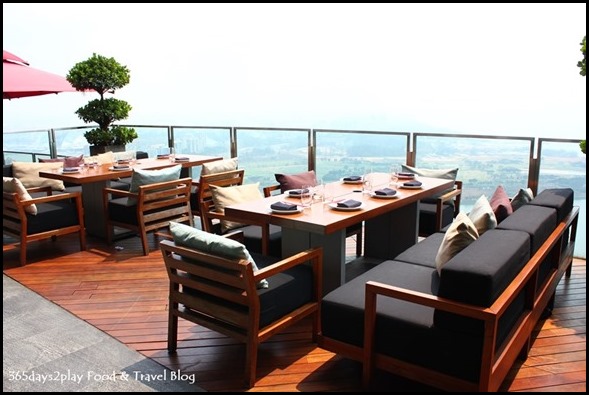 We chose to sit indoors in air-conditioned comfort. You are free to sit outdoors, especially on a clear blue-sky day.
---
Ku De Ta
SkyPark at Marina Bay Sands, Tower 3 1 Bayfront Avenue Singapore 018971
Brunch at Ku De Ta $98
Child (6-12 years) $58
Cocktail & Champagne Brunch inclusive of Louis Roederer Brut Premier, selection of white, red and rose wines, cocktails and draught beers $178
Opening Hours:
Lunch — 12 noon till 3pm (Monday – Friday)
Last orders by 2:45pm
Dinner — 6pm till 11pm (Daily)
Last orders by 10:45pm
Brunch — 11.30am till 3.30pm
Last reservation at 2:45pm
(available only on Saturdays and Sundays)