For all those who love afternoon tea, you might want to check out PARKROYAL on Pickering's "Tiers of Joy" Afternoon Tea set at the Lime Restaurant, specially designed to be shared by two guests. Each set serves 2 people and the pricing is as follows:
"¢ S$42++* includes a high tea set, and a single serving of specialty coffee and TWG tea
"¢ S$48++* includes a high tea set, and unlimited servings of specialty coffee and TWG tea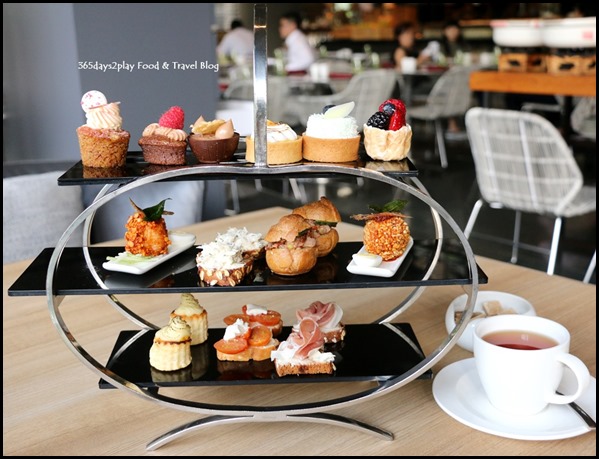 I had the opportunity to check out the afternoon tea and I must say this tea set is good for those who want a place to relax for a few hours, with some nibbles and unlimited servings of coffee and tea. If I were working in the CBD and needed a place to carry out business meetings, this might be the perfect solution too. I really love the bright and spacious feel of Lime Restaurant, thanks to the high ceiling and floor to ceiling glass walls. The water features lining the periphery of the restaurant help to exude the "oasis in the middle of a concrete jungle" feeling.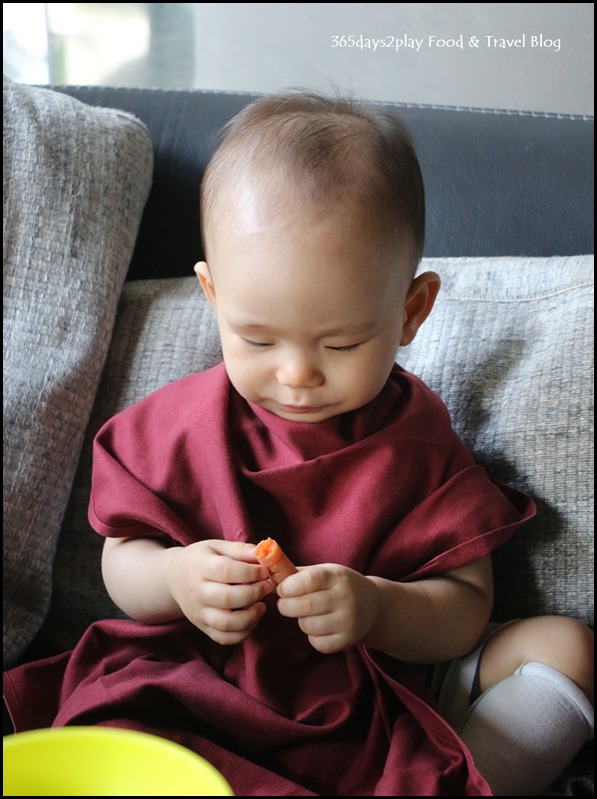 Nowadays Baby gets to partake in the afternoon tea experience too, just don't tell him that he got the short end of the carrot stick….
Scroll down for more pictures of the afternoon tea set we enjoyed!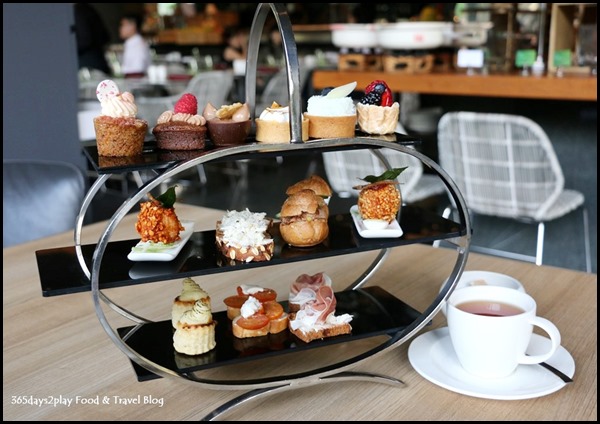 Another picture of the 3 tier afternoon set for two. There are 6 savoury items per person. There are also 6 dessert items, but alas they have to be shared! Isn't that a tough thing to do??? For the tea, you get to select from a list of TWG teas, and it comes pre-brewed for you, ie no teapot.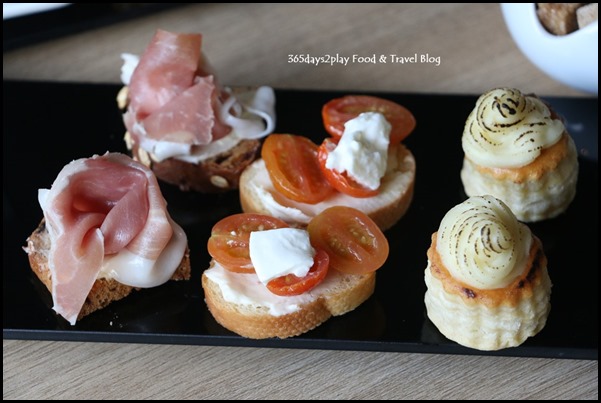 Shaved Serrano Ham open-face sandwich with pickles
Italian burrata and marinated confit tomato bruschetta, with aged balsmico
Ayam percik shepherd's pie
The mini sandwiches were nice, I particularly liked the Serrano ham, although the breads were a little soft. Never been a fan of shepherd's pie, so I can't say much about it.
Snow crab and green apple open-faced sandwich
Peking duck duxelles encased in profiterole
Generous serving of sweet snow crab and slivers of duck in airy profiterole.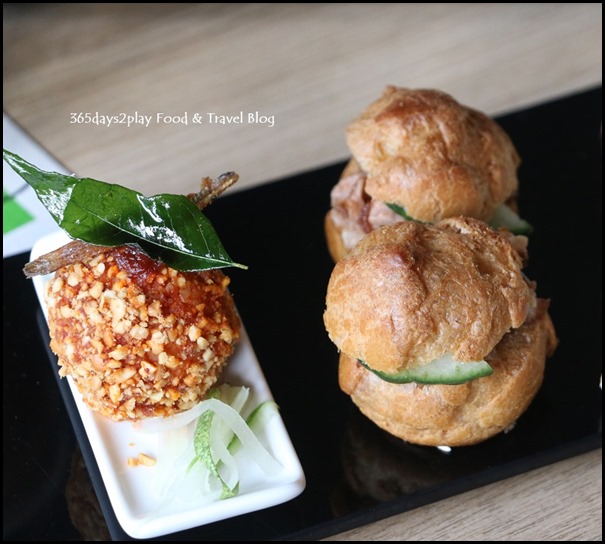 Expression of Nasi Lemak
Interesting version of nasi lemak. The ball shaped thing was basically coconut rice encased in a spicy peanut shrimp mixture similar to what you'd find in a traditional nasi lemak. Good effort but the rice to peanut ratio was a little off, in that there was too much rice.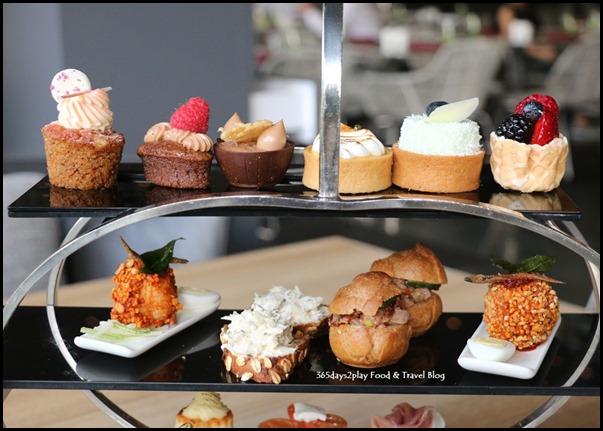 Carrot Cake
Chocolate Pudding with Guanaja Chantilly
Peanut Butter Chocolate Cup with Gianduja Chantilly
Passionfruit Meringue Tart
Coconut Pandan Mousse
Forest Berries Basket
The desserts were all very good, probably in part because we had to share! I went straight for the sponge ones, because those are so good when eaten together with tea.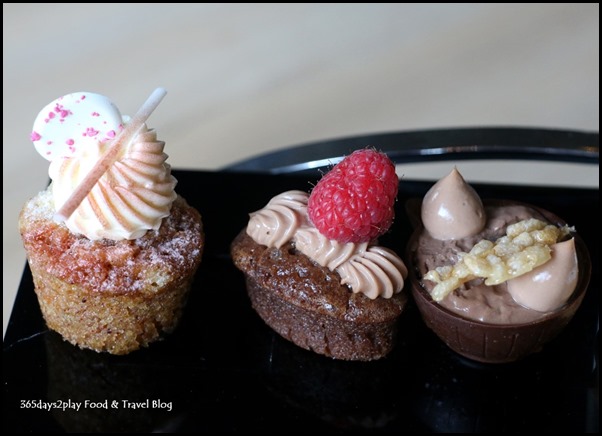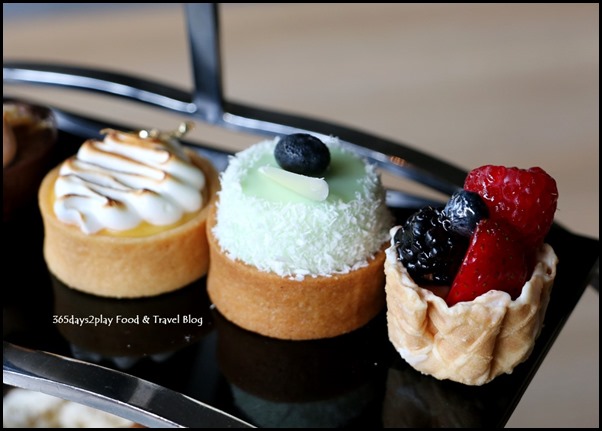 My mother went for the desserts adorned with fruits as she can never resist those.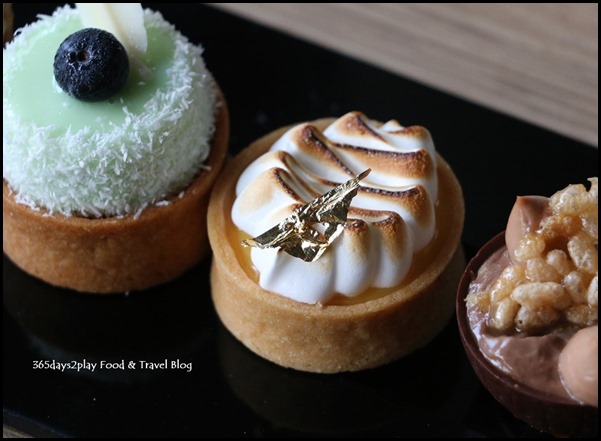 My favourite of the entire lot was the passion fruit meringue. I absolutely adore lemon meringue tarts for their tangy and sweet combination. Those are common enough but I've never come across passion fruit meringue. The passion fruit flavour was really in your face, and that's exactly how I like it.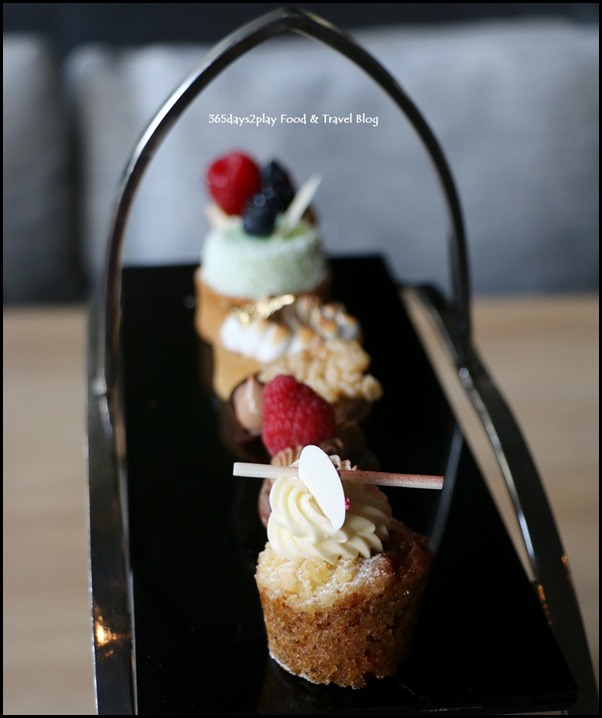 One last picture of the desserts, just because.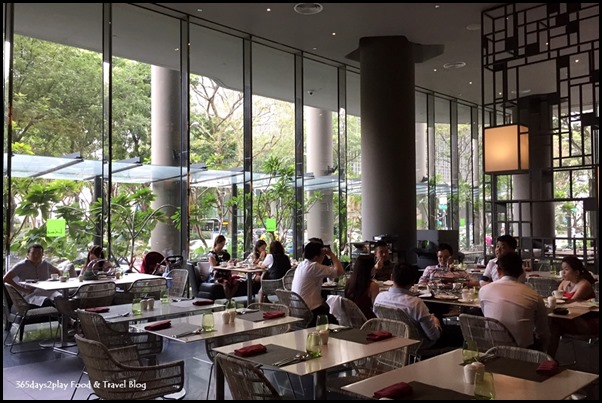 Love the high ceiling and glass walls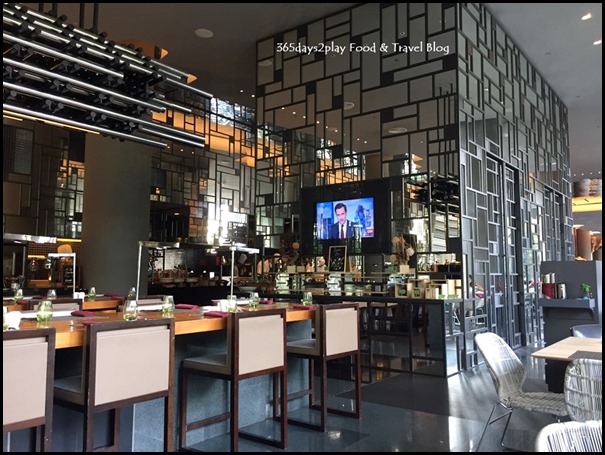 BBC or was it CNN tv to catch up on the business news you know, especially useful during buffet breakfasts when you're not really in the mood for conversation.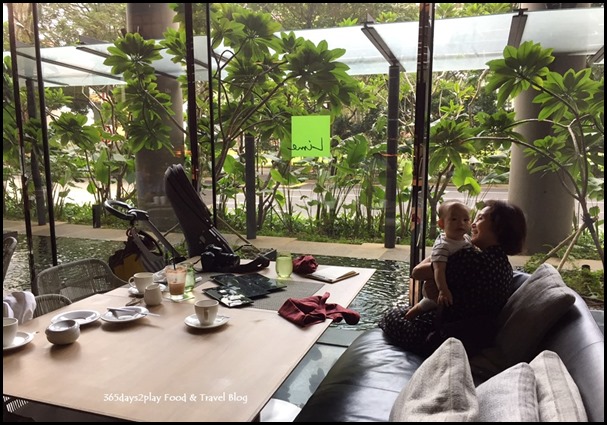 We managed to snag a sofa seat table. Yay. Love the greenery and water feature.
On the whole, it's quite an enjoyable afternoon tea set and affordable (in terms of total dollar outlay) if you're just looking for something light to share. Make sure you come in even numbers! If you're looking to eat more, it might be better to pay more elsewhere  for unlimited servings of food or for buffet style afternoon tea.
---
Add me on Facebook, Instagram and Twitter if you want to be kept up to date with the latest happenings in the food and lifestyle scene in Singapore!
Read my recent reviews on other afternoon tea places in Singapore
Singapore Marriott Tang Plaza Hotel Lobby Lounge
Capella Singapore Chef's Table
Grand Copthorne Waterfront — Most value for money!
Mandarin Oriental Singapore Axis Bar
---
PARKROYAL on Pickering, Lime Restaurant
3 Upper Pickering Street, Singapore 058289
Lime Operating Hours:
06.30 — 00.00 from Sunday to Thursday
06.30 — 02.00 on Friday, Saturday and Eve of Public Holiday
Contact Details:
Tel: +65 6809 8899 | Email: lime.prsps@parkroyalhotels.com
Http://parkroyalhotels.com/lime
Afternoon tea is available daily from 3pm to 6pm daily at Lime restaurant and the Lobby Bar