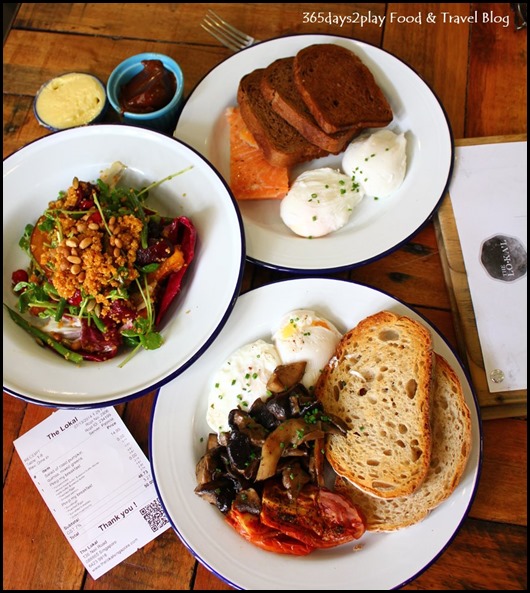 The Lokal is one of those cafes where one look at it and you know it's just going to stay crowded for many weeks to come. Located in the Duxton area, there are a surprising number of Caucasian types that were at the cafe when we were there. I guess it's because the chef is from Sydney. Having opened not that long ago, the news does travel fast doesn't it?
Food is definitely the highlight here, as compared to those cafes where you feel two or three food dishes have been put in the menu just so that they can say that they serve food. In fact, The Lokal can even be thought of more as a casual restaurant serving good coffee, rather than a cafe, as brunch items are definitely not a highlight here.That's because the chef owner Darren Farr was one of the founding chefs at Tetsuya in Sydney. Yes, the Tetsuya owned by Tetsuya Wakuda who also owns Waku Ghin in Singapore. Read more about Darren Farr here.
When we were there on a Sunday, they had their brunch menu out. But it's nothing like what the other cafes are dishing out, aka eggs benedict, all day breakfast and the likes. There is not a poached egg dish to be found on the main menu, although you can get it if you customise your own breakfast. This, I highly advise you NOT TO, because eggs are just NOT The Lokal's speciality.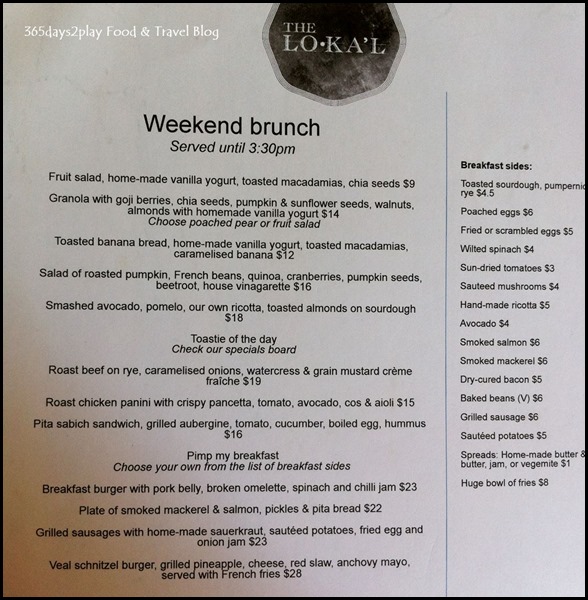 See this menu, it does not have an eggs based dish in the main section, and for good reason. Try the items such as the Toasted banana bread which I heard was fantastic, or the plate of smoked salmon, as it is smoked in house!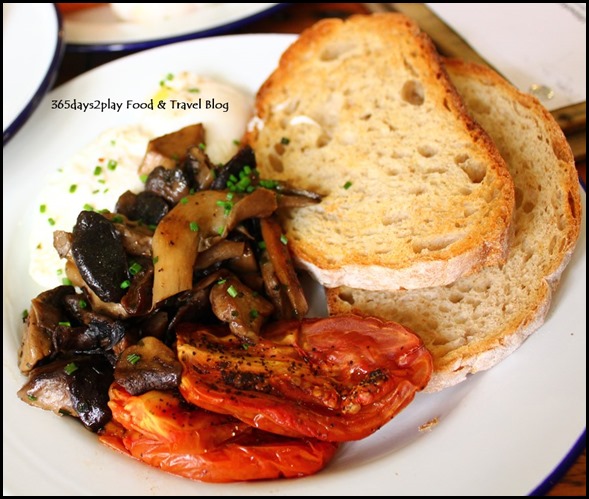 Pimp my breakfast (Toasted sourdough, poached eggs, sun-dried tomatoes, sauteed mushrooms) $17
If you want all day breakfast or poached eggs, you have to go via the "pimp my breakfast" route, aka customise it yourself. The prices of most of the sides were okay, not cheap, but I thought it was a bit expensive to have to pay $4.50 for just 2 slices of bread. What if you wanted more to mop up the egg yolks?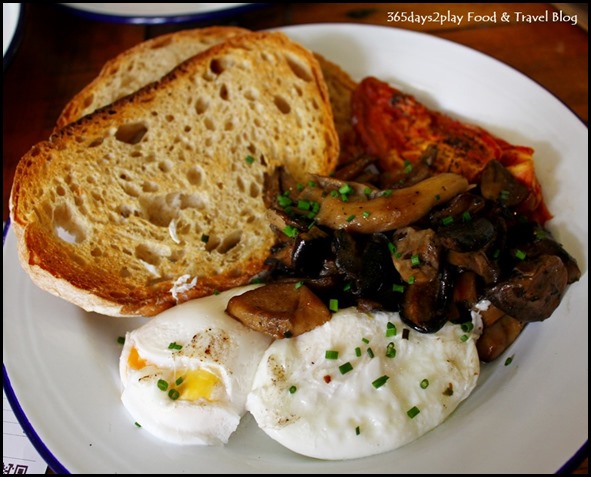 In any case, my poached eggs were overcooked, resulting in a hard base and a non flowy yolk. For someone who adores runny eggs, I was very disappointed. The staff were kind enough to replace the eggs with new ones upon request. They were slightly better, but not much.
I guess the staff or the chef felt apologetic about it so they gave this eye popping dessert to us on the house!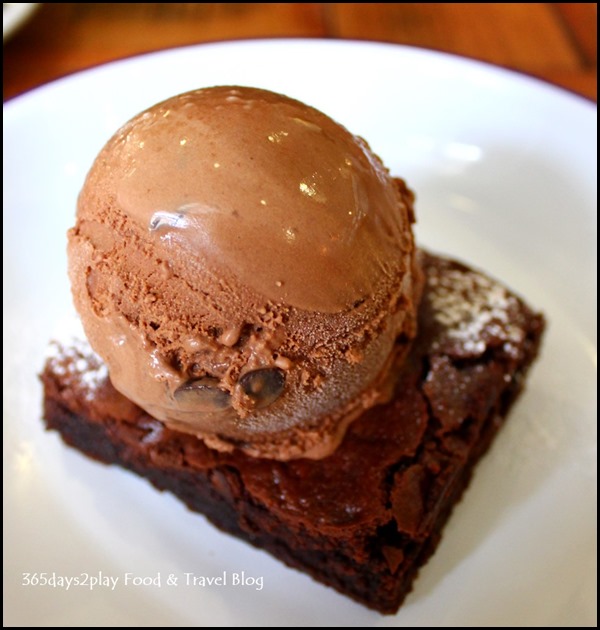 Not exactly sure how much this brownie with chocolate ice cream costs, but it was the best thing we had at The Lokal. The brownie was the kind that I liked, ie dense, sticky, slightly gooey and served hot. The chocolate ice cream was rich, and the icy treat went so well with the brownie. It certainly cooled my temper considerably.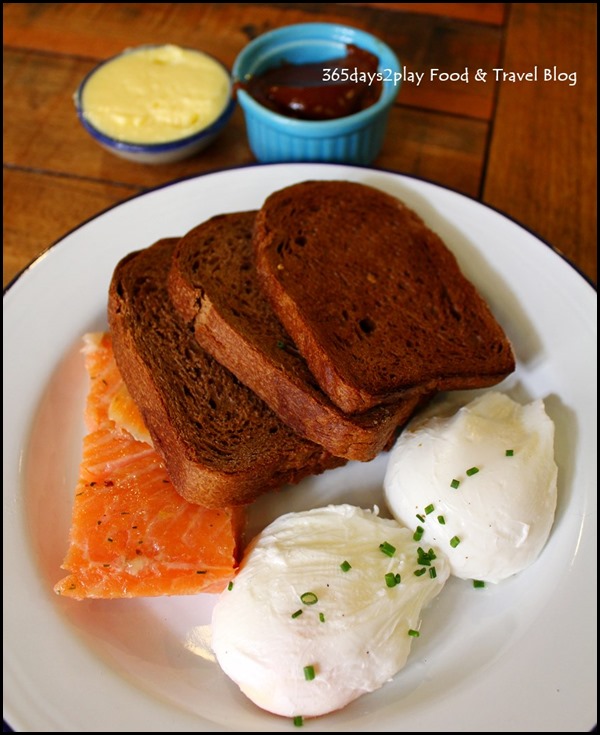 Pimp my breakfast (Pumpernickel, Poached Eggs, Smoked Salmon, home-made peanut butter) $17.50
My father also ordered the customised breakfast. You can see the poached eggs are not the runniest of sorts, but his was runnier than mine. The $6 smoked salmon was absolutely worth every dollar. It is smoked in house, and according to my father, the best smoked salmon he has ever eaten in recollection! I guess that's saying a lot since my father is a pescetarian. Home made smoked salmon is better for health too as the nitrates and the bad stuff are lessened.
The little pot of brown thing at the top of the picture isn't Nutella, it's home-made peanut butter. On first taste, it had a burnt flavour, however it was delicious that you wanted to keep eating more of it. My friend who dined here earlier also complained of the burnt taste. I wonder if it will still be as tasty without over roasting the peanuts??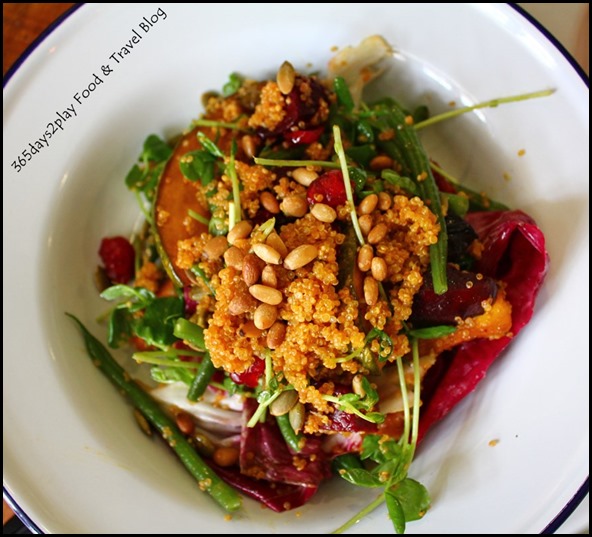 Salad of roasted pumpkin, french beans, quinoa, cranberries, pumpkin seeds, beetroot, house vinaigrette $16
My as always health conscious mother decided to go for this salad as it boasts many nutritious ingredients. I thought it was a little too healthy sounding, but she said it was really enjoyable and filling. I took some, and liked it as a side, but I don't think I have enough will power to eat this instead of the other more enticing dishes on the menu!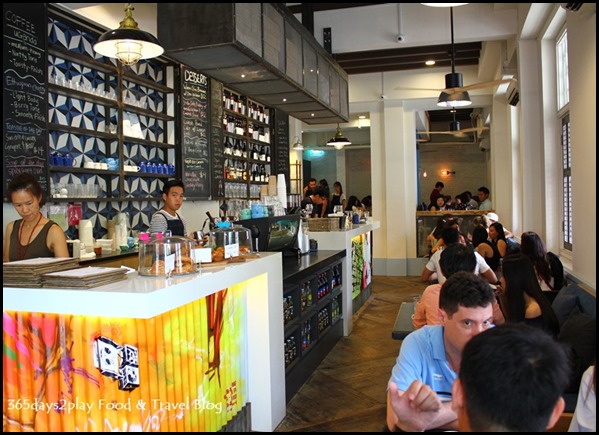 Full house at The Lokal when we arrived at 1pm, but we got a seat for 3 pax with a 10 minute wait. Don't like the loud music here though. It just makes people want to talk even louder over the music, resulting in a really noisy cafe. Who likes the music, is it the owners, or do the customers appreciate it?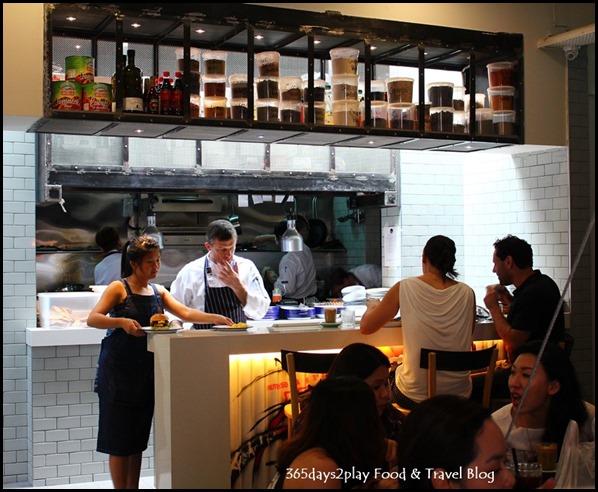 ---
Add me on Facebook, Instagram and Twitter if you want to be kept up to date with the latest happenings in the food and lifestyle scene in Singapore! 
---
The Lokal
136 Neil Road, Singapore 088865 (Next to Goethe Institut)
F: Facebook.com/thelokalsingapore
E: hello@thelokalsingapore.com
T: 6423 9918