It's Restaurant Week again this week, have you made your bookings yet? After skipping the last round, I came back with a vengeance and I'll be going for a total of 3 Restaurant Week meals this round! Restaurant Week is a really good opportunity to savour set lunches or set dinners in many illustrious restaurants around Singapore, at a relatively affordable price! Thanks to the American Express Platinum Credit Card, I managed to snag all my reservations during the priority booking round.
Today, the BFF and I visited Zafferano at the top of Ocean Financial Centre. I've been to Zafferano only once, roughly about 1 year ago for dinner, so it was great to have the opportunity to revisit during the day time to see the restaurant in its full glory.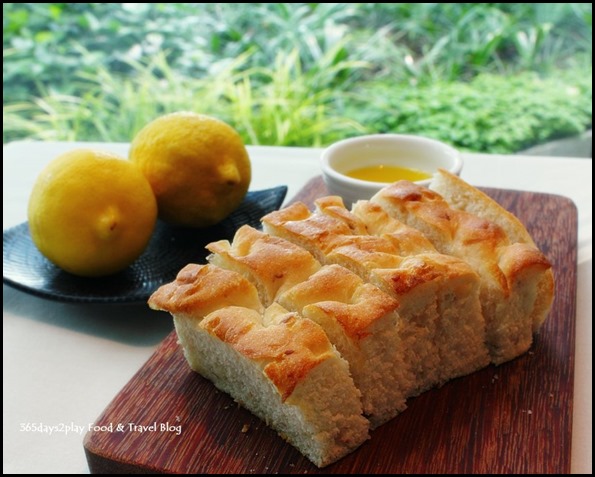 Even though Zafferano is at the top of the Ocean Financial Centre on the 43rd floor, as you can see from the picture above, there is lush greenery all around the restaurant, which kinda makes you feel as if you dining in a garden in the sky.
Carpaccio of wagyu beef, portobello mushroom salad, parmesan cheese and mustard dressing
Chose this for my appetiser. Raw meat is such a turn on for me, if you have never tried steak tartare or carpaccio, I highly recommend that you do. There's nothing bloody about it and it doesn't have a raw and uncooked taste. Instead, you will delight in the delicate texture and richness of flavour. Absolutely enjoyed this dish and the interplay of salty and savoury flavours from the other ingredients.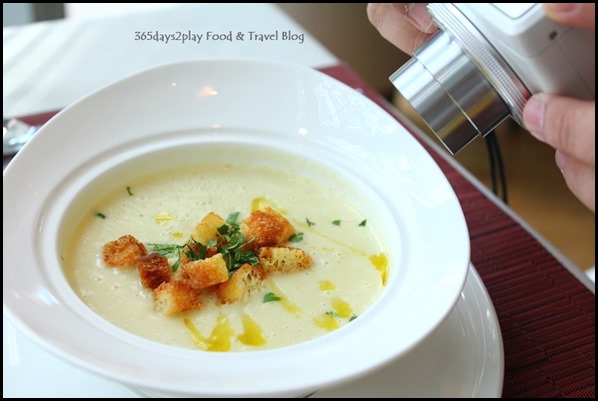 Leek and Potato veloute, rosemary bread croutons
Such a dreamy looking soup. A little on the heavy and salty side though.
Homemade tagliatelle with jumbo prawns, marinated tomatoes with mint, lemon essence
There were two choices for the mains and I had a hard time deciding between the Iberico Pork Belly, and the tagliatelle. Yeah, I know, PORK BELLY…not a difficult choice for most people, but I happen to LOVE tagliatelle too. No regrets though, I really loved the al dente texture and the generous amount of prawns in the dish. Not only was there a huge prawn at the top, but the pasta was also dotted with smaller bits. Also liked that the pasta wasn't drenched in tomato sauce, allowing the sweet flavours of the prawn to come though.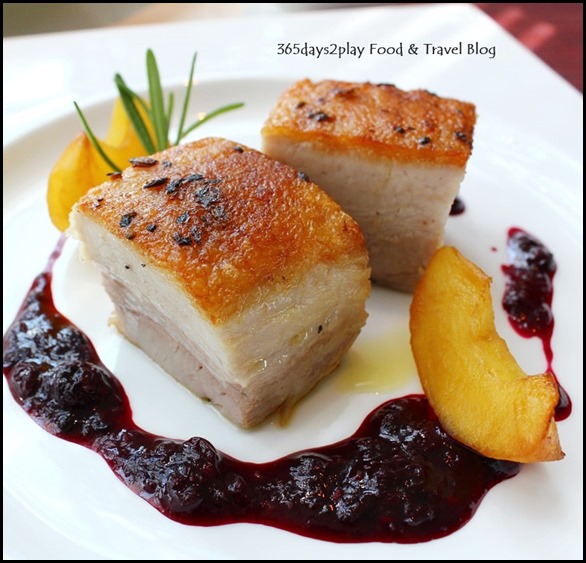 Slow-cooked iberico pork belly, caramelized red apples with thyme, berry sauce
My dining companion chose this since I was already going for the pasta. I must say, this was the most eye catching dish for lunch. Don't the two voluptuous looking pieces of pork belly make your knees go week? My dining companion was generous enough to cut me a quarter of it, which I found to be meaty, with just the right ratio of fat to give it a tender mouth feel but yet not let you feel you are swallowing cubes of lard.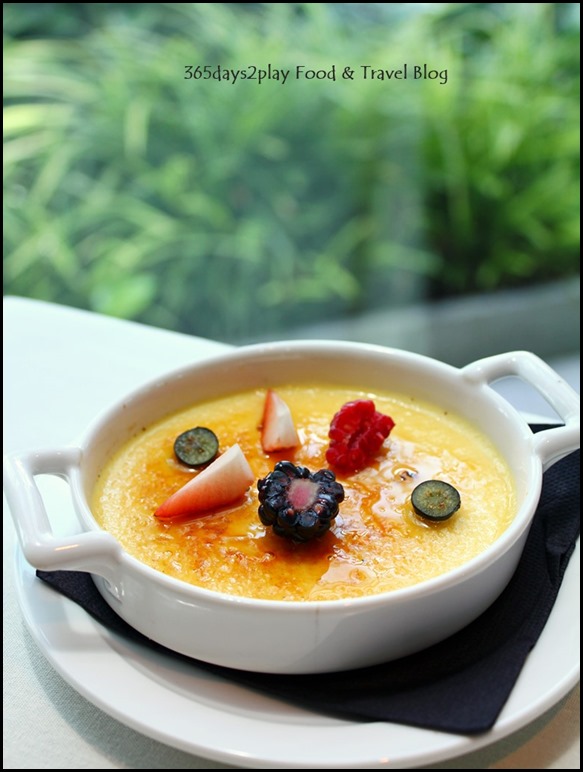 Catalan cream with seasonal berries
There was no choice in terms of desserts, but it couldn't have been a more beautiful ending because this Catalan cream was fantastic. Catalan cream is like crí¨me brulee but with some nuanced differences. For one, it felt very much lighter, and still in a creamy consistency as compared to the slightly cooked crí¨me brulee. Also, using a shallow dish allowed for more of the sweet caramelised layer, an excellent move.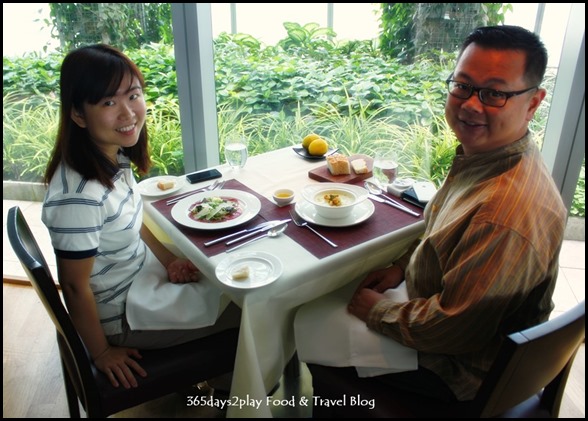 Does it look like we are dining in a garden?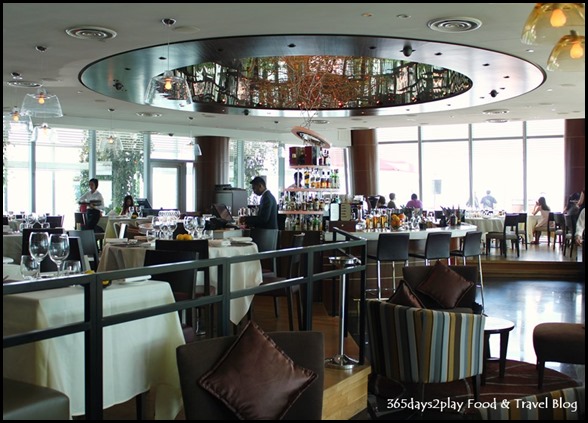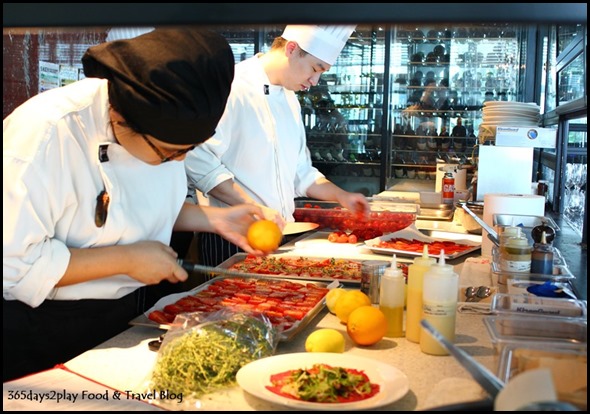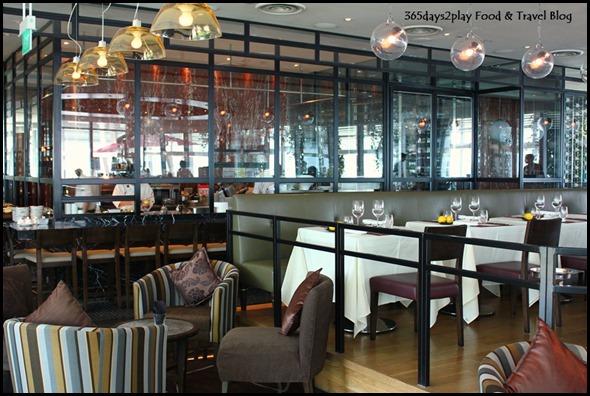 Zafferano boasts a spacious interior with almost 360 degree view of Singapore. It's a great vantage point to get good pictures of the Marina Bay area and the iconic SkyPark of Marina Bay Sands. There is also an open air bar area surrounding the restaurant should you prefer a drink rather than a full meal.
---
Seats are hard to come by for Restaurant Week. If you've ever tried to book a table for Restaurant Week at the hotly sought after restaurants, you will know that it's literally a fastest fingers' first game. But, if you get the American Express Platinum Credit Card, you will enjoy having priority booking slots over the general public for Restaurant Week. How else did you think I managed to snag 3 restaurants slots at top notch restaurants for Restaurant Week?
What is Restaurant Week : From 25 October to 2 November 2014 high quality restaurants will serve a special 3-course set dinner for a fixed price of S$35++* and 3-course set lunch for S$ 25++*. There is an additional charge of $15 for lunch and $20 for dinner for restaurants with a DiningCity Star. Reservations for the Singapore Restaurant Week are ONLY possible via www.restaurantweek.sg.
Other American Express Platinum Credit Card Dining Privileges
The American Express Platinum Credit Card offers free membership to two dining programmes, namely the Classic Far Card Membership and the PALATE programme. Under these two programmes, you have the opportunity to eat at over 80 fine dining restaurants, and enjoy drinks after, in Singapore at great discounts.
Over and above the above two aforementioned programmes, you can enjoy additional dining privileges under the Platinum Private Deals.
Lucky Draw Promotion (exclusively for Platinum Card Members): From now till 9 Nov 2014, you can also be one of the 5 lucky winners every day to win S$100 worth of dining vouchers (TungLok dining vouchers for Monday to Saturday draws and Fairmont dining vouchers for Sunday draws). Every receipt above S$50 earns you one chance to win.  Enjoy double the chances when you spend S$50 or more in a single receipt at any The Far Card or Palate establishment.
---
Add me on Facebook, Instagram and Twitter if you want to be kept up to date with the latest happenings in the food and lifestyle scene in Singapore! 
Check out my reviews of other Restaurant Week participating restaurants.
---
Zafferano
Ocean Financial Centre, Level 43
10 Collyer Quay, Singapore 049315
Operating Hours:
Lunch
Monday — Friday:
11.30am — 3pm (2.30pm Last Orders)
Dinner
Monday — Wednesday:
5.30pm — 11.45pm  (10.30pm Last Orders-Food)
Thursday — Saturday:
5.30pm — 1.00 am (10.30pm Last Orders-Food)
Closed on Sundays
T +65 6509 1488
F +65 6509 1565
E info@zafferano.sg