Li Bai Restaurant has always been ranked as one the highly recommended Chinese restaurants in Singapore be it for corporate dining or celebratory occasions. This year, they have tried to impress again with their array of exquisite dishes for Chinese New Year. Aside from familiar favourites such as Buddha Jumps over the Wall with 2-head abalone, or Salmon Lo Hei platter, there's the new stewed "Eight Treasures" duck with 5-head Abalone that is not to be missed.
I had the pleasure of partaking in a tasting menu, sampling several dishes from the Li Bai Chinese New Year set menus. As with all Chinese New Year meals, the Yu Sheng platter is much anticipated, and a great way to break the ice! In recent years big name restaurants have been trying to outdo each other with bigger, more outlandish and more exquisite yu sheng!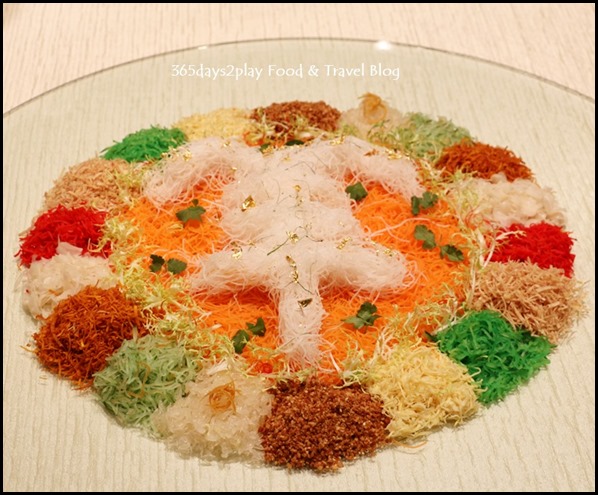 This here was the salmon yu sheng lo hei platter topped with additional lobster. You can even opt to add crispy salmon fish skin or shredded abalone.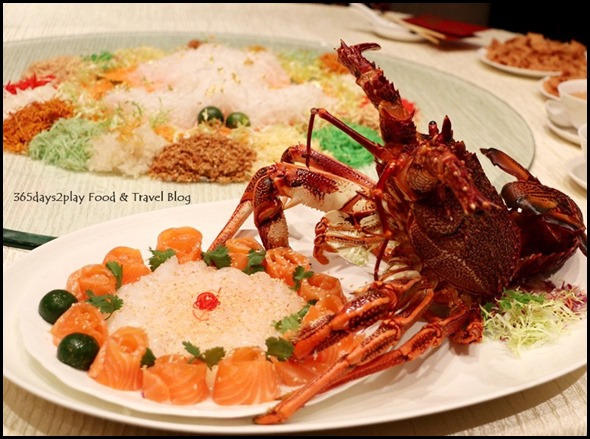 A very appealing and eye-catching display, wouldn't you agree?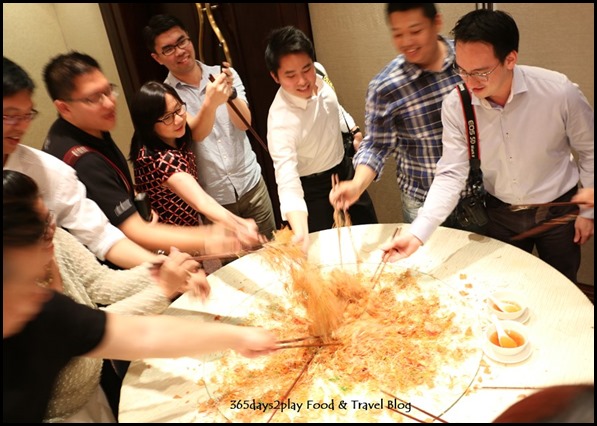 Lou ah!!!! Huat Ah!!! Who's who of the food blogging world tossing the yusheng for all they are worth!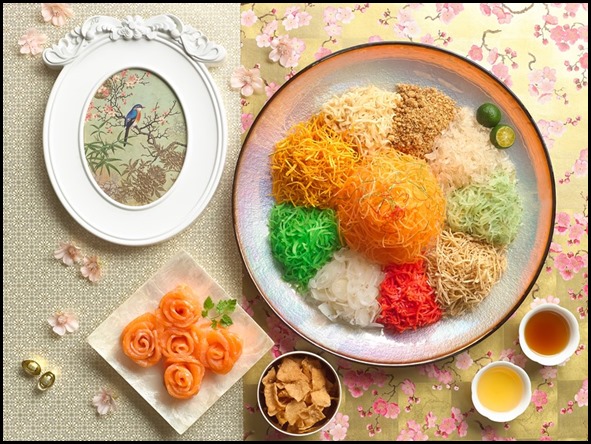 In case you do not have that many people at the table, you can order the less intimidating looking portion…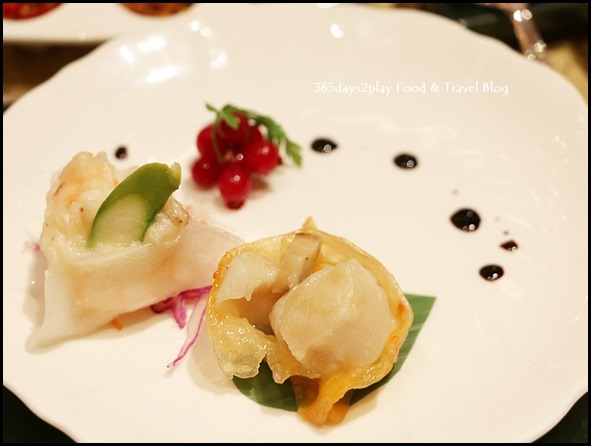 I've been to a couple of tasting sessions at Li Bai and they love plying us with their dim sum even though it may not be an item from the menu that we're sampling. And I mean it's no wonder because the dim sum at Sheraton Li Bai tastes fantastic. As you can see, the dumplings are generously filled with whole pieces of scallop and prawn, with hardly any minced fillers. Little mini parcels of deliciousness, I could eat dim sum any time of the day!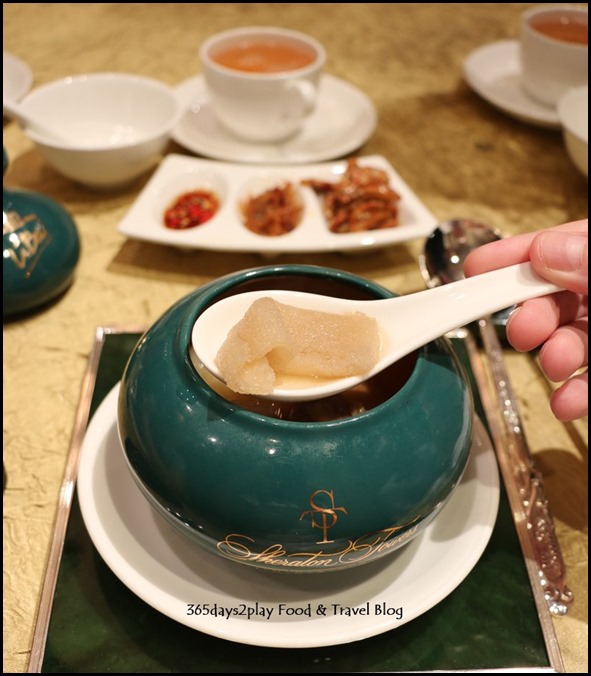 Double-boiled chicken soup with fish maw, morel mushroom, pearl meat, bamboo pith and tientsin cabbage. The broth had a really clean and light taste, but you could tell that the essence from the ingredients had infused in. This would be the type of soup where you could simply enjoy the liquid without even bothering about the ingredients, not that it would be easy to ignore the expensive ingredients. Pearl meat was a first for me I think. It looks like a slice of abalone, similar in taste but not as chewy in texture.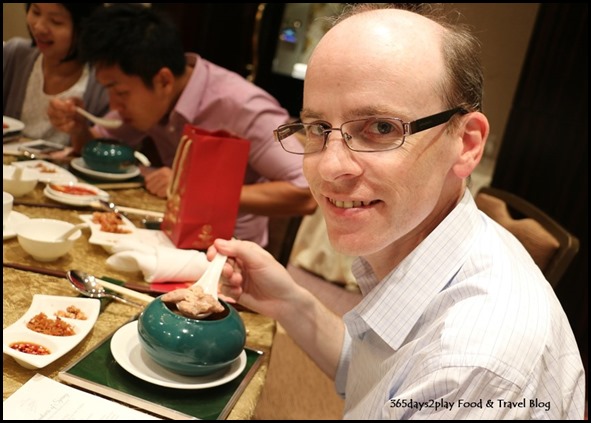 Hey even Ang Moh can appreciate a good double-boiled soup!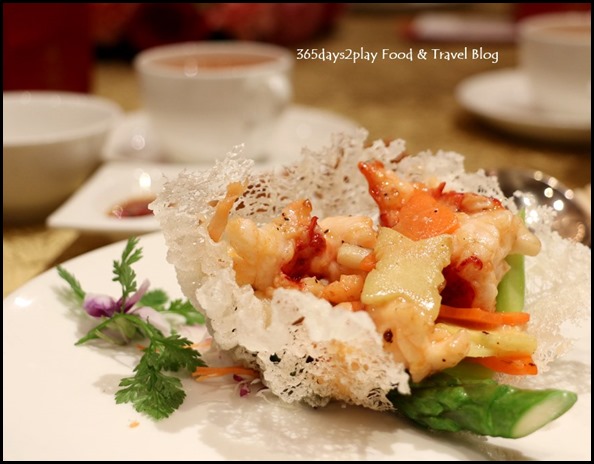 Sauteed Lobster served in crispy rice basket. A very well-executed dish with great interplay of flavours. Strong flavours coming from the succulent lobster, tapered down with the heat from the ginger. Crispy rice basket to soak up the juicy goodness and to provide. One of my favourite dishes for the evening!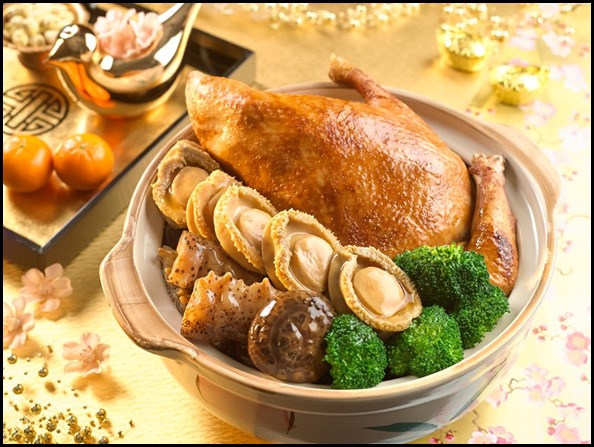 And last of the savoury dishes for the evening was this show stopping tureen of 8 treasures duck with abalone. Thank goodness the waitress helped us to portion out the dish otherwise, otherwise I might have wanted to reserve half the pot for myself. If you're not into the variety that comes with the usual Pen Cai, this might be a good alternative. Although vegetables are hardly the star of any Pen Cai, but in this case, I enjoyed using the crunchy broccoli to mop up the savoury sauces!
Didn't sample this Buddha jumps over the wall with 2-Head abalone, but here's a picture just for your viewing pleasure.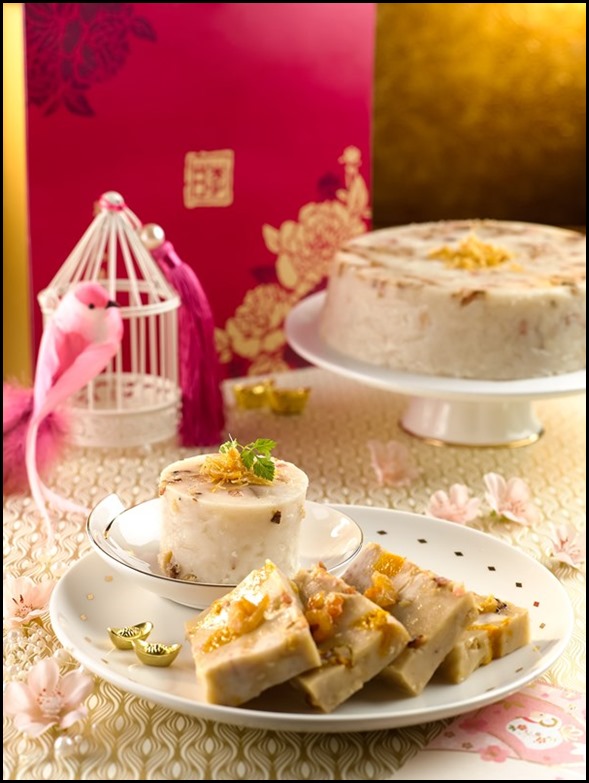 Just before we left the restaurant, we were gifted with this Radish Cake with Conpoy and Preserved Meat $46. A whole round of it, ie the radish cake in the background. I kid you not! And because I'd brought the Partner along, we got 2 of those Radish cakes! I'm not one to turn down a door gift, massive it may be. Took half to work and fed the colleagues. Another half went to my cousin, who pan-fried it and said it was very delicious. Well how's that if you're looking for a Chinese New Year themed cake?
Click here to see the full Chinese New Year Menu at Li Bai available from 2 February to 4th March 2015.
*Abalone Speak — In case you were wondering what on earth 2-head abalone and 5-head abalone are, the number refers to the number of abalones it takes to add up to 600grams. So, the bigger the number, the smaller the abalone. If you want big abalones, go for the smaller number. As abalone takes a long time to grow, the bigger the abalone, the more flavourful it is.
---
Add me on Facebook, Instagram and Twitter if you want to be kept up to date with the latest happenings in the food and lifestyle scene in Singapore!
Click here for my previous reviews on Li Bai Cantonese Restaurant 
---
Li Bai Cantonese Restaurant
Sheraton Towers Singapore
39 Scotts Road · Singapore, 228230 · Singapore
Tel : 6839 5623.
Email :  sheraton.singapore@sheratonsingapore.com