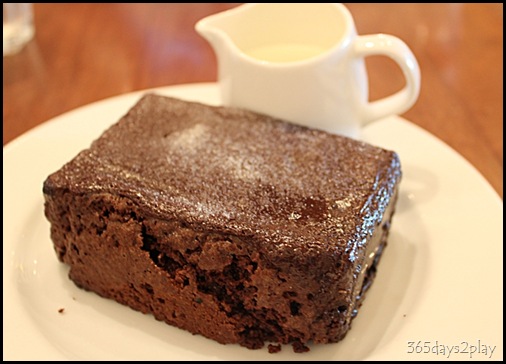 And while we are on the topic of cakes, we had a most delicious piece of brownie the other day at Wild Honey Cafe. Although I said I like the chocolate cake at Shots Cafe very much the last time, this one is EVEN BETTER, because the brownie comes with a little cup of creamy milk.
This is the 1st time that I have ever been served milk to go with the brownie. It's not cream because it's not thick enough, yet it's not plain milk because that would be too thin. Whatever the case, the creamy milk and the brownie was just a match made in heaven. I dunk the ENTIRE jug of milk onto the brownie and shovelled up all the chocolatey goodness. If ever you need some cheering up, this has got to take the cake, pun intended. I liked that the outside of the brownie was a little bit crusty while the inside was still moist and rich.
At $6+, I'm definitely coming back for more brownie. Breakfast wise, I think more value for money options can be found. To be continued….
Wild Honey Cafe
#03-02, Mandarin Gallery, Orchard Road, Singapore
Tel: 6235 3900
Open: 9am — 10.30pm everyday, 8am Saturdays & Sundays