If you're looking to celebrate Chinese New Year with a bit of a difference in terms of view and cuisine, you might just want to consider Quayside Seafood. Truth be told, I don't think I've ever dined al-fresco style at Clarke Quay by the river before. I've wanted to many many times, but the restaurants were either full and I had to sit indoors, or I somehow ended up at a restaurant facing the inner fountain courtyard. So it was really pleasant to finally be able to experience dining al-fresco by the river, with a Chinese menu to boot! It was surprisingly cool and not humid at all.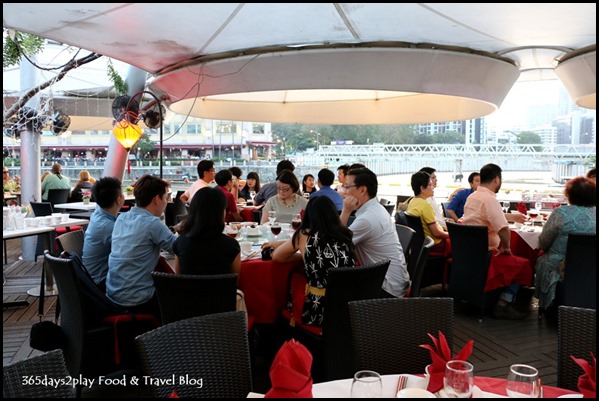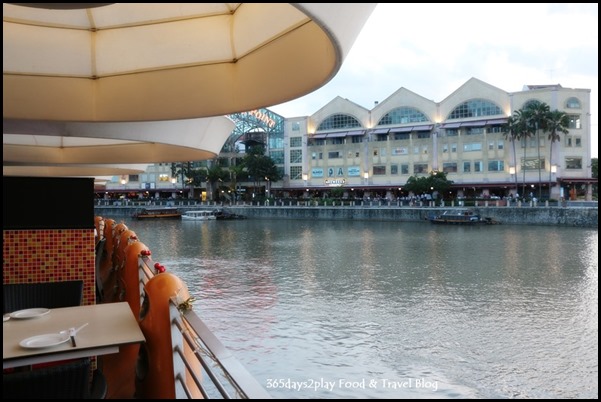 There are tables for 10, and there are also booth seats for smaller parties. This is about as picturesque as it gets in Singapore!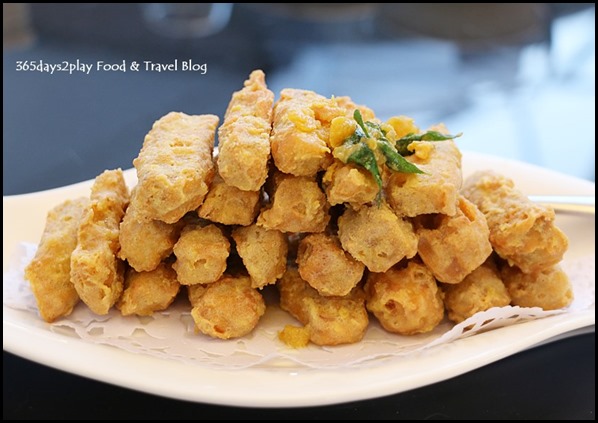 Quayside Seafood Salted Egg Yam
We started off the CNY tasting session with these salted egg yam sticks, and if you know me, I love anything and everything that is coated with salted egg! Yam sticks can easily fill you so I had to limit myself to just 2 sticks.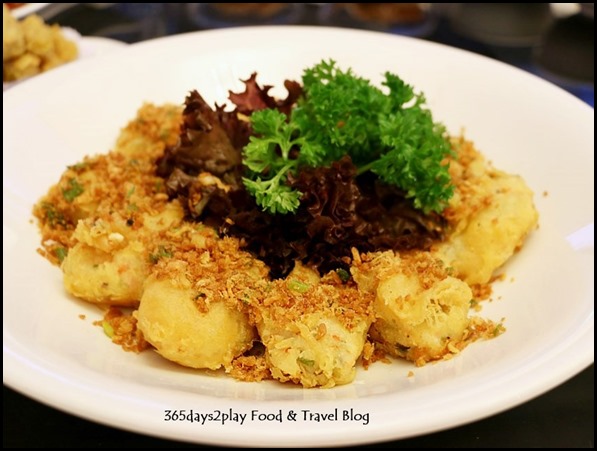 Prosperous Pipa Tofu
I liked the Pipa Tofu even more than the salted egg yam sticks. The tofu had a deliciously crisp exterior encasing a delicately soft tofu minced together with seafood.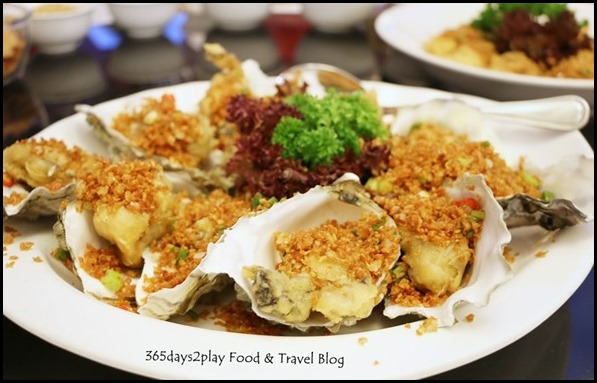 Deep-Fried "Prosperous" Fresh Oysters in Cantonese "Bi Fung Tang" style
I must admit, I have no idea what bi feng tang style is, except that it's literal translation means anchored and safe at bay. Nevertheless, those who like oysters may like this variation where the oysters are deep fried and served in a crispy coating, with cut chilli and spring onions. Biting into one was like biting into a little pillow of curds. I personally still prefer raw oysters or light cooking methods that do not mask the taste of the oyster.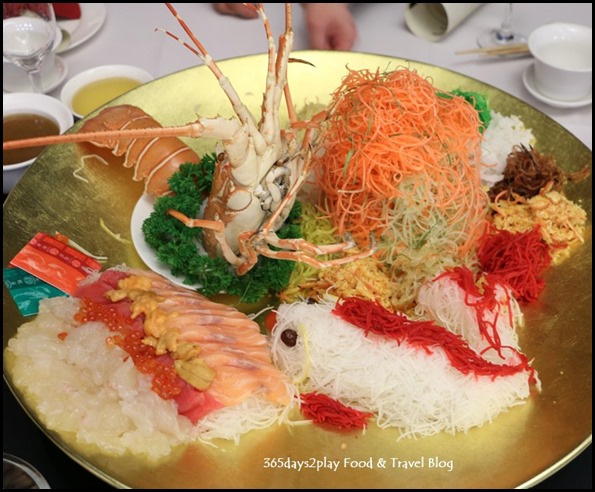 Tossed to Longevity, Triumphant Harvest and Joyous Contentment' Lou Hei yu-sheng — Australian Lobster, Tuna, Salmon Roe, Conch and Sea Urchin $128.80 (8 pax)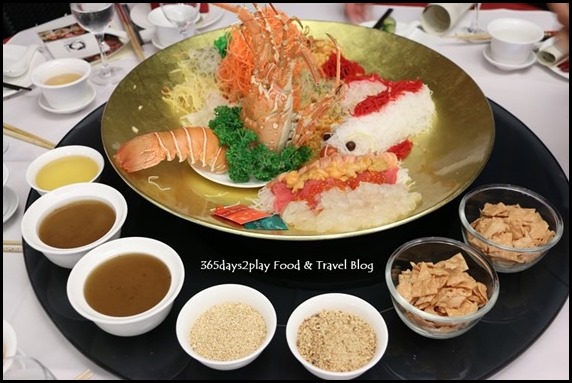 Nowadays, lobster and all manner of premium fish may grace the yu-sheng platters that one orders, but one with sea urchin and salmon roe is a first for me. I dearly love those ingredients, but alas, the sea urchin in particular could not withstand all the tossing and got well distributed around. If only I could have savoured one precious portion to myself! The salmon roe was a great addition, as everyone loves the way they pop and burst in the mouth.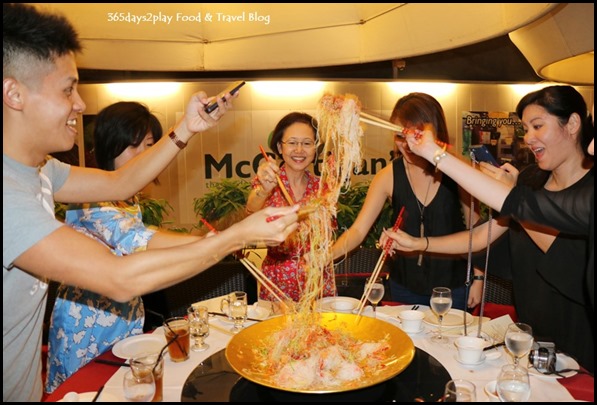 Huat ah!!! I love taking pictures of people doing Lo Hei! I made sure to still have a couple of tosses at the end!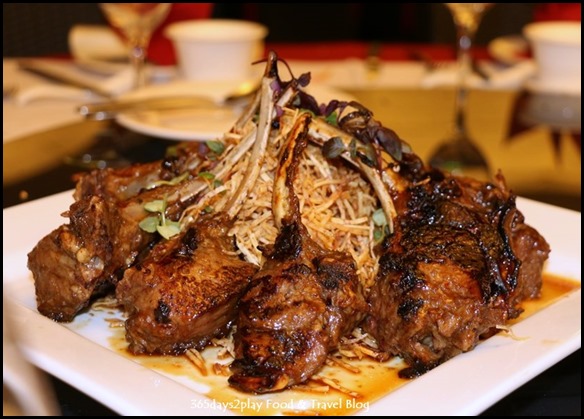 "Reaping Good Fortune" Baked Rack of Lamb (grass-fed)
Marinated for 1 hour with garlic, spring onions, coriander, honey and Japanese shoyu, the lamb is then pan seared before being baked, and lastly seasoned with truffle oil. Not a common dish at Chinese restaurants, but one of the best dishes of the evening. The lamb was oh SO tender for grass-fed lamb, and so flavourful with a nice char from the marinade. I could have eaten a couple more, if not for the fact that I still had to pace myself. The thin strips of deep fried yam were addictive too, should have been served as a side dish separately to get more "air-time".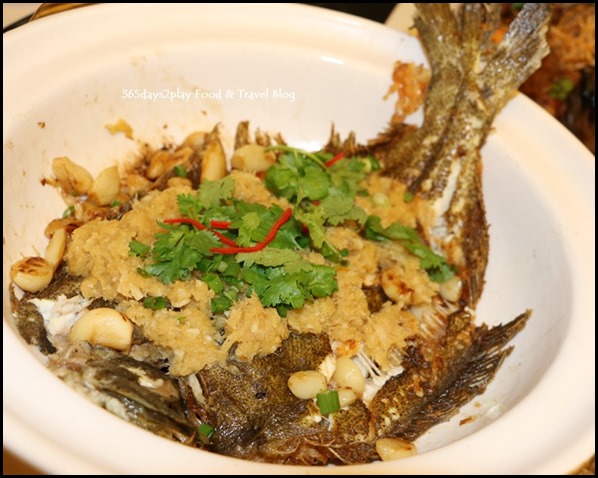 "Prosperity All Year Round" Baked Turbot Fish with Whole Garlic in Claypot $15/100gm (seasonal)
The fish was first steamed in the claypot for 5 minutes then claypot baked with burnt garlic for 8 minutes. I'm not a fan of fish so this one wasn't a stunner for me, although I did enjoy the restaurant made bean paste with roasted garlic.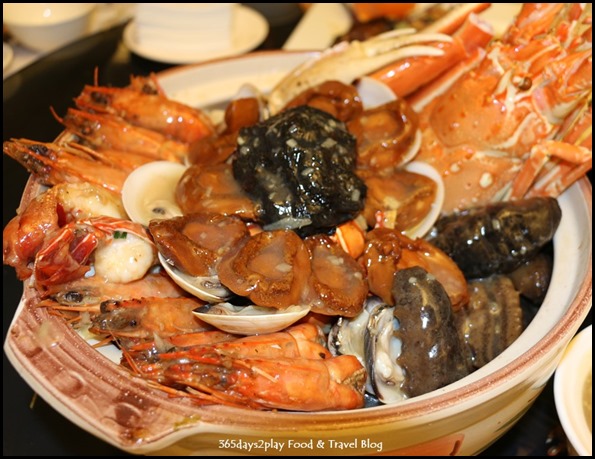 "Completeness & Overflowing Wealth" Whole Lobster & Seafood Treasures Pen-Cai (Whole Lobster, Lala, 10-head Abalones; Fresh Scallops, Dried Oysters, South African spikes Sea Cucumber, Hybrid Garoupa Fillet, Alaskan Crab Claws, King Prawns, Hormone-free Whole Chicken, Tender WaWa Vegetables, Whole Shiitake Mushrooms, Taro $328.80 / 6 diners
A whopping 13 luxurious ingredients went into this Pen-Cai, which will surely have you feeling like the Emperor for a day. My favourites area always the abalone, the scallops and the mushrooms. My mother loved the sea cucumber and went for thirds! The broth is a really important aspect for me, although it is mostly ignored by other fervent diners trying to fish out the last piece of expensive morsel.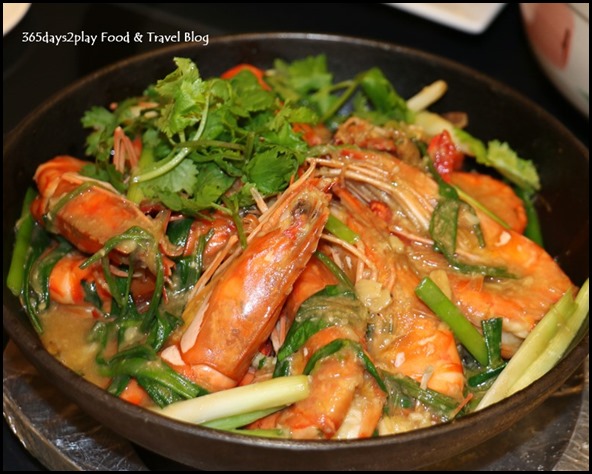 "Harmonious" Claypot Prawns with Tang Hoon / Crystal Rice Vermicelli $58.80 / 4-5 pax
Fried in oyster jus with fresh garlic and Chinese parsley, it was no wonder that I only had my eyes (and tastebuds) on the Vermicelli. They were so good I had seconds and I didn't even have to bother with the prawns! Probably one of the best vermicelli dishes I have had.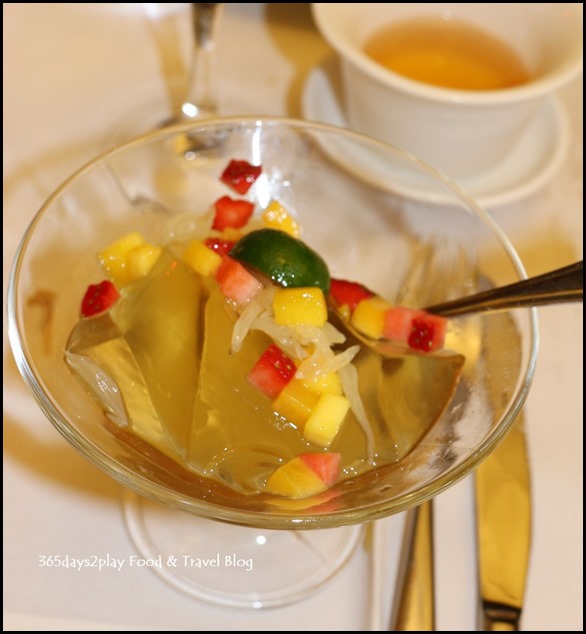 "Bountiful Treasures" Chilled Lemongrass Jelly
And lastly, a light and refreshing dessert to end off the evening. A really simple dessert comprising of lemongrass, lime juice, fruit pieces and jelly, yet the combination leaves your tongue tingling for more. A really fitting end to a wonderful meal.
---
Add me on Facebook, Instagram and Twitter if you want to be kept up to date with the latest happenings in the food and lifestyle scene in Singapore! 
---
Quayside Seafood
Blk 3A Clarke Quay, Alfresco
Opposite Liang Court (next to Tan Tye Place)
Telephone: 6338 3195 / 9105 5973
Website: www.quaysidedining.com
Facebook: https://www.facebook.com/QuaysideSeafoodRestaurant
Set menu prices start at S$98 for 2 diners, $298 for 4 diners, $438 for 6 diners, and $598 for 10 diners.