Contrary to popular belief that dining at Raffles Hotel is only limited to the rich or for special occasions, The Halia at Raffles Hotel bucks this trend by offering value for money dishes which you can enjoy any day of the week.
In fact, Halia has always prided itself on a dining concept that encourages flexibility and communal dining, coming up with dishes classified as "big plates" or "small ""plates" instead of the usual "appetizers" and "mains". And they are priced accordingly too, unlike many tapas restaurants I know of that sneak in main course pricing into their miniscule appetiser sized dishes. Yes, ever since I was served 3 chicken mid-wings (not the whole wing mind you!) for $20, I've almost all but sworn off tapas restaurants.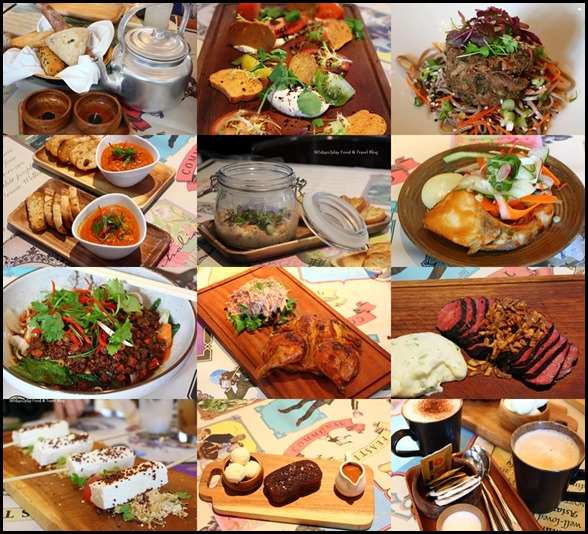 One of the latest promotions to be dished up at Halia is their $260++ Communal Feasting set, which is essentially a set meal for 4 people. This is no ordinary set meal though, it has TWELVE dishes! Now is that value for money or what? 5 or 6 small eaters may even share this meal! Check out the photos of what we sampled for the Communal Feasting set.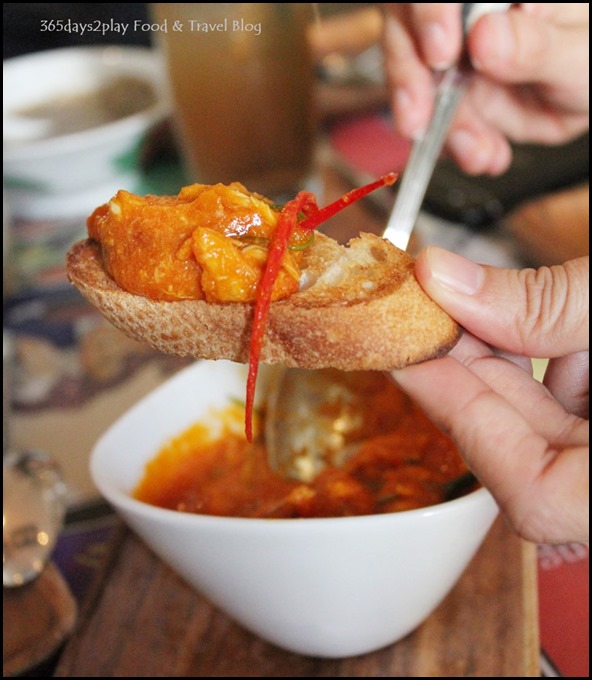 Chilli crab dip, toasted baguette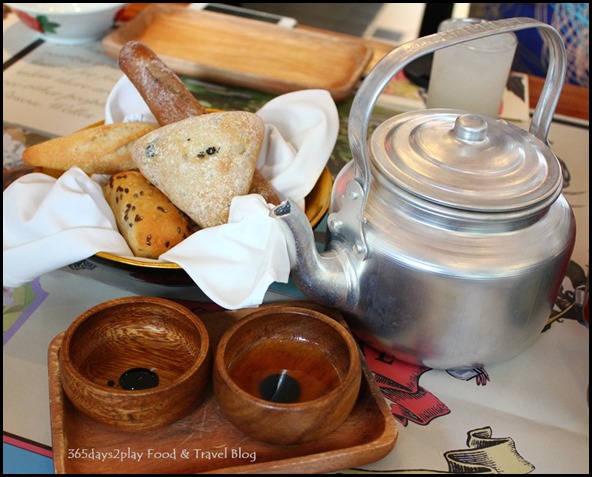 Chef's soup and bread selection to start off the meal. It was the cream of mushroom soup for us when we were there.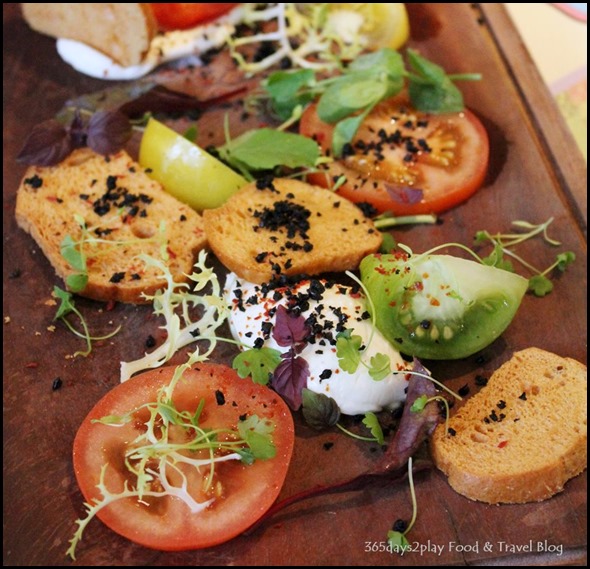 Goats' cheese mousse, heirloom tomato, olive, wild honey, dried brioche
I love cheese spreads of any kind so I quite enjoyed digging into this dish with the crispy bread pieces.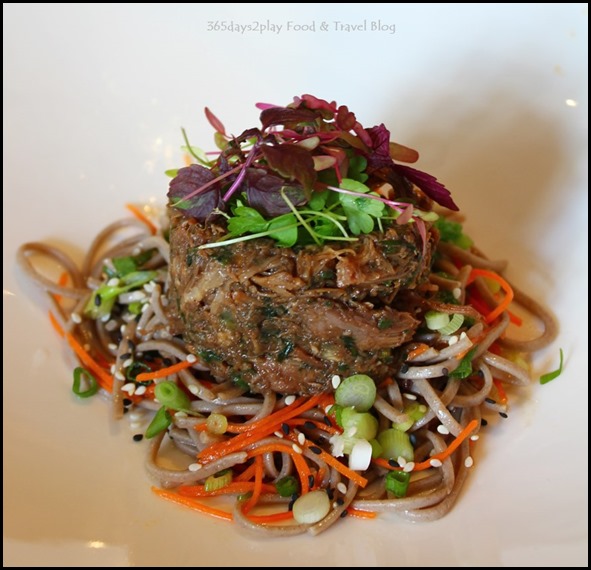 Oriental pulled duck, Gherkin, caper, micro herb salad, soba noodle, sesame oil
An East meets West dish, using pulled duck instead of pulled pork. Would be nice even as a mains as the lightly seasoned noodles complement the heavy flavours from the duck very well.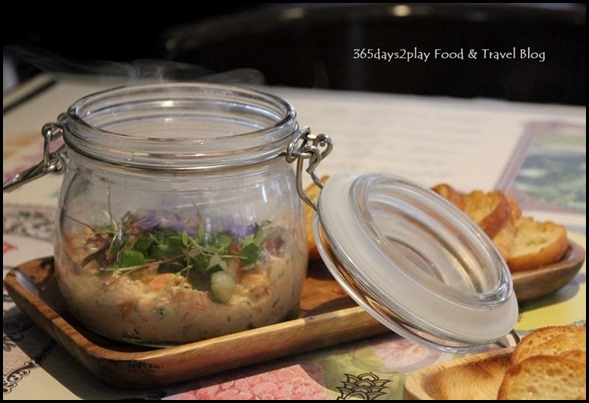 House smoked salmon pate, Hendrick's gin, beetroot chips, crostini, cucumber
Check out the smoke coming out of the glass bottle, it was really salmon with a difference. The salmon has a lightly smoked flavour, rather than the extreme saltiness that hits you with those commercially smoked salmon ones.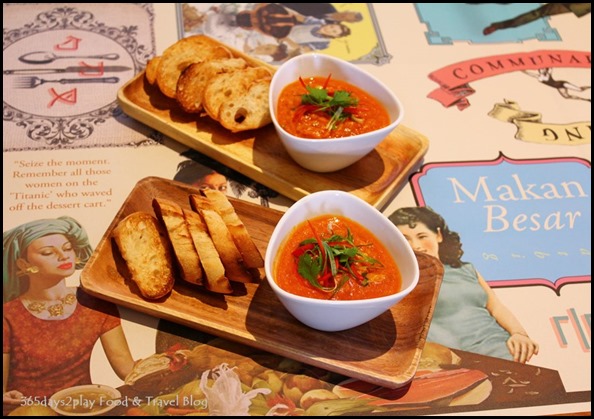 Chilli crab dip, toasted baguette
One of my favourite dishes of the day, it was so gooood to be able to chomp down on this sweet chilli crab dish, without having to fuss with shells and all. Check out the table paper, designed in house!
Baked kingfish collar, pickled vegetable miso, orange, ginger
As the chef pointed out, the communal feasting set features use of not so common parts, in this case, collar. A little on the bony side, if you ask me, but at least the flesh was firm and sweet.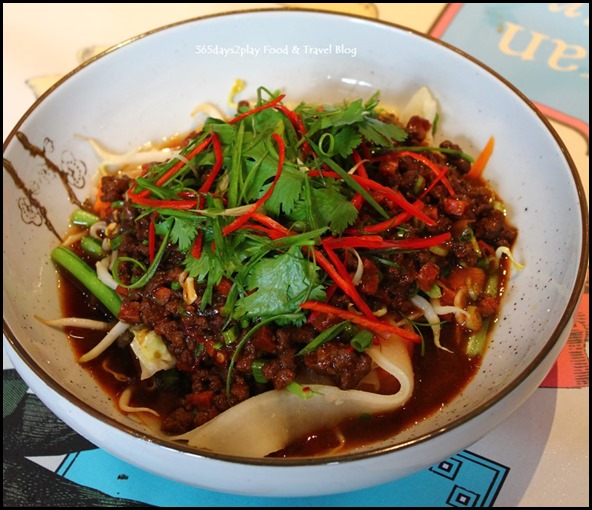 Wagyu Beef "Zhajiangmian", Iberico chorizo, oyster sauce, carrot, bean sprout, spring onion
This was probably the most surprising dish of the day, because there are no noodles in this dish! It's all vegetable shreds that you're looking at, topped off with a huge serving of minced wagyu beef. Don't think you will be satisfied if you were looking for zha jiang mian, however as as vegetable and minced meat dish, it was quite tasty. The vegetables were all lightly cooked so they retained their crunch and soaked up the meaty juices. Not so sure if mincing the wagyu beef was the best way to treat a piece of wagyu though, as it just tasted like normal minced meat to me.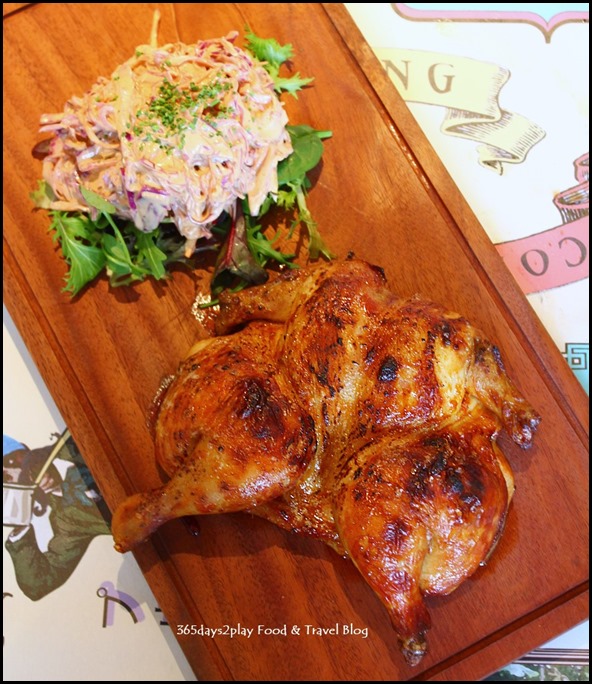 Twice-cooked spatchcock of spring chicken, spiced cabbage slaw, paprika, mesquite 
I managed to snag the drumstick thanks to my dining companions who preferred breast meat! Lovely chicken it was, so tender, juicy and with the skin imparting a lightly roasted flavour. It was probably my favourite meat dish of the entire meal.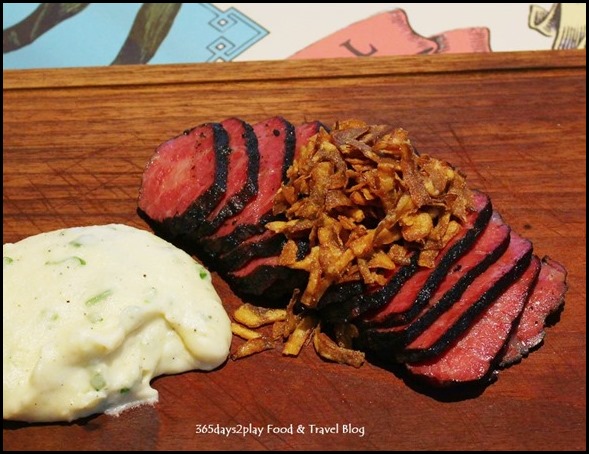 'Gunpowder' Wagyu Topside Mayura Sation (MBS8-9), spring onion mash, mushroom sauce 
The meat is marinated for 4-6 hours with elements similar to gunpowder (mainly charcoal), to add a touch of smokiness to the meat. It is then cooked sous-vide for 59 degrees celsius for 30-45mins. Didn't know we could eat charcoal actually. Unfortunately, we all thought the meat was a little on the salty side, not helped by the fact that we poured too much sauce onto the meat as well. Taste the meat first if you can, you may not need any sauce at all!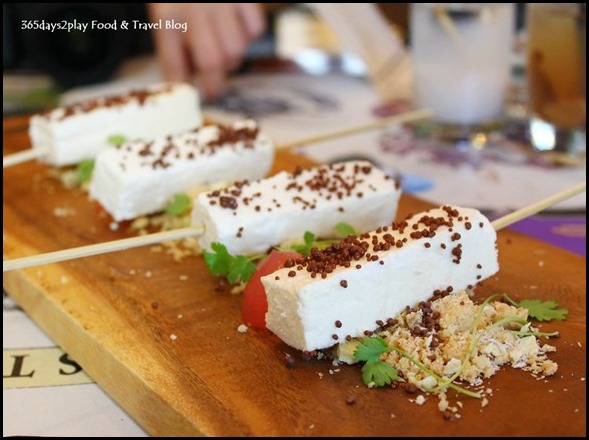 Coconut parfait, pineapple, gingerflower, chocolate 
Didn't really like this dessert, as I've never been much of a fan of mousse and foams. Just feel as if I need something more textural to bite into. The addition of popping candy into the crispy bits at the bottom was an interesting touch. A few of us at the table were specially fishing for those treats.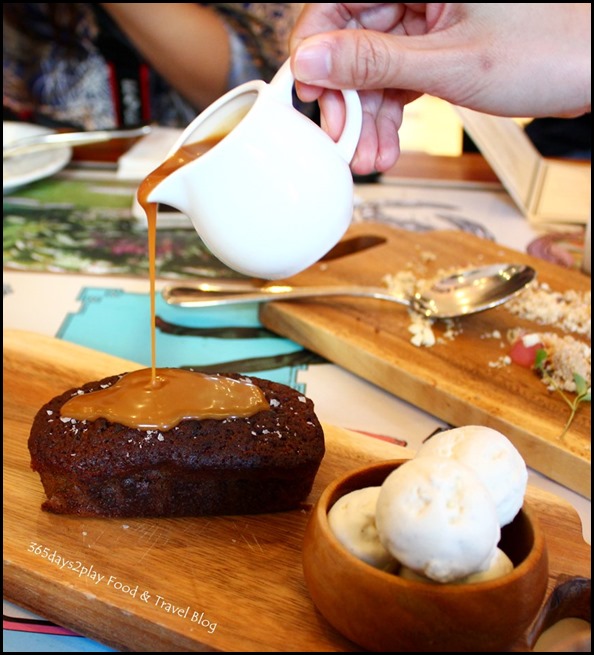 Sticky toffee pudding, date, butterscotch sauce, sea salt, vanilla ice cream 
Now this is more my kind of dessert! Sweet, heavy, hot, and with ice cream, it's a common match but a match made in heaven!
Communal Dinner (Priced at $260++ for 4 pax, inclusive of a communal jug of Lemongrass or Iced Tea. Available daily from 6pm – 10:30pm)
---
Add me on Facebook, Instagram and Twitter if you want to be kept up to date with the latest happenings in the food and lifestyle scene in Singapore! 
Read about Afternoon Tea at The Halia
---
The Halia at the Raffles Hotel
1 Beach Road, #01-22/23, Raffles Hotel
Singapore 189673
+65 9639 1148