Chanced upon Coffee Nowhere a couple of months back when I was in the vicinity. I wasn't familiar with the West Coast area so I was really glad to be able to find a welcoming looking cafe in the somewhat sleepy mall that is West Coast Plaza. My colleague and I couldn't stay too long as we had to rush back to the office, but we did have time to try their pasta and a flat white.
Fast forward to last month and our fates met again when I received an invitation from Coffee Nowhere to check out their extensive menu as well as brew bar. Btw, in case you were wondering why on earth the cafe is named a seemingly inauspicious Coffee No Where, the name is actually Coffee Now Here, paying significance to owner Welson Ang's coffee journey from no where, to a full fledged business headquartered in Malaysia. They have expanded into Singapore (3 outlets at last count) and are looking to expand into the region as well.
Coffee Nowhere is a pretty spacious cafe, with seating on the ground level as well as a little corridor area at a mezzanine level for those who wish to have some privacy while catching up with their work. That's very generous of Coffee Nowhere, when most cafes would prefer if you didn't linger too long taking up precious seats.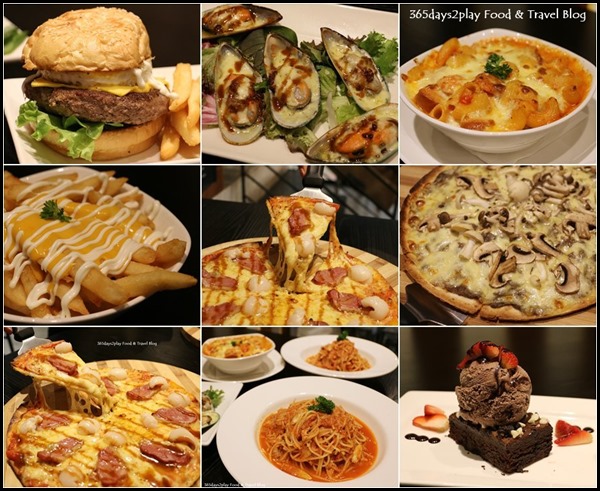 Food here comprises of numerous family and kid favourites such as pizzas, pastas and baked-rice, jazzed up with crowd favourite ingredients such as chilli crab, gooey cheese, and even a pizza with lychee in it!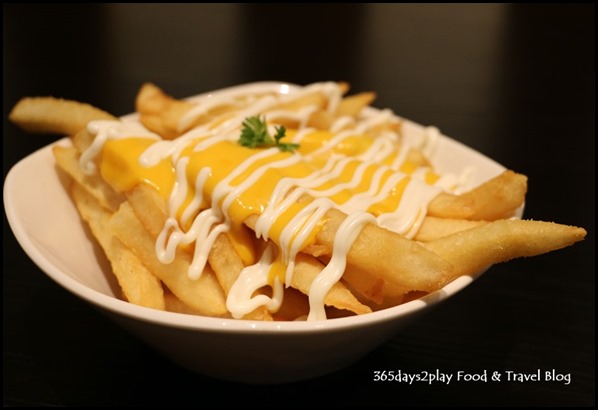 Cheesy Fries $8.80
The cheesy fries were served crispy and piping hot, with lashings of nacho cheese and mayonnaise. So good, but so sinful!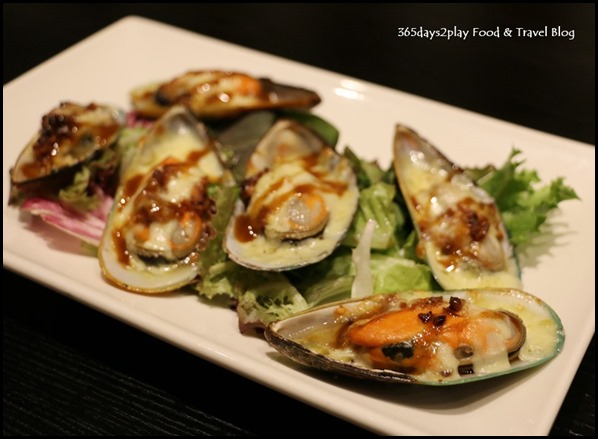 Baked Cheese Mussel $9.80
Baked cheese mussels, not something you often find at a cafe.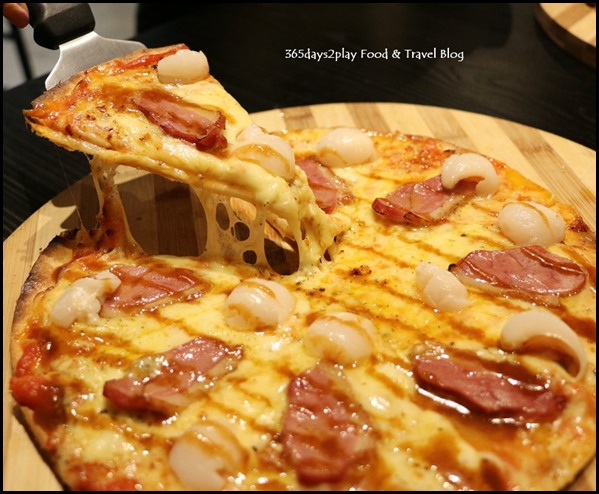 Pizza Nowhere $19.80 (Smoked Duck, Lychee, Mozzarella and Cheddar Cheese)
Coffee Nowhere really does know what the sure fire way to get straight to its customers's hearts, or shall I say stomachs? Look at the amount of gooey cheese topping on this pizza? I particularly liked the addition of lychee, which adds little bursts of sweetness in this savoury pizza.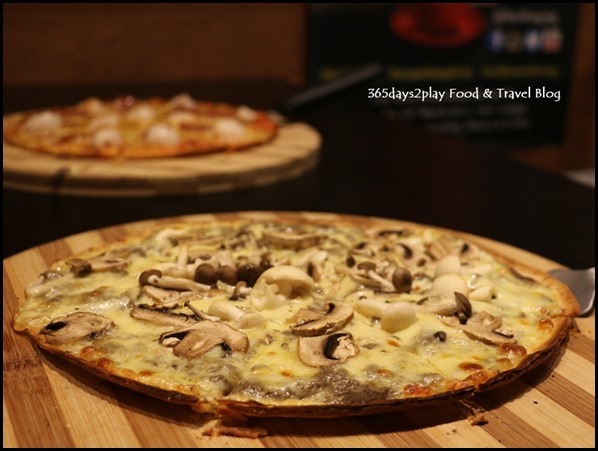 Wild Mushroom $16.80 (button, White shimeji, brown shimeji)
If you want to go for something healthier, try the wild mushroom pizza. Still very much as cheesy, the pizza was generously dotted with slivers of mushrooms and tasted very good too.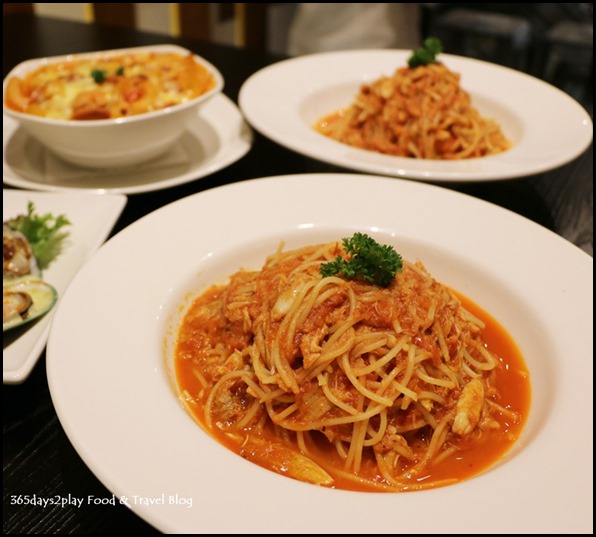 Chilli Crab Spaghetti $14.80
The chilli crab pasta at $14.80 sounded like a steal, which is why it is one of the more popular dishes at Coffee Nowhere. At that pricing, I was wondering if there would be very little crab, or if it would taste dry and stale, but I was pleasantly surprised. A non-spicy version is also available.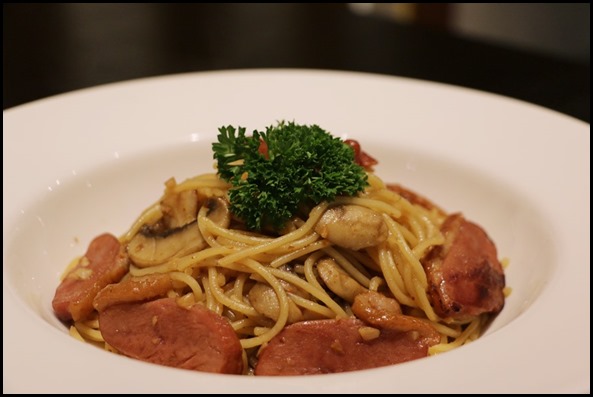 Smoked Duck Aglio Olio $15.80
Another not so common dish, but yet a winning combination. The smoked duck was lightly flavoured and paired well with the mushrooms.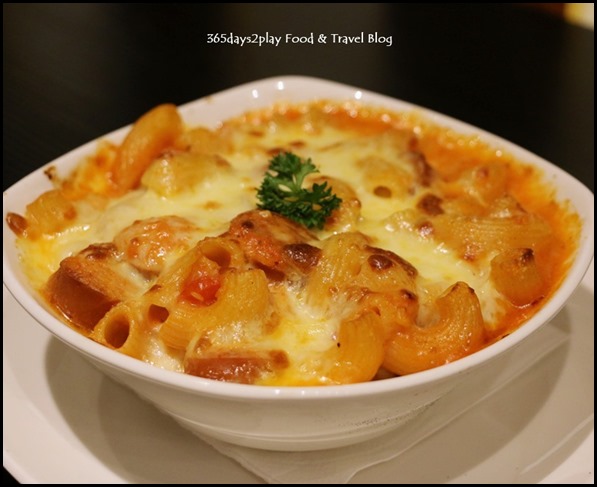 Cheesy Bratwurst Elbow $13.80
Another homely dish that surely must be a crowd pleaser! I guess it's quite evident that I love cheese? Don't be in a hurry to run off if you order this dish, because it is served piping hot, with the cheese almost molten! It's best to take your time to savour each mouthful and fish for the bratwurst pieces.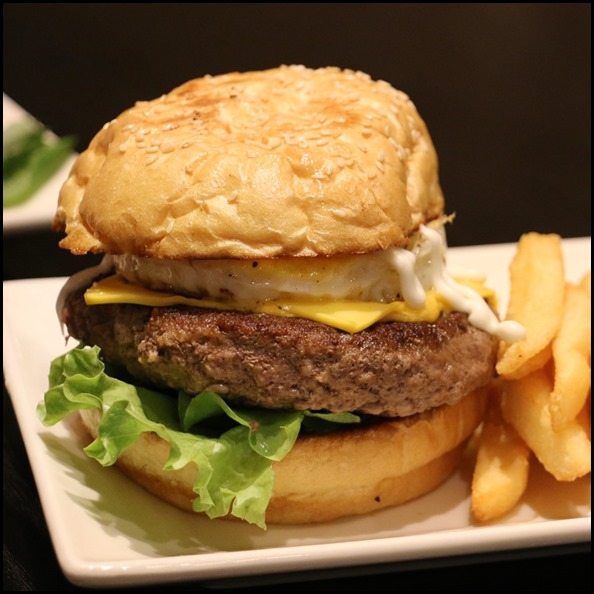 Burger Nowhere $14.80
We tried to be dainty while eating this, but the best way to enjoy it is to chomp down on all layers, so that the eggy and cheesy goodness is paired together with the savoury meat patty. Served together with a small salad and the super crispy fries.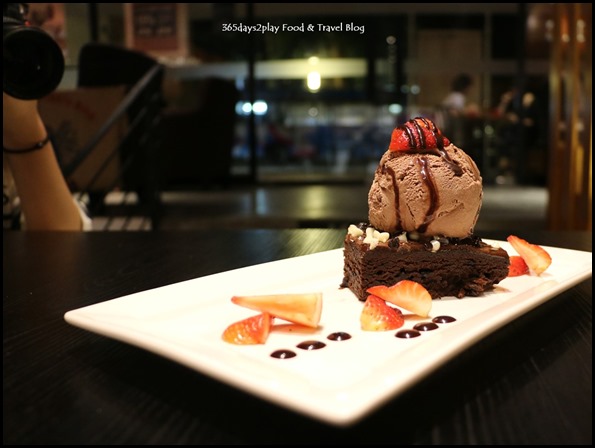 Brownie with Chocolate Ice Cream
And last but not least, the brownie dessert, recently introduced to the cafe. What a way to end off the meal!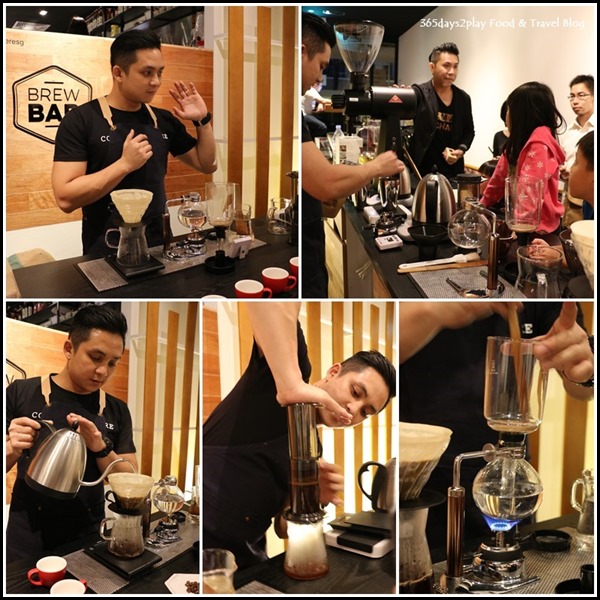 Coffee is also very much an element of the business, from the name as well as a brew-bar at the back of the cafe where you can attend coffee appreciation workshops. Barista champion Ian Consulta, one of but a handful of Q-graders barista in Singapore demonstrated 3 different methods of brewing coffee to us : The V60, the Aeropress and the Siphon. It was interesting to note that the guys in our group preferred the coffee from the Aeropress, while the ladies mostly preferred the Siphon. Well I like my coffee hot, so the Siphon method is the one for me!
---
Add me on Facebook, Instagram and Twitter if you want to be kept up to date with the latest happenings in the food and lifestyle scene in Singapore!
---
Coffee Nowhere Singapore
154 West Coast Road (West Coast Plaza)
#B1- 06/ 07 Singapore 127371
Tel : 9090 4332
Website : http://www.coffeenowhere.com/ (Malaysia)
Facebook : https://www.facebook.com/coffeenowhere.sg (Singapore)