We originally wanted to try out Genting Palace for dinner on our first night at Genting Resorts World, ie Saturday. However, we were told that our meal card would not be valid because the restaurant was already pretty full! Imagine my disappointment because I was all ready to go try out some abalone and other Chinese favourites! Imagine the effort I had to make when the Partner suggested going to a Western restaurant instead. The Partner doesn't fancy abalone you see, he thinks it's tasteless!
Anyway, I managed to check out Genting Palace for dim sum brunch the next day. Just so that we would not be faced with another Full House, we dragged ourselves out of bed at 8am, which for me is considered a substantial feat. I'm not one to jam-pack a gazillion activities during my holidays. I like to take it slow and savour every single moment.
As with most of the eateries in Genting, Genting Palace was priced slightly on the high side, as compared to a similar restaurant in Singapore. Well I guess it's to be expected for touristy locations.
The dim sum here is quite okay. There are several nice dishes, but also several very unremarkable dishes. An interesting point to note is that most of the dim sum that came in the metallic containers were not piping hot, which would have contributed to the average experience. Those dim sum dishes that were served piping hot were very enjoyable.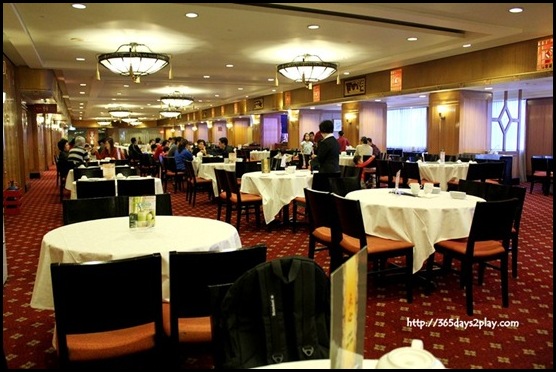 Genting Palace looks very traditional, like the Chinese restaurants of yore in Singapore.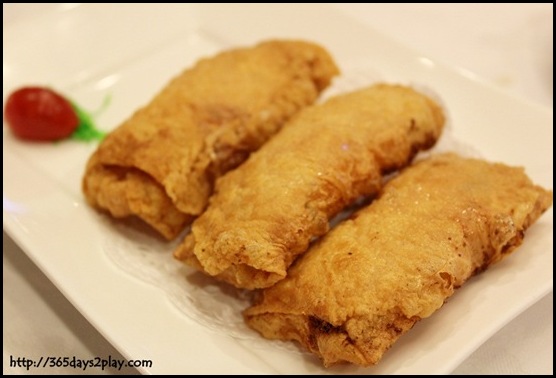 Deep Fried Cheese Roll RM10
This was one of the best dim sum dishes amongst all the stuff that we ordered. It was packed full of prawns and there was a nice oozy bit of cheese right in the middle. This came piping hot too. It seems that those dim sum served on the white dishes are made to order?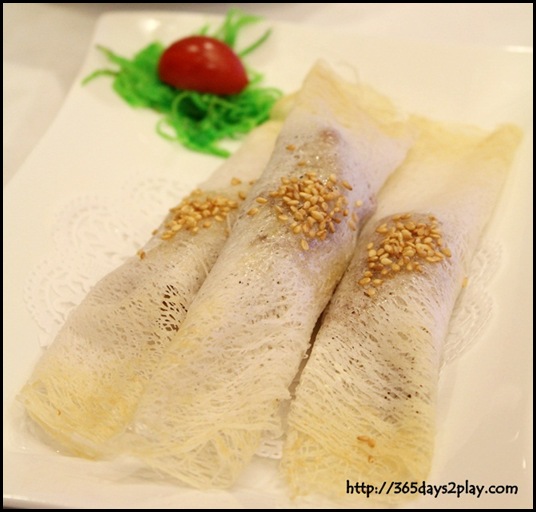 Sliced Duck Roll
We tried to order the traditional dim sum items as well as special ones. This sliced duck roll was one of the more unique dishes available at Genting Palace. I found the roll itself to be a little soft. The sliced duck with the sweet sauce was nice but it was a small portion as compared to the length of the entire roll.
Steamed Seafood roll with Bamboo Pith RM9
Another one of the more unique dishes. The outer covering is made of some sponge like texture, similar to fish maw, but without the toughness.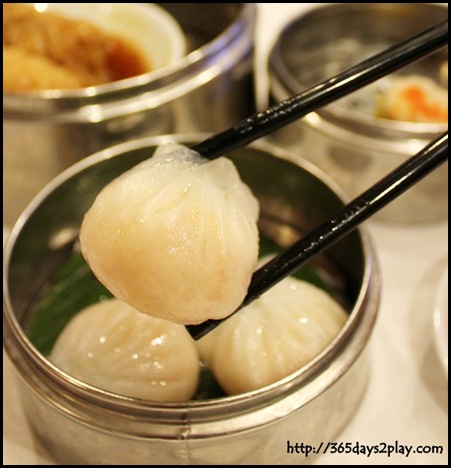 Har Gow RM10
The Har Gow was quite disappointing. It was luke warm when served. The prawns were small, tough and did not taste fresh. There was also alot of minced filler. I think that for dim sum, all restaurants should get their Har Gow and Siew Mai right, for they are the "ambassadors" of dim sum.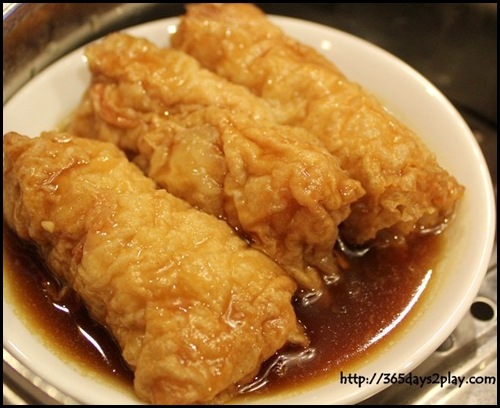 Steamed Beancurd Roll RM7.50
This tasted quite similar to the deep fried cheese roll, minus the cheese. The skin is a little tough though, but on the whole, quite enjoyable.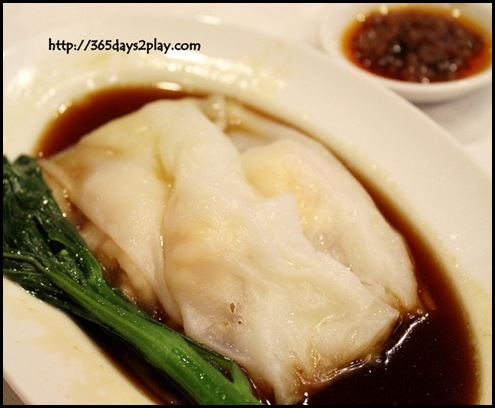 Steamed Cheong Fun with Prawns RM8.50
The prawns were nothing to shout about, but the cheong fun was surprisingly smooth.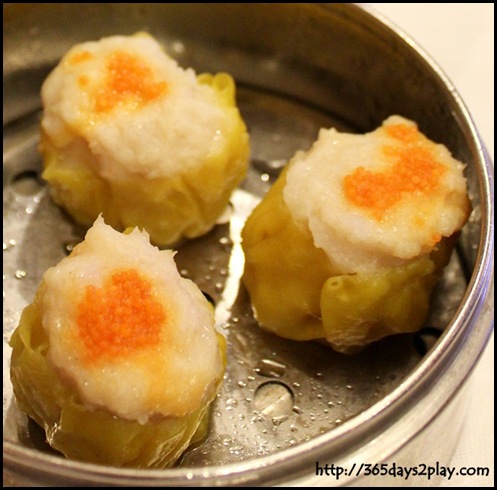 Siew Mai RM10
As with the Har Gow, these were very unremarkable. Served luke warm and half filled with fillers.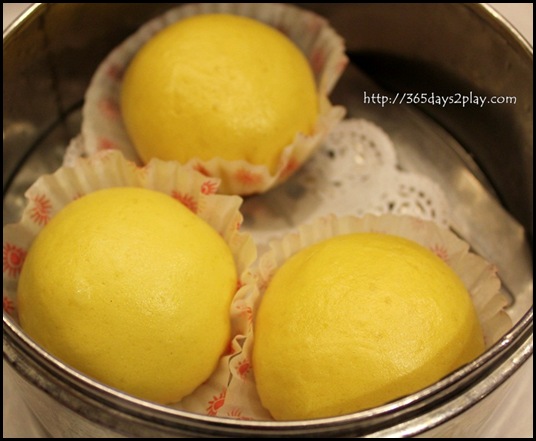 Liu Sar Bao RM8
Aka Salted egg yolk custard buns. A must order for me no matter which Chinese restaurant! Luckily, the buns were rather good, so we ended off our dim sum meal on a happy note. The buns came piping hot that we had trouble holding them in our hands. That's a good thing btw. There was a lot of the oozy salted egg yolk custard. The best part of all? The Partner doesn't like Liu Sar Bao so I ate ALL OF THEM myself. I mean seriously, how can anyone not like Liu Sar Bao???
It's too bad we didn't get to try Genting Palace for lunch or dinner. Would really have liked a second opportunity to suss out the chefs' skills.
*This post is part of the series of posts I did for Resorts World Genting. To read more about what I did during my 3D2N stay at Genting Resorts World, click here.