Last Saturday, instead of my usual binge and binge some more routine, I spent an interesting afternoon at Portico restaurant at Alexandra. Portico is helmed by illustrious 28 year old Head Chef Nixon Low and his culinary team. I'd missed out on a couple of previous tasting sessions held, and heard that the food was exemplary. Didn't want to miss out again this time round, even though this time round the focus would be on the upcoming events that Portico will host on the weekends.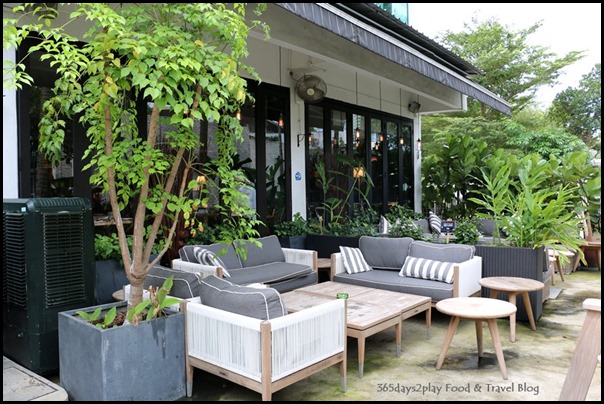 Stepping into Portico is like stepping into a relaxing and lush garden. If you peer closely enough, you'll realise that the plants flanking both sides of the seating area are no normal plants, but edible ones. You'll be reacquainted with them again when they appear in the dishes that you order. I've always been a supporter of the farm to fork concept and the organic movement and it was really nice to be able to witness upfront how the plants outside the restaurant are incorporated into the food.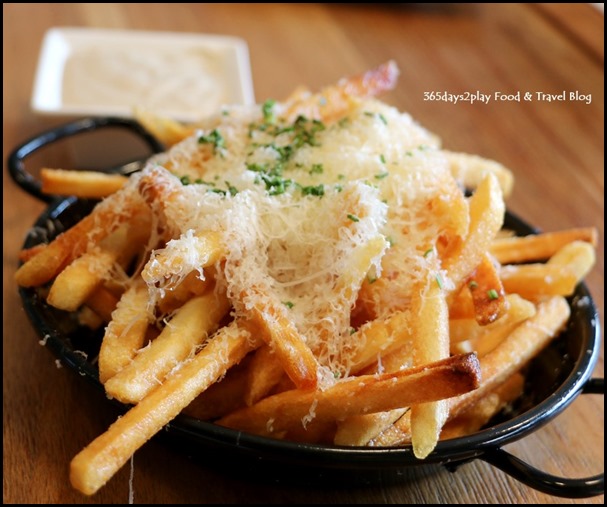 Truffle fries and a ton of cheese to keep the bloggers at bay before the event started proper.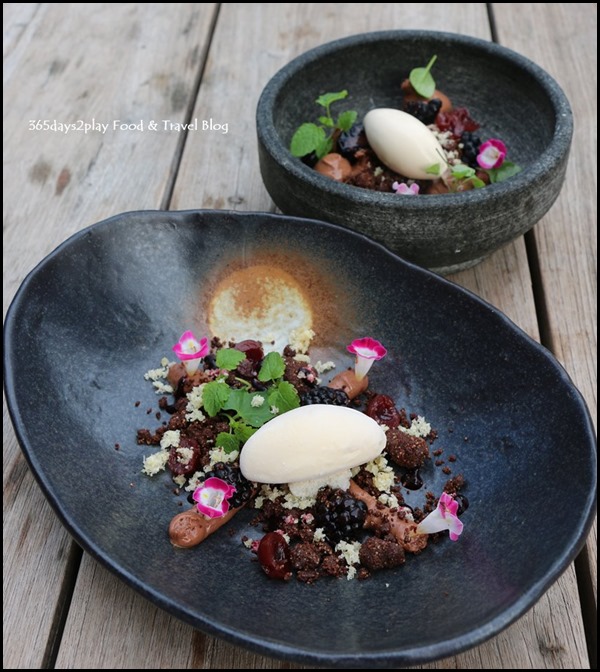 For Saturdays at Portico, diners who come to Portico for lunch on Saturdays are invited to stay back and join in their activities held at 3pm, known as Saturdays at Portico. I was told, even if you do not dine there, you are also welcome to join in as well for free! The above deconstructed Blackforest cake was my creation during the hands on plating class! Well the one in the round bowl is Chef Nixon's model answer, but I think mine ain't too bad either??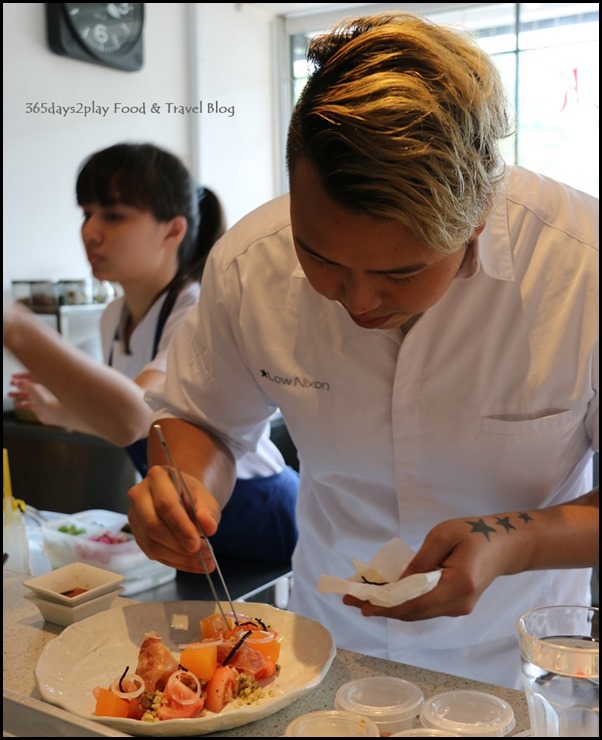 Here's Chef Nixon demonstrating his way of plating the refreshing melon, tomato and Jamon ham. He must have taken but a minute, whereas all of us ended up taking triple the time.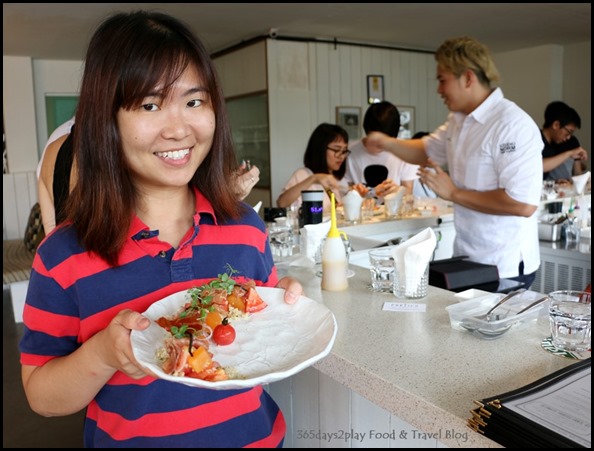 I think I didn't fare too badly. Well the ingredients were all nicely cut up for us, so all we had to do was to delicately position the ingredients to replicate the masterpiece created by Chef Nixon.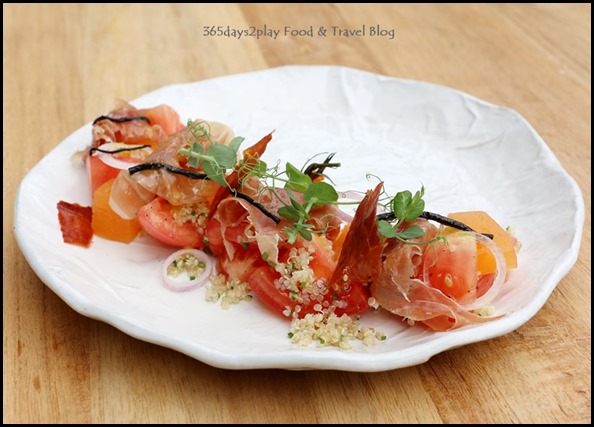 Inspired to recreate this dish at home too! It's like having a garden on a plate.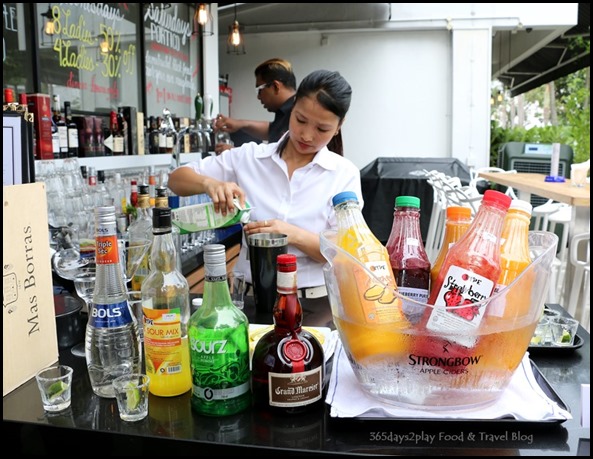 If you're not into food plating, you can try your hand at mixing your own margaritas using the various fruit purees and spirits above.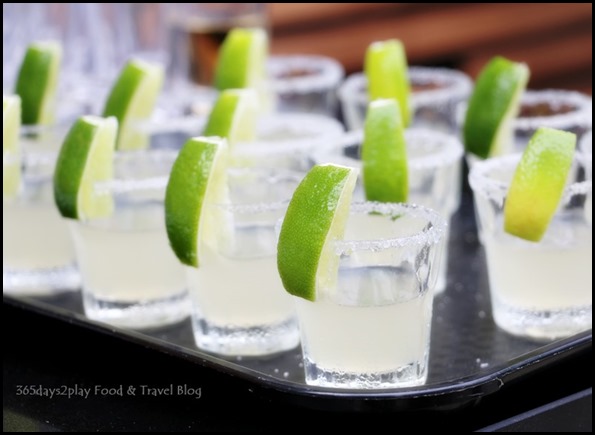 For me, I'm not as adventurous towards drinks as compared to food, so I contented myself with the pre-made margarita shots.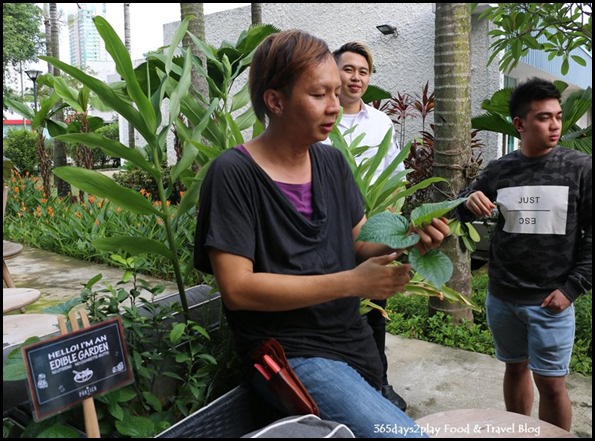 And finally, a guided tour of the herb and vegetable garden led by Hedrick Kwan of Plant Visionz. Spend just 5 minutes with him and you will realise how deep his love for plants is.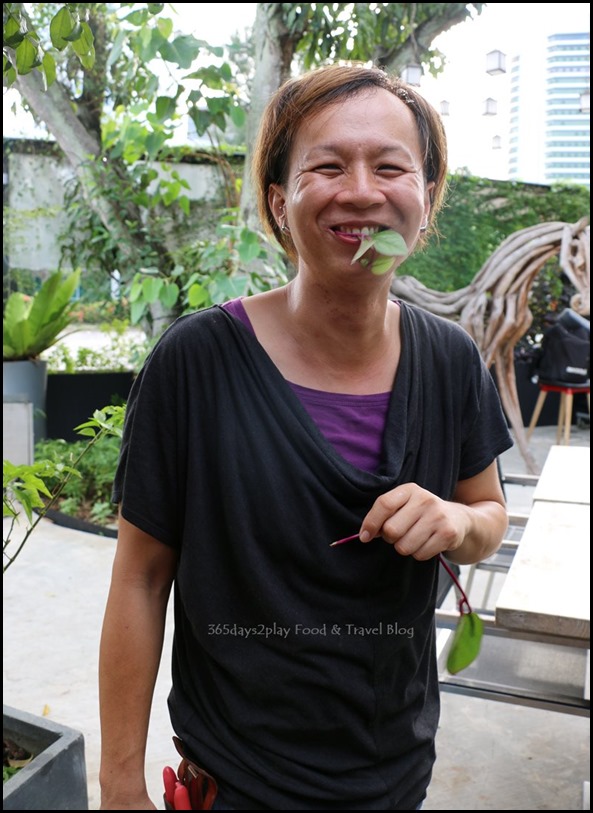 He is quite a character! As he went round showing us the various plants, he helped himself to the plants as well, and so did we after an initial period of apprehension. Hedrick is going to open his own farm and onsite restaurant in Brisbane in the future.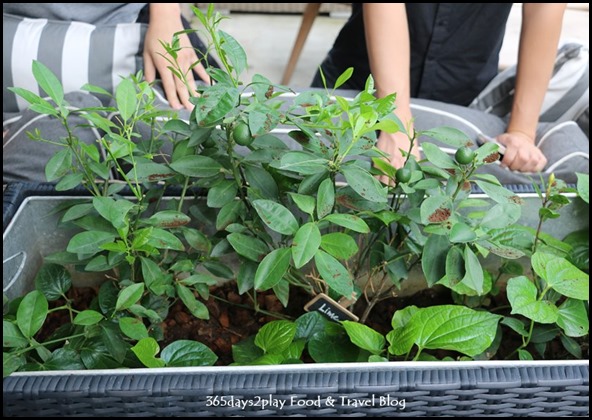 Lime plants here, which you can stretch out to pluck and squeeze into your drink should you wish. Sounds just like a story out of The Faraway Tree!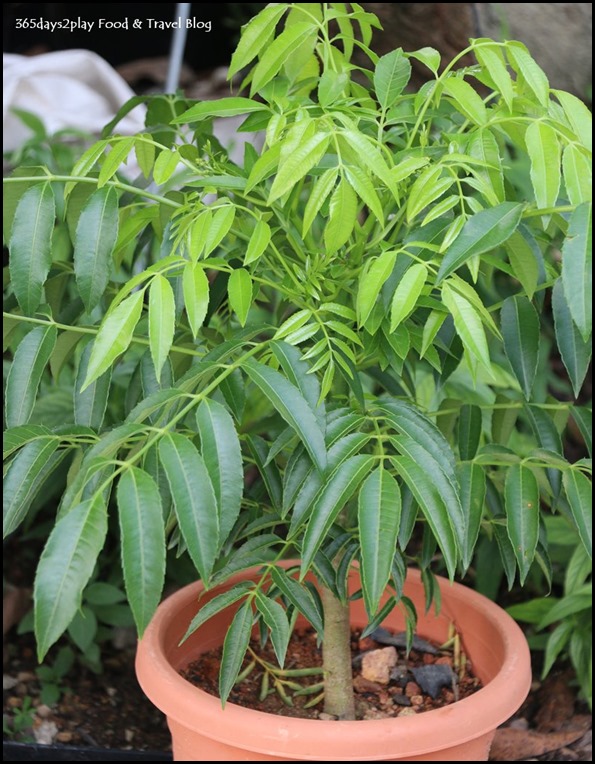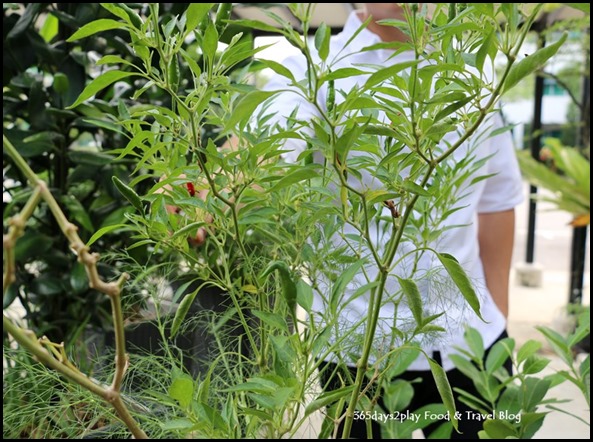 Chilli Plant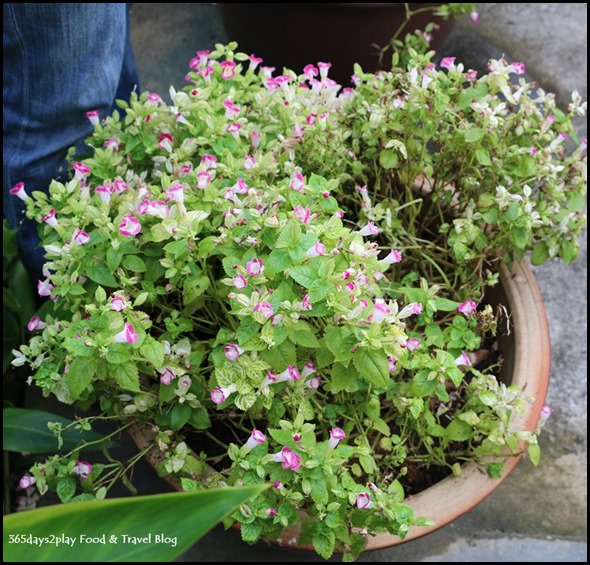 Recognise the flowers? They were used in the deconstructed Blackforest Cake!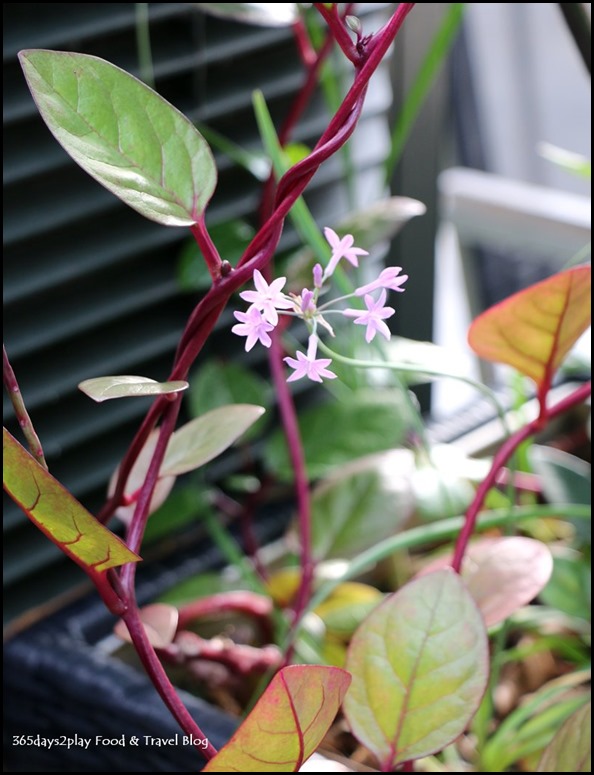 Another picture of Chef Nixon Low, who has worked in quite a number of establishments : The Scarlet Hotel, Shangri-La Hotel, Sque, Restaurant Andre, Saint Pierre, Crescendas Hospitality Management, Petite Menu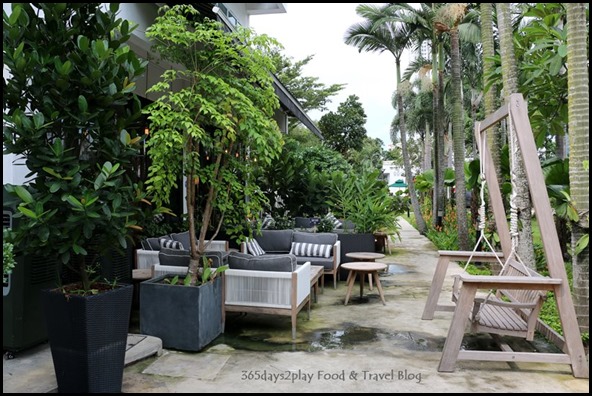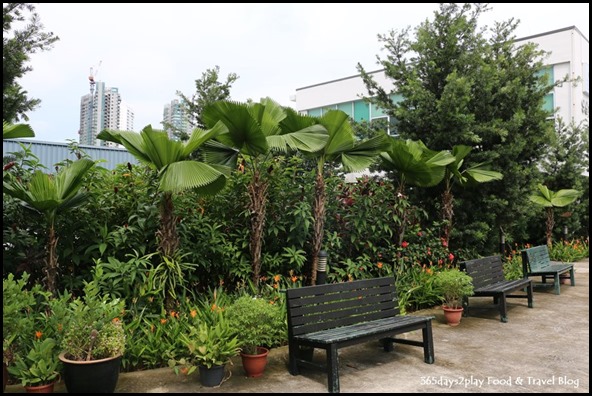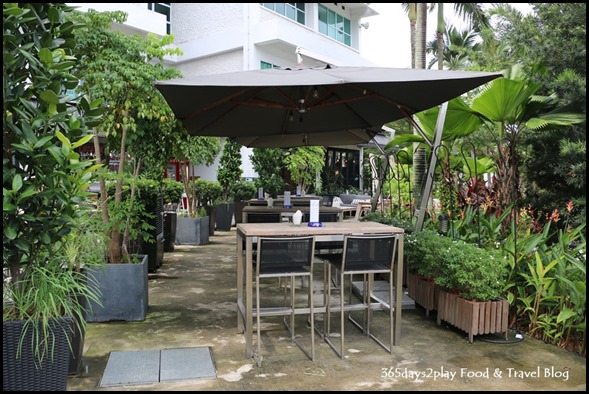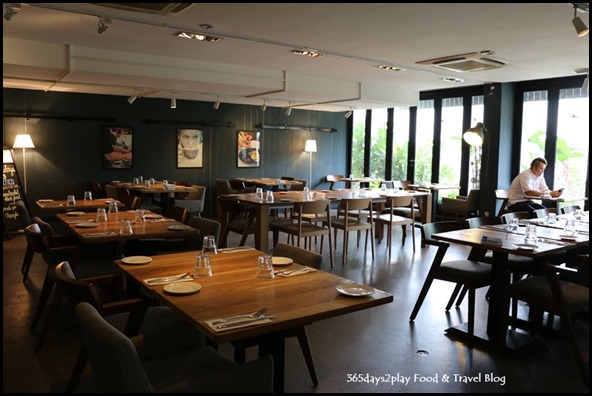 Two activities will be carried out each Saturday at Portico. To find out exactly which, visit the Portico Facebook.
---
Add me on Facebook, Instagram and Twitter if you want to be kept up to date with the latest happenings in the food and lifestyle scene in Singapore!
---
Portico
991B Alexandra Road #01-10, Singapore 119970
Tel: 6276 7337
Monday — Saturday
Lunch :
11:30am — 3:00pm
Last Order at 2:30pm
Dinner
05:30pm — 11:30pm
Food Last Order at 10:30pm
Drinks Last Order at 11.30pm
Closed on Sunday