I have stepped into Raffles Arcade countless times, but not so the actual interiors of the illustrious Raffles Hotel. So it was without hesitation that I accepted an invitation to check out the Tiffin Room at Raffles Hotel. The Tiffin Room serves a North Indian buffet, including vegetarian curries for non-meat eaters. Interestingly, Raffles Hotel's afternoon tea service is also served at the Tiffin Room and not somewhere else.  Did you know that Raffle's Hotel Tiffin Room was officially named so way back in 1976?
I'd been to Tiffin Room once with my parents, many years ago, could probably have been a decade ago! I remembered it to be a posh place with lots of delicious curries to choose from and I found it difficult to try every single curry because everything was so delicious and there was just no more space in the stomach! Well, nothing much has changed a decade later, it's like stepping back in time when I revisited the Tiffin Room a few weeks ago.
Curries and other Indian dishes are still the stronghold here, and aside from the salad and cheese bar, don't be expecting other types of cuisine here. That's not a problem for me because I love Indian food, but if you don't, I'd say go with an open mind and you might just be delighted.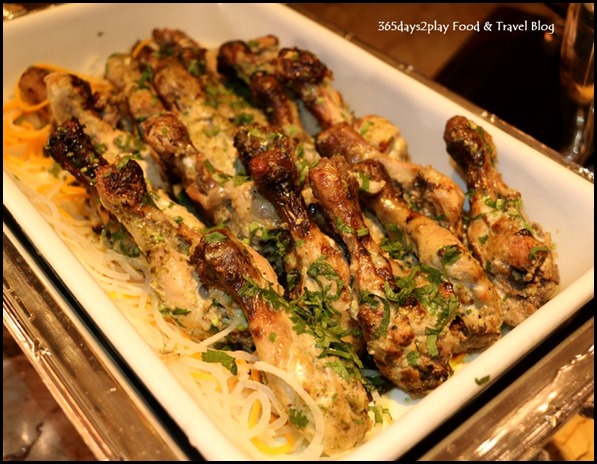 Kalmi Kebab (Tandoor Baked Boneless Chicken Flavored with Cinnamon Stick and Bay Leaf)
One of my favourite dishes of the evening as the chicken drumsticks were succulent and really tender with just a bit of charred taste.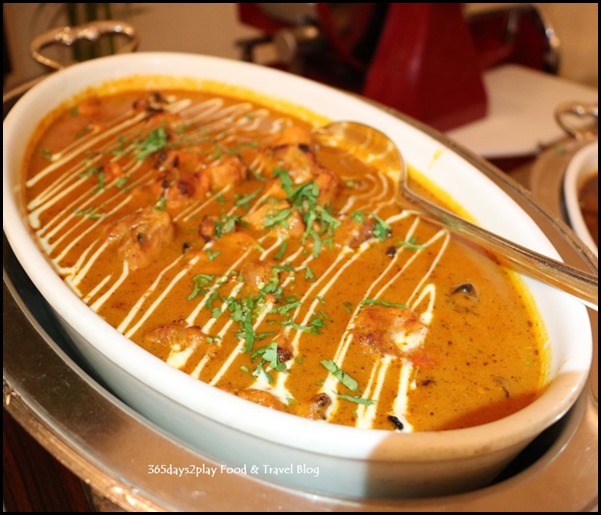 Murg Makhanwala (Butter Chicken in Smooth Tomato Sauce)
I must say all the curries I tasted were fantastic. Even if you just had the curry itself without the ingredients, I could have finished half a plate of rice just with that.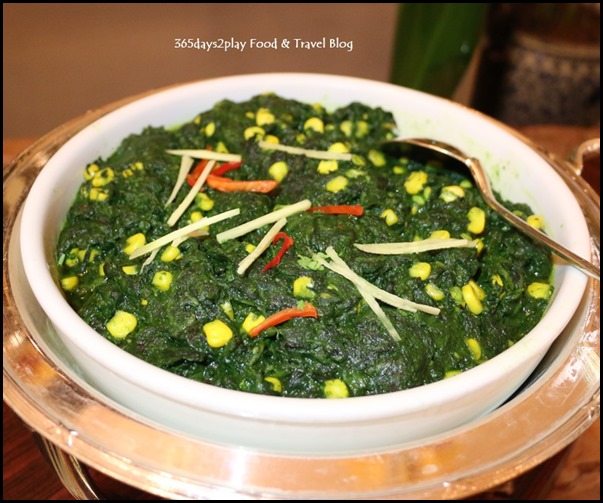 Makai Palak
This is spinach cooked with garlic, onions and corn. May not be the most appetising looking thing, but it sure packs a punch in terms of nutrients like iron and folic acid!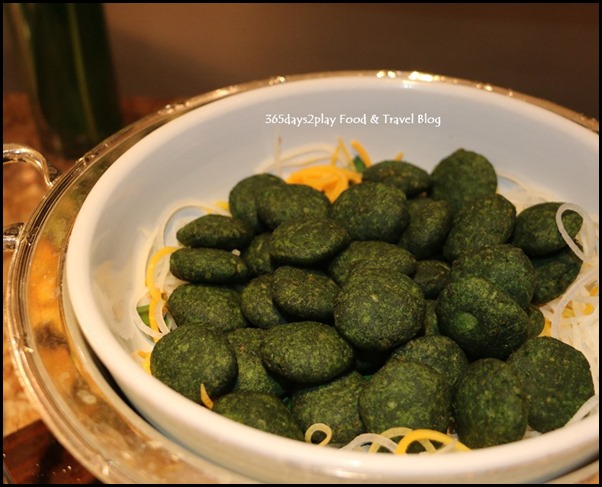 Palak Ki Tikki (Deep Fried Spinach Patties with spices)
Tiffin Room Curries
Like I said, all the curries I tried were great. If I had to choose my favourite, I would go with the purple one at the bottom right. It's actually Dal Makhani ie black lentils cooked overnight with tomatoes, butter and cream. I didn't take any during my first round because it was purplish and didn't resemble anything I'd seen before, but someone told me that it was fantastic. And fantastic it was, if I could just have 1 bowl of that with just rice, I'd be set.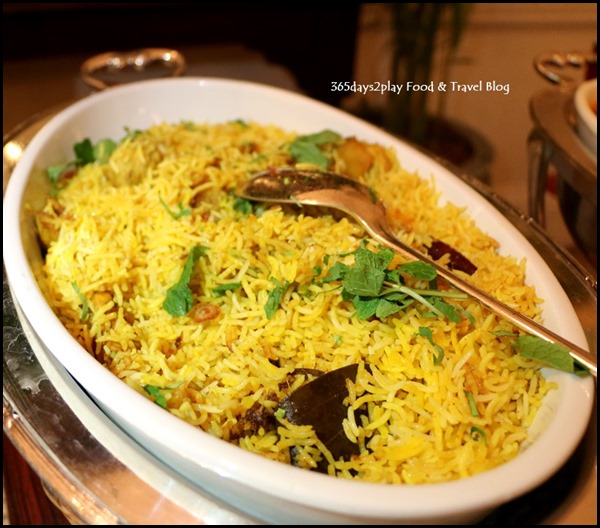 Murgh Dum Biryani (Basmati Rice Cooked with Chicken, Mint, Yoghurt, Onions and Rose Water in a Sealed Pot)
Pile on the curries onto a beautiful plate of this fluffy briyani.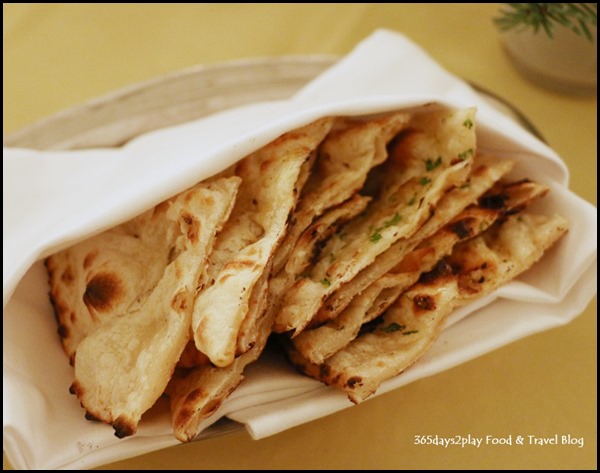 Cheese Naan
The wait staff will come along with the piping hot naans so just wait for it.
They also serve a couple of freshly made dishes to your table too. When I was there, it was button mushrooms with cheese, minced lamb curry with green peas, and whole lamb leg. The button mushrooms were SO GOOD I ordered seconds.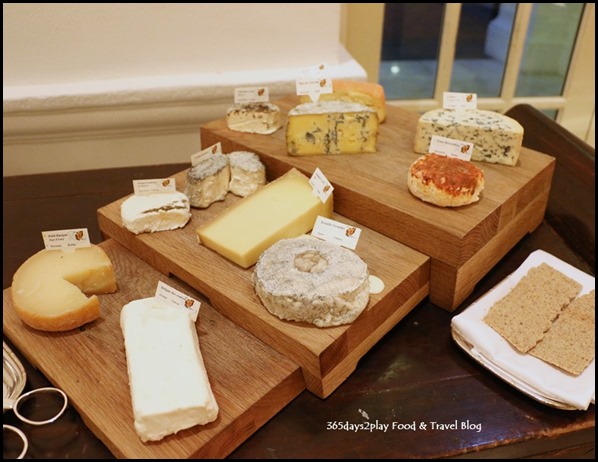 Few people touched the cheese bar because you're just too full from the curries!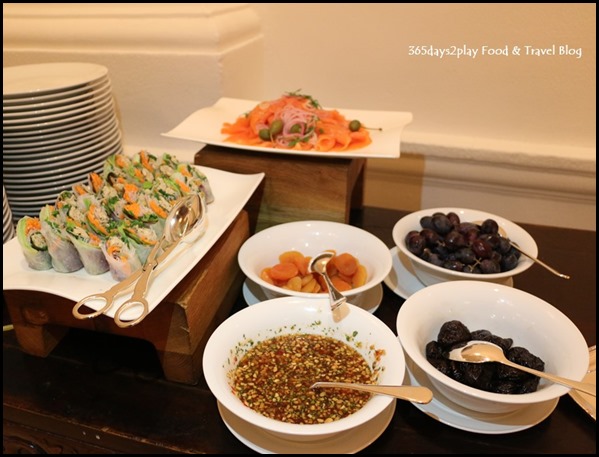 Salad bar 1
Salad bar 2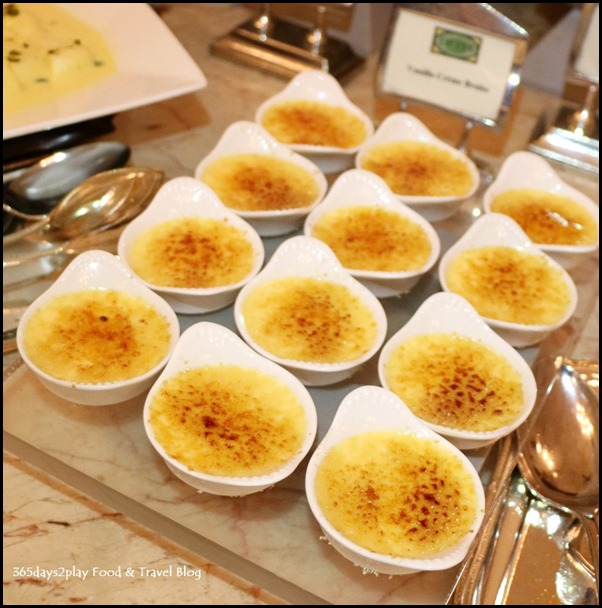 For desserts, most are Indian desserts but there are a couple of familiar Western favourites such as this creme brulee. I enjoyed the one I had as the ratio of burnt sugar to custard was generous!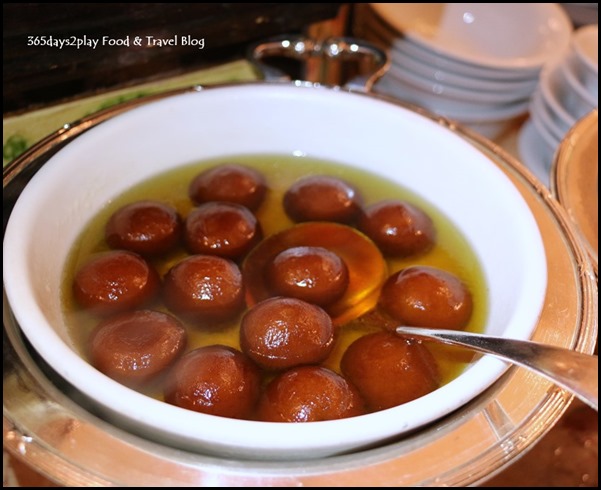 Gulab Jamun (Fried Milk Dumpling with Saffron Sugar Syrup)
My favourite Indian dessert of all time, not that I've tried many Indian desserts, but I can never resist having this if it's on the menu. I love how the milky taste of the dumplings go together with the sweet saffron syrup. Other establishments add pistachios as well. But be warned, do not have more than 2 or 3 of these, because it's really so sweet you will start to feel sick after you've eaten too many, and by that time it would be too late. Two is the sweet spot for me.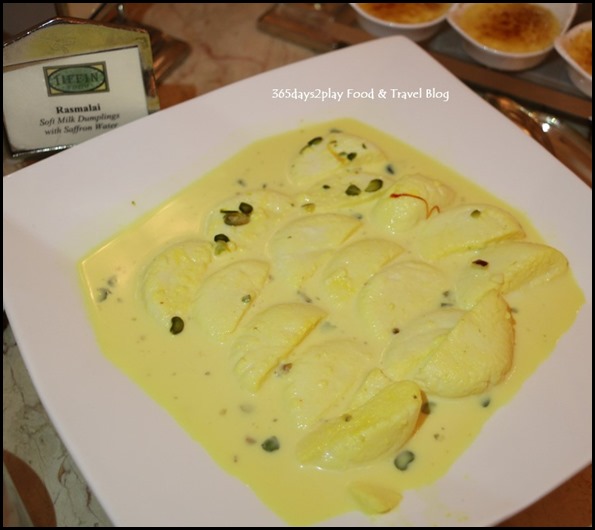 Rasmalai (Soft Milk Dumplings with Saffron Water)
I also tried the Rasmalai for the 1st time, which is non-fried dumplings. I thought I would like it because it's just a non fried version of Gulab Jamun I suppose? But something in the saffron water disagreed with me.
They also had numerous other Indian desserts such as Chukundar Ka Halwa (Beetroot Cooked with Sugar and Butter), Kesar Phirni (Mango Cooked with Rice and Milk) and homestyle Indian ice cream. But I was just toooooo full to check those out.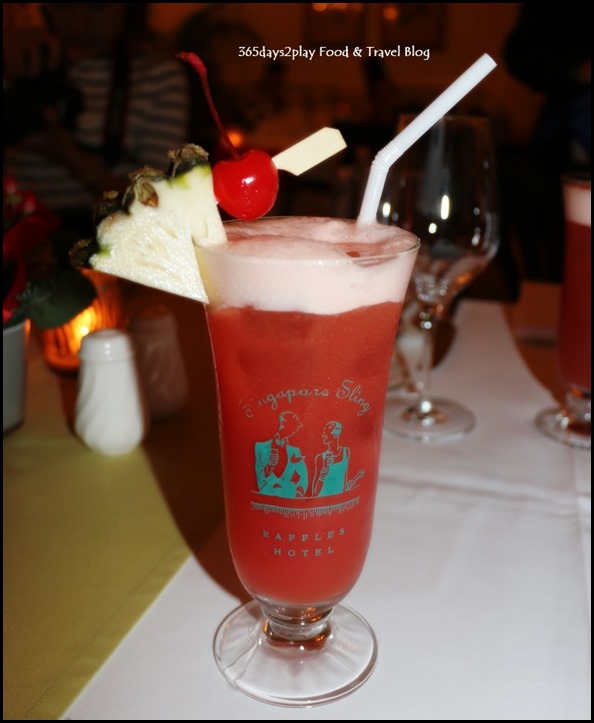 And of course, when at Raffles Hotel, one must have the Singapore Sling! It was my 1st time trying it, and they had to make a non-alcoholic version for me. Very nice I must say, with a very strong pineapple taste despite the reddish hue. Have got to try the alcoholic version next time when I am able to.
---
Add me on Facebook, Instagram and Twitter if you want to be kept up to date with the latest happenings in the food and lifestyle scene in Singapore!
---
Raffles Hotel Singapore (Tiffin Room)
1 Beach Road Singapore, Singapore 189673
Tel: +65 6412 1180
Breakfast: 6.30 — 10.30AM
Lunch: 12 — 2PM
Afternoon Tea: 3 — 5.30PM
Dinner: 7 — 10PM
Dress Code: Smart casual; pool attire is not permitted; gentlemen should be in collared shirts, long trousers and close-toed shoes
singapore@raffles.com