Frequent visitors to Suntec City over the last decade or so would probably have remembered its rooftop garden, good for taking a respite after hours of toting heavy shopping bags, and a vantage point for viewing the Fountain of Wealth, but nothing more. Well the rooftop garden has undergone a massive makeover to become the Suntec City Sky Garden, boasting numerous spacious new restaurants featuring roof to floor glass walls. It feels as if you're dining al-fresco, but in the comfort of air-conditioning.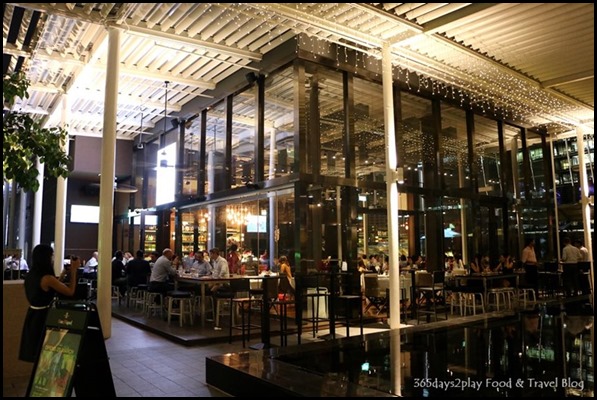 I had the opportunity to dine at Dallas Restaurant & Bar a couple of weeks back. The restaurant is housed in an exquisite glass house-style design and is next to an eye-catching shimmering pool feature. An impressive island bar takes centre stage with its gleaming black marble top, ceiling to floor bottle display and slick leather high-chairs.
With a name like Dallas Restaurant, and having already perused the menu prior to arriving, I was expecting a casual, laid-back restaurant and as a result, I walked right past the restaurant! It is the sort of decor you would expect of a restaurant where you would not be ashamed to wine and dine your business clients. Or to have a romantic and quiet time with your other half.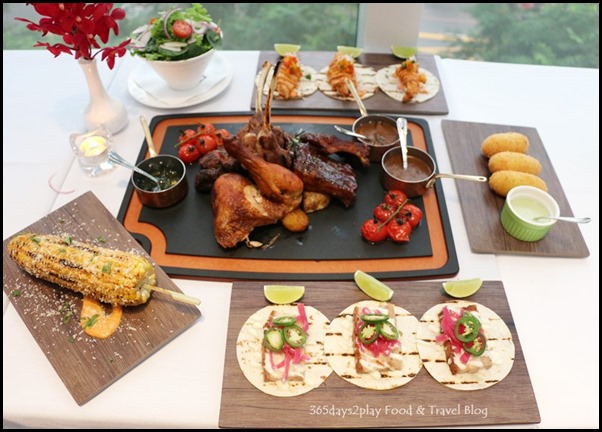 And the best part is, the prices are that of a casual restaurant! Burgers and sandwiches cost about $25 while main courses such as the Roasted Crispy Chicken cost $26 and BBQ barramundi cost $30. Guys, if you're looking for a posh looking but affordable place to impress your girl, Dallas Restaurant & Bar would be a good choice, just don't show her the menu prices!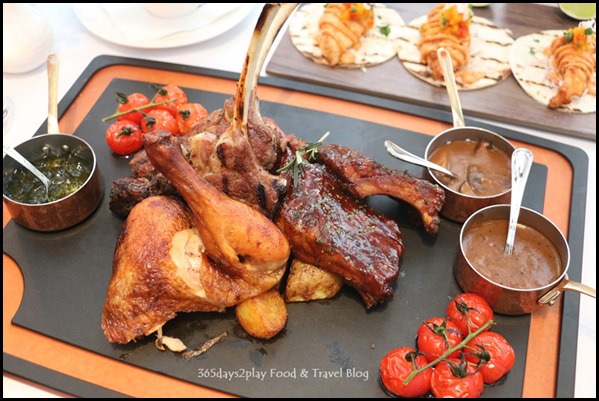 Dallas Meat Platter ($70 for 2 pax/ $130 for 4 pax) comprising:
Grilled Australian lamb cutlets

Pork Ribs — 4 / 8 ribs

Rotisserie chicken — Quarter / Half

Prime Rib Steak — 250gm / 300gm (yes it's just 50gm more)
The crowd pleaser has got to be the Dallas Meat Platter, comprising of Grilled Australian lamb cutlets, Pork Ribs, Rotisserie Chicken and Prime Rib Steak. While the prime rib steak tasted great, my favourite for the evening was the pork ribs, which were marinated in a fiery BBQ sauce before being slow cooked for 2 hours.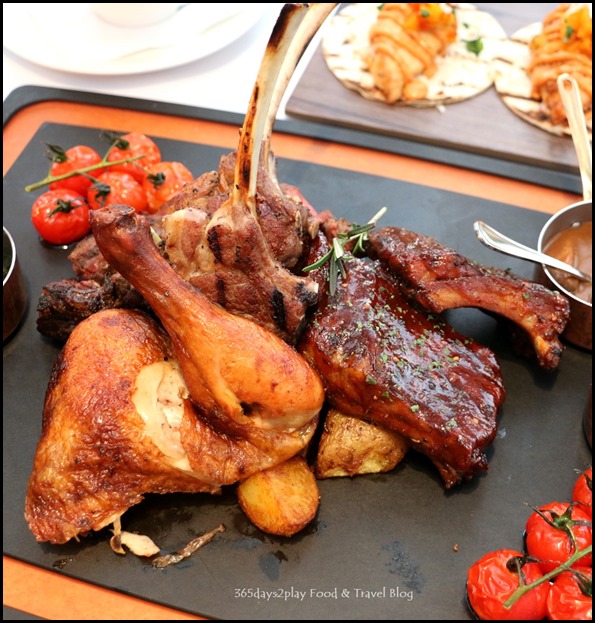 Closer look at the meat platter
You can also get the Prime Rib Steak on its own at $40. The Prime Rib Steak is 100-day grain fed Australian beef, which is slow roasted for 15 hours, with the sliced portions finished on the grill. Amazingly, on weekends, you  can enjoy FREE-FLOW Prime Rib Steak for only $35 per person! It costs less on the weekend and for free-flow??????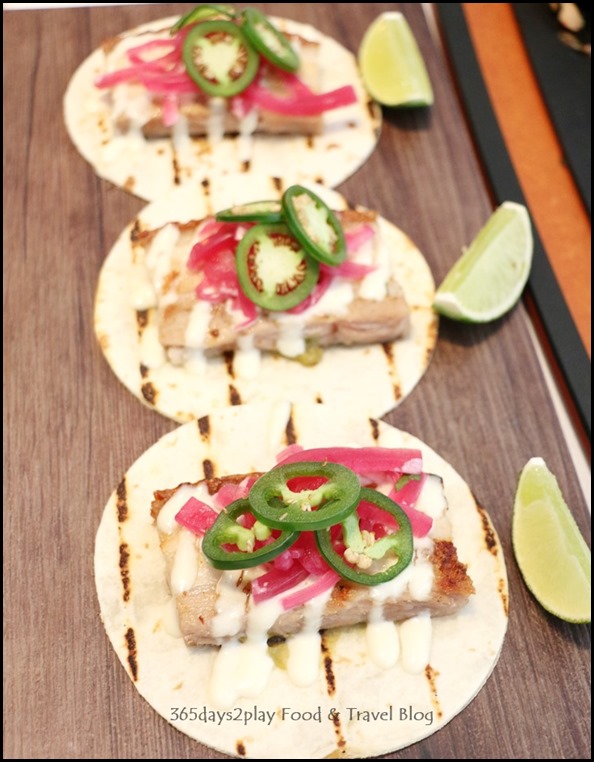 Their light bites are not bad too. Above was the crispy pork belly tacos on mini flour tortilla with guacamole spread and drizzled with aioli. $14 for 3 pieces or $5 per piece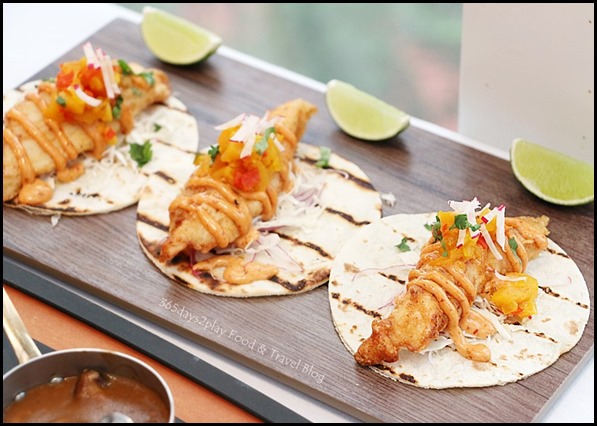 Snapper fish tacos at $22 for 3 pieces, comprising deep-fried snapper with slivers of onions and cabbage and pineapple chutney, finished off with Chipotle mayonnaise and strips of baby radish.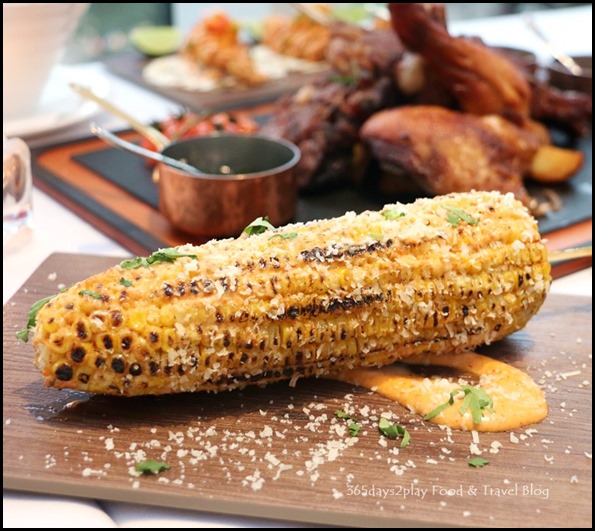 Corn on the cob simply grilled and topped off with chipotle mayonnaise and Parmesan cheese, only $6.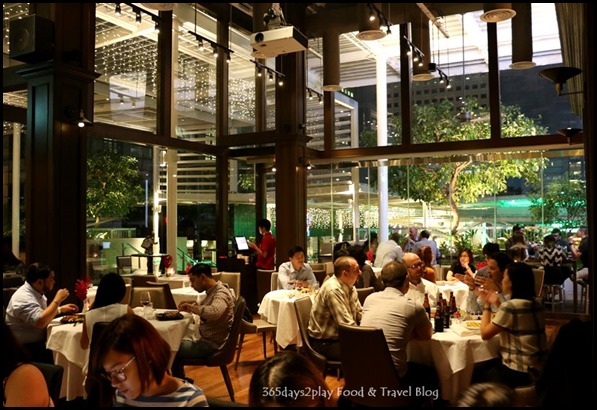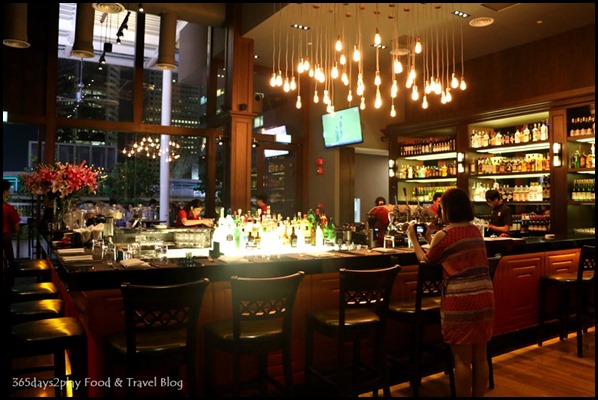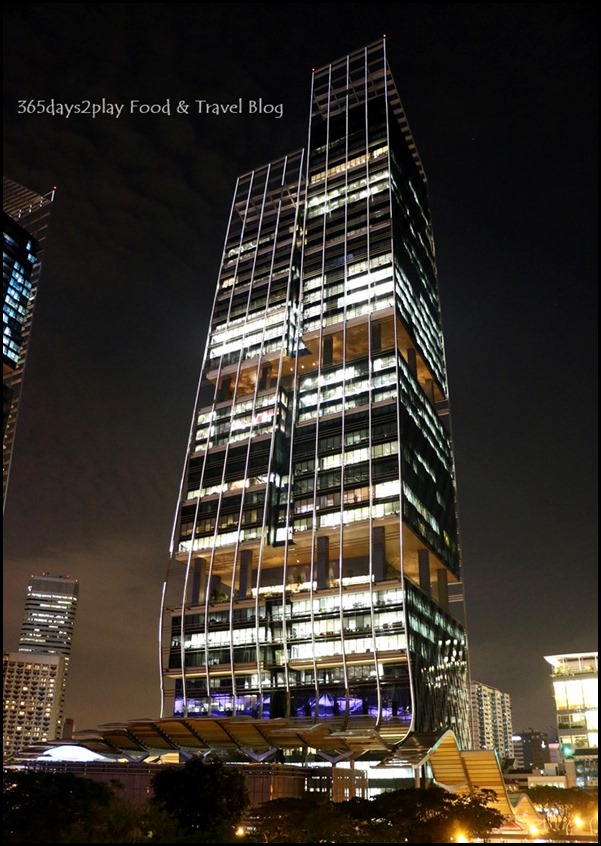 And here's a picture of the recently completed South Beach luxury hotel and offices, taken from outside the Dallas Restaurant and Bar.
---
Add me on Facebook, Instagram and Twitter if you want to be kept up to date with the latest happenings in the food and lifestyle scene in Singapore!
What to eat at Suntec City
---
Dallas Restaurant & Bar (Suntec Sky Garden)
3 Temasek Boulevard, #03-302/303, Suntec City Sky Garden, Singapore 038983 (between Tower 1 and 5, take the long outdoor escalator up)
Tel : 6333 4068
Opening Hours : Monday — Wednesday & Saturday : 11.30am — 12am ; Thursday & Friday : 11.30am — 1am ; Sunday : 11.30am — 11pm
Email : sales@dallas.sg
Website : www.dallas.sg