After reading good reviews about Le Binchotan, I was excited to be able to get the opportunity to check out Le Binchotan a couple of weeks back. Le Binchotan is a French-Japanese tapas bar and restaurant, helmed by Chef Atsuhiko Hagiwara from Ginza Tokyo restaurant en.terrible, together with Singapore Head Chef Jeremmy Chiam. At first glance, the dishes appear to be predominantly French/Western, but you soon realise where the Japanese bit is : Japanese ingredients like uni, daikon and miso being infused into the dishes.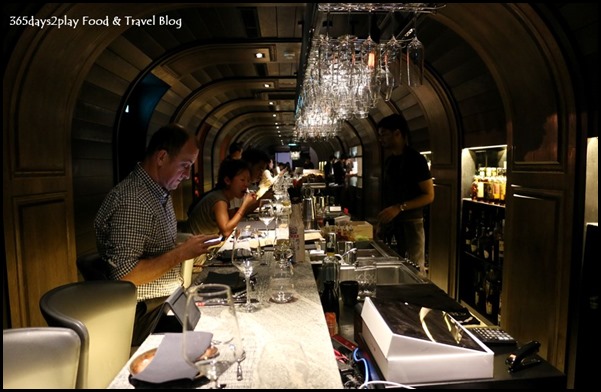 The selling point about Le Binchotan is that their meats and seafood are smoked over bincho-tan (aka white charcoal made from oak). Done well, this imparts to the food a nice smoky flavour, elevating the food to a different dimension. Bincho-tan is the preferred choice of Japanese chefs as the charcoal burns at a lower temperature for a longer period of time compared to ordinary charcoal.  I read that some people find the smoky flavour at Le Binchotan to be on the heavy side, however I on the other hand thought it was hardly noticeable. What impressed me though were the innovative dishes, surprising us with ingredient parings that you don't normally see together, or presenting the ingredients in a new way.
The focus is on taste, so some dishes were the proverbial ugly duckling, turning into swans when we tasted them. One such dish was the Foie Gras dish comprising shaven Foie Gras with dashi gelee. Frankly speaking I did not even know the shaven bits were foie gras and avoided them, only to wonder why the dashi gelee tasted so bland. It was upon accidentally blending the two that I found the magic.
The skewered meats that I tried were good, but it was the two meats under the mains category that left me wanting to return again a second time. The Iberico Pork Jowl that had been sous-vide for 16 hours before being grilled was so tender that you didn't need a fork to eat it. The Angus Short Rib was also very tender and had a nice tangy sauce to it that help to cut through the fattiness of the meat.
As most of the dishes don't come with starch (or very little of it), I also enjoyed the prawn capellini alot. It was a little on the oily side but the saltiness from the bottarga (Italian cured fish roe) made the al dente pasta quite addictive.
Interestingly, despite being a chocolate lover, I actually preferred the Coconut dessert to the chocolate cake, though I was the only one at the table to think so. I found the coconut dessert to be refreshing and creamy. The chocolate cake was not sweet enough for me, and intensely fudgey without some sponge to give some body. But if you want to know how a smoked dessert tastes like, this would be it!
All in all, very tasty food, even if the smoked flavours were a little muted to me.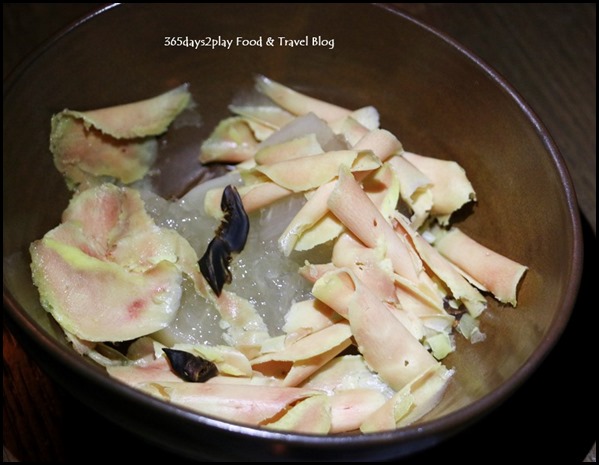 Foie Gras (Shaven Foie Gras, Daikon, Dashi Gelee, Shitake) $21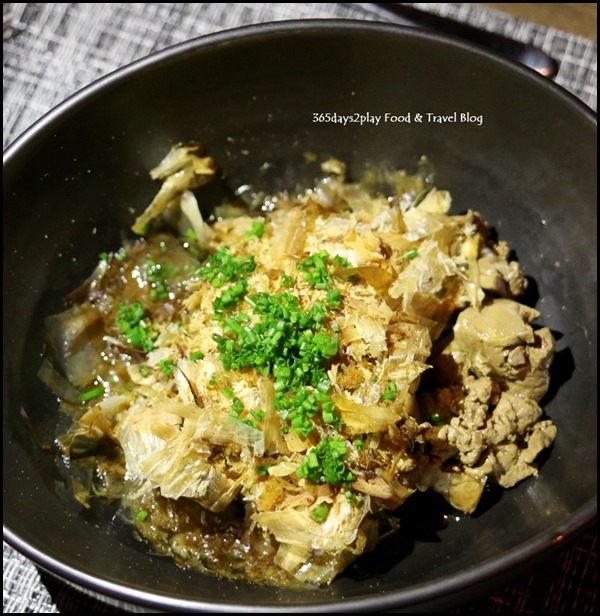 Chicken Liver (Bonito, Ponzu Dressing, Shallots, Chives) $15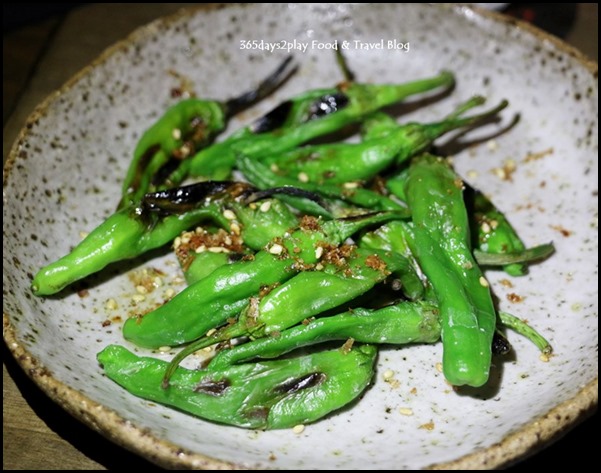 Shishito (Bonito, Sea Salt) $9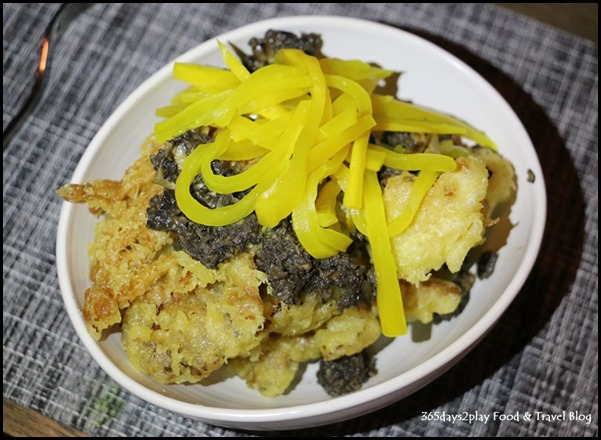 Tenkasu (Deep-fried Enoki, Mushroom Ragout, Pickled Daikon) $15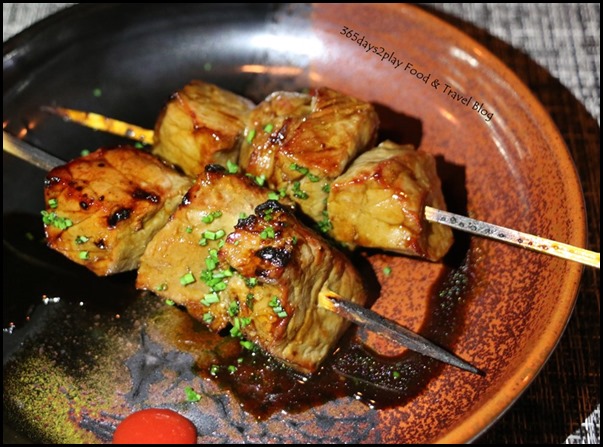 Wagyu Striploin (Ume, Porto Reduction) $15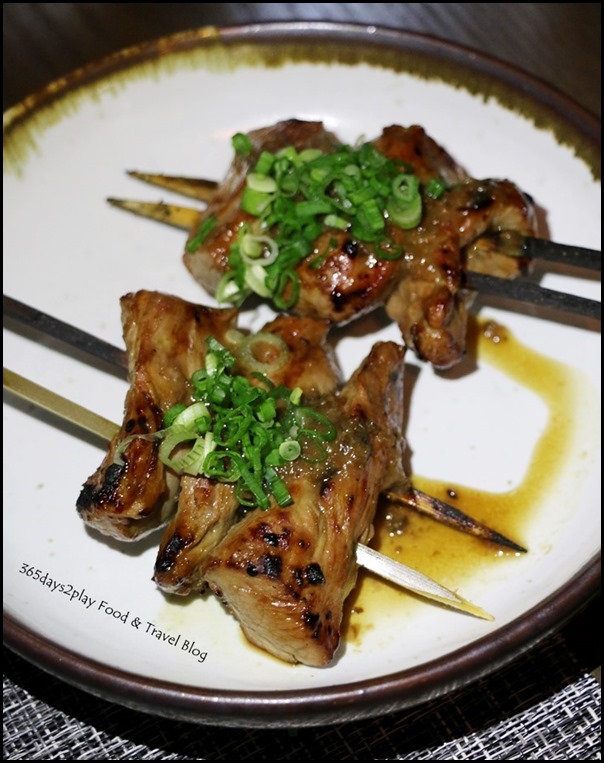 Lamb (Miso, Tapenade) $13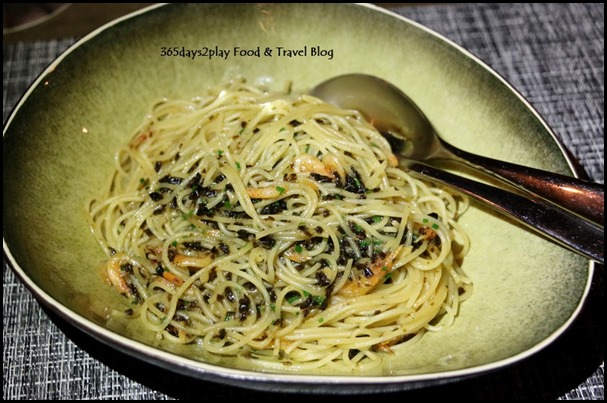 Prawn Capellini (Prawn Dumplings, Bottarga) $29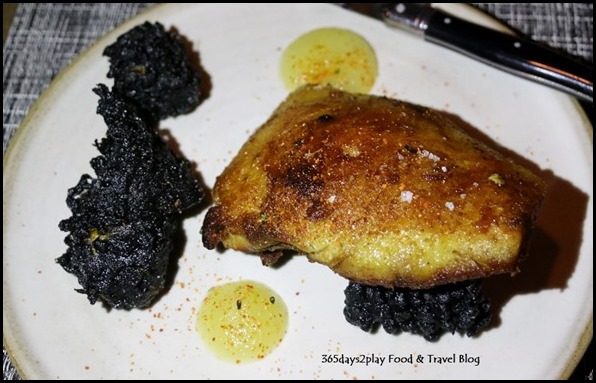 Iberico Pork Jowl (Katsu Curry, Green Apple, Charcoal Pumpkin) $35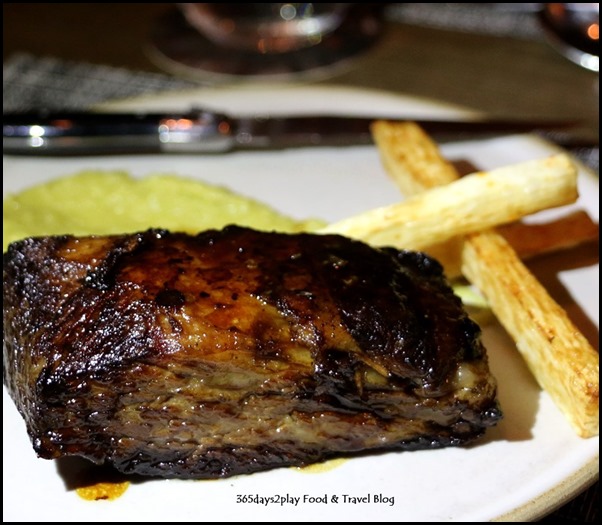 Angus Short Rib (Leek, Nagaimo, Kurosu Jus) $39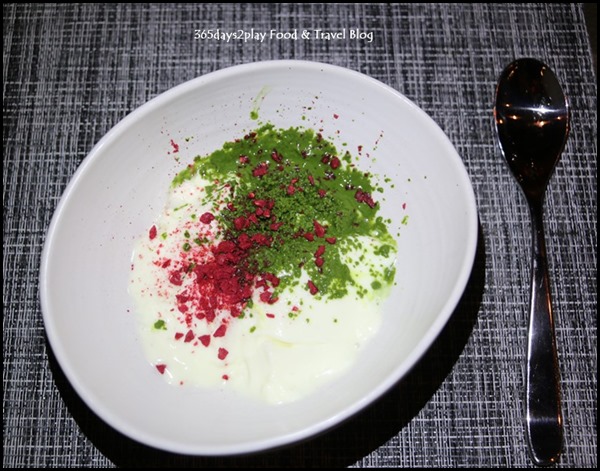 Coconut (Cremeux, Matcha, Raspberry Bits) $15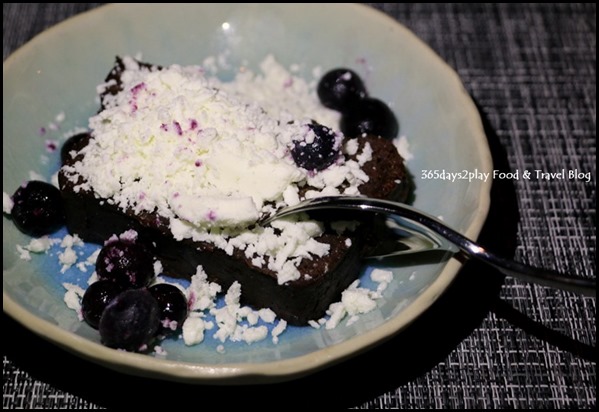 Smoked Chocolate (Frozen Blueberry, Yogurt) $15
The restaurant is tiny and can only seat about 38 in total! The main dining area would be the bar counter (see 1st picture), and this picture shows the private dining area that can seat about 12. Not for the claustrophobic…
---
Add me on Facebook, Instagram and Twitter if you want to be kept up to date with the latest happenings in the food and lifestyle scene in Singapore!
---
Le Binchotan
115 Amoy Street #01-04 (Entrance from Gemmill Lane. If you see Bochinche, you are nearly there, just turn right and go around to the back of the building)
Open Monday — Saturday:
Lunch: 11.30am — 3.00pm
Dinner: 6.00pm — 11.00pm
Drinks: 10.30pm — 12.00am (only bar snacks and drinks will be served)
Tel : 6221 6065
Email : reservations.binchotan@gmail.com
https://www.facebook.com/lebinchotan/