I had a quick lunch today at the recently opened Yuba Hut. Yuba Hut is a Japanese casual eatery at Heartland Mall next to Kovan MRT that specialises in makis and donburis. When I think of makis slathered in lots and lots of sauce, I think of the popular Koh Grill at Wisma which always has a long queue. Yuba Hut offers such makis too, and the best part is you won't have to queue an hour for them.
There are 5 different makis to choose from in Yuba Hut's menu
Cream Cheese Mentaiko Salmon (4psc $9.90 / 8 pcs $16.90)
Champion Floss Maki (4psc $9.90 / 8 pcs $16.90)
Taiyou Century Egg Maki (4psc $9.90 / 8 pcs $16.90)
Salmon Aburi Maki (4pcs $8.90 / 8 pcs $15.90)
Samurai Unagi Aburi Maki (4pcs $8.90 / 8 pcs $15.90)
We tried the 1st 3. I am told that the Champion Floss Maki is the most popular order and it's not hard to tell why. The sweet salty sauce tastes like a combination of teriyaki and mayonnaise, and it kind of reminded me of Okonomiyaki. I also liked the Cream Cheese Mentaiko very much. My dining companions said the sauce was too jelak/cloying, but I loved it! Loved the salty combination of cream, cheese and mentaiko on top of the seared salmon! Apparently there was unagi encased within one of the makis, but it got lost in all that sauce. But I say, when enjoying such "messy makis", the enjoyment is in the "in your face" flavours, and it's not the time to nit-pick on subtle flavours. Didn't like the Century Egg Maki though, the sauce needed some getting used to.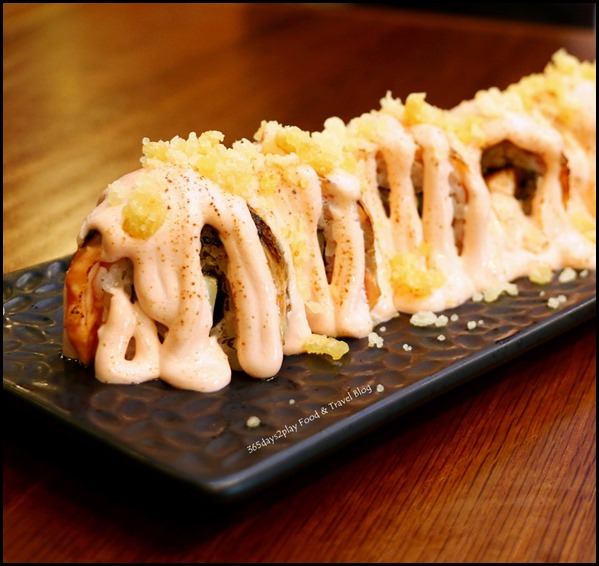 Cream Cheese Mentaiko Salmon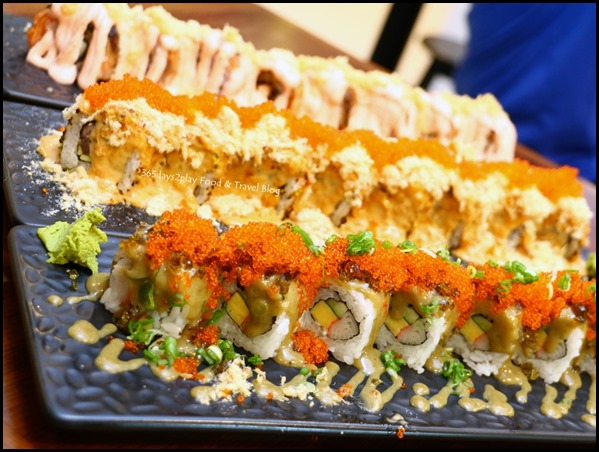 Taiyou Century Egg Maki in the front and Champion Floss Maki in the middle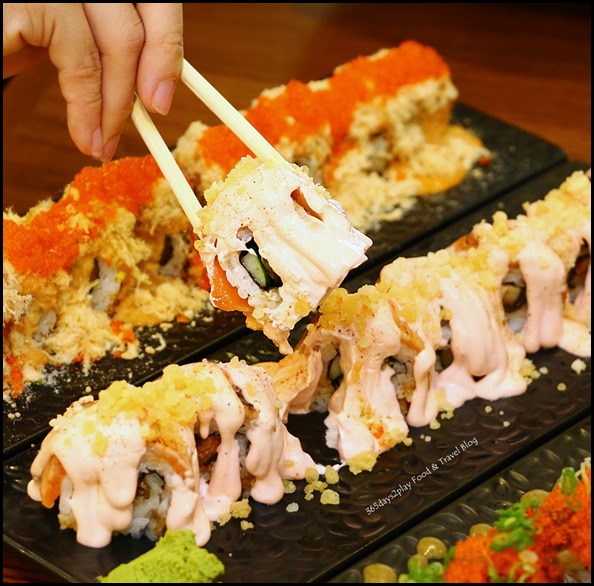 Here's another photo for good measure.
If you don't want to deal with messy makis, you can consider the aburi donburis, aka seared salmon rice bowls. We tried the Salmon Aburi Don $14.90 and the Spicy Salmon Aburi Don $15.90. Personally, I liked the spicy salmon version as I liked the spicy sauce. Also, I like my salmon less cooked, and since they were in cube form and thus thicker, they were less cooked. If you want a light neutral flavour, go for the Salmon Aburi, where the salmon is in slices and not drenched in sauce.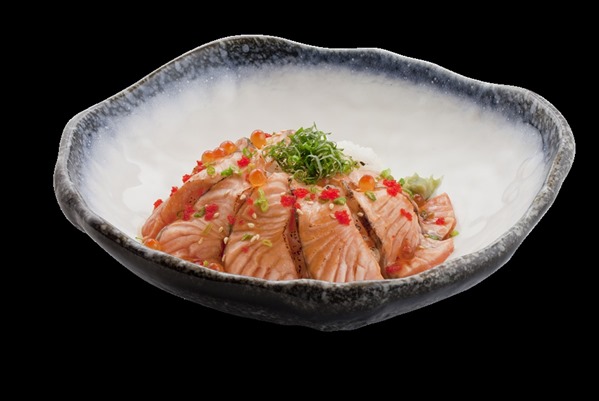 Salmon Aburi Don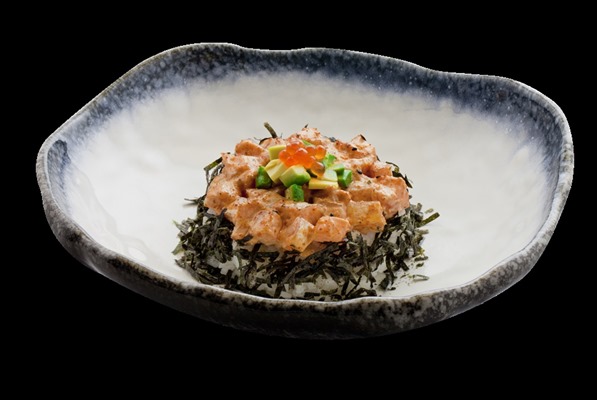 Spicy Salmon Aburi Don
Yuba Hut also serves other stuff like sashimi and other rice bowls. So if you're craving for Japanese food, especially makis, you know that you don't have to go to town to have your cravings satisfied. The pricing is pretty reasonable too, all prices quoted are nett. Do note though that this is a fast casual eatery so seating is pretty spartan, think wooden stools.
Here's a picture of Yuba Hut's menu if you need it.

---
Add me on Facebook, Instagram and Twitter if you want to be kept up to date with the latest happenings in the food and lifestyle scene in Singapore!
---
Yuba Hut
01-19/20 Heartland Mall, Block 205 Hougang Street 21 Singapore 530205
11am to 10pm daily
They also have another outlet at Hillion Mall