[Media Invite]
One restaurant I am happy to recommend is this neighbourhood restaurant called Gao Peng Cuisine located in White Sands Mall at Pasir Ris, which I have been frequenting for the past 1 year whenever I visit the Pasir Ris Library or take Baby Edward for enrichment classes. I love the dim sum here, especially this dough fritter wrapped in cheong fun dish, which is only available until 5pm.
Gao Peng Cuisine also has another outlet at Junction 9 in Yishun. In fact, Gao Peng is owned by Gao Ji Food, which also owns House of Roasted Duck in Bugis Village and Sultan Plaza. Apparently, Gao Ji Food was started all the way back in 1954 when founder Mr Chong Seng Tong plied the streets of Chinatown with his wife on foot selling Hakka Yong Tow Foo. You know the famous Koo Kee Yong Tow Foo, my favourite Yong Tow Foo, it's started by Mr Chong!! You can read more about Gao Ji Food here.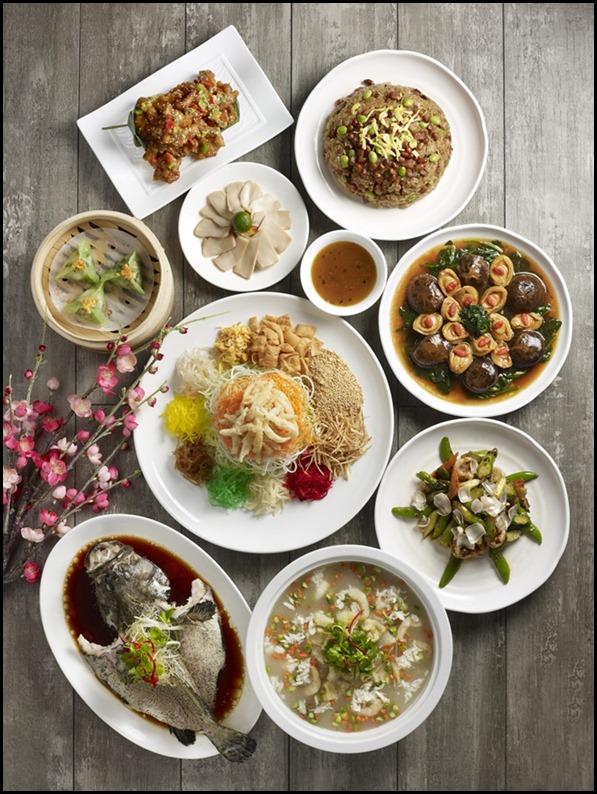 History aside, I was happy to find out that Gao Peng Cuisine will be offering a Chinese New Year menu, and I was privileged to be invited to sample the menu before hand. Scroll down for pictures of the dishes we tried. Oh if there's one thing you must order, it's the Pencai from House of Roasted Duck. Most Pencai feature seafood ingredients, but because this Pencai from House of Roasted Duck, there's roasted duck and roast pork included, which makes a refreshing change to the usual hotel pencais you see around. The roast meats also add to the flavour of the broth.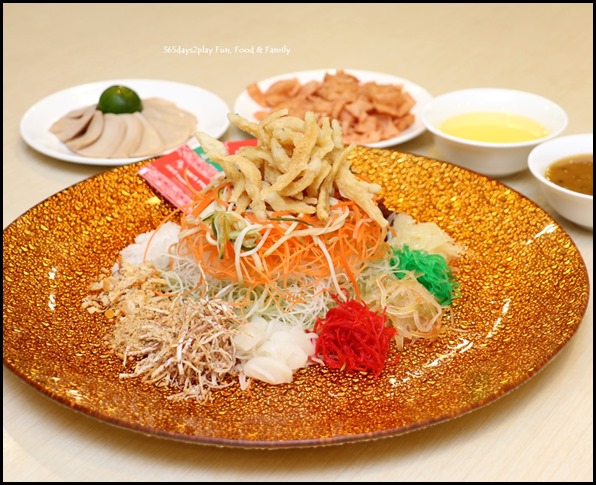 Prosperity Lo Hei with Abalone Slices & Sliver Fish in Passion Fruit Sauce ($48.80 – Small / $58.80 – Medium / $68.80 – Large)
No elaborate dog shaped yu sheng here, but it's the passion fruit sauce that will leave an impression on you instead. The sweet passion fruit sauce with no additional sugar added tastes refreshingly good and healthy, and actually works very well as a sauce for yu sheng. It doesn't taste "fake and sticky", if you know what I mean.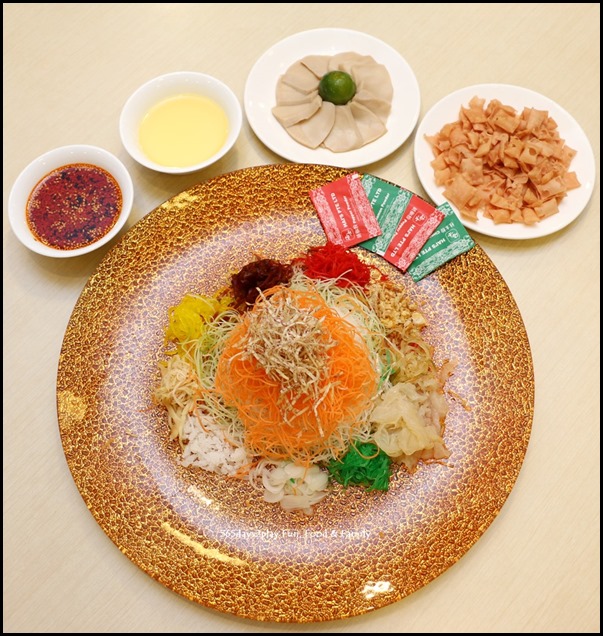 Prosperity Lo Hei with Abalone Slices (Jelly Fish & Spicy Sauce) (only at House of Roasted Duck outlets) $48.80
How about starting the new year with a spicy kick in the form of mala yu sheng? Yes that bowl of red spicy sauce is the mala sauce! Actually it's just a low level of spiciness, so you don't have to be scared of it. But it does add a zesty and savoury tone to the yu sheng, which is nice especially if you like savoury dishes.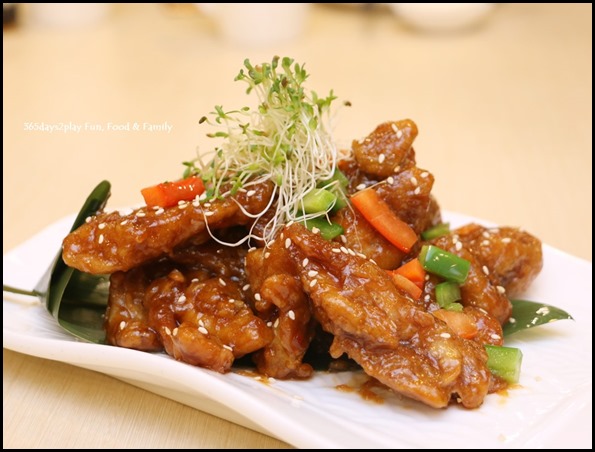 Honey Chicken in Passion Fruit Sauce $16.80
The passion fruit sauce makes an appearance again here, and that's a good thing because passion fruit is supposed to be good for you. A common dish but executed well.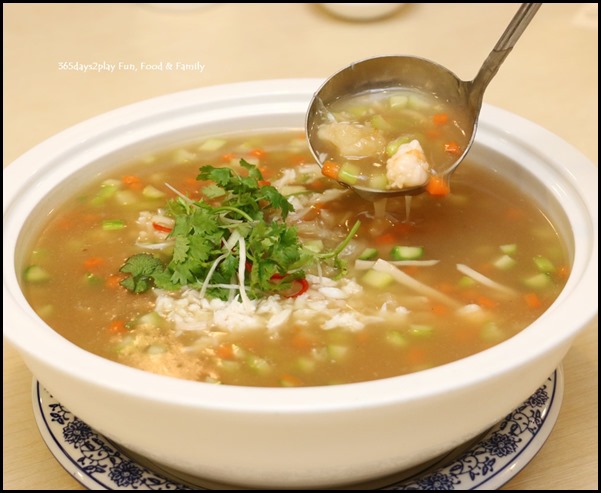 Braised Fish Maw & Seafood in Superior Broth $26.80
This photo does not seem to do full justice because actually the soup was brimming with ingredients. Fish maw, prawns, diced carrots, asparagus, bamboo pith and fried dried scallops make an appearance in this thick broth. I enjoyed chomping through the ingredients especially the bouncy fish maw.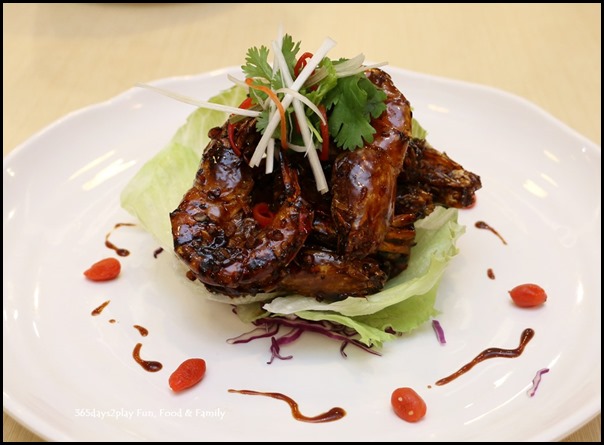 Pan-Fried Prawn with Superior Soy Sauce $22.80
Huge and fresh juicy prawns fried in superior soy sauce. It was worth getting my fingers dirty for. I have been known to avoid prawn dishes if they look like they're not worth the trouble.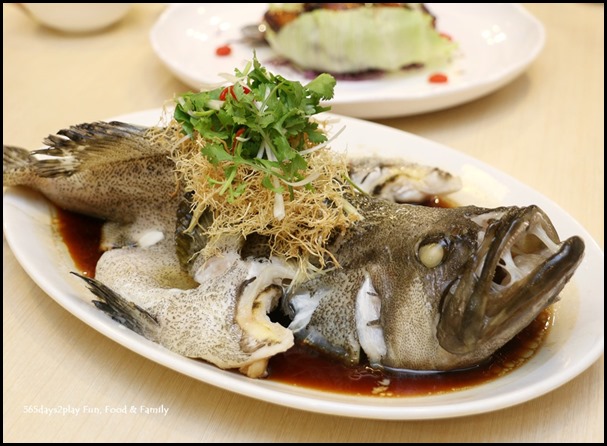 Steamed Black Pearl Garoupa with Superior Soy Sauce $43.80
I was told that Black Pearl Garoupa has only recently entered the Singapore market. If that's the case, we are in luck. As I've repeated many times in my blog, I'm very fussy with fish because it tends to taste dry to me. I'm glad to report I had TWO servings of this dish. The fish was very tender, and the soy sauce had a sweet undertone which I enjoyed. Oh and grab those fried ginger if you can, so good with the soy sauce!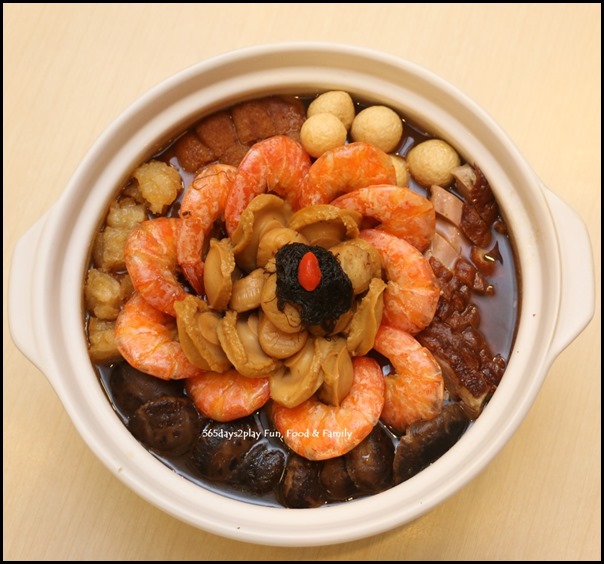 Prosperity Treasure Pot (only available at House of Roasted Duck) $268
As mentioned above, this is a pencai worth getting if you're thinking of getting one. Includes Roasted Duck, Roasted Pork, Abalone, Fish Maw, Prawn, Dried Scallop, Fatt Choy, Mushroom, Napa Cabbage, White Radish and Quail Egg. I think this is actually quite a good combination of ingredients as the roasted meats lend an extra depth of flavour to the broth. I have no problems that sea cucumber was not included because I tend to find that quite tasteless.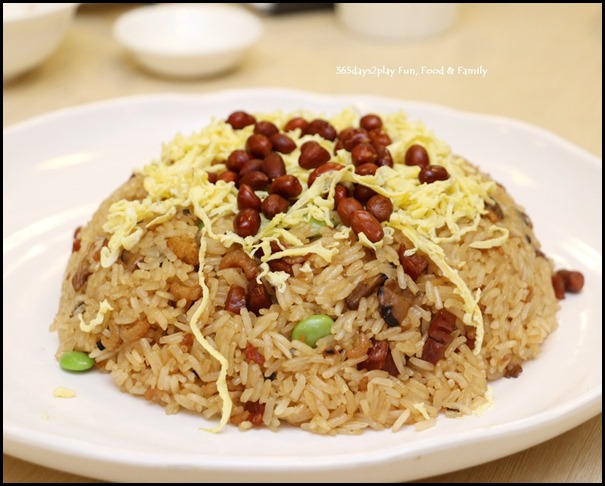 Wok-Fried Glutinous Rice with Chinese Sausage $16.80
If there's one dish that was pretty forgettable, its this rice dish. I thought it was pretty bland after all the interesting earlier dishes, even if it does contain healthy things like edamame beans.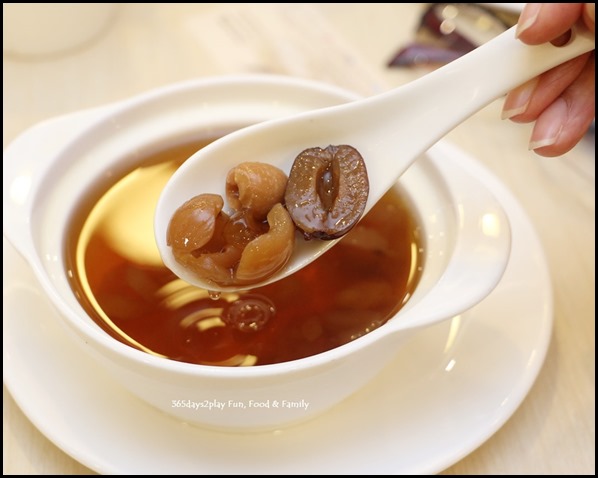 Double-boiled snow lotus seeds $8
Oh this dessert is a must order! It has been lovingly double-boiled and when you sip the soup, you will detect a certain stickiness, which is evidence that the soup has incorporated the essence and goodness of the ingredients.
Check out the Chinese New Year Menus from Gao Peng Cuisine and House of Roasted Duck here!
---
Add me on Facebook, Instagram and Twitter if you want to be kept up to date with the latest happenings in the food and lifestyle scene in Singapore!
Reviews of other Chinese New Year Menus
---
Gao Peng Cuisine (2 locations)
White Sands Mall, 1 Pasir Ris Central Street 3, #02-12/13/14, Singapore 518457
Tel: 6385 4901
Junction 9, 18 Yishun Avenue 9, #02-33, Singapore 768897
Tel: 6352 7855