By now, I'm afraid if you haven't already pre-ordered your roast turkey and festive sets, it might already be too late for Christmas. The last I checked, there were still a lot of turkeys in the frozen section, if you so wish to do the honours yourself. It's actually not that difficult, as long as you have a large enough oven. I've always wanted to roast a whole turkey myself, but each year I always end up eating out or being invited to friends' Christmas parties.
As for last minute Christmas gifts, I have a great tip for you. Forget about squeezing with the Orchard Road crowd because that will most probably drive your blood pressure up. I think supermarkets are one of the best ideas for last minute Christmas gifts. You can consider buying your last minute Christmas presents from Cold Storage, I think that would be a saner option. And I'm not lying when I say that I've done so on many occasions!
Here are my top picks of great last minute Christmas gifts from the supermarket!
Olive oils (look for the artisanal ones or olive oils infused with herbs)
Teas (You can get Gryphon Tea here too!)
Ghiradelli Hot Chocolate (a Californian brand of which I've been wanting to visit their factory!)
Cake-mix, whisk and cup cake papers (yes, quite unconventional I know, but good for girlfriends who have been swooning over pretty but overpriced cupcakes? Get them to make their own! This must surely be a unique gift idea!)
Tea biscuits
Wine (see the list of wines that Cold Storage is retailing below)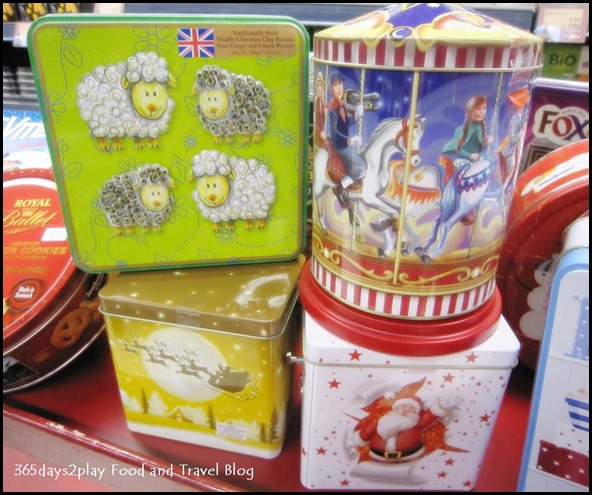 Traditionally made double chocolate chip biscuits, stem ginger and lemon biscuits
Perhaps 10 years ago, the quality of the biscuits you would get at the supermarket would be quite questionable. But nowadays, because so many people get their Christmas goodies from the supermarkets that you can't really tell that these were bought from Cold Storage.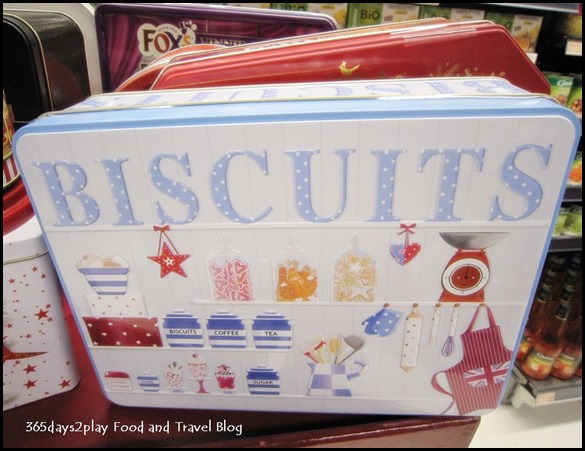 Love this biscuit tin!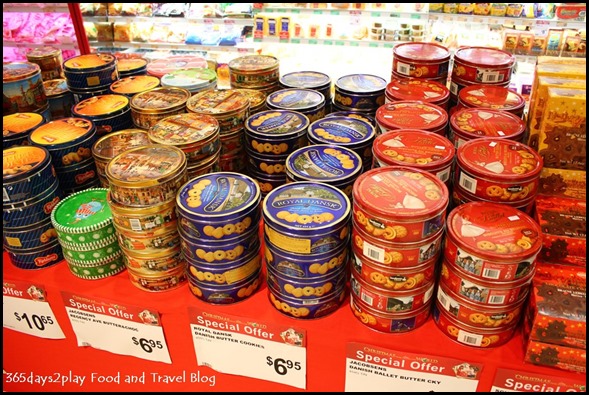 These are the more generic looking biscuit tins we are all so familiar with. But take the cookies out of the tin and lay them on your prettiest porcelain plate and bring out your best tea cups and you've got an instant after dinner party treat!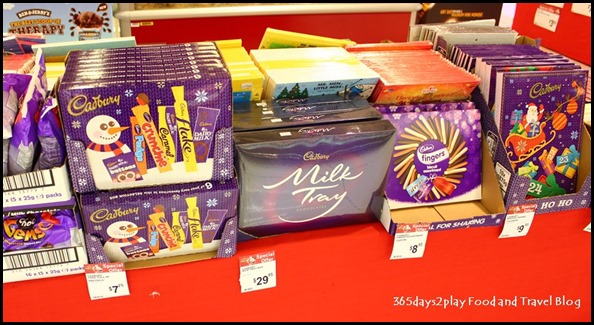 As much as people complain about receiving boring old chocolates, I happen to be one of those who prefer to receive chocolates than those darn generic bath towels!
And with cutesy cartoons on the boxes, I think the kids would love them too.
Wines are always a good option when going to friends' parties. At least you know someone will drink it, unlike more "useless" gifts like towels?
Customers can pick from over 500 international wines — priced from $25.50 to $85.00.
Here are some of the key wine selections from Cold Storage and the pricing:
– Penfolds Bin 2 Shiraz Mourvedre from Australia $55 — NEW & Exclusive
– Nederburg Manor House – Cabernet Sauvignon, Shiraz, Chardonnay from South Africa $40.90 — NEW & Exclusive
– Chateau Beauvillage AOC Medoc 2010 $27.50
– Chateau Brillette AOC Moulis en Medoc 2011 $61.00 — NEW
– Brio de Cantenac Brown Margaux 2009 $67.00 — NEW
– Chateau Lalande-Borie AOC St Julien 2010 $69.00
– First Press Napa Valley Cabernet Sauvignon $49.50 — NEW & Exclusive
– Villa Molino Amarone $85 — NEW & Exclusive
– Tiki Estates Sauvignon Blanc/ Pinot Noir Rose/ Pinot Gris from NZ — Exclusive
There are also new and exclusive bag-in-box wines and gift sets ($37.95 to $81) such
as:
– Tavernello Trebbiano Chardonnay Rubicone/ Sangiovese Rubicone — NEW &
Exclusive
– Banrock Station Semillion Chardonnay/ Cabernet Merlot
– Jacob's Creek Reserve Giftpack – Cabernet Sauvignon and Shiraz
Brown Brothers Mosato and Moscato Rosa Twinpack/ Mosato and Moscato
Rosa Sparkling Twin pack —Exclusive
– Nobilo Sauvignon Blanc & Merlot Twin pack —Exclusive
Don't miss these exclusive luxurious Champagnes Gift Packs priced from $78 to
$129.95:
– Piper Heidsieck Brut Non-Vintage Champagne Light Box
– Moet & Chandon Brut Non-Vintage Champagne with Gift Pack
– GH Mumm Cordon Rouge with Patrick Jouin Jacket
– Taittinger Brut Non-Vintage Champagne with 2 flutes
– Taittinger Rose Non-Vintage Champagne
– Bollinger Special Cuvee Brut Non-Vintage
New and Exclusive to Cold Storage are various sparkling wines priced from $28 to
$52.95:
– Paparazzi Prosecco di Valdobbiadene
– Barefoot Brut California Sparkling Wine
– Hardy's Sir James Pinot Noir Chardonnay Brut de Brut
– Tosti Moscato D'Asti
– Tosti Sparkling Pink Moscato
– Tosti Sparkling Moscato
– Tosti Asti
– Romio Prosecco DOC Extra Dry
SPIRITS & BREWS
No Christmas party would be complete without celebratory cocktails or beers. Cold Storage has lined up a great selection of spirits, cocktail mixes, brews and ciders for a complete bar at home!
– Absolut Vodka Mini Bar Gift Pack ($70) 750ml- Exclusive
– Grey Goose Vodka Gift Box ($112.45) 70cl – Exclusive
– Jagermeister Gift pack ($85) 70cl – Exclusive
– Vodka Mudshake — Chocolate/ Cappuccino ($4.30) 270ml — NEW
– Master of Mixes Big Bucket — Margarita/ Margarita Lite/ Strawberry Daiquiri/ Blue
Hawaiian ($20.40) 96oz – Exclusive
– The Modern Cocktail – Margarita Variety Pack/ Martini Variety Pack/ Tropical
Highball Variety Pack/ Margarita Lite Variety Pack ($17.30) 11.8oz
Not to be missed is the comprehensive range of international craft beers that are new to Cold Storage:
– Belgium: St Bernardus Abbot 12/ Prior 8/ Triple 330ml ($8-$10)
– USA: Brew Dog 5am Siant/ Punk IPA 330ml ($6.50)
– Japan: Kagua Rouge/ Blanc Nippon Craft Beer 330ml ($12)
– NZ: Matson's Premium Black/ Pilsner/ Lager/ Classic Draught 330ml ($3.95)
– Australia: Mountain Goat Steam Ale Beer/ Hightail Amber Ale Beer/ Indian Pale
Ale Beer 330ml ($7.90)
---
Add me on Facebook, Instagram and Twitter if you want to be kept up to date with the latest happenings in the food and lifestyle scene in Singapore!