We were recently invited to check out Holiday Inn Singapore Orchard City Centre as they have a new promotion called Jump Start Your Weekend. I was keen to book a date soon after our return from our New Zealand travels, because you know, you always need another holiday to recover from the 1st holiday! And it's also nice to be able to look forward to a little something when you feel depressed that your big holiday is over. And as for Edward, he loves hotels and is always keen to check out yet another! Staycation here we come!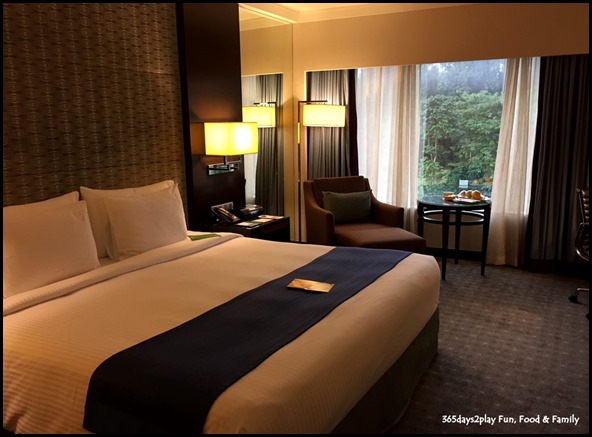 As far as I can see, there are only 2 room types at Holiday Inn Singapore Orchard City Centre and we were provided the Premier King room. We had asked for a room on a high floor and with a good view, something that we always ask for when we check into hotels. In this case, we managed to snag a 7th floor room (the hotel is 8 storeys high) and facing the expressway. Yes this is actually the better view because right across the expressway is the Istana grounds, so its basically greenery directly after the expressway. And I must say the windows were thick enough such that we couldn't hear the expressway traffic anyway, so that was fine.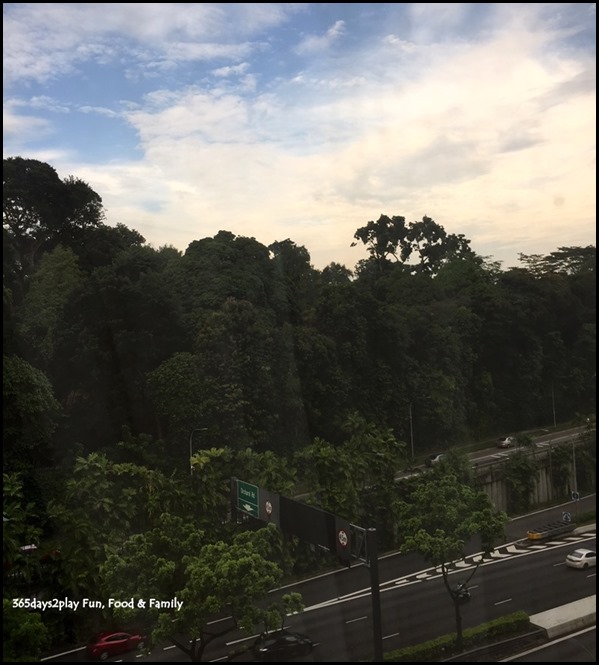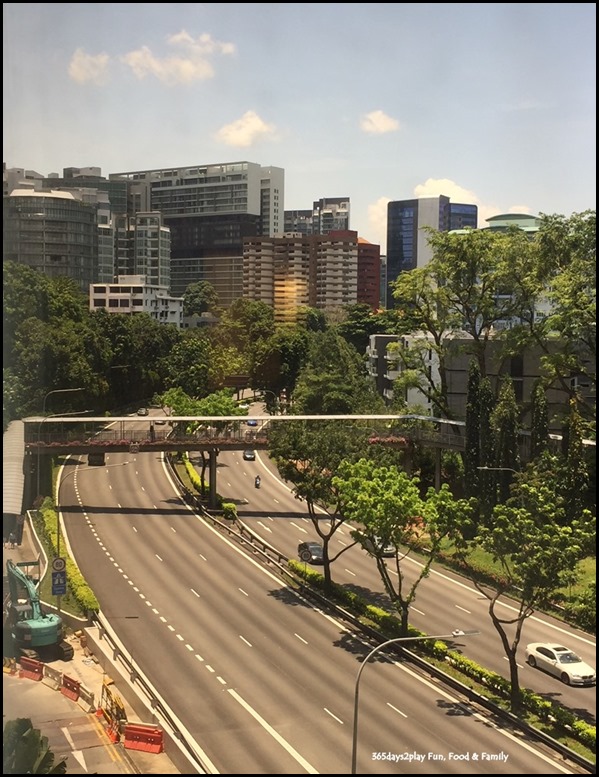 I was told that before this stretch of the expressway was built (according to wikipedia it seems to be about a decade ago) there used to be a park where the expressway now stands. If true, that must have been a number of decades ago because construction of the CTE began in the 1980s! What is definitely true is that the hotel used to be called Holiday Inn Park View before its revamp in 2009. The rooms on the opposite side of the hotel face the bars and clubs and are supposedly noisier, although given that I was hardly disturbed by the expressway traffic, it shouldn't be a problem.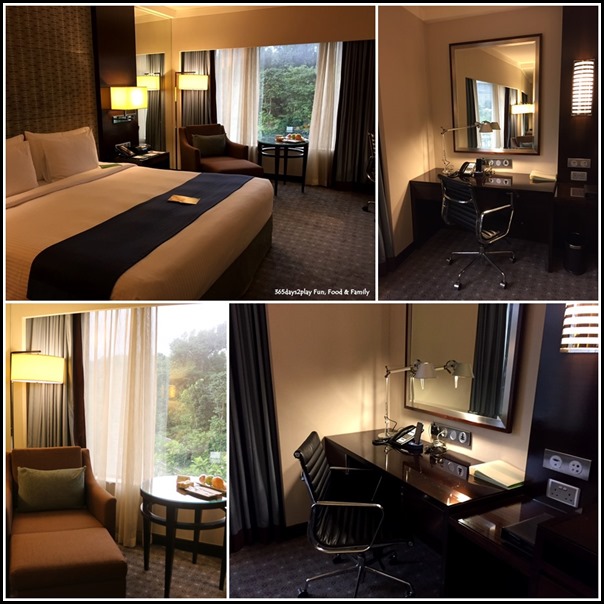 Some more pictures of the room. The room is spacious enough to include a lounge chair and table as well as ample space to walk around.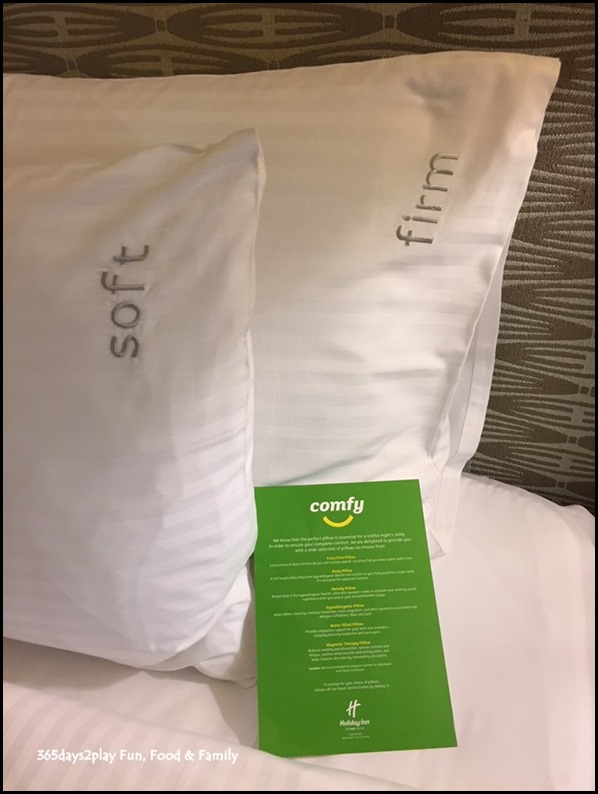 I love the fact that a lot of thought has been placed into pillow selection. Do you see the words soft and firm printed on the pillow cases? That's actually very helpful because sometimes the firmness of the pillow is only detectable after lying on it for a while. And of course it also reduces confusion especially if you have to share the bed with a partner or a toddler, who might like to rearrange the pillows around just for the fun of it.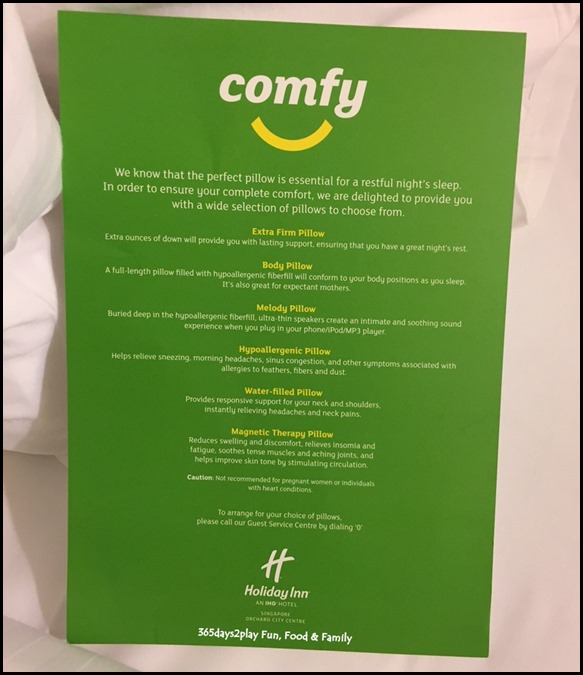 That is a pretty extensive pillow menu. Have never heard of water pillow, magnetic therapy pillow and melody pillow. Wish I had the time (and space on the bed) to sample all the pillows.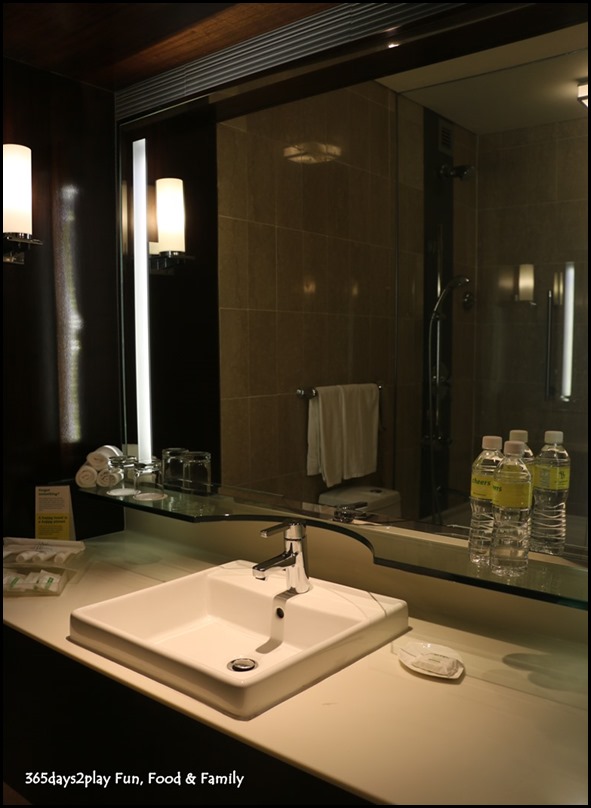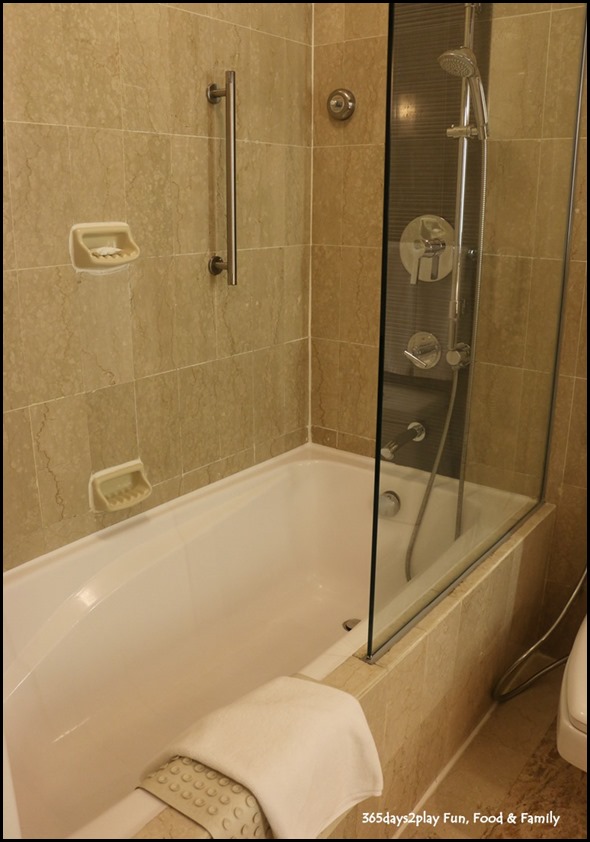 Nothing much to shout about in the bathroom, but pleased to know they have the "holy trinity" of water outlets, that is the bathtub tap, the hand-held shower head and the fixed to the wall shower head. For those staying with young children, the placement of the glass panel is not particularly convenient as it means you will have to step into the tub in order to turn on the taps. The most kid-friendly bathroom layout would be to have the standing shower area separate from the bathtub, thus eliminating the need for the glass panel at the tub. But that of course would require more space. Nevertheless, once I got over having to step into the tub, Edward had a fine time splashing about. Don't forget to bring the bath toys so that your kiddo can spend a longer time in the tub!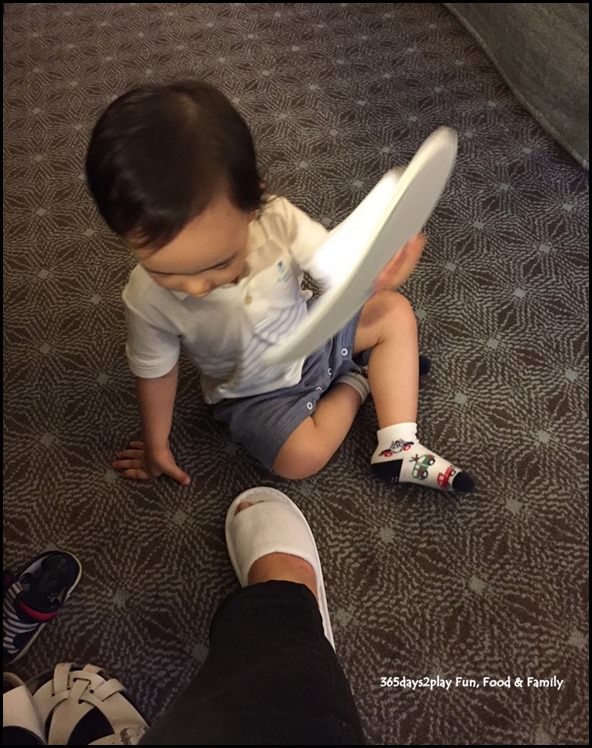 Check out my personal butler! If only he also does foot massages! (He does do a mean back massage when he tosses and turns in our bed.)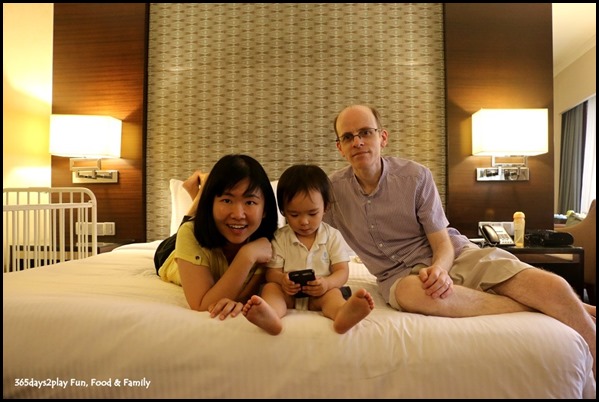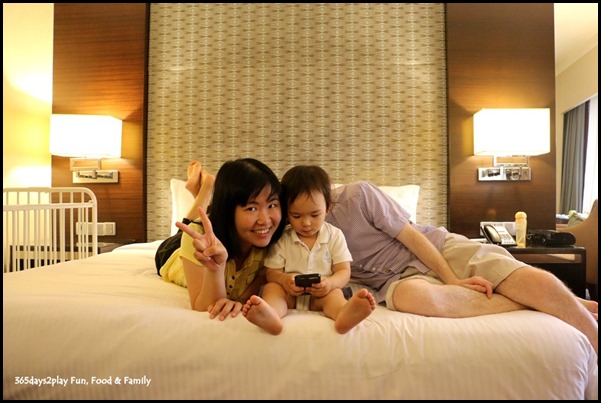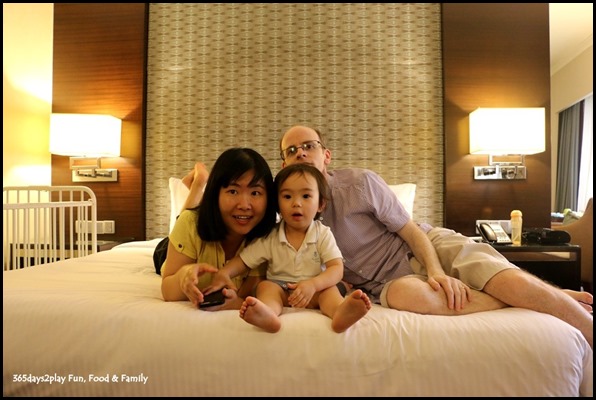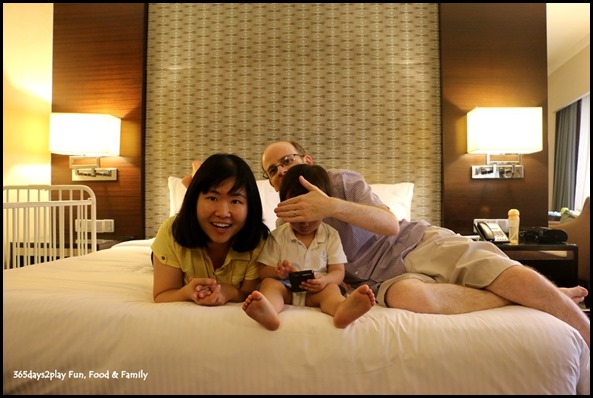 Here's us taking some family shots on the bed. Edward not being cooperative as usual. The iphone was particularly alluring because it was the remote to control my camera!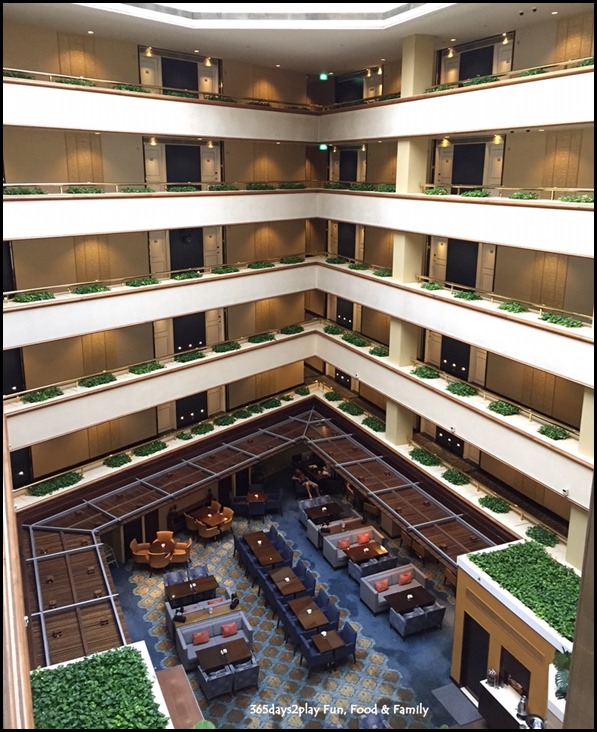 Anyway the best part about staying at the Holiday Inn Singapore City Centre is that it is right smack in the middle of Orchard Road. It is about an 8 minute walk (mostly sheltered if you walk through The CentrePoint Mall) to Somerset MRT station, but we didn't even manage to go that far because we spent most of our time exploring The CentrePoint Mall. So many eateries and so little time. I had tea and toast with my parents at Honolulu Cafe, and returned to CentrePoint again a couple of hours later for dinner at Misato with the Partner and kiddo. I was so torn between wanting to spend more time shopping and eating, vs enjoying the hotel room and its facilities. The CentrePoint Mall also has a huge ColdStorage Supermarket where we bought some milk and chips to snack on back in the hotel room.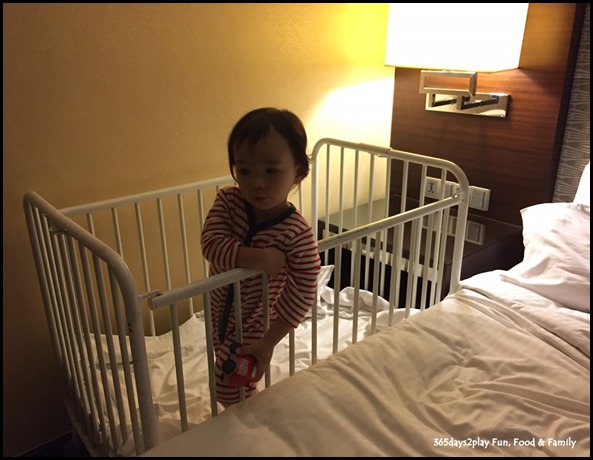 A crib was provided for Edward, but he preferred to hijack our comfortable bed instead.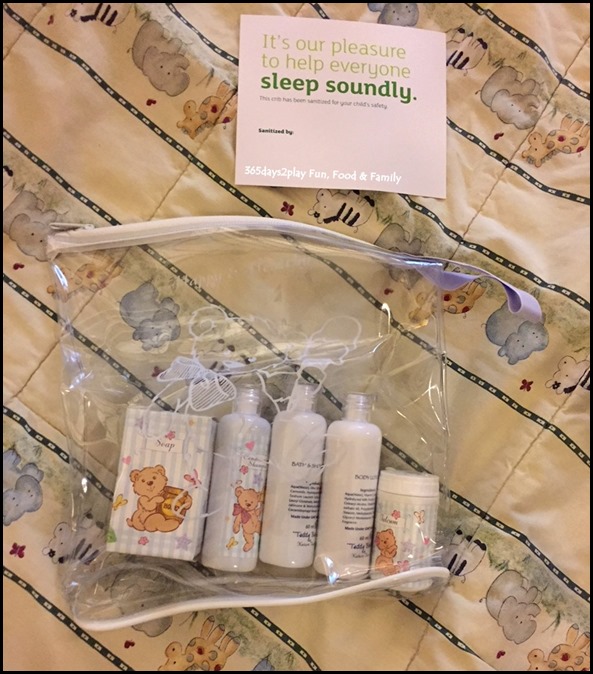 Cute toiletries provided too.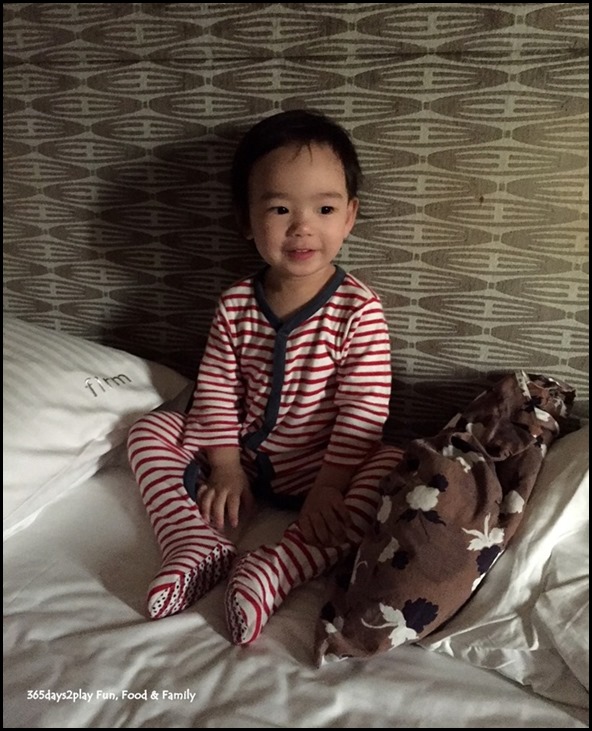 We managed to make it to breakfast just past 8am because our friend here decided to wake up at 7.30am! Must have missed the memo to sleep in! Maybe he's excited to be on staycation, because he doesn't usually wake up this early! When I need him to wake up early for school, he doesn't do so!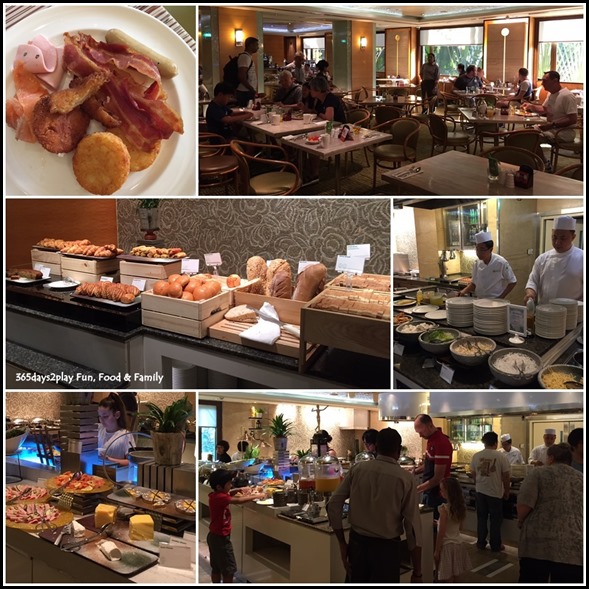 They will provide you a card listing down the peak timing and we were happy to snag a seat immediately upon entering. Quite a good selection of breakfast items, ranging from the usual bread station, egg station, chacuterie and cheese station, as well as Asian and Western hot food items. They even had some Indian food items and curries.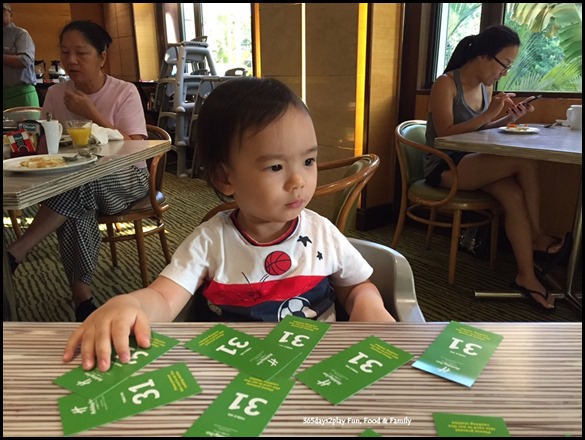 Where's my food??? Those cards are for you to indicate the ingredients you want in your omelette, which will be sent to your table when prepared.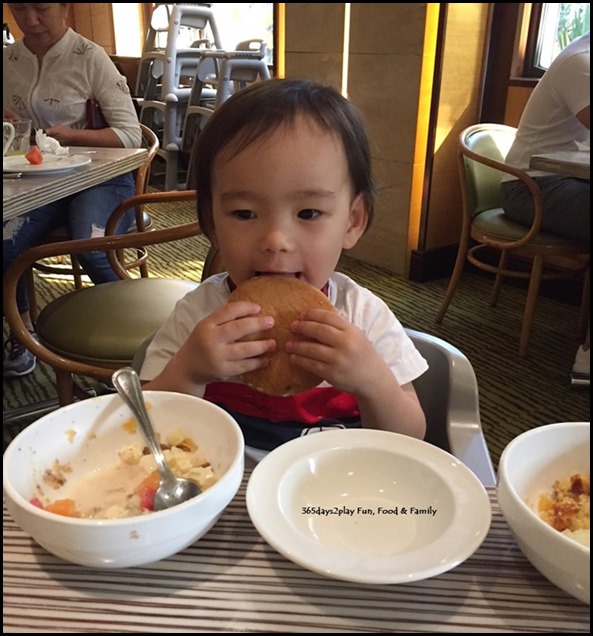 This little guy had 3 bowls of breakfast, can you believe it! He had a huge bowl of oats with raisins and cornflakes (something he eats practically everyday), followed by some fruit salad and a pancake!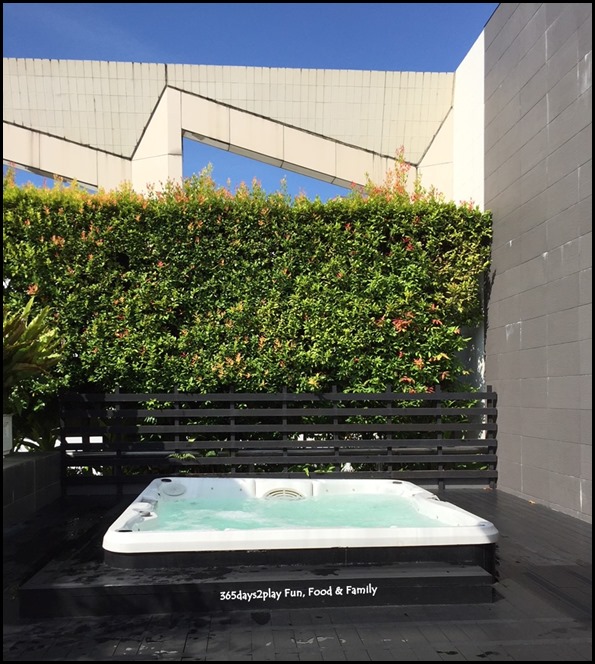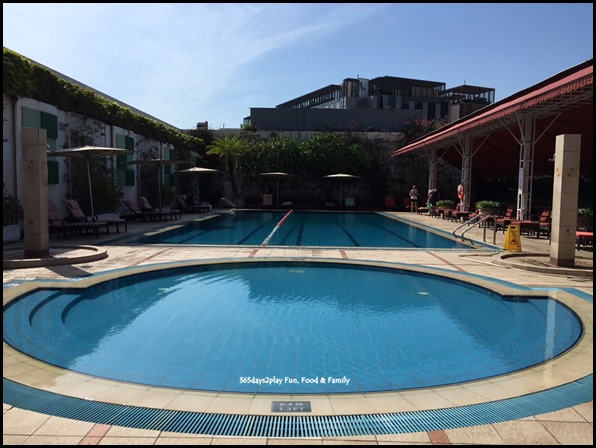 After breakfast, I managed to make it for a swim at the rooftop pool!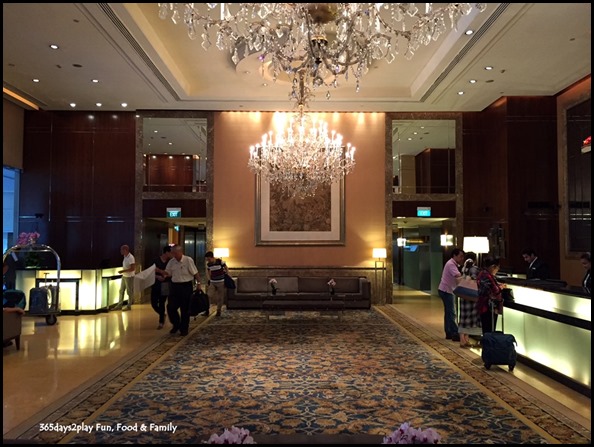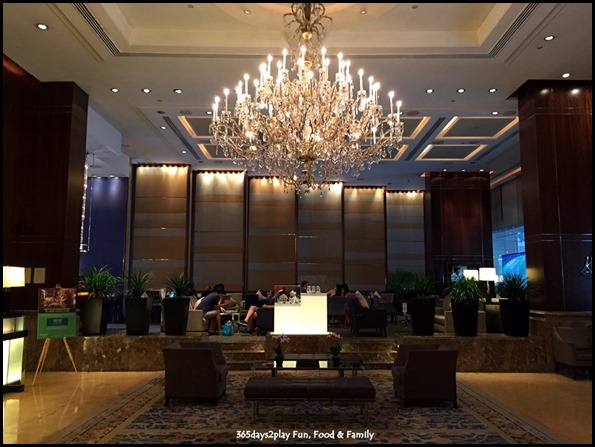 Quick snaps of the hotel lobby. All in all a very enjoyable 1 day staycation. Time to plan for the next!
*We were invited guests of Holiday Inn Singapore Orchard City Centre.
Jump Start Your Weekend!
Enjoy savings of up to 25%
Breakfast for 2 persons
Selection of board game sets for usage in-room
Package applicable for weekend stays for check-ins on Fridays, Saturdays and Sundays only
Booking must be made 3 days in advance, and package is available only till 30 December 2018.
Other terms and conditions apply
---
Add me on Facebook, Instagram and Twitter if you want to be kept up to date with the latest happenings in the food and lifestyle scene in Singapore!
Read about my previous staycations at the following hotels
---
Holiday Inn Singapore Orchard City Centre
11 Cavenagh Rd, Singapore 229616
https://singaporeorchard.holidayinn.com/
Tel : 1800 787 1221