[Media Collaboration]
Recently, I had the pleasure of trying out the food at Famous Kitchen. The Famous Kitchen is a casual family restaurant specialising in local seafood creations and traditional Nanyang cuisine inspired by owner, Jeffrey Foo's travels around China. I have heard good reviews of Famous Kitchen and in fact, I have even tried their sister restaurant Famous Treasures at Capitol, and found the food to be very appetising and value for money. I wanted to visit Famous Kitchen a number of months back, but because they are located in Sembawang, and I live in the East, I did not manage to make it there in the end.
Although we would all wish for COVID to end immediately, I must say one of good things that have come out of this bad situation is that many F&B are now offering island-wide delivery. It gives us the opportunity to try restaurants that are too inconvenient to go to, or boast too long a queue, right in the comfort of our own home.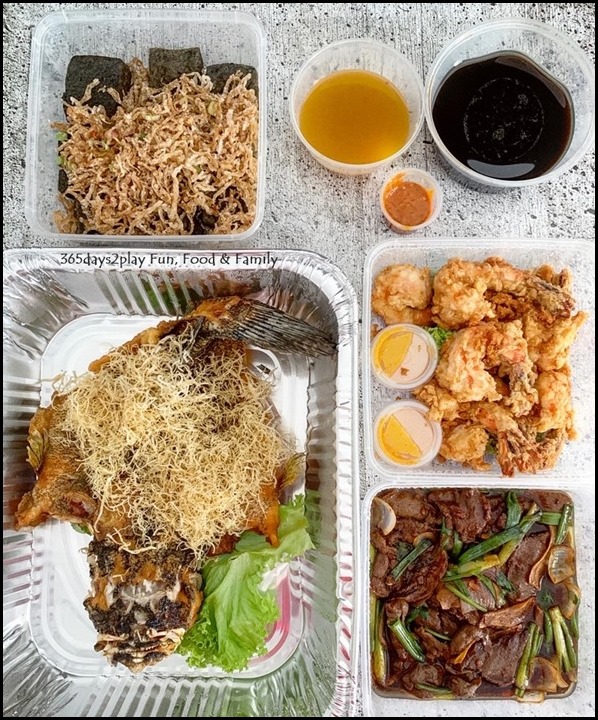 The 4 dishes that I tried at The Famous Kitchen are:
1. Venison with Ginger and Scallion $18
2. Deep fried Marble Goby $72
3. Salted Egg Yolk Prawn with Italian Sauce $27
4. Charcoal Beancurd with Enoki Mushrooms $16
Oil Deep Marble Goby Fish
The food was still piping hot when it was delivered to my place, the boxes all painstakingly wrapped up in extra plastic wrap to retain the heat. The sauces were all separately packed so as not to make the food soggy. Even the fish travelled very well and tasted like what it would if dining in. It was still crispy and so good with the soya sauce ladled over it. I heated it up again the next day in the oven and chomped through many of the crispy bones! The ginger floss is super addictive too.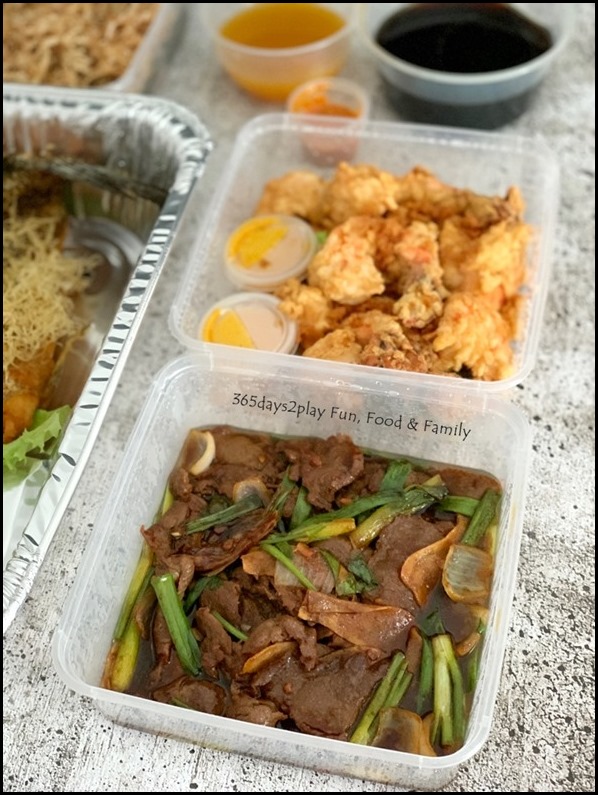 Venison with Ginger and Scallion
The husband's favourite dish was the venison. Lovely flavours and very tender. The sweet and savoury sauce was really appetising. A little goes a long way and this would go so well with steamed rice. I would highly recommend this dish not just because it tasted great but also because reheating it makes it taste even better.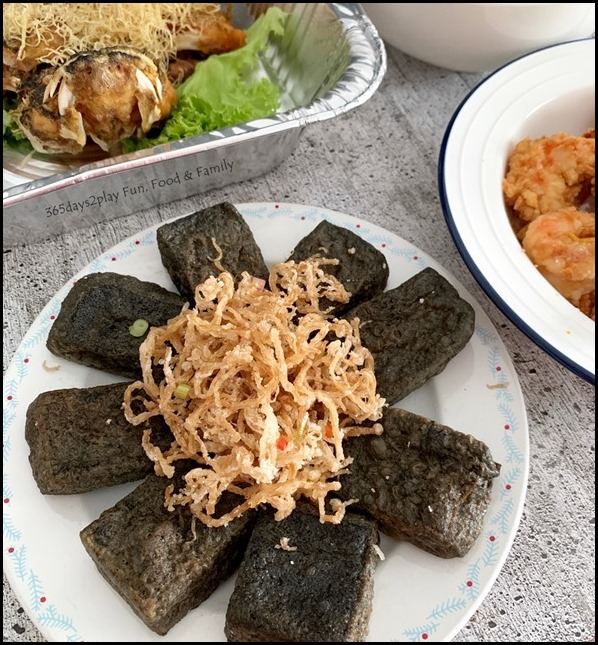 Charcoal Beancurd
I ordered the charcoal beancurd because my son loves beancurd. Alas, he was scared off by the charcoal coloured beancurd. He thinks his mother likes to hide veggies in all manner of places and he didn't want to be tricked into ingesting veggies from the innocuous beancurd. Oh well, I wasn't going to waste the precious pieces on him then. I had them for lunch and dinner. They may look black, but they taste just like normal tofu. The crispy enoki mushrooms are a nice touch too.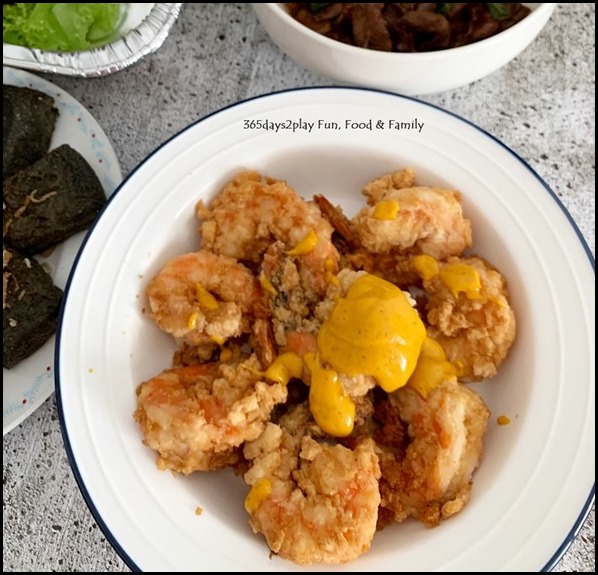 Salted Egg Prawns with Italian Sauce
The prawns were humongous and I love the Italian sauce. I don't think crispy fried prawns travel very well. I had the same experience for a previous delivery order I made a couple of weeks ago at another restaurant. I have to admit that the prawns were not crispy at all, but if you overlook that, they still taste good. Also, I would have preferred if the salted egg flavour was stronger since that is the main purpose of ordering the dish. Maybe it would be better to order a braised dish to enjoy the jumbo sized prawns.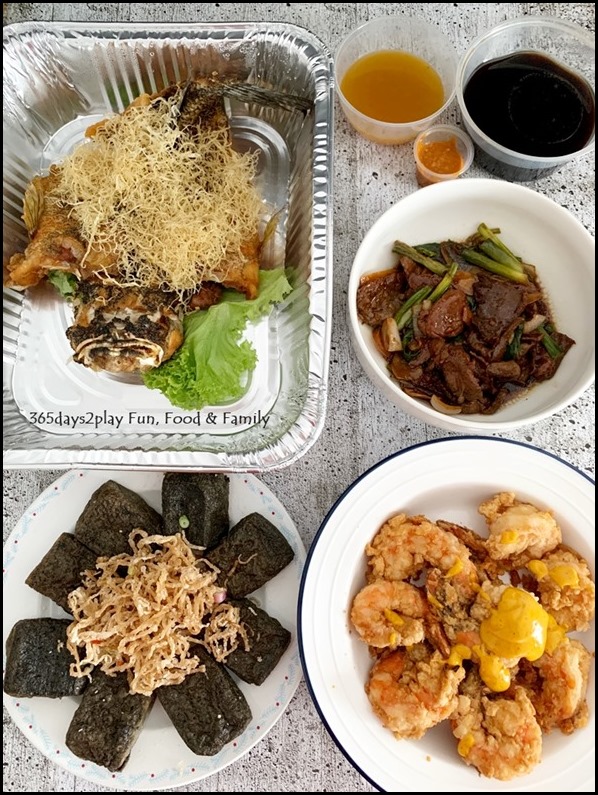 The Famous Kitchen — after replating the dishes
Do check out The Famous Kitchen. They also boast a number of not so common but well-loved dishes such as Sour Vegetable Fish, Lobster Bee Hoon, Crystal Chicken that is common in Swatow as well as Oven-Baked Volcano Chicken. When dining in is allowed again, you will see the that chicken will be brought to the table skewered upright, splashed with alcohol and set alight, resulting in crispy skin.
The following are official photos courtesy of The Famous Kitchen.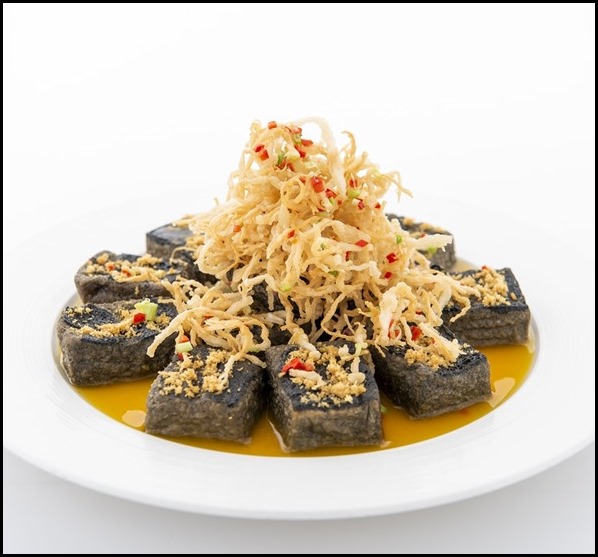 Charcoal beancurd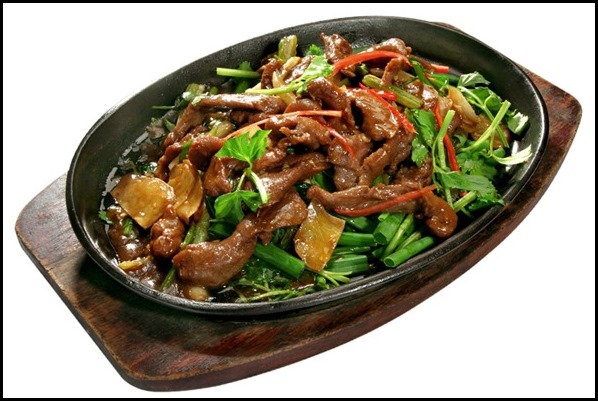 Venison with Ginger and Scallion
Salted Egg Yolk Prawn with Italian Sauce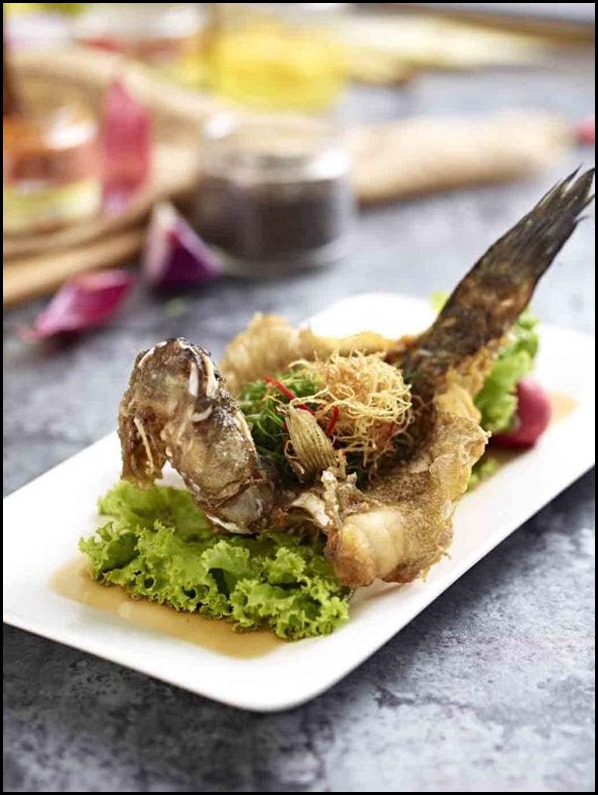 Oil Deep Marble Goby Fish
---
Add me on Facebook, Instagram and Twitter if you want to be kept up to date with the latest happenings in the food and lifestyle scene in Singapore!
Check out other Delivery and Takeaway options
---
The Famous Kitchen
Hong Heng Mansions, 54 Sembawang Road, #01-01, Singapore 779085
Opening Hours : Lunch: 11.30am — 2.30pm Dinner: 5.30pm — 10.30pm | Open daily
Reservations : +65 6636 8333 / 6257 1843 |  fkreservation@singnet.com.sg