Visited Wildfire Kitchen + Bar back in February when they first opened (and again yesterday). Although it is a skip and a hop away from my office, my colleagues had till then not been too keen to check it out because firstly, not everyone likes burgers, and secondly, spending twenty bucks on lunch is not everyone's cup of tea either.
But, it was my birthday so everyone gamely trooped there to check it out. Although there are quite a number of staff milling around, WildFire is a self-service restaurant, meaning, you have to place and collect your orders at the counter. Don't be shy to plonk your butt down at the nearest available table, seating is self-service too.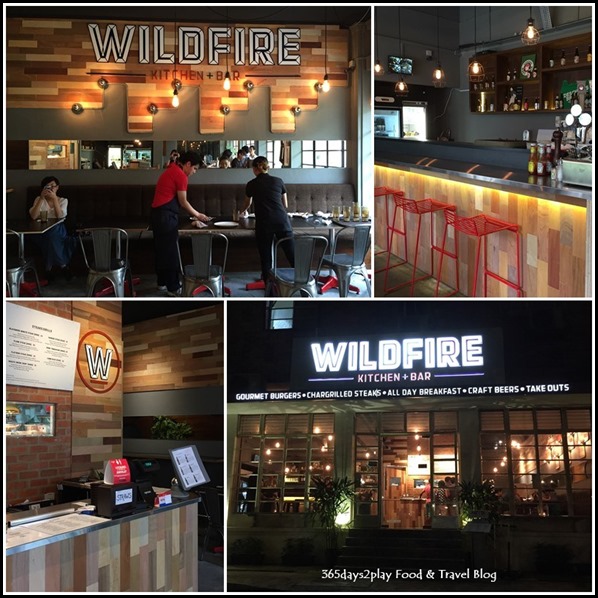 Burgers are Wildfire's speciality. There are a total of 12 burgers to choose from, in addition to 2 hot dog types, as well as fish and chips, and hanger steak. When they first opened in February, there were 7 types of steaks to choose from, but I guess they were removed from the menu because most people know Wildfire as a gourmet burger outlet. It's not hard to see why, as the beef patties used are 100% beef patties, as opposed to having cheap fillers in them.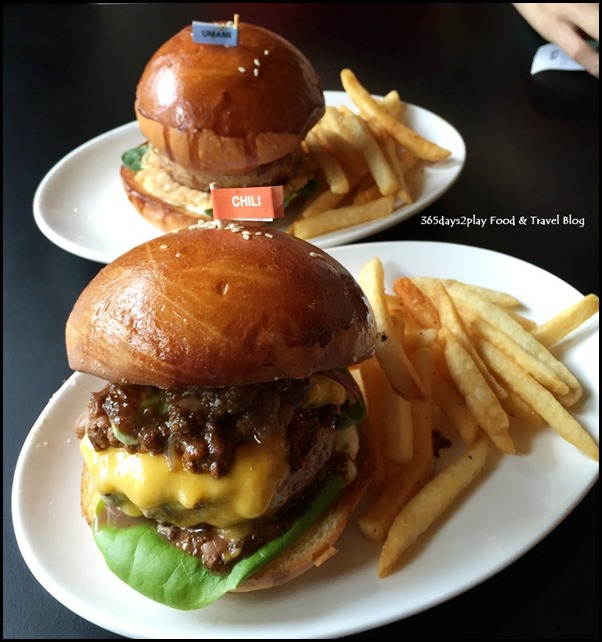 Chili Con Carne $19 and Umami $17
All burgers are cooked to chef's recommended doneness, unless otherwise requested. This usually means a doneness of medium rare. However, during my first visit, most of my colleagues complained that the patties were overdone and too dry. The running joke for that day was that the burgers were done very well… However, yesterday, when I was there with the Partner, who is very experienced in burger eating for obvious reasons, his lamb burger was quite rare. We had to have it exchanged and the 2nd one came back perfect. My classic 001 was medium rare to rare, so it was okay for me.