I'm on a quest to cover all the interest cafes and eateries in the East of Singapore! Last weekend, the Partner, the BFF and I decided to make a quick trip around the more obscure parts of the Eastern side of Singapore. Yes, even though we live in the East, Changi is a seldom visited area, especially because there is no MRT line coming down this way. Even when driving to the airport, Changi would be easily bypassed with the ECP or PIE.
Interestingly, Changi Road starts from around the Geylang/Eunos area, then becomes New Upper Changi Road near the Kembangan area. It then morphs into Upper Changi Road East and North. There is no Upper Changi Road West or South. And neither is there any Old Upper Changi Road, or Old Changi Road for that matter! I have this vague feeling that some roads which used to be known as the original Changi Road, and is parallel to the sea, has now been changed to another name. Maybe the history buffs can enlighten me.
Anyway, if you in the Changi / Loyang area, you may like to know that there is a huge cafe situated right next to the Changi Chapel & Museum. The best time to visit would I think be at night. Apart from the fact that this is a totally not air-conditioned place, there are not too many tall buildings nearby and you can gaze as the night sky more easily while the crickets provide their nocturnal accompaniment. It would be nice to sit here amongst the lush greens during the rainy season in December too. I love the smell of wet grass, don't you?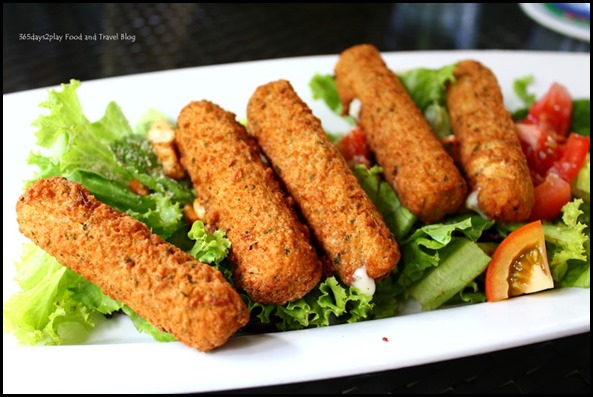 Tomato Fried Cheese Salad (Deep fried cheese with breadcrumb, on sliced tomato, drizzled with balsamic dressing) $14
We ordered a plate of these to share. I don't usually order appetisers because I don't normally need it, and also because I don't want to be somewhat satiated by the time my mains arrive. But sometimes I just can't resist! Last week was one such day. Fried cheese, caprese salads and melt in your mouth burratas really get to me and I lose all form of will power when they make their appearance in the appetiser section of the menu!