The 1st stop on our Festive Gourmet food trail was at the Thai Village Restaurant at Leisure Park. Prior to this, I had never been to any Thai Village Restaurant before. All my colleagues who heard about my impending visit advised me to try out their fantabulous Signature Shark Fin soup.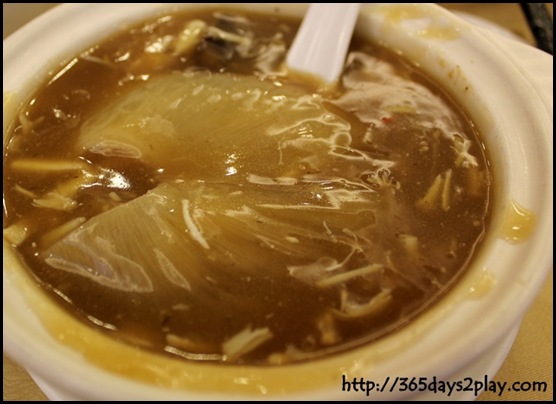 I have to confess, while I feel guilty for eating shark's fin, I haven't really made real attempts to stop eating them. The shark's fin served was huge! I have never seen such a huge portion in a bowl before! The dish totally surpassed my expectations in terms of size as well as taste. The soup was ultra flavourful thanks to the way it was prepared, and if not for the fact that there were more dishes to be served, I would have finished the entire bowl. I definitely finished every single strand of shark's fin. The worst thing to do is to waste it by not touching it and imagine that you have done your part to save the sharks.
Can you believe it, we did a Lo-Hei, in the middle of November! It was hilarious! If there's one thing about Lo-Hei, it's that everyone loves doing it (even if they don't like eating it). And I love the HUAT AH right at the end!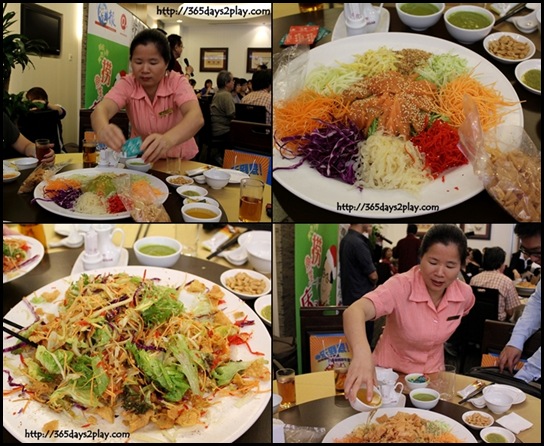 锦绣生花庆有余 – Prosperity Yu sheng with special wasabi sauce – This Yu sheng served here is extra unique due to the special wasabi sauce used. I think we didn't do that great a job of mixing in the wasabi as there were only 5 people at our table. I didn't get any wasabi while the person next to me had his mouth on fire. The table did get its fair share of the fun as well, what with all the flying bits.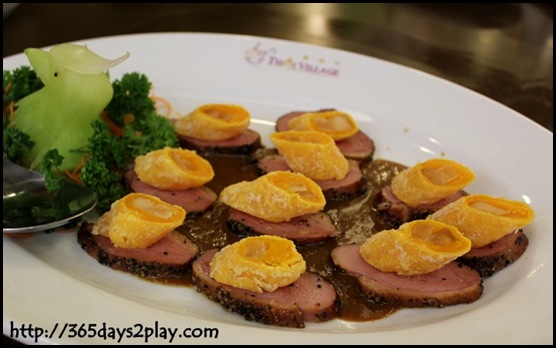 迎春接福双喜到 Salted egg yolk with sweet winter melon center roll — An interesting combination. I don't think the flavours quite blended, but on their own, they were nice.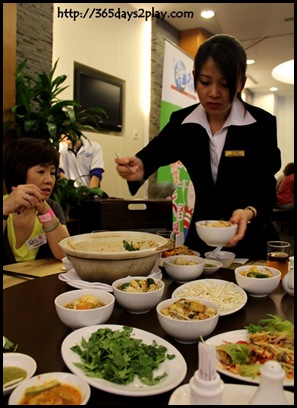 Too busy devouring the sharks fin soup. Didn't manage to get a picture before the fish was all ladled out…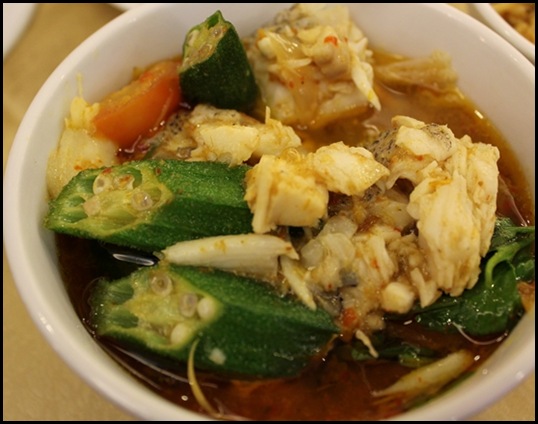 富贵浮云阿参鱼 Thai style Assam fish – The fish was very nice as it was tender and had a strong taste. There is a tendency for flavours of fish cooked in curry to be overwhelmed by the spices in the curry, but I am glad to say that the spiciness was mild enough so that I could enjoy the fish. Paired very well with the seafood fried rice. My friend, a Thai Village enthusiast informed me that Thai Village serves an even better version of fried rice, but too bad we didn't get the chance to sample that.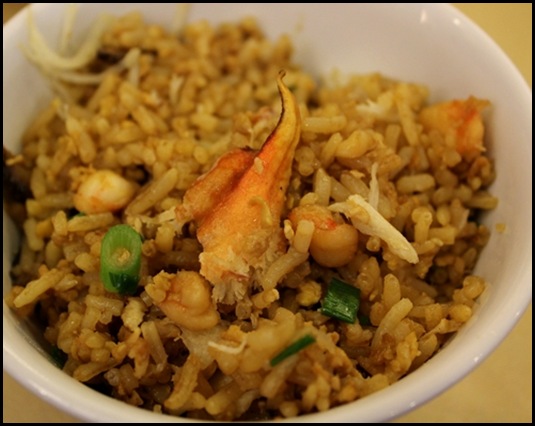 é‡'é"¶ç 宝满华å ' Thai Village signature seafood fried rice with crab meat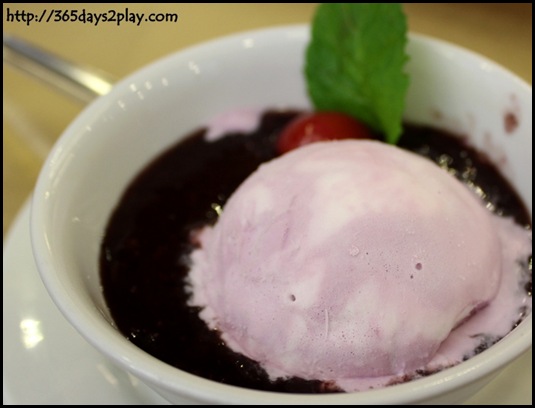 Yam ice cream with black rice pudding – Not my kind of flavour. I think I'm a traditionalist when it comes to ice cream. It's got to be really great ice cream before it knocks my favourite vanilla and chocolate off their pedestal. Still, my fellow diners polished theirs off.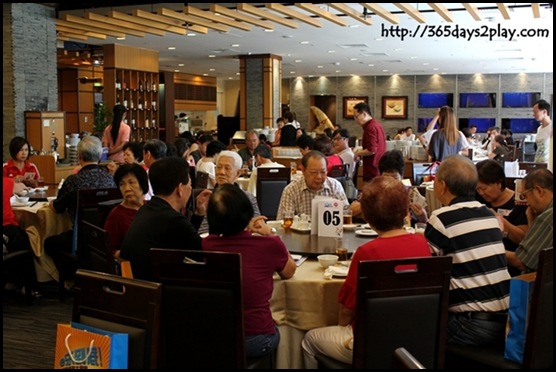 All this while, Ah Lun and Sidekick Xiao Peng were cracking the room up with their jokes and antics. They also got brave participants up to play several stage games. I really admire their hosting skills. How do they come up with such crazy jokes on the spot and manage to keep their audience riveted? I regret not getting my parents to attend the Food Trail. It would have been so much fun for them. I believe many of the participants signed up in large groups. They seemed to know each other, which would obviously make the whole session even more enjoyable.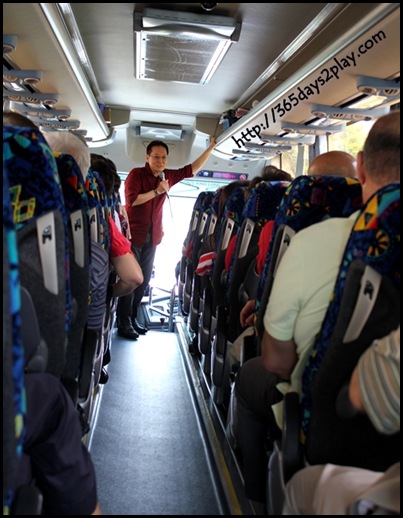 Don't you think that Ah Lun would make a good tour guide? I think he should sign up with Chan Brothers or something and be a celebrity tour guide. I would certainly consider signing up for it (esp if they give me a big discount!!!) Actually I quite like the idea of being a tour guide. Aside from some negatives such as having to possibly handle passport/hotel room issues, or sick passengers, I think it would be quite fun! Wow the tourists with all the latest and biggest attractions, or the thousand year history of a place. Hmmm, maybe I should become a tour guide in Singapore first to see if I like it! I used to volunteer as a guide in the museum when I was still in University. It was fun until someone asked me a question I didn't know the answer to!
Thai Village (Kallang Leisure Park)
5 Stadium Walk Kallang Leisure Park
#01-50/51/52/53/54 Singapore 397693
Tel: +65 64402292
Website: www.thaivillagerestaurant.com.sg