In line with the healthy theme these 2 weeks thanks to Zespri's Kiwifruit Challenge, I decided to take my parents to the new Real Food outlet that just opened at Killiney Road. The original Real Food cafe is at The Central just above Clarke Quay MRT Station and I've been there many times over the last 2 years.
It's interesting how when you do something unappealing a number of times, it soon becomes more palatable, and may even turn into a habit? After having a Kiwifruit daily, plus the more or less raw dinner at The Living Cafe, my mind is more attuned to the benefits of eating healthily which was why I instantly thought of Real Food for Saturday brunch.
Real Food strives as much as possible to utilise organic ingredients in its food. Also, no meat is used. However, you would be really hard pressed to miss it because all the other flavours in each dish come together so nicely even without the meat! Another reason why I like coming to Real Food is because the prices are very affordable, and comparable to non-organic cafes!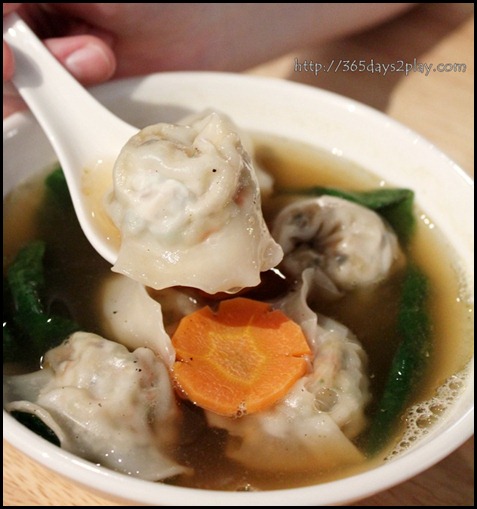 Dumpling Soup (Dumplings handmade with 10 ingredients like carrots, mushrooms, bean curd, french beans and chest nuts) $7
For example, this dumpling soup. There is no meat in the dumplings but because it's bursting with other ingredients, and chestnuts to give it a bite, you don't miss the meat at all. In fact, my mother asked me if the dumplings contained minced meat as it was so flavourful. The soup itself is also a delight to drink, and has a peppery base that warms you.
I almost always order this dumpling soup, or the dumpling noodles. I believe most customers who patronise Real Food consider the dumplings to be one of their signature dishes.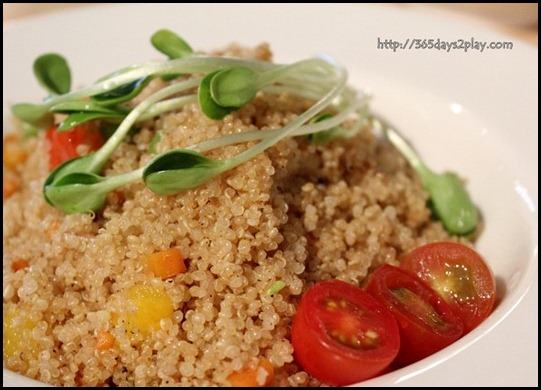 Organic Fried Quinoa with french beans, mushrooms, carrots and crushed black peppercorn $7.80
Quinoa is a fantastic health food and is beginning to gain popularity in Singapore. The 1st time I tasted it way back in 2009 at Onaka, I was blown away by how much it tasted and had the texture of rice, yet with nutrients far exceeding that of rice. For example, it has 4 times the fibre of rice, and double the protein content. If not for the cost, I could literally replace rice with quinoa in my home cooking.
The fried quinoa at Real Food doesn't taste fried. If we were to be blindfolded, we might have thought it was steamed. The helping of veggies was decent, and a good accompaniment to the quinoa. The veggies were also spread very evenly in the dish, such that each spoonful of quinoa had some veggies in it.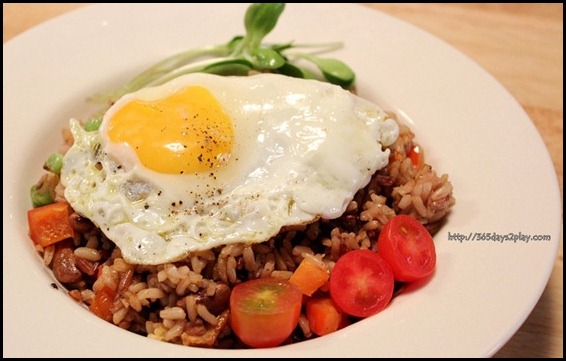 Organic Fried Brown Rice with french beans, mushrooms, carrots and crushed black peppercorn $7.80  $1.50 for fried Egg
If you don't want Quinoa, you can have fried brown rice instead. Using brown rice meant that this dish had a bigger bite to it as brown rice is more chewy than quinoa. And fried brown rice taste more fried, if you are really hankering after fried rice. But don't be expecting the traditional fried rice you get at hawker centres or restaurants, you would be very disappointed. If you psych yourself to think of this as a healthy rice dish with veggies, just that the rice is fried to make it even more palatable, you would be along the right lines. My father orders this dish every time we are at Real Food.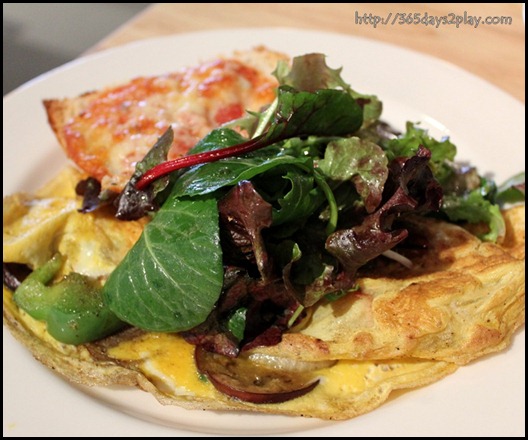 Veggie Omelette with assorted vegetables, pineapple and mushroom with a melted cheese toast and a side of fresh green salad $8
This was what I ordered and it seems to be the unhealthiest of the lot because of the fried omelette. The 1st few bites were very good. The omelette tasted just like any other good omelette. But towards the end, I bit into a huge pile of salt and that ended my love affair with the omelette. Would also have been good to have more vegetables in the omelette.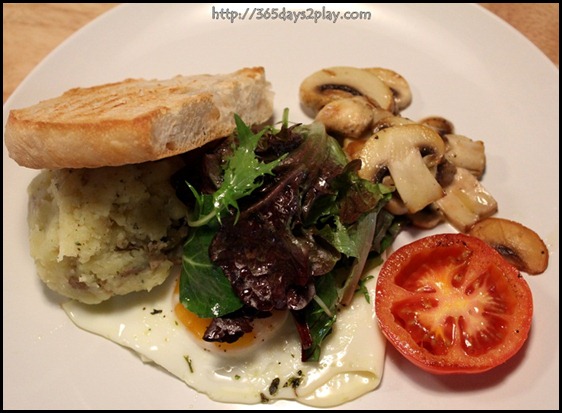 Sunny side up with mashed herbed potatoes and sauteed wild mushrooms. served with fresh green salad and sourdough bread $9
A simple fry up. A little on the oily side for the mushrooms, but otherwise no complaints.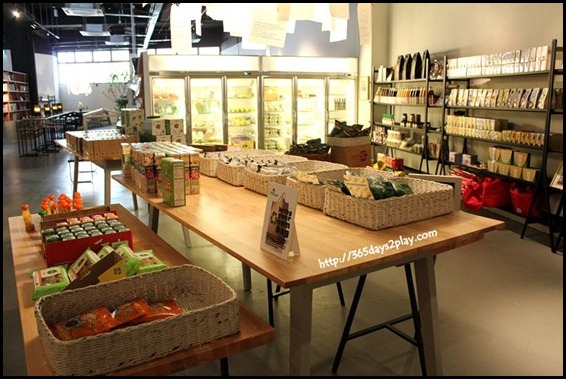 They have a section selling all sorts of organic or health products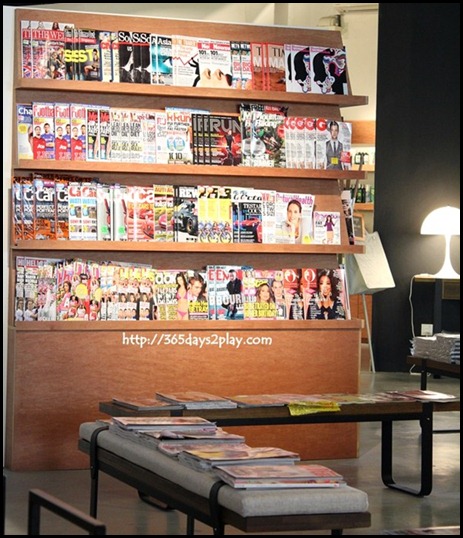 I love their generous selection of magazines!! These are for sale too so handle with care.
The Real Food cafe at Killiney Road is simply cavernous. Take your pick amongst the various types of seats!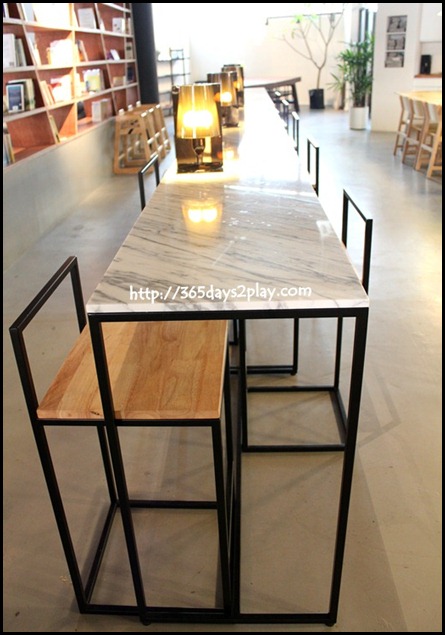 Check out my prior visits to Real Food.
Real Food Cafe.Grocer.Books
6 Eu Tong Sen Street The Central #B1-52/53 Singapore 059817
T: +65 62244492  Mon-Sun 10am — 930pm  (Last Order 9pm)
110 Killiney Road Singapore 239549
T: +65 67379516 Mon – Sun 10am — 10pm  (Last Order 930pm)