*Invited Session*
Just before my Norway trip, I received an invitation to check out Grand Salads Bistro. It's not often that you find a cafe touting healthy food so I was really excited to know about the existence of this place. Grand Salads Bistro is located in the Buona Vista area. Have you heard of Fusionopolis? Well Grand Salads Bistro is located at the Solaris building, which is an extension of Fusionopolis. It's near the one-north MRT station.
If you think that Grand Salads Bistro sounds familiar, it's because of the Grand Salads bars located in Suntec City and AXA Tower, all owned by the petite and soft-spoken Israeli Michelle Kanner. Grand Salads Bistro offers salads and sandwiches on weekdays to the lunch time office crowd. However, on the weekends, which was when we were there, the bistro focuses on brunch/lunch items.
The brunch menu isn't very extensive but we managed to each find something that we liked. The food is prepared by Michelle herself together with her helpers. The portions aren't large, big eaters may need to order side dishes to share. You won't find any deep fried food or oily food here. The dishes don't make you feel like you've sinned. Instead, you get the light hearted feeling that you've done something good for your health for once.
I really really really love the decor of Grand Salads Bistro. It looks like some New York styled deli! The place is bright and the high ceiling gives the feeling of great spaciousness. It helps that the bistro overlooks a lot of green shrubs.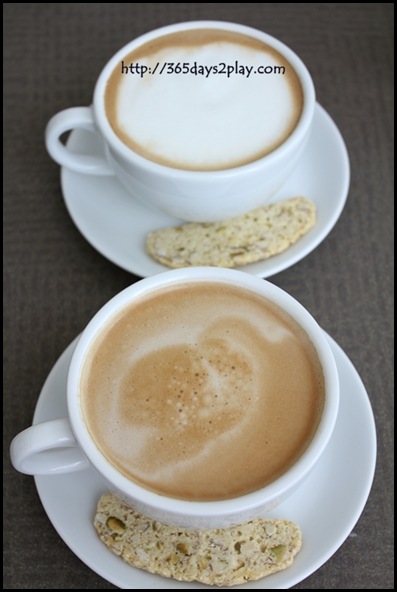 One latte and one flat white $4.90 – Nice coffee that came with a biscotti each

Bite selection of Mini Sandwiches, Veg & Dip, Quiche and Olives $12.90 – Love the vegetable quiche. We were thinking of whether to order a quiche on its own or via this platter here and quite regretted not getting a bigger quiche even though the accompaniments were tasty. I think most Singaporeans would not be accustomed to eating olives, prunes and chickpea puree aka hummus for breakfast, but it is a refreshing change. I love olives dearly, and I can't understand why the Partner doesn't, even though he loves olive oil. But whatever he doesn't like, is a extra bonus into my mouth. Yes that little bowl there is a bowl of garlic. We polished it off wholesale.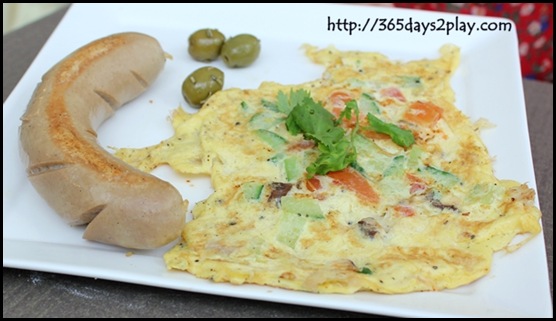 Buenos Dias (Mexican Breakfast) $12.90 – Traditional Mexican omelette with tomato, mushroom, onion, peppers and cheese, with premium veal sausage. The veal sausage we were told was organic and imported from New Zealand. You can't find this sausage in Jason's supermarket! Really tasty, juicy and cooked with just a tinge of char. Grand Salads Bistro should consider having a sausage dish on its own! Omelette was also nice and light tasting with all the diced veggies in it.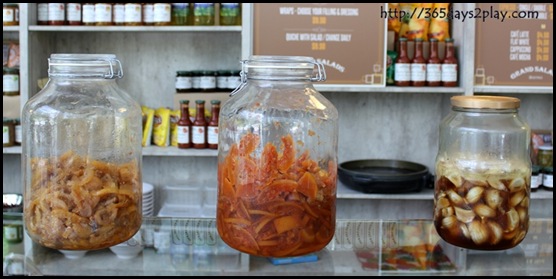 Michelle's really into making her own fruit chutney. I can't remember what they all are, I think grapefruit was one of them, and of course the garlic in the jar on the right. If you're nice, she might just give you some to try!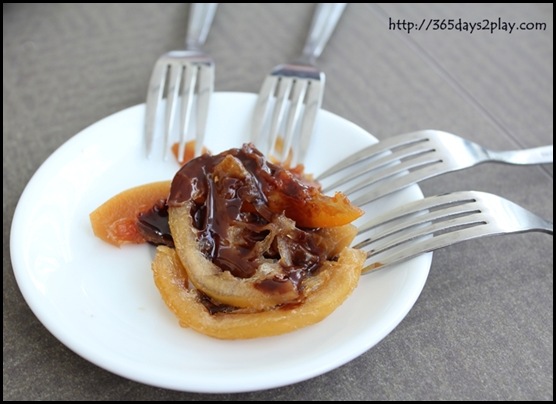 You either like it or you don't! I loved it, sour zing and all!