I am quite lost when it comes to choosing a place to eat when in a shopping centre. I love keeping tabs on the restaurant and cafe scene, and most of the times, all the interesting restaurants that I want to try are located off the beaten track. Another reason why dining in a mall doesn't catch my fancy is that the queues are horrendous! Come at 7pm on a Friday or a weekend and you're almost guaranteed a half hour wait, which totally sux when you're already famished.
Which was why I was rather apprehensive yesterday during a movie outing with several colleagues. We were supposed to watch Horrible Bosses at GV Marina and there was some vague idea of dining at Victoria Peak at the Suntec Convention Centre but no reservation was made. As expected, a last minute suggestion popped up, which was to go to Paulaner Brauhaus. It proved to be a pretty good suggestion because I haven't been to Paulaners in like 6 years or something. I don't know if my colleague enjoyed herself though, cuz she maintains a vegetarian diet on the 15th of every month…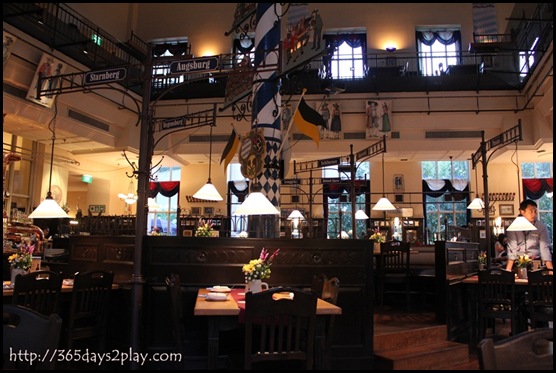 It was very crowded on the 1st floor, but almost empty on the 2nd floor (pictured above) which houses the restaurant. It seems hardly anyone knows that there is a restaurant section on the 2nd and 3rd floor! People! Paulaners serves proper meals upstairs, and not just bar food! The bar menu does have some meal sounding things, but go upstairs and you will get the full menu.
It was Sunday and from about 5-8pm they have a 1 for 1 drink. I ordered the 0.3litre light lager $13. With beer, I don't know enough to describe the intricacies of the taste. I just know that I liked it and i finished about 1 and a half glasses.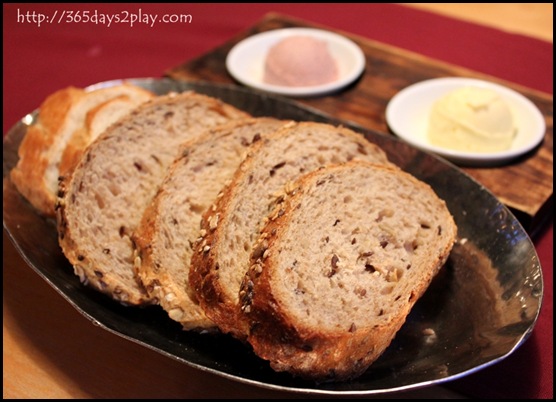 Generous amount of warm complimentary bread, with pate and butter. Our main dish arrived soon after so I was forced to discard the bread and attempt to conquer the main dish.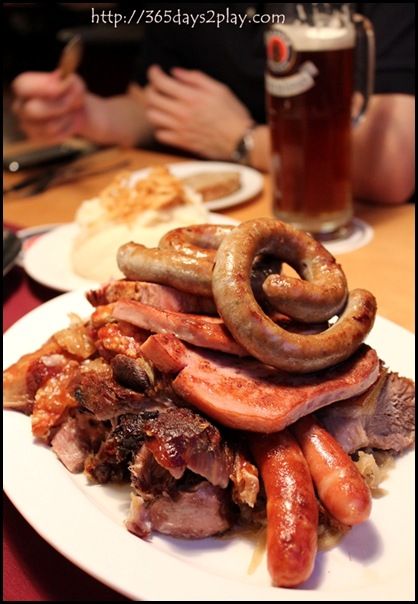 This is what I call the MEAT PILE. Ok they obviously called it a more refined German Platter, but seriously, I think MEAT PILE is a more apt description! When the 2 guys saw the amount of meat on the plate, their eyes glistened and the savage side of them emerged. Throughout the entire meal, they kept gushing about how happy they felt looking and devouring all the meat. And it is seriously a lot of meat. Each pax is charged $29.90 and you need a minimum of 2 pax. The amount here is a 2 pax order, but 2 guys and 1 girl could not finish all of this meat! I suppose if we hadn't drunk the beer, the 3 of us might just have been able to conquer this.
Check out the knife waving in the background. Someone was going to spear me if I didn't hurry up with the photo taking!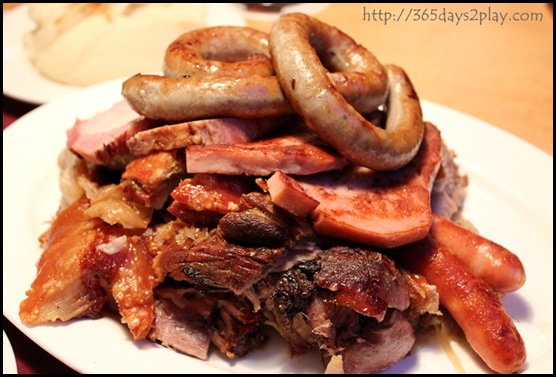 Here's a close up of the meat pile. I liked the oozy cheese sausage at the bottom of the picture, and definitely the roast pork knuckle. You can choose to have boiled knuckle, but I say go for the roasted one (not that I've tried the boiled one but do I really need to advise you on this?). I didn't like the meatloaf, it felt too smooth and processed, and totally unlike the NZ meatloaf I am familiar with that is chock full of detectable vegetable and meat bits. The sauerkraut was also so so, not pungent enough for me! When ordering this, just throw your diet out the window and just enjoy the crunchy roast pork knuckle fats. Think of it as collagen, good for the skin! Oh, mashed potato was served, but largely ignored for obvious reasons.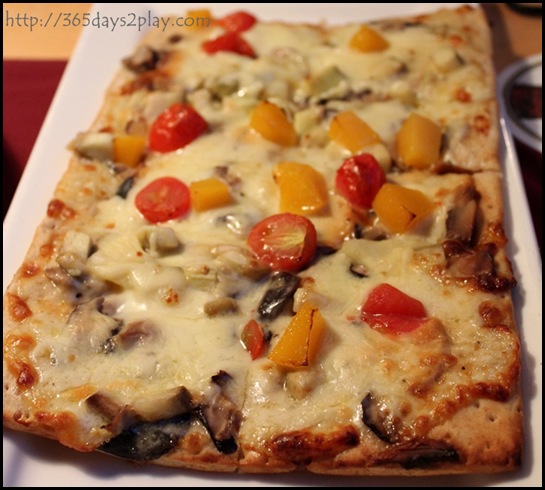 My other colleague ordered this pizza for $17, the one on the vegetarian diet. But she only managed to finish 3 pieces. Definitely not the authentic Italian pizza that I like. The yellow bits are peaches or apricots, which is an interesting change. I wonder if this is a German version of pizza. Seriously I don't know how she managed to sit through the entire meal watching us wolf down the meat pile.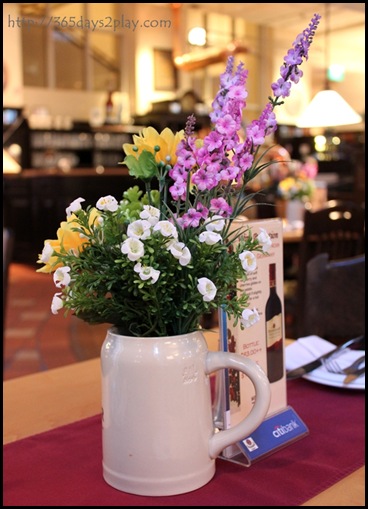 All in all, it was a very fun meal. Meat pile coupled with beer tends to lower the inhibitions of others. I might actually order the roast pork knuckle on its own the next time and not have to share all the crispy bits with other crispy bit loving people.
Go on a Sunday evening to get 1 for 1 beers, and bring your Citibank or Amex card for 15% discount on food! And don't forget to leave your diet at home!
Paulaner Brauhaus
9 Raffles Boulevard #01-01 Millenia Walk
039596 Singapore

+65 6883 2572

+65 6883 0702
Opening Hours
BAR:
Lunch (Mon-Fri): 12pm-2.30pm ; Sun-Thu: 12pm-1am ; Fri-Sat & Eve of P.H.: 12pm-2am
RESTAURANT:
Lunch (Mon-Fri): 12pm-2.30pm ; Dinner (Mon-Sun & P.H.): 6.30pm-10.30pm
Sunday Brunch: 11.30am-2.30pm