In line with the healthy theme these 2 weeks thanks to Zespri's Kiwifruit Challenge, I decided to take my parents to the new Real Food outlet that just opened at Killiney Road. The original Real Food cafe is at The Central just above Clarke Quay MRT Station and I've been there many times over the last 2 years.
It's interesting how when you do something unappealing a number of times, it soon becomes more palatable, and may even turn into a habit? After having a Kiwifruit daily, plus the more or less raw dinner at The Living Cafe, my mind is more attuned to the benefits of eating healthily which was why I instantly thought of Real Food for Saturday brunch.
Real Food strives as much as possible to utilise organic ingredients in its food. Also, no meat is used. However, you would be really hard pressed to miss it because all the other flavours in each dish come together so nicely even without the meat! Another reason why I like coming to Real Food is because the prices are very affordable, and comparable to non-organic cafes!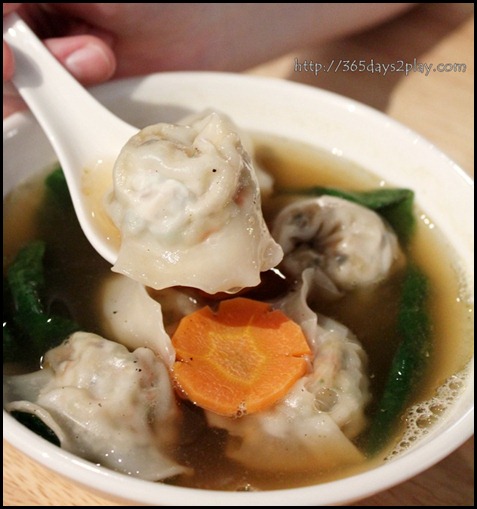 Dumpling Soup (Dumplings handmade with 10 ingredients like carrots, mushrooms, bean curd, french beans and chest nuts) $7
For example, this dumpling soup. There is no meat in the dumplings but because it's bursting with other ingredients, and chestnuts to give it a bite, you don't miss the meat at all. In fact, my mother asked me if the dumplings contained minced meat as it was so flavourful. The soup itself is also a delight to drink, and has a peppery base that warms you.
I almost always order this dumpling soup, or the dumpling noodles. I believe most customers who patronise Real Food consider the dumplings to be one of their signature dishes.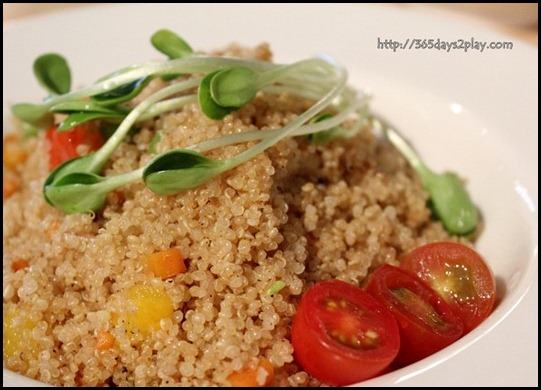 Organic Fried Quinoa with french beans, mushrooms, carrots and crushed black peppercorn $7.80